J&V Carpentry is a small company of experienced carpenters and decorators based in West London and we cover all London area West, NW, E, SW, SE. We are providing a fast, friendly and reliable services covering all aspects of MDF fitted furniture, bespoke joinery and woodwork painting.
We specialise in making built-in and made to measure fitted furniture such as: custom fitted contemporary and traditional wardrobes, cupboards, bespoke cabinets, bookcases, fitted alcove units, bookshelves, floating shelves, shelving units, drawer chests, radiator covers, wardrobe doors etc.
To build our furniture we mostly using MDF and hand painted after installation at your home, please kindly note that we don't make sliding door wardrobes or spray painting.
To view examples of our work please browse the links below:.
Alcove Shelving, Bookcases, and other fitted furniture gallery
JV Carpentry Company makes fitted wardrobes in different styles: traditional classic victorian of contemporary modern, some of them you can find below. Your fitted wardrobe will be made exactly to you and we will spend some time with you at home and measure your clothes to find out how you will use your wardrobe, then we can advise you some options with mixture of shelving, hanging and drawer space to fit you perfectly.
Our wardrobe doors are custom made and we normally make them in the workshop before start installation in your property as well as we cut all pieces of materials for your project in our workshop prior to avoid dust in your house and reduce the time to work at your home.
There are four popular door style we can make for you: 1. Simple plain contemporary doors, 2. Beaded doors - plain doors with beading on them, 3. Shaker doors - doors with recessed panels, 4. Shaker and beaded two in one - doors with recessed panels and beading around panels. To make your wardrobes look more traditional to match classic Victorian style we can add cornice around the top.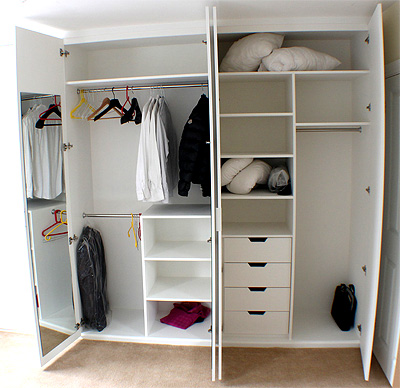 Lighting inside the fitted wardrobes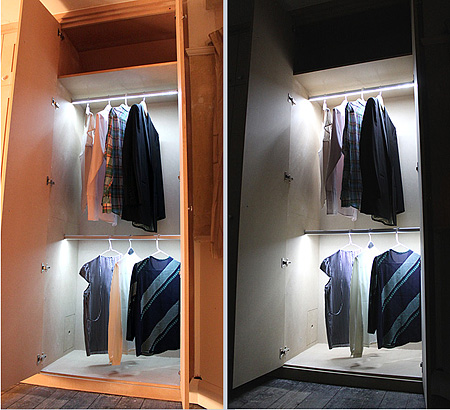 LED hanging rail light

This LED strip light is attached in special designed hanging rail. The sensor turns on light automaticaly once you open the doors. LEDs the wardrobe lighting is low energy and low heat so it won't cause harm to you or furniture. Low-level lighting is an extremely useful addition to your fitted wardrobes. Incorporating light into your wardrobe is a clever and stylish way to highlight your clothes and even improve your moods.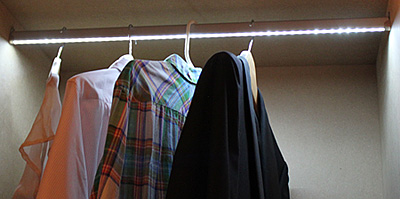 Fitted wardrobes and bookcases design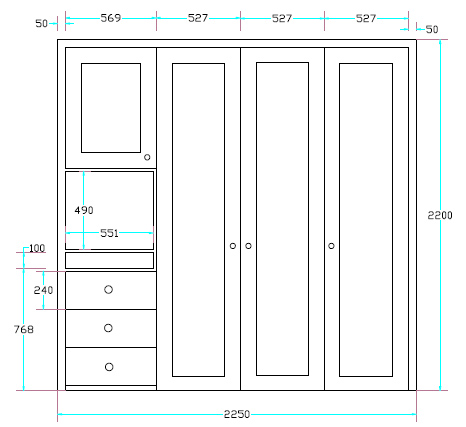 We can design your wardrobes or furniture to your bespoke specifications. Once the design is agreed and you decide to go ahead with the work we will produce drawings illustrating your design to scale. We can use MDF or Laminated boards for the interiors of our wardrobes and we can equally use real wood veneered mdf which would give you the option for instance to have an oak or ash interior. If you require any more information on our wardrobes please contact
us.
Fitted alcove cabinets, Fitted Bookcases, Bookshelves and Floating Shelves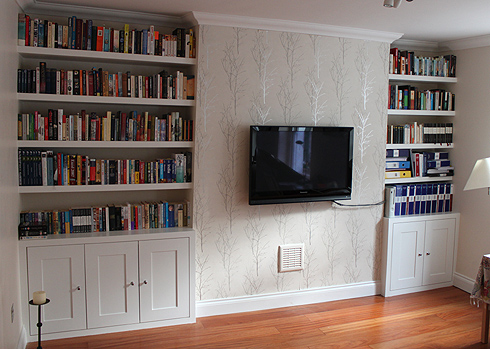 The fitted bookcases that we make can be designed in a traditional or contemporary way, and can be made with standard sized shelves or thick, chunky floating shelves. They can be fitted into alcoves or normal walls. We can work around any shape of the wall. Any of these bookcases can be combined with doors or low fitted cabinets or cupboards. Adjustable shelves with several shelf support solutions are available so you can have the choice of moving the shelves as required. Fixed shelves are also an option for more strength and without seeing the supports or fixings.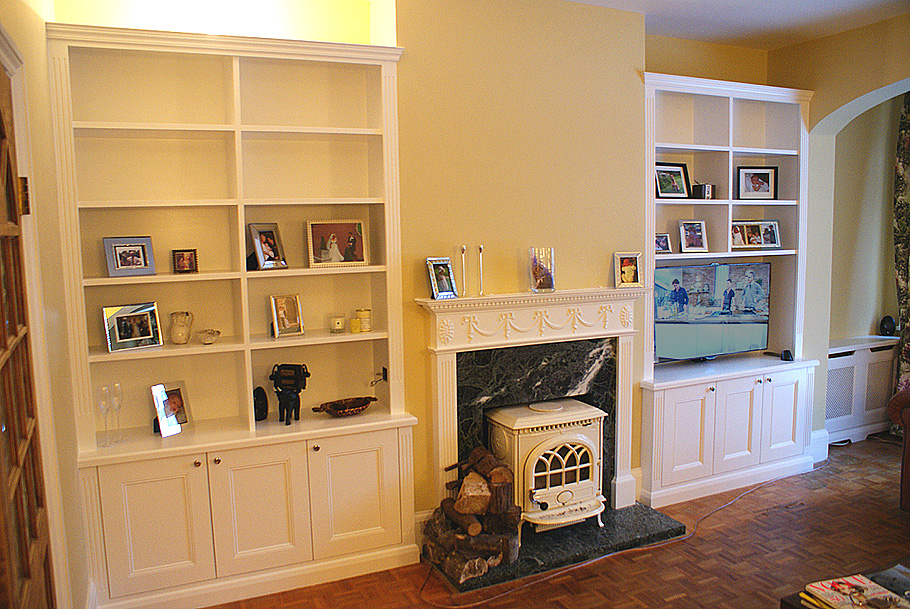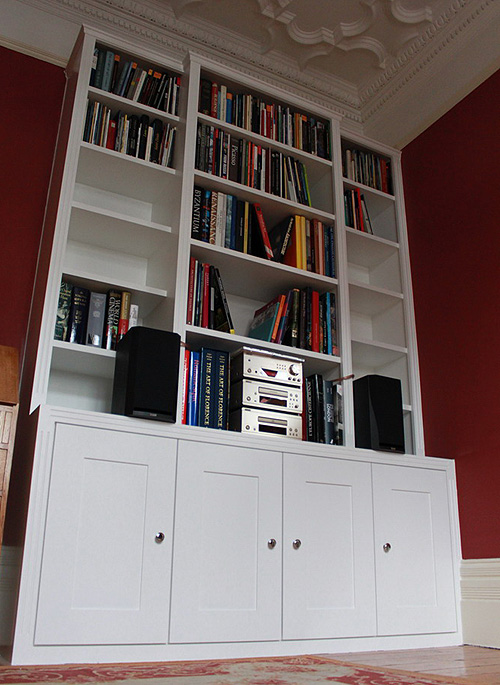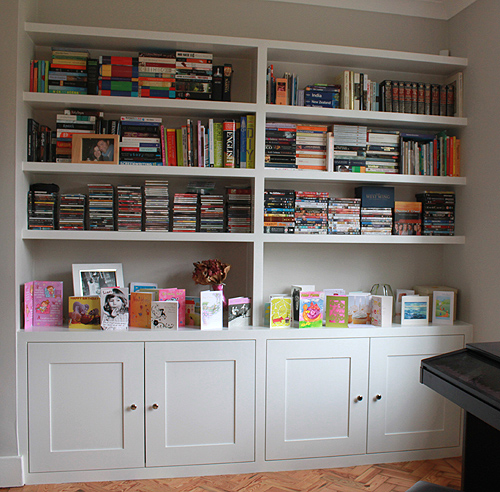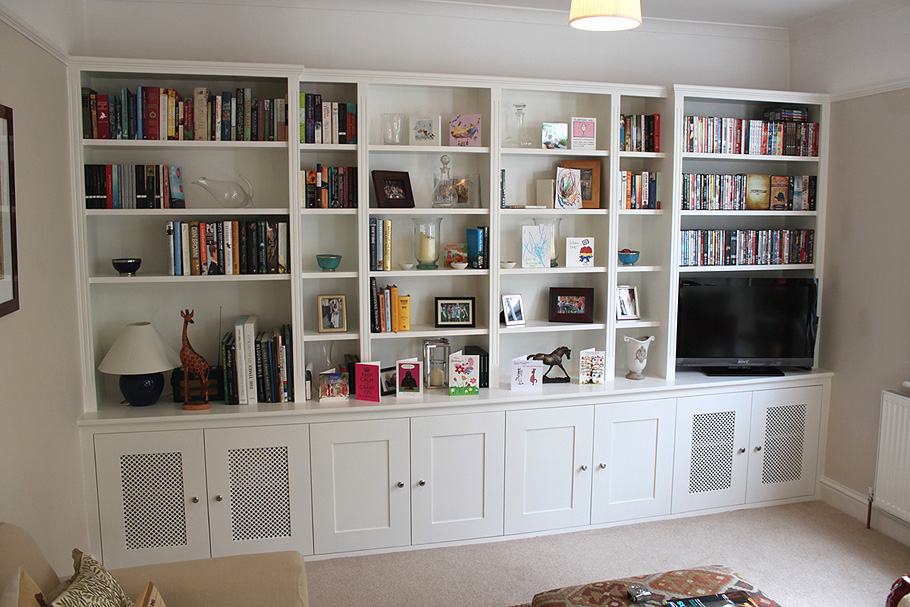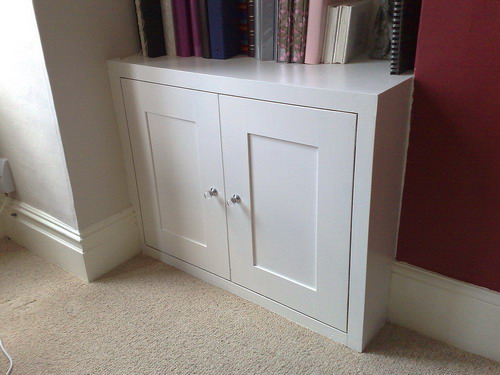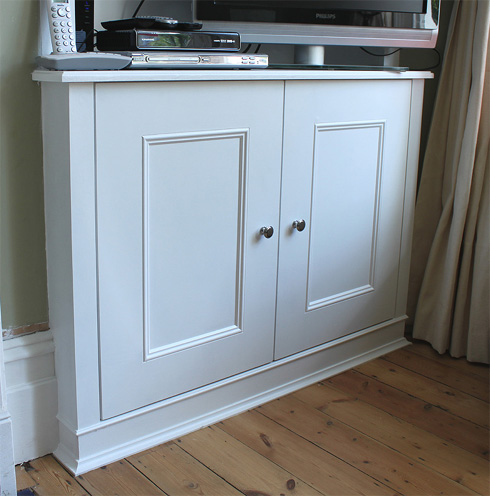 Our cabinets are good place to put your TV and hide your stereo systems, sky box and DVD inside the cupboard. it's also good solution to keep your books, DVD's and other beats and pieces. We can hide all cables inside the cabinet to avoid the mess of cables that you usually find around TV's and videos.
Floating, chunky shelves
Our Floating shelving can provide the perfect contemporary shelving solution for alcoves in period or new London homes. The floating shelves (chunky shelves) that we make individually shaped on site guaranteeing a perfect fit for any shaped alcove. When the floating shelves are finished there are no visible fixings or seams and every shelf is fine sanded and gap-sealed to the wall. The shelves are fixed very firmly and can usually (depending on walls etc.) take loads up to 40Kg.
Floating shelves we normally make are around 45mm thick but we can make them any thicker up to 100mm. Lighting options are available in our floating shelves and can offer a great source of additional light to the room or to highlight that special display item, minimum thickness 70mm is required to fit lightings into floating shelves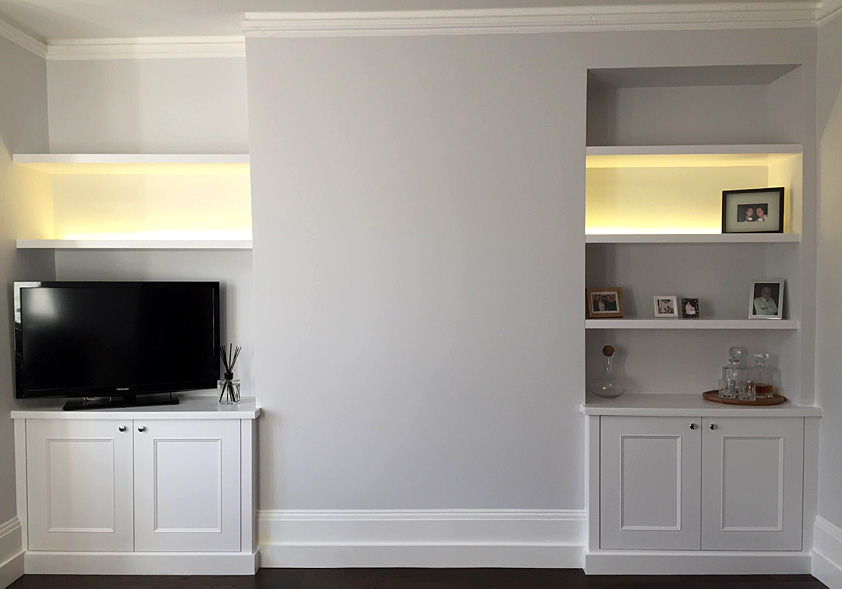 If you require any more information on our wardrobes please contact us [email protected]
Areas covered by JV carpentry:
 Abbeville Village, SW4 / Acton, W3 / Acton Green, W4 / Alexandra Park, N22 / Alperton, HA0 / Angel, N1 / Arsenal, N5 / Artesian Village, W2 / Baker Street, NW1/W1 / Balham, SW12 / Barnes, SW13 / Barnsbury, N1 / Barons Court, W6/W14 / Battersea, SW11 / Battersea Park, SW8 / Battersea Square, SW11 / Bayswater, W2 / Bedford Hill, SW12 / Bedford Park, W4 / Belgravia, SW1 / Bellevue Village, SW17/SW18 / Belsize Park, NW3 / Between the Commons, SW11 / Bishop's Park, SW6 / Bloomsbury, WC1 / Boston Manor, W7/W5 / Bounds Green, N11/N22 / Bowes Park, N13 / Brackenbury Village, W6 / Brent Cross, NW11 / Brentford, TW8 / Brixton, SW9 / Brixton Hill, SW2 / Brockwell Park, SW2 / Brondesbury,  / W2/NW6 / Brondesbury Park, NW2 / Brook Green, W6 / Buckinghamshire,  / Caledonian Road,  N1 / Camden, NW1 / Camden Town, NW1 / Canonbury, N1 / Castelnau, SW13 / Chalk Farm, NW1 / Charing Cross, WC2 / Chelsea, SW3/SW10 / Child's Hill, NW2/NW11 / Chiswick, W4 / Chiswick Mall, W4 / Church End, NW3/NW7 / Clapham, SW4 / Clapham Common North Side, SW4 / Clapham Common Westside, SW4/SW11 / Clapham High Street, SW4 / Clapham Junction, SW11 / Clapham North, SW4 / Clapham Old Town, SW4 / Clapham Park, SW4/SW2 / Clapham South, SW12 / Clarendon Cross, W11 / Colindale, NW9 / Collier's Wood, SW19 / Colney Hatch, N10 / Connaught Square, W2 / Connaught Village, W2 / Copse Hill, SW19 / Corney Reach, W4 / Cottenham Park, SW19 / Covent Garden, WC2 / Crabtree Estate, W6 / Cranley Gardens, N10 / Cricklewood, NW2 / Crouch End, N8 / Dartmouth Park, NW5 / De Beauvoir Town, N1 / Denmark Hill, SE5 / Deptford, SE8 / Diamond Conservation Area, SW18 / Dollis Hill, NW2 / Ealing, W5 / Ealing Broadway, W5 / Ealing Common, W5 / Earls Court, SW5 / Earlsfield, SW18 / East Acton, W3 / East Canonbury, N1 / East Finchley, N2 / East Hill, SW18 / East Putney, SW15 / East Sheen, SW14 / East Twickenham, TW1  / Eastcote,  HA5 / Eastcote Village, HA5 / Edmonton, N9 / Euston, NW1 / Fallow Corner, N12/N3 / Feltham, TW13 / Finchley, N3/N12 / Finsbury Park, N4/N15 / Fitzrovia, W1 / Fortis Green,  N2/N10 / Fortune Green, NW6 / Friern Barnet, N11/N12 / Fulham, SW6 / Fulham Broadway, SW6 / Furzedown, SW16/SW17 / Gladstone Park, NW2 / Glebe Estate, W4 / Gloucester Square,   W2 / Golders Green, NW11 / Gospel Oak, NW5 / Greenford, UB6 / Grove Park, W4 / Gunnersbury, W3/W4 / Ham, TW10 / Hammersmith, W6 / Hampstead, NW3 / Hampstead Garden Suburb, NW11 / Hampton, TW12 / Hampton Court, KT8 / Hampton / Hanger Hill, W5 / Hanwell, W7 / Harlesden, NW10 / Harringay, N8 / Harrow, HA2  / Harrow Weald, HA7 / Harrow on the Hill, HA1 / Hatch End, HA5/WD23 / Hayes, UB3, ub1, ub2, ub4, ub6, ub7, ub8, ub9 / Uxbridge / Hillingdon/ Headstone, HA5 / Heaver Estate, SW17 / Hendon, NW4/NW7 / Hertfordshire,  / Hertsmere,  / Heston, TW5 / High Street Kensington, W8 / Highbury, N5 / Highbury and Islington, N5 / Highgate, N6 / Hillgate Village, W8 / Hillmarton Conservation Area, N7 / Hocroft Estate, NW2 / Holborn, WC2 / Holders Hill, NW4 / Holland Park, W11/W14 / Holloway, N7 / Hornsey, N8 / Hounslow, TW3/TW4 / Hoxton, N1 / Hurlingham, SW6 / Hyde Farm Estate, SW12 / Hyde Park Estate, W2 / Hyde Park Square, W2 / Ickenham, UB10 / Imperial Wharf, SW6 / Isleworth, TW7 / Islington,  N1 / Kensal Green, NW10 / Kensal Rise, NW10 / Kensal Town, NW6/NW10 / Kensington, W8 / Kentish Town, NW5 / Kenton, HA3 / Kenway Village, SW5 / Kew, TW9 / Kew Green, TW9 / Kilburn, NW6 / King's Cross, N1 / Kings Road, SW3 / Kingston / Kingston Hill, / Kingston Vale, SW15 / Knightsbridge, SW3/SW7 / Ladbroke Grove, W11/W10 Lancaster Gate, W2 / Lisson Grove, NW1/NW8 / Little Chelsea, SW13 /Little Ealing, W5 / Little India,  W11 / Little Venice, W2/W9 / Lots Road, SW10 / Lower Holloway, N7 / Magdalen Estate,  / W18 / Maida Hill, W9 / Maida Vale, W9 / Maidenhead, SL6 / Mapesbury Estate, NW2 / Marylebone, W1 / Mayfair, W1 / Merton, SW19 / Mildmay, N5/N1  / Mill Hill,  / W7 / Mill Hill East, NW7 / Moor Park, HA6 / Moore Park Estate, SW6 / Mornington Crescent, NW1/N1 / Mortlake, SW14 / Munster Village, SW6 / Muswell Hill, N10 / Neasden, NW2 / New Southgate, N11 / Nightingale Triangle, SW12 / Nine Elms, SW8 / North Acton, W3 / North Ealing, W3/W5 / North Finchley, N12 / North Harrow, HA1 / North Kensington, W10 / North Sheen, TW9 / Northfields, W13/W5 / Northolt, UB5 / Northwood, HA6/WD19 / Northwood Hills, HA6 / Notting Hill, W11 / Notting Hill Gate, W11/W2 / Old Isleworth, TW7 / Olympia, W14 / Osterley, TW7/TW5 / Oval, SW9 / Paddington, W2 / Palmers Green, N13 / Park Royal, NW10 / Parsons Green, SW6 / Perivale, UB6 / Peterborough Estate, SW6 / Petersham, TW10 / Phillimore Estate, W8 / Piccadilly Circus, W1 / Pimlico, SW1 / Pinner, HA5 / Pinner Green, HA5 / Pitshanger Lane, W5 / Poet's Corner, W3 / Portman Estate, W1 / Portobello, W11 / Primrose Hill, NW1/NW3 / Prince of Wales Drive, SW8/SW11 / Putney, SW15 / Putney Heath, SW15 / Queen's Park, NW6 / Queensway, W2 / Ravenscourt Park, W6 / Rayners Lane, HA2 / Raynes Park, SW20 / Regent's Park, NW1 / Richmond, TW10/TW9 / Richmond Green, TW10 / Richmond Hill, TW10 / Rickmansworth, WD3 / Roehampton, SW15 / Royal Oak, W2 / Ruislip, HA4 / Ruislip Gardens, HA4 / Ruislip Manor, HA4 / Sands End, SW6 / Shaftesbury Estate, SW11 / Shenley, WD7 / Shepherd's Bush, W12 / Shepperton, TW17 / Sloane Square, SW1 / Slough SL1, SL2, SL3 / Soho, W1 / Somers Town, NW1 / South Acton, W3 / South Ealing, W5 / South Hampstead, NW6 / South Harrow, HA1 / South Kensington, SW7/SW5 / South Park, SW6 / South Ruislip, HA4 / South Wimbledon, SW20 / Southfields, SW18 / Southgate, N14 / Spencer Park, SW18 / St James's, SW1 / St John's Hill, SW11 / St John's Wood, NW8 / St Margarets, TW1 / St Pancras, N1 / Stamford Brook, W6 / Stamford Hill, N16 / Stanmore, HA7 / Stockwell, SW9 / Stoke Newington, N16 / Strand on the Green, W4 / Strawberry Hill, TW2 / Streatham, SW16/SW2 / Streatham Common, SW16 / Streatham Hill, SW2 / Streatham Park, SW16/SW17 / Streatham Vale, SW16 / Stroud Green, N4/N8 / Sudbury, HA0/HA1 / Summerstown, SW19 / Swiss Cottage, NW3 / Teddington, TW11 / Telford Park, SW2 / Temple Fortune, NW11 / The Hawkins, SW1 / The Sisters, SW11 / The Strand, WC1 / The Toastrack, SW18 / The Tonsleys, SW18 / Tollington Park, N7 / Tooting, SW17 / Tooting Bec, SW17 / Tooting Graveney, SW17 / Tottenham, N17 / Totteridge, N20 / Tufnell Park, N19 / Tulse Hill, SW2/SE27 / Turnham Green, W4 / Turnpike Lane, N8 / Twickenham, TW2 / Upper Holloway, N19 / Upper Tooting, SW17 / Vauxhall, SW8 / Victoria, SW1 / Walpole Park, W5 / Wandsworth, SW18 / Wandsworth Common, SW12/ SW17 / Wandsworth Town, SW18 / Wealdstone, HA3 / Wembley, HA9 / Wendell Park, W12 / Wenlock Basin, N1 / West Acton, W3 / West Brompton, SW6 / West Drayton, UB7 / West Ealing, W13 / West End, W1 / West End village, KT10 / West Finchley, N3 / West Hampstead, NW6 / West Harrow, HA1 / West Hill, SW15/SW18 / West Kensington, W14 / West Kilburn, W9 / West Putney, SW15 / West Ruislip, HA4 / West Wimbledon, SW19 / Westbourne Green, W11 / Westbourne Grove, W11/W2 / Westbourne Park, W2 / Westminster, SW1 / Whetstone, N20 / White City, W12 / Whitehall Park, N19 / Whitton, TW2 / Willesden, NW10 / Willesden Green, NW10 / Wimbledon, SW19 / Wimbledon Common, SW19 / Wimbledon Park, SW19 / Wimbledon Village, SW19 / Windsor, SL4 / Wood Green, N22 / Woodside Park, N12,