27 Bespoke Bookcases Ideas for London Properties
On this page, we put together some of the best bespoke bookcases that we built in the past for our customers in London. I hope that gives you lots of great ideas to choose your perfect design. Custom fitted bookcases not only provide you with book storage it is also a good place to display picture frames of ones you love and store your favourite subjects such as birthday cards for example. Many people use their bookshelves to show their favourite books and trophies and once you have guests they can tell about you by simply looking at your favourite books on the shelves. Custom shelving can be crafted to fit any available space and they transform your living room to another level.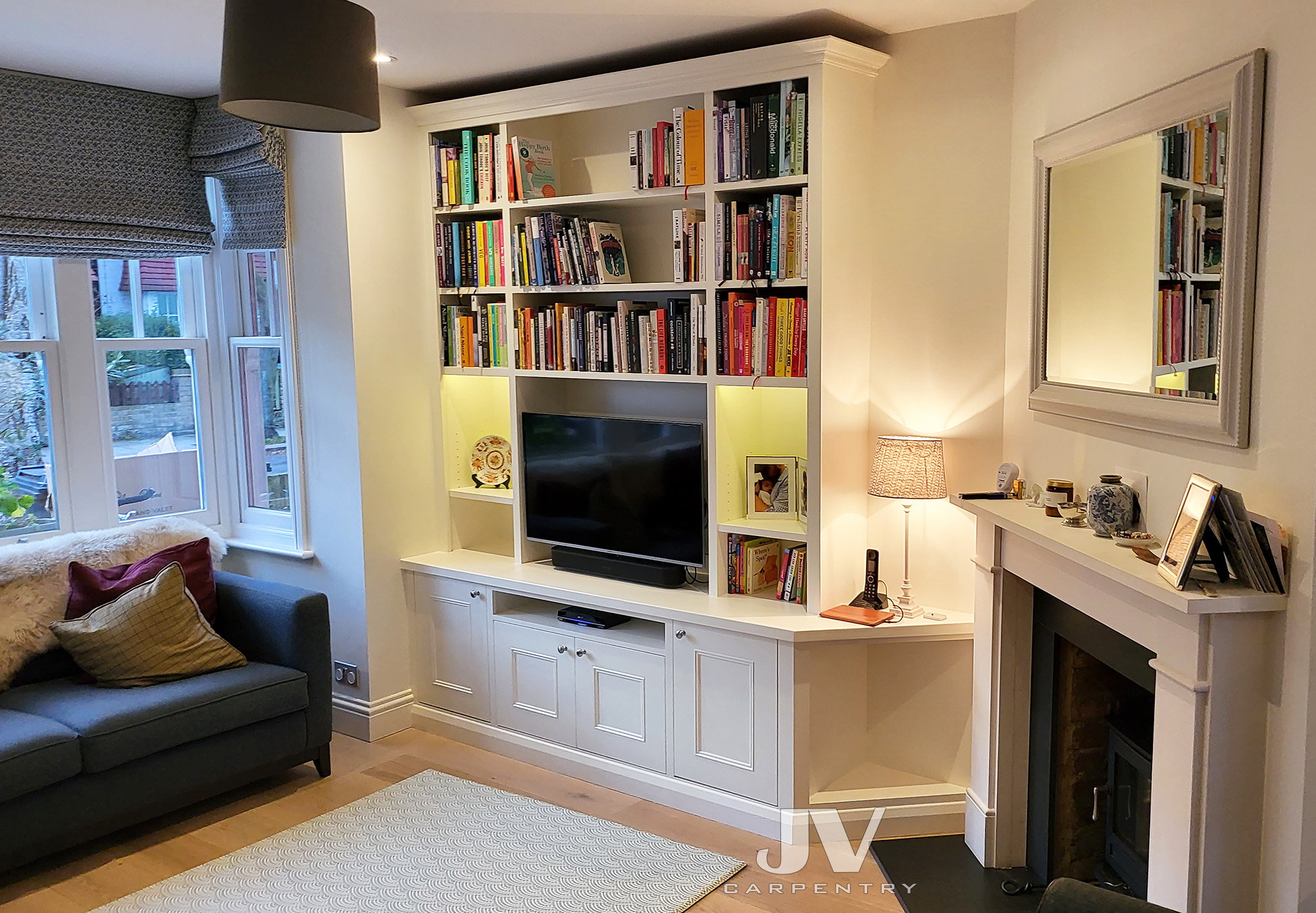 Our bookshelves units are very bespoke and can be modified to your taste. They can be made in a very traditional style by adding to your bookcase a lot of details such as beading, skirting board and coving. Optionally we can make them in a very contemporary way with minimum details and chunky floating shelves.
In most cases, our customers prefer to have bespoke bookshelves with lower cabinets with doors at the bottom and shelving space at the top and most of the cabinets are slightly deeper than the shelves and stick out a bit more. But we can design your bookcases to your custom needs and they can be made without doors and only shelves from top to bottom.
All of our bespoke bookcases are made from MDF and fitted with professional carpenters and hand painted on site by professional painters with any custom colour you like. Read more about
How we work
.
We also shared some pricing examples for your information below. If you have any questions, please
get in touch
with us.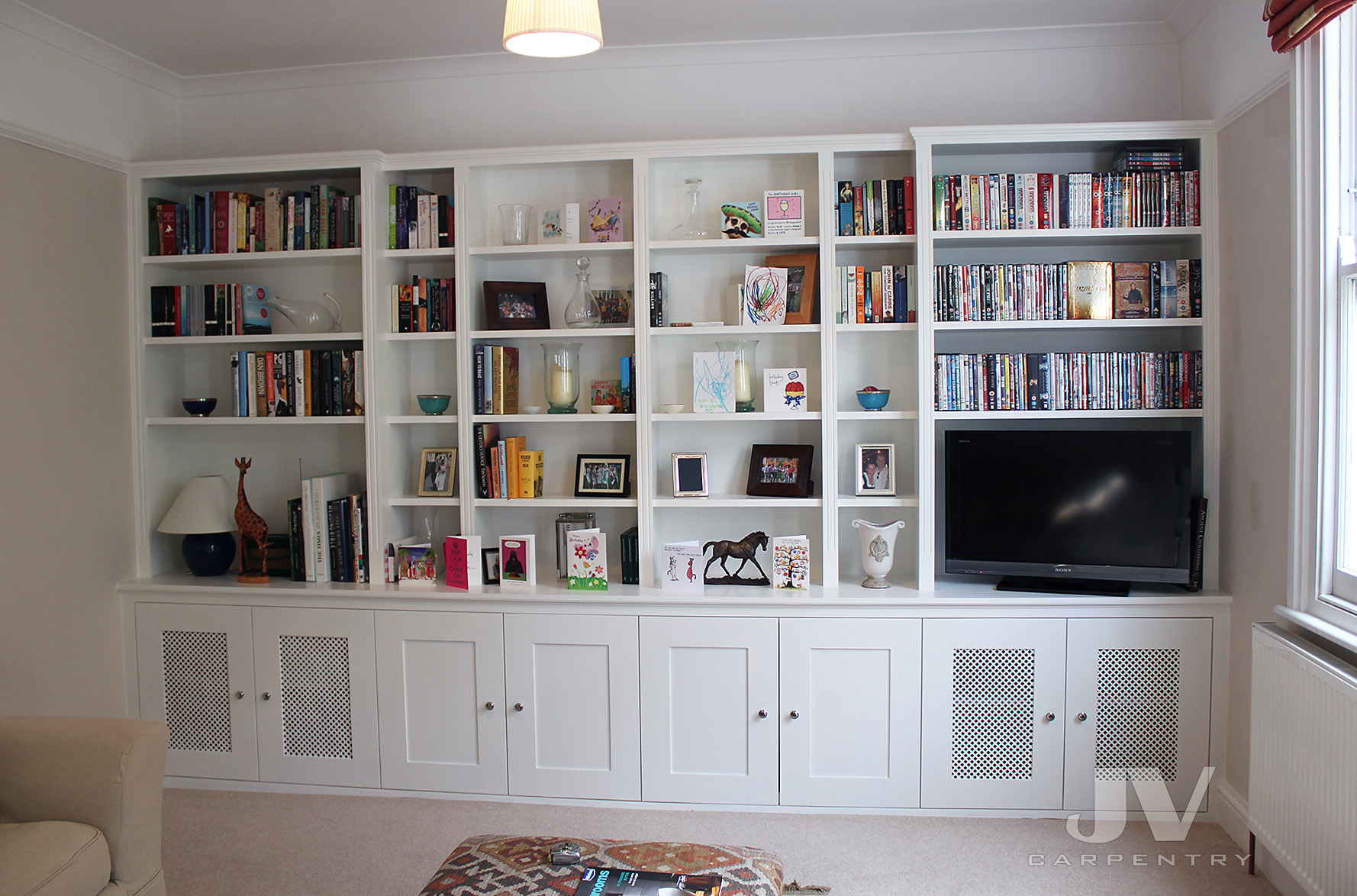 So If you live in London and within M25 range we would be pleased to hear from you. The members of our team will be glad to assist you with rough prices first before we continue to the next step - your home visit and measuring process. We are a registered limited VAT company and accept all forms of payments including major Credit Cards, PayPal or direct transfer payments.
Custom bookshelves with light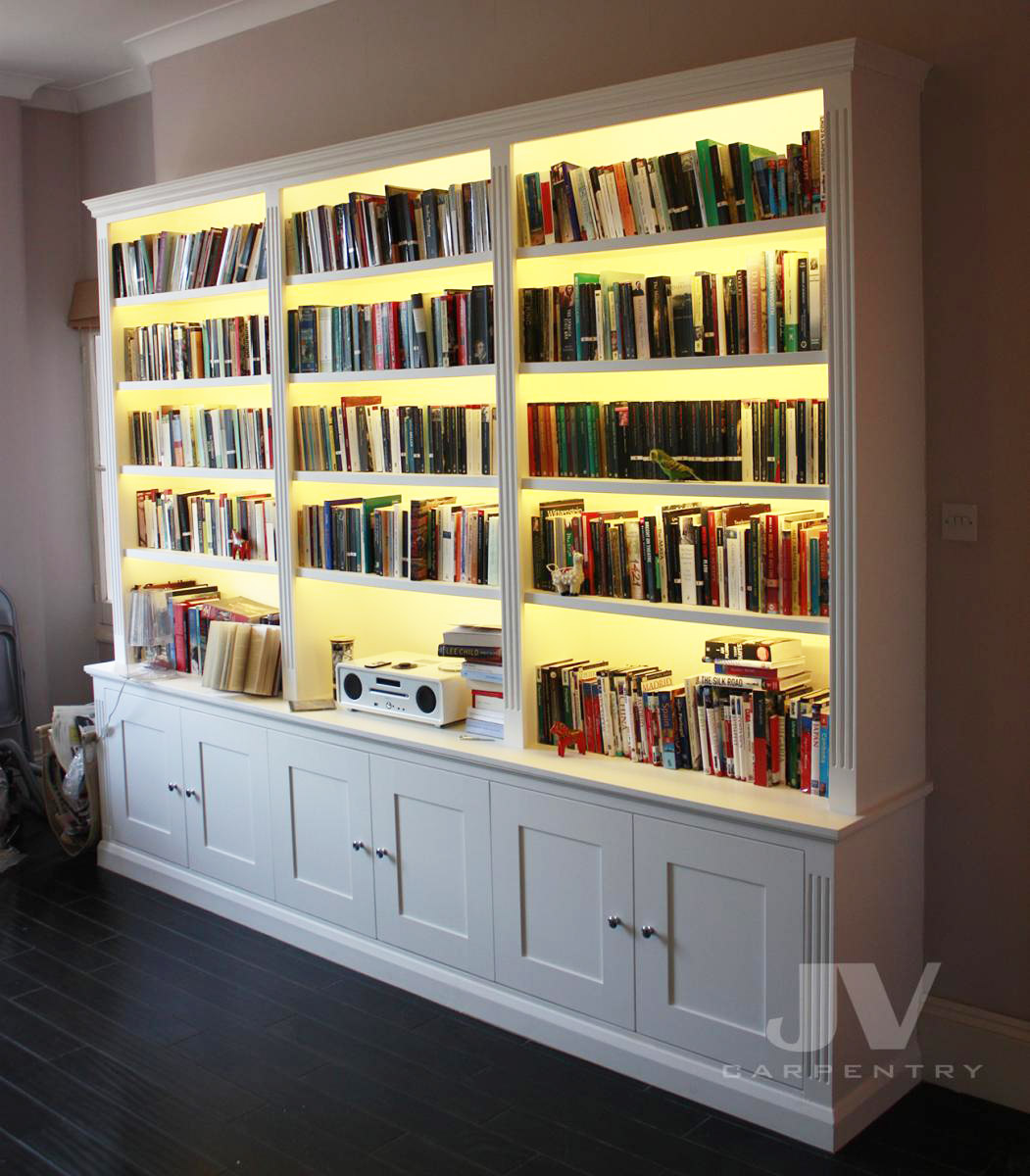 Bespoke fitted bookcase traditional style with LED light in the shelves. This bookcase made with lots of details. It has a skirting board at the bottom, grooves on the frames and crown cornice at the top.
The price for this bookcase is roughly £3,600+VAT excluding led light. For LED light we charge roughly £120 per shelf.
Contemporary bespoke bookcases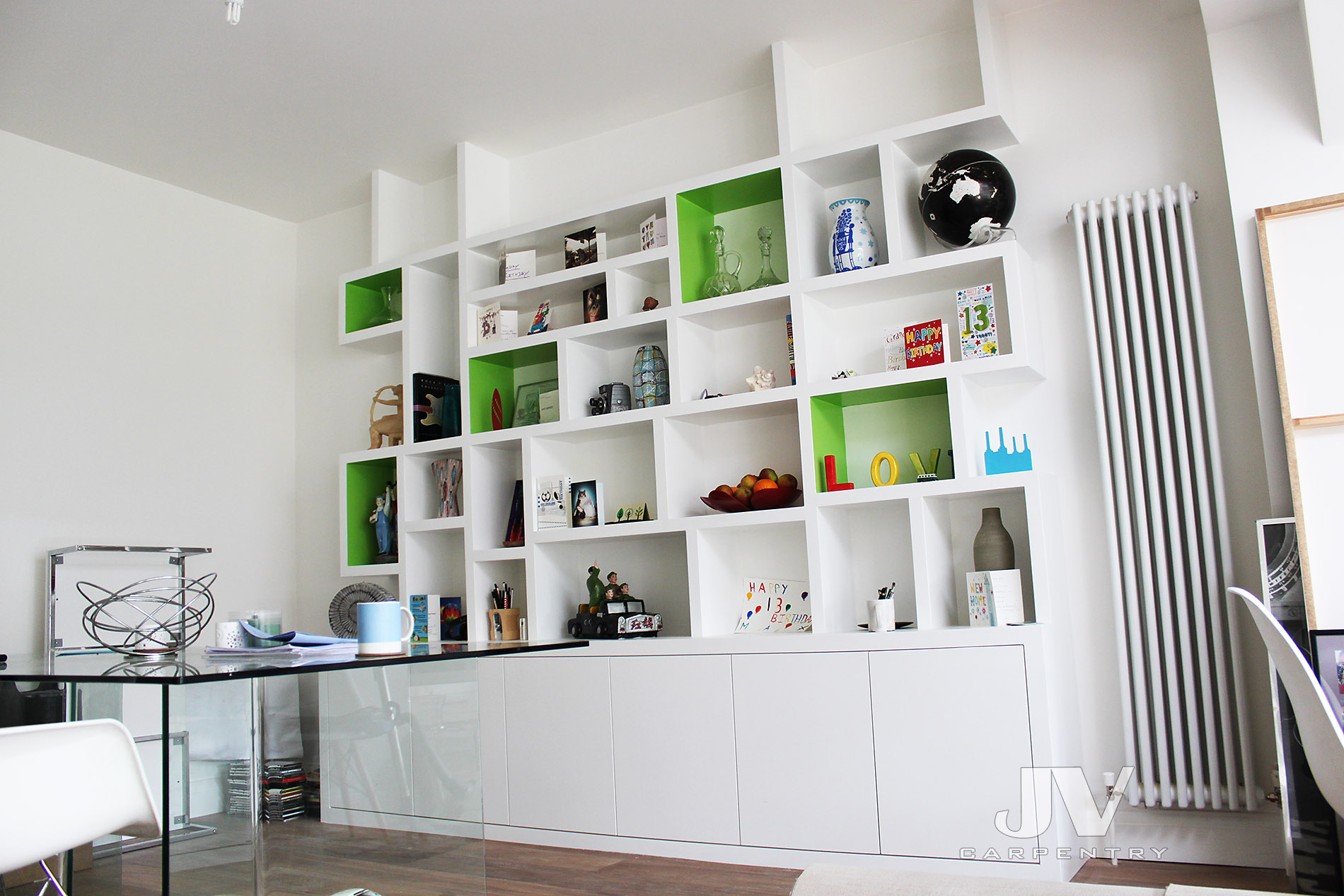 Custom bookcase very interesting style with random chunky floating shelves and cabinets with plain doors. Very modern and minimalistic design for modern properties. This is the picture of our very first bookcase in this style we designed and built in London in 2011. This bookcase was designed by our customer and at that time I thought it a very crazy idea to do random-sized shelves. If I'm being honest, I thought it was going to look awful. But once we built it actually appeared to look very good and it became a very popular style, and I placed it at the front page of our website and since then we have built over 50 custom bookcases of similar styles. Some of them you can find below. The rough price for this bookcase is around £4,000+VAT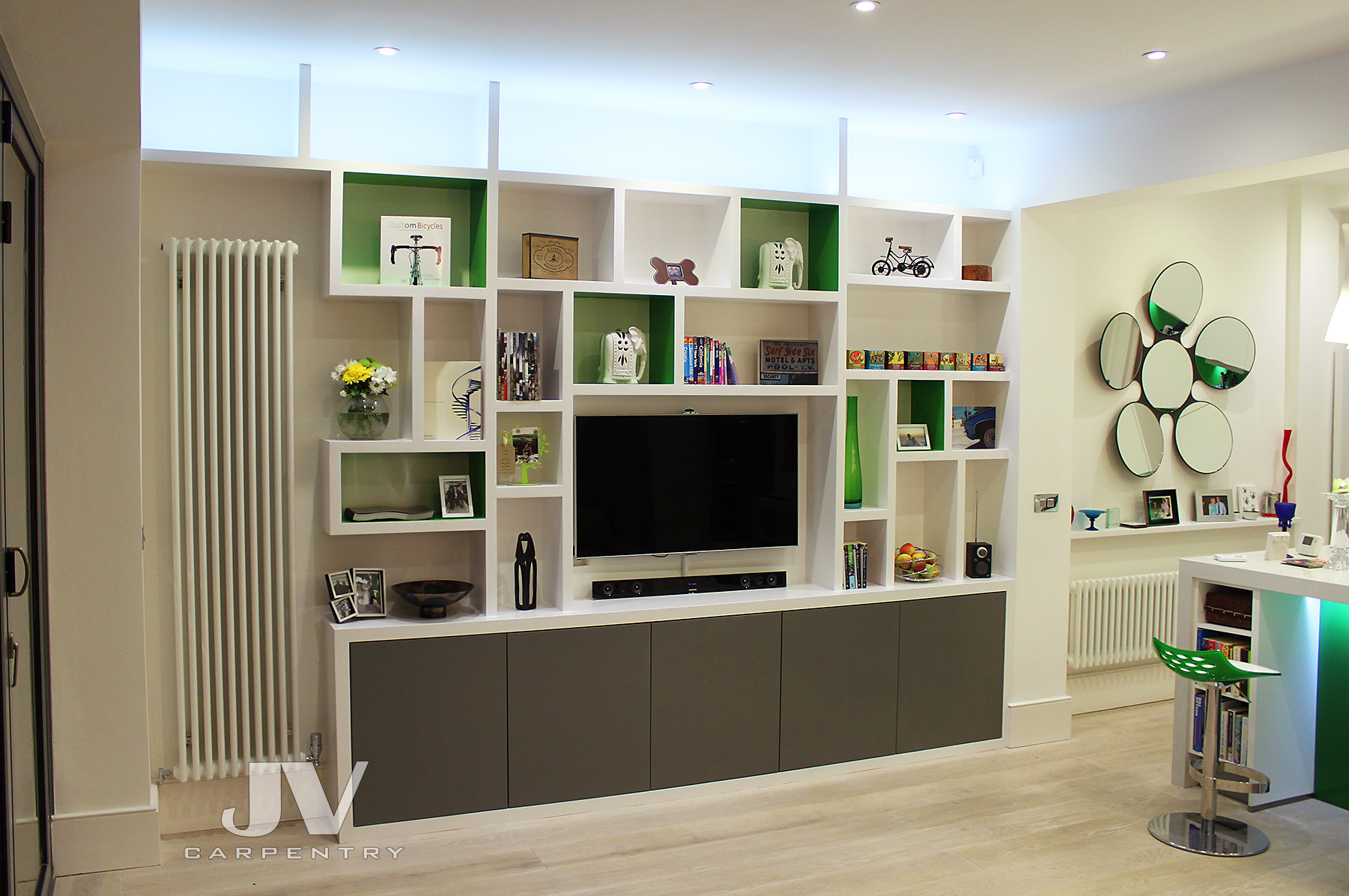 So after we built our fist 'crazy paving like' bookcase people started to love it and this project was the second custom bookcase similar style that we installed in Acton, West London. This one we made with grey-painted doors and the same green cubby holes created by chunky shelves. We also installed an LED light strip on the top shelf pointing to the ceiling. This custom bookcase roughly cost £4,000+VAT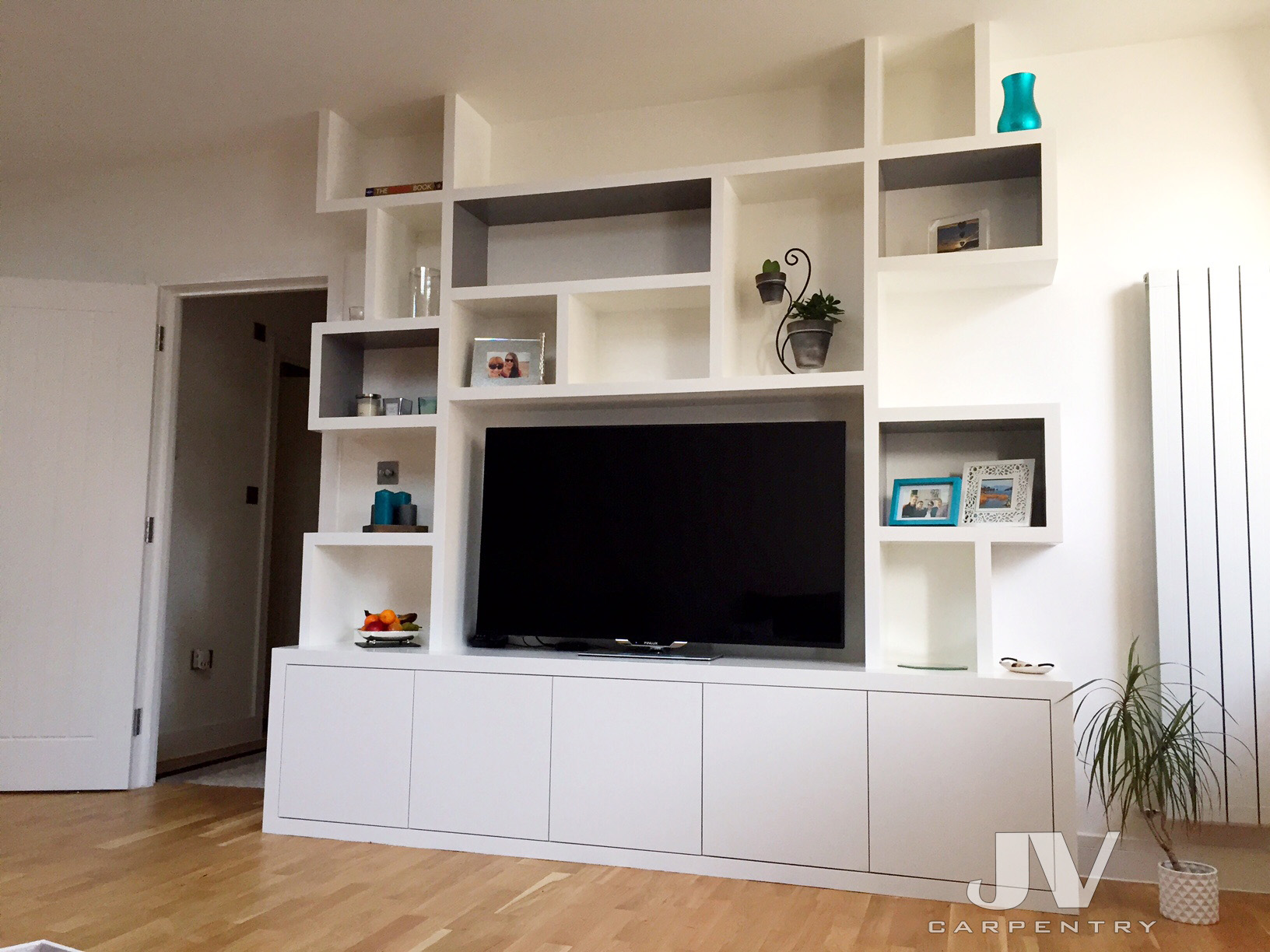 Another 'crazy paving-like' custom bookshelves contemporary style that we recently designed and fit for our customer in East London. This time we used grey colour for the cubbyholes. Looking good as well! This custom bookcase roughly cost £4,000+VAT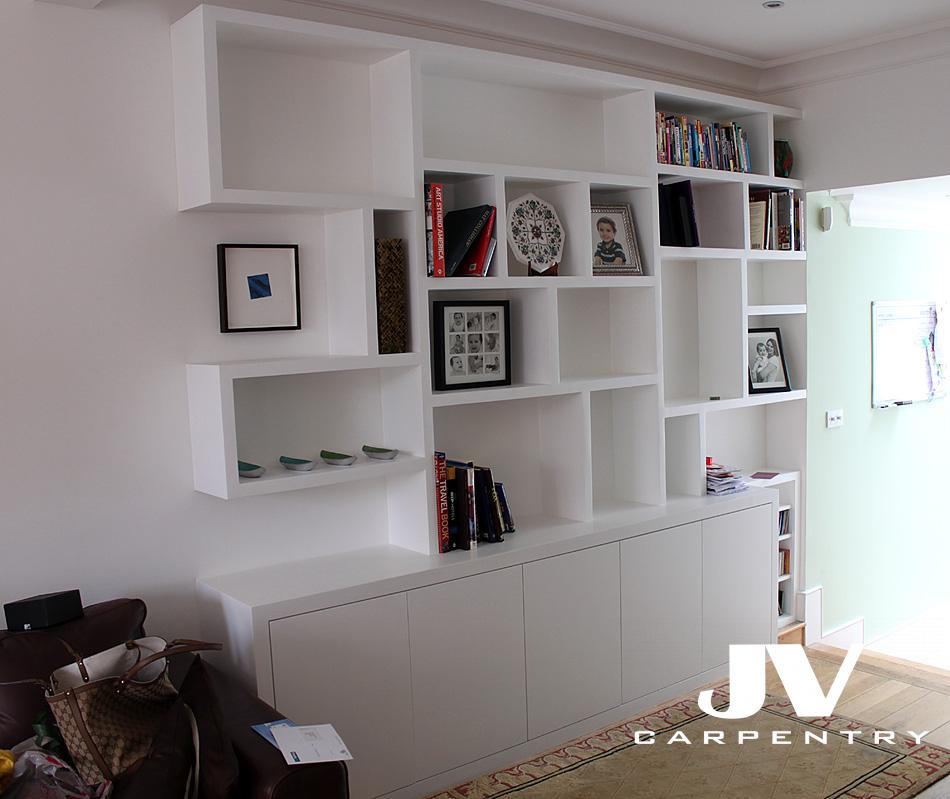 In this example, you can see a very similar design of the fitted bookshelves but this time it is painted in white without different colour cubby holes. This custom bookcase roughly cost £4,300+VAT
Bespoke cabinets with floating shelves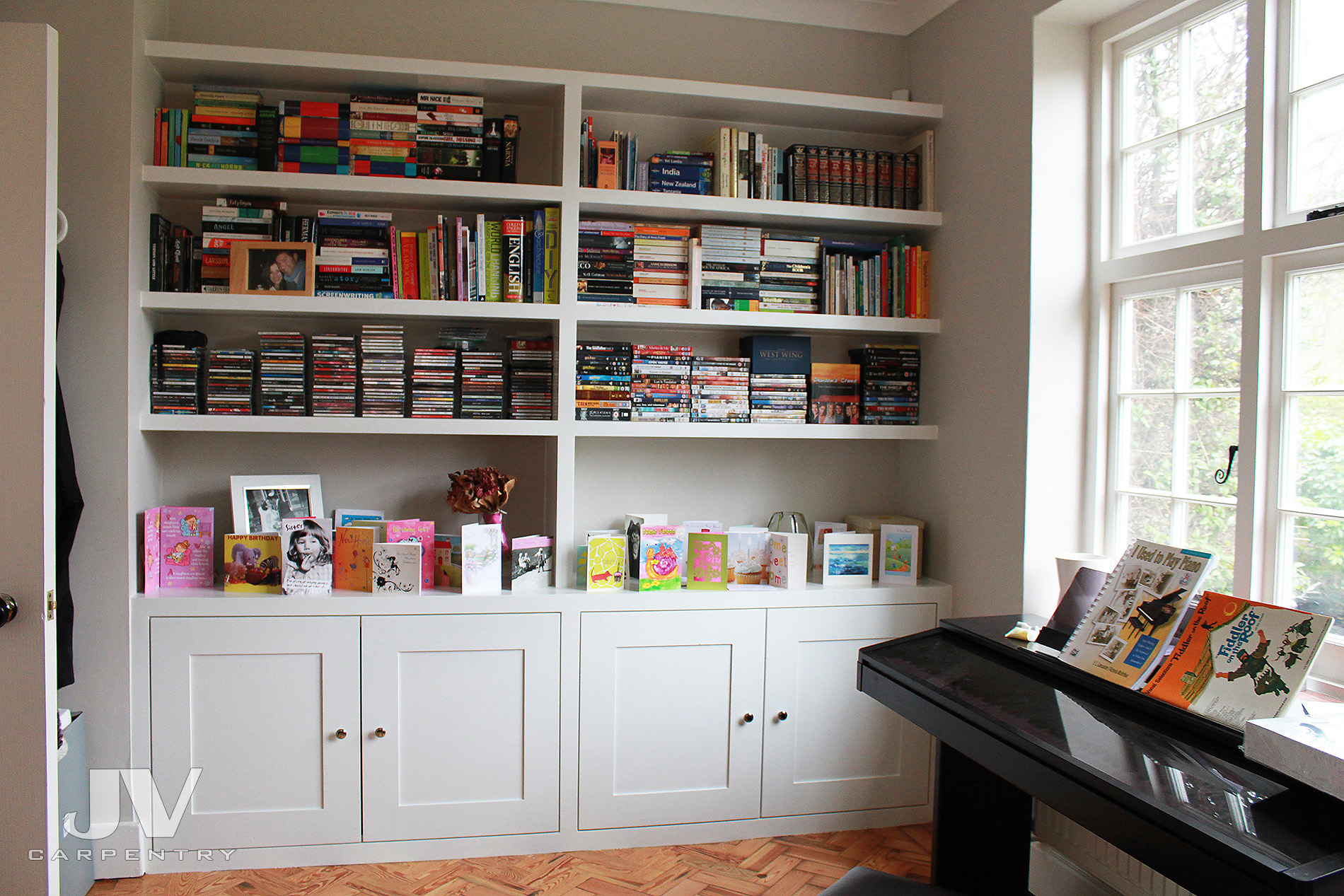 This bookcase was made with shaker doors at the bottom and at the top we designed it with some floating shelves. Because the space is a bit too wide for a single shelf, we made it with a vertical partition to create two sets of shelves. This makes the shelves much stronger.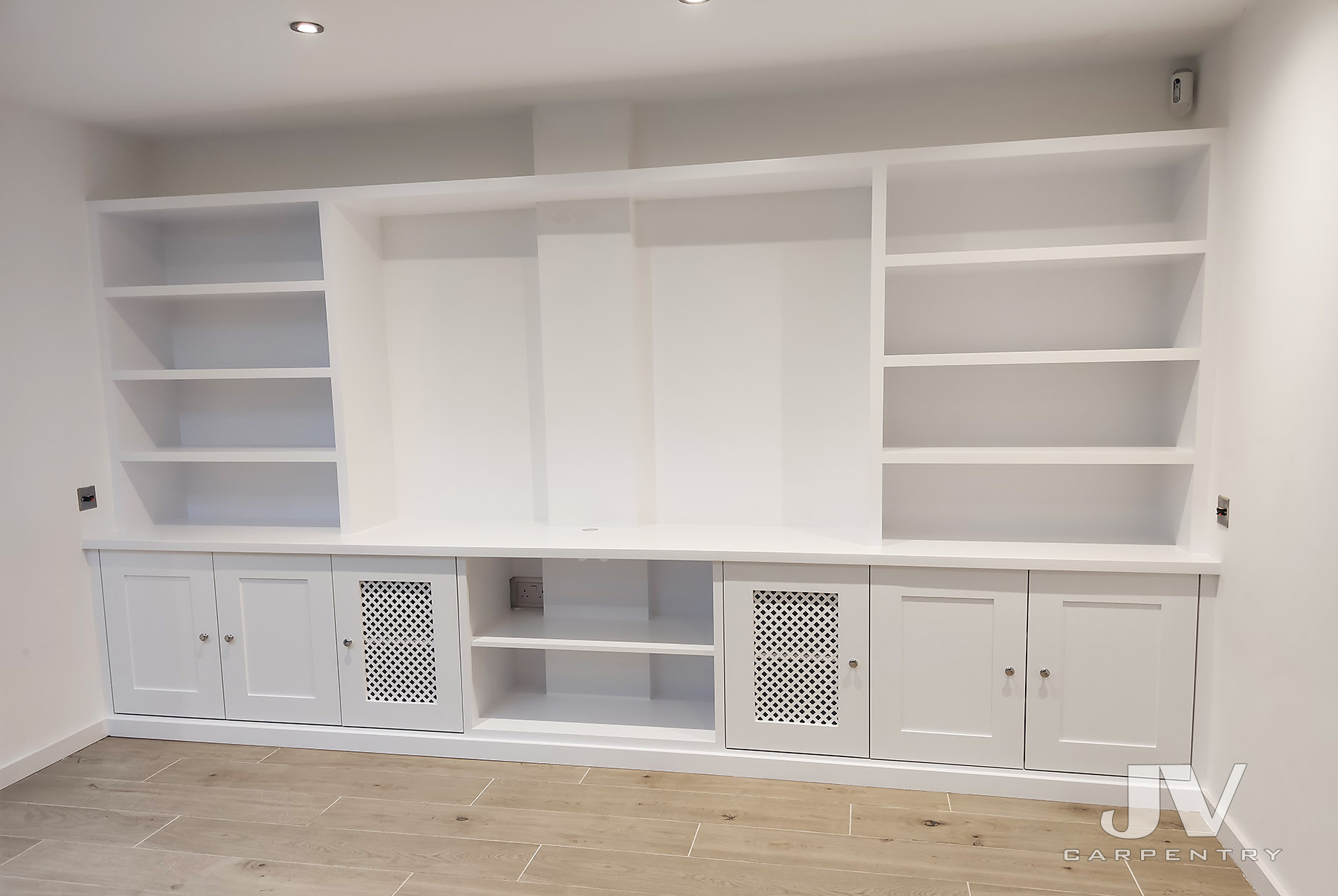 Custom bookshelves with floating shelves which we built on a wide wall ad to go around the pillow. We designed it with chunky countertop to match the floating shelves, two grilled doors and skirting board to match existing.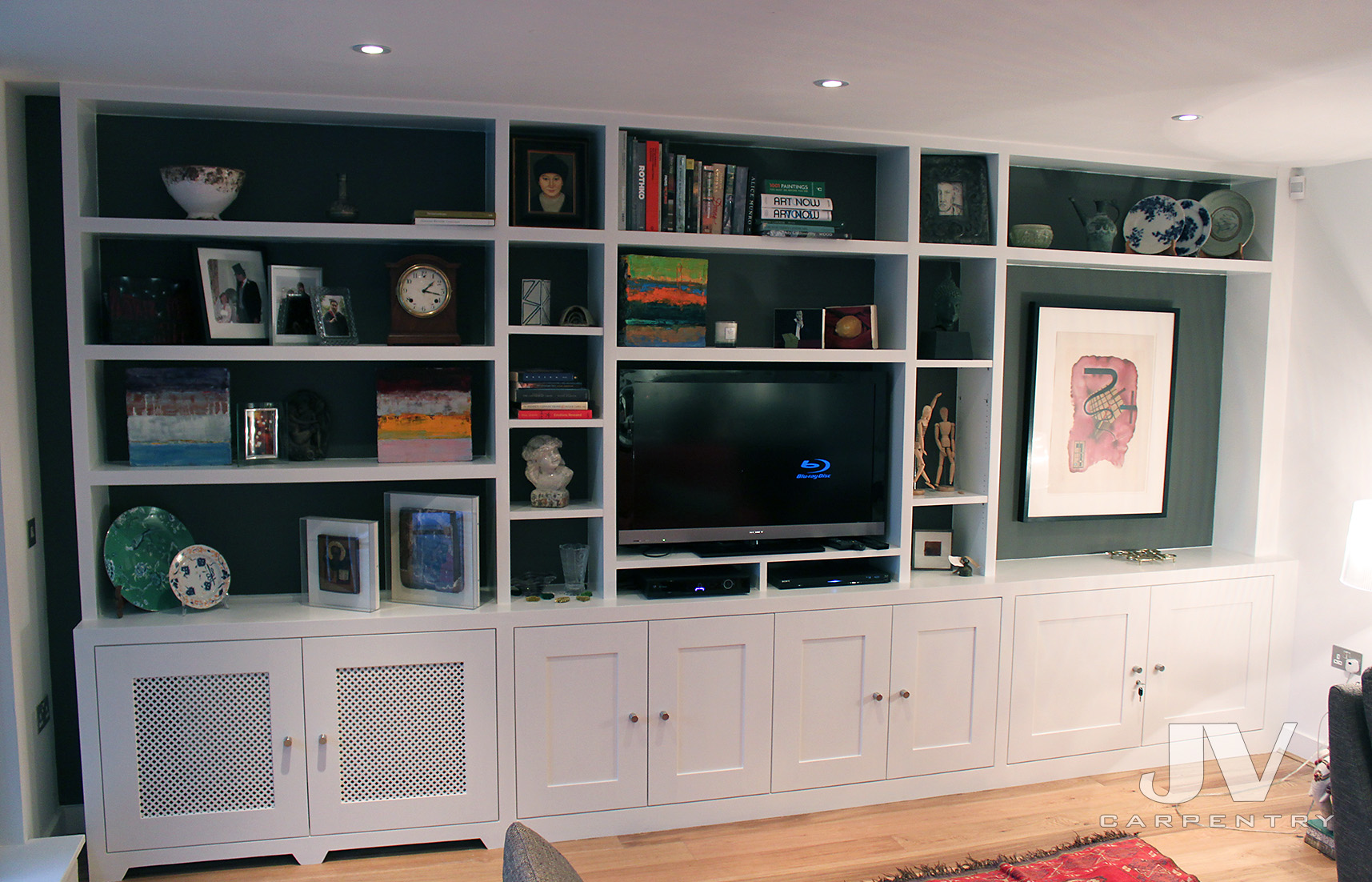 Another example of custom bookcase with chunky shelves that we made in Chiswick (West London) in 2010. The rough price for these custom bookshelves is £4,950+VAT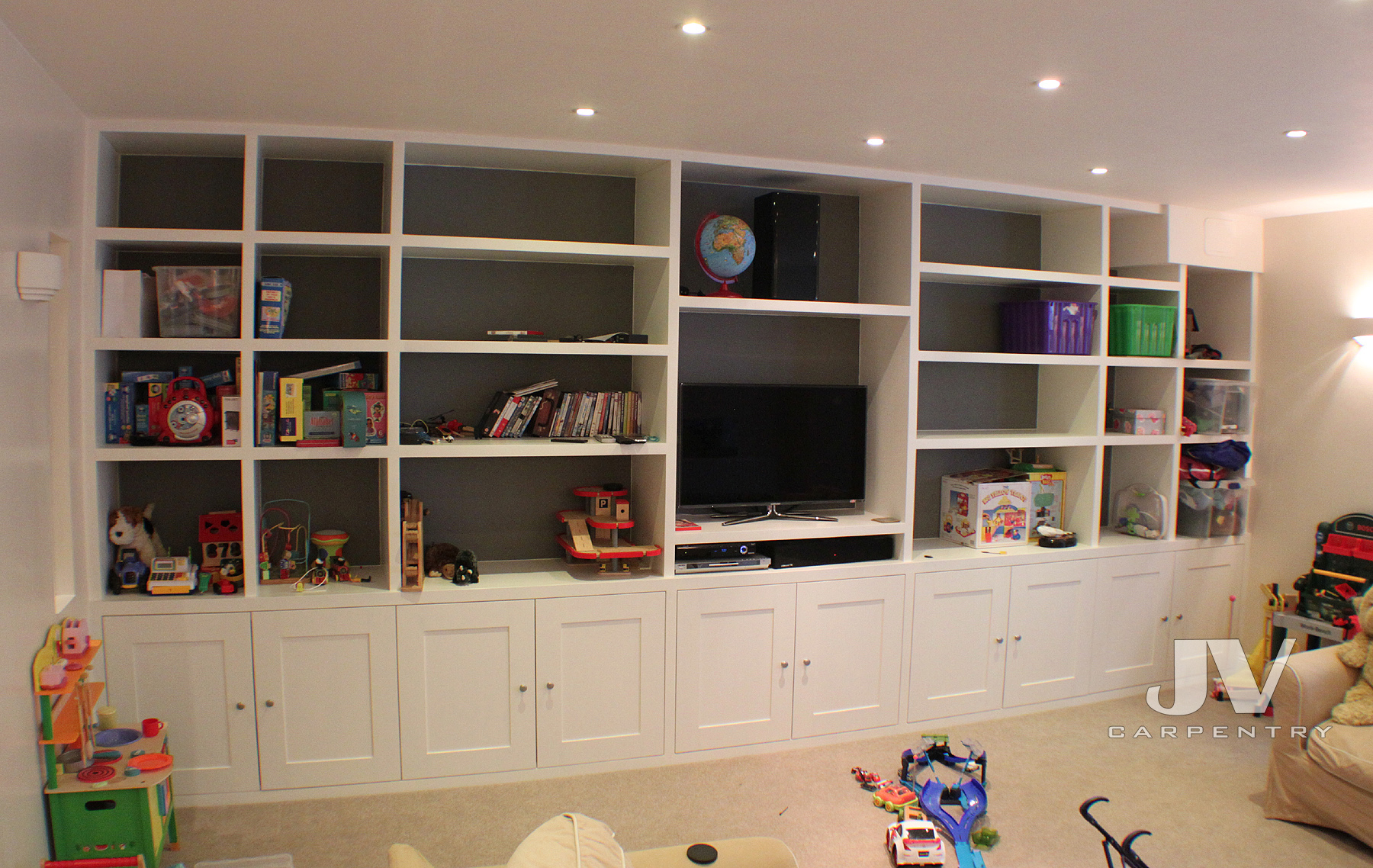 Probably the biggest bespoke bookcase I ever built. It has 10 doors at the bottom and covers 5m wall. It made with chunky shelves and space for TV in the middle. Rough price is £5,800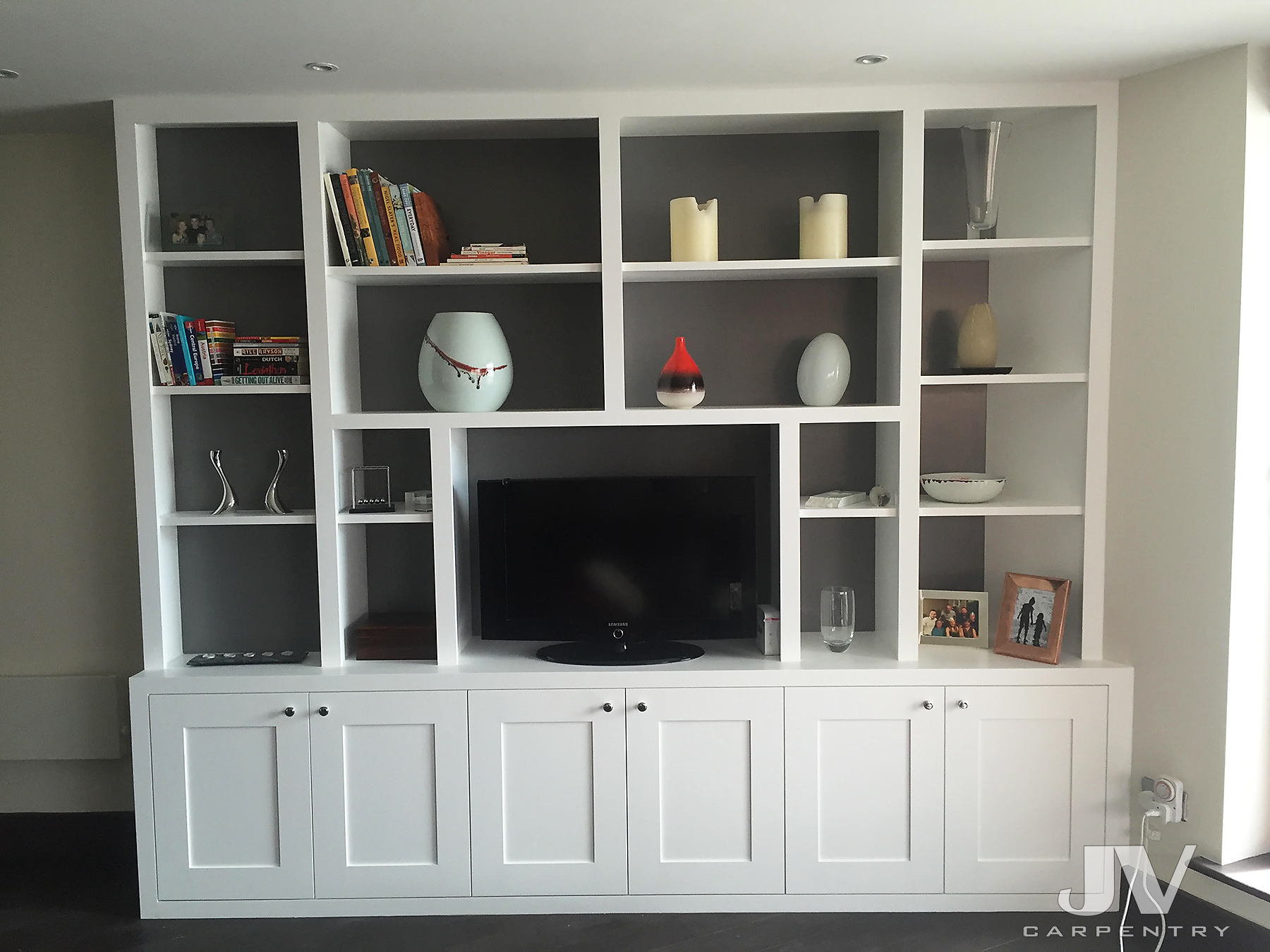 Another custom bookshelves with shaker doors.  You can see it is very common to paint the back of the bookshelves with dark grey colour to create a good contrast. This bookcase roughly cost £3,600+VAT
Traditional fitted bookcases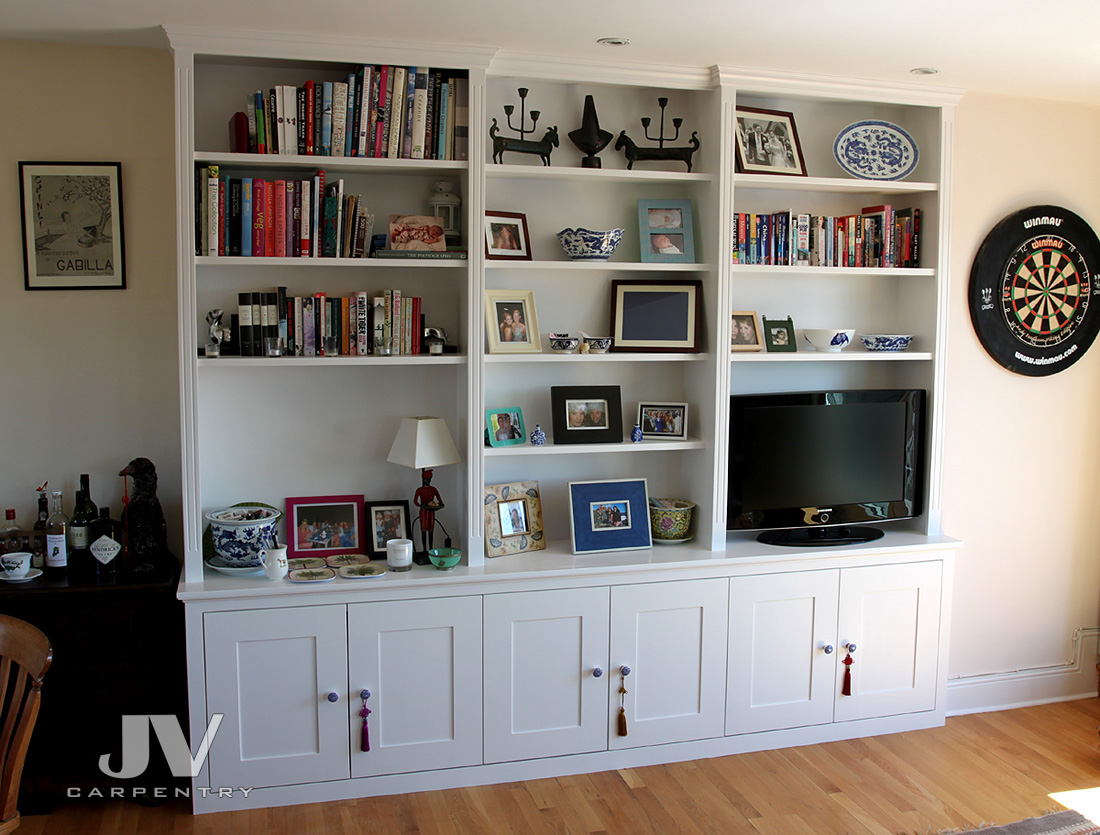 This bookcase is made with a good number of details to create a traditional look. We cut some lines on the frames around the shelves, made the bottom cabinets with a countertop and finished it with a small cornice at the top. Rough price is £3,600+VAT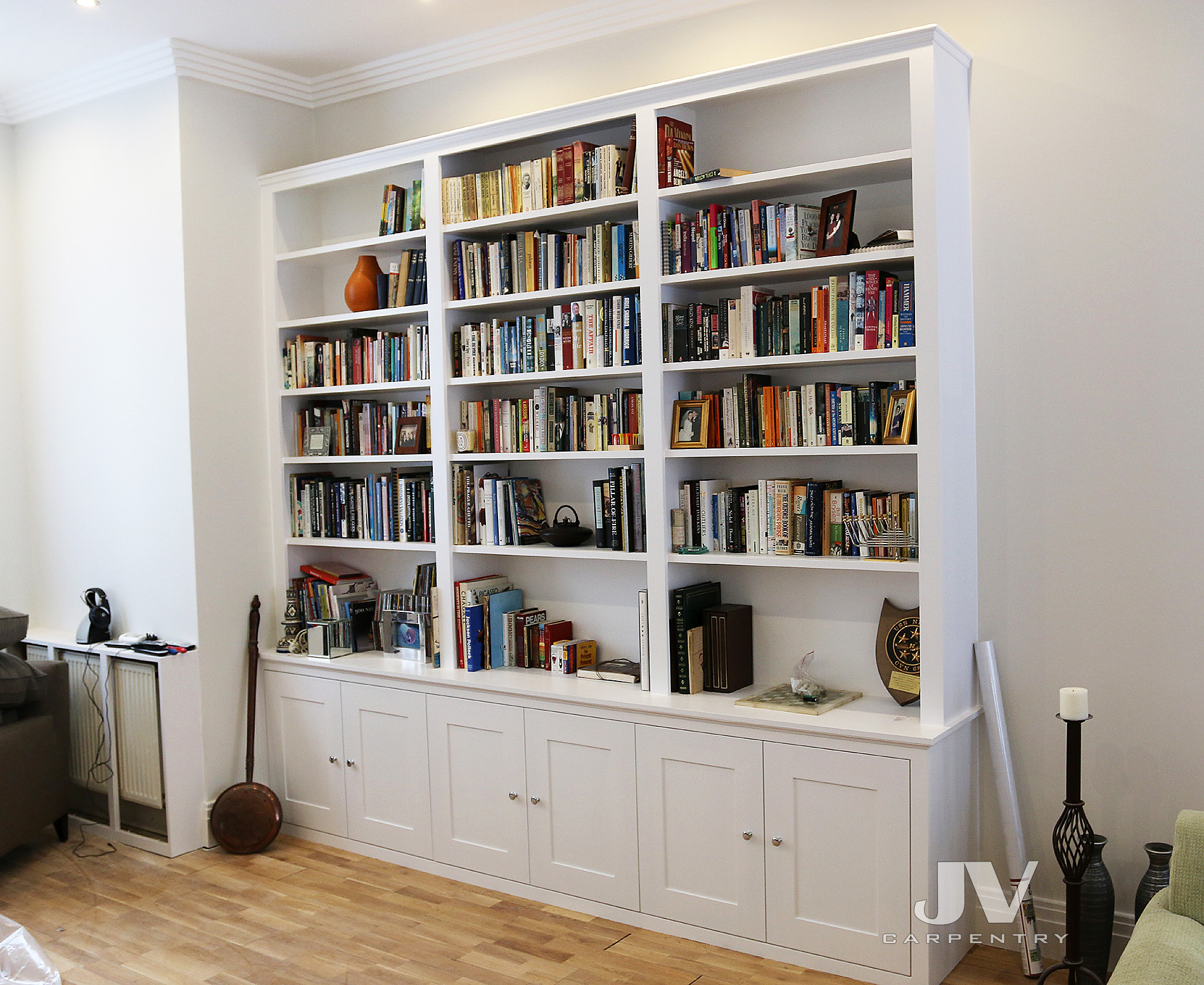 We designed this bookcase with shaker doors at the bottom and quite plain bookshelves at the top. This bookcase roughly cost £3,650+VAT
Custom modern bookcase with overhead cabinets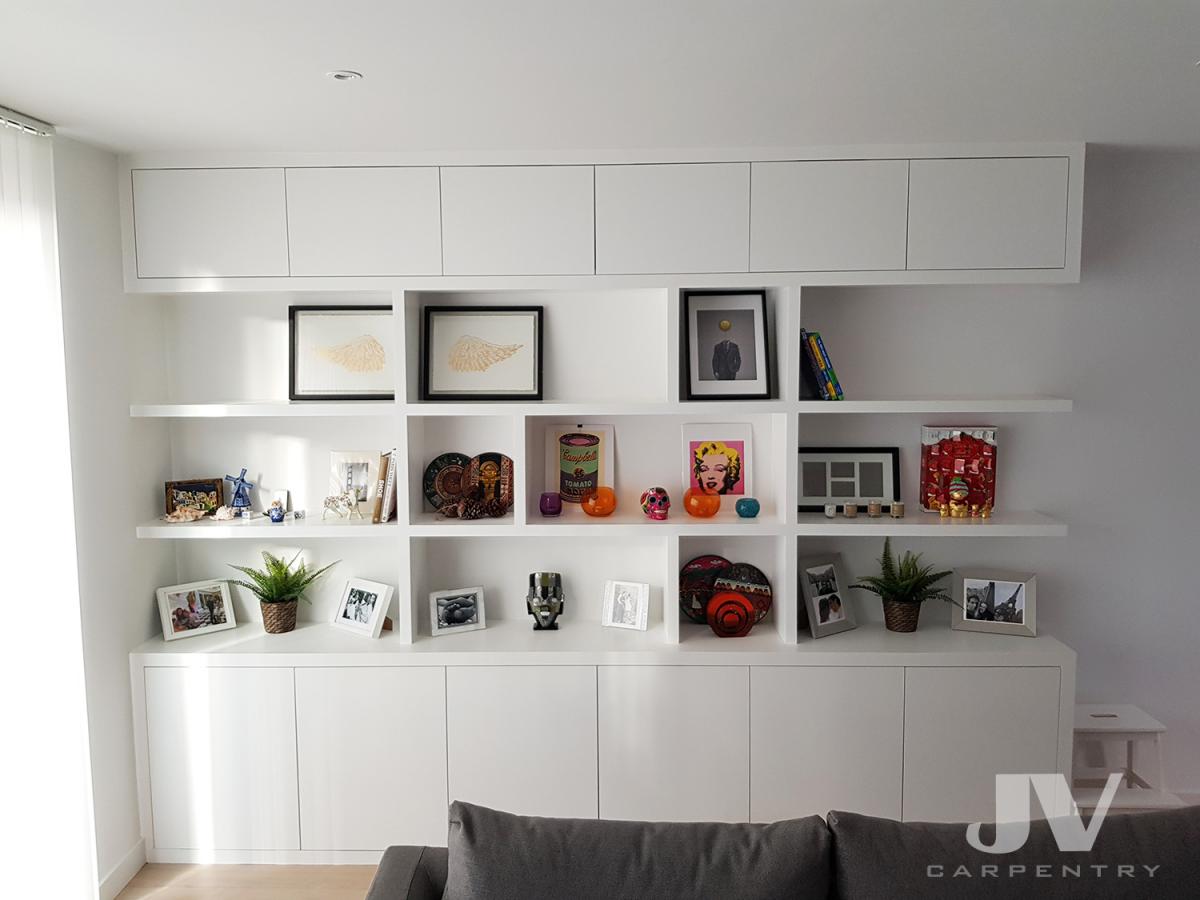 Custom bookcase with cabinets at the bottom, floating shelves with dividers in the middle and finishing with storage space behind the doors at the very top. Very interesting and very unique design with minimum details, plain push to open doors and chunky floating shelves.
Custom bookshelves with an oak countertop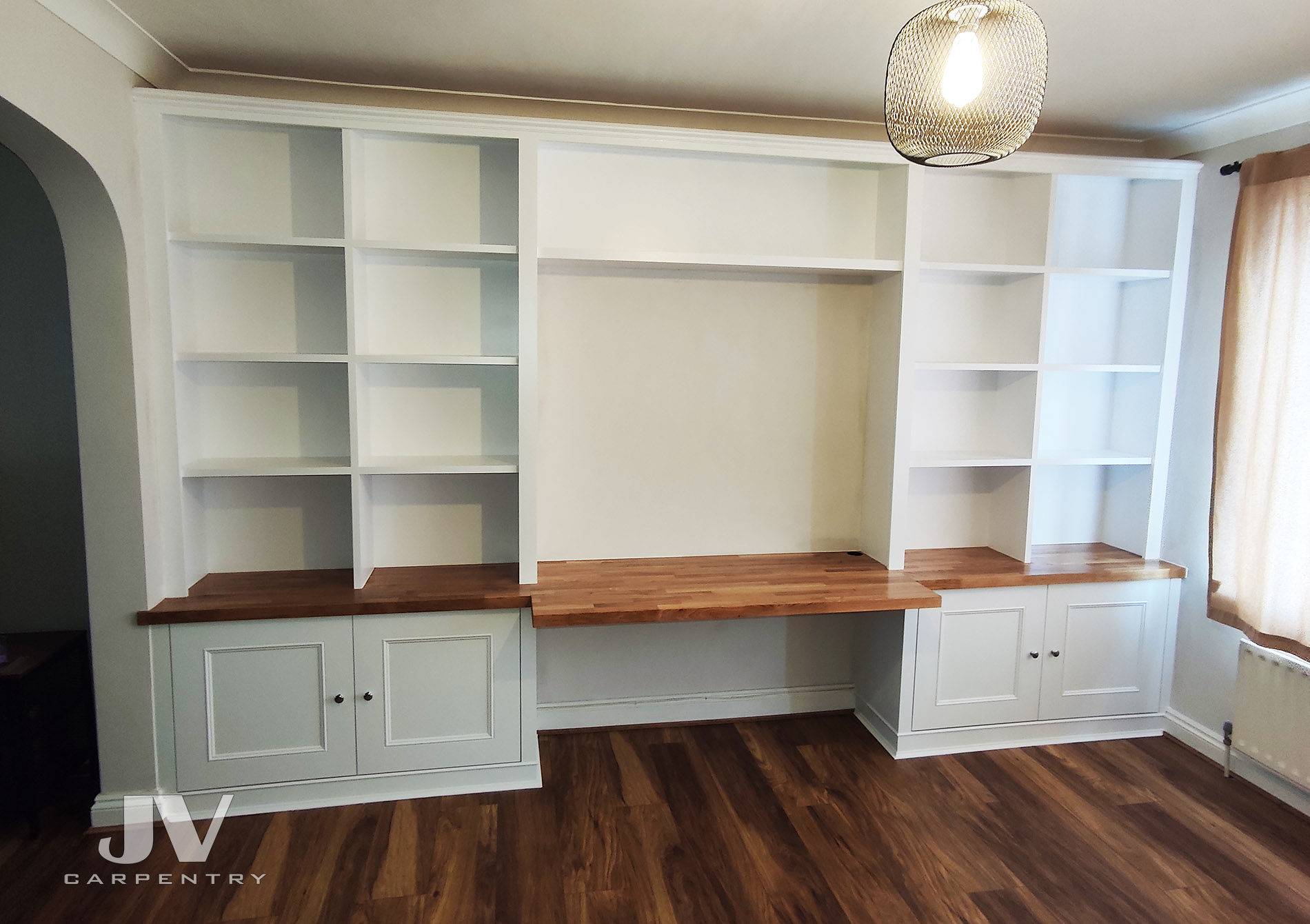 We designed this custom bookcase with an oak countertop and created a desk space in the middle. This is very ideal for people who work from home.
Bespoke corner bookcase with wine rack and LED light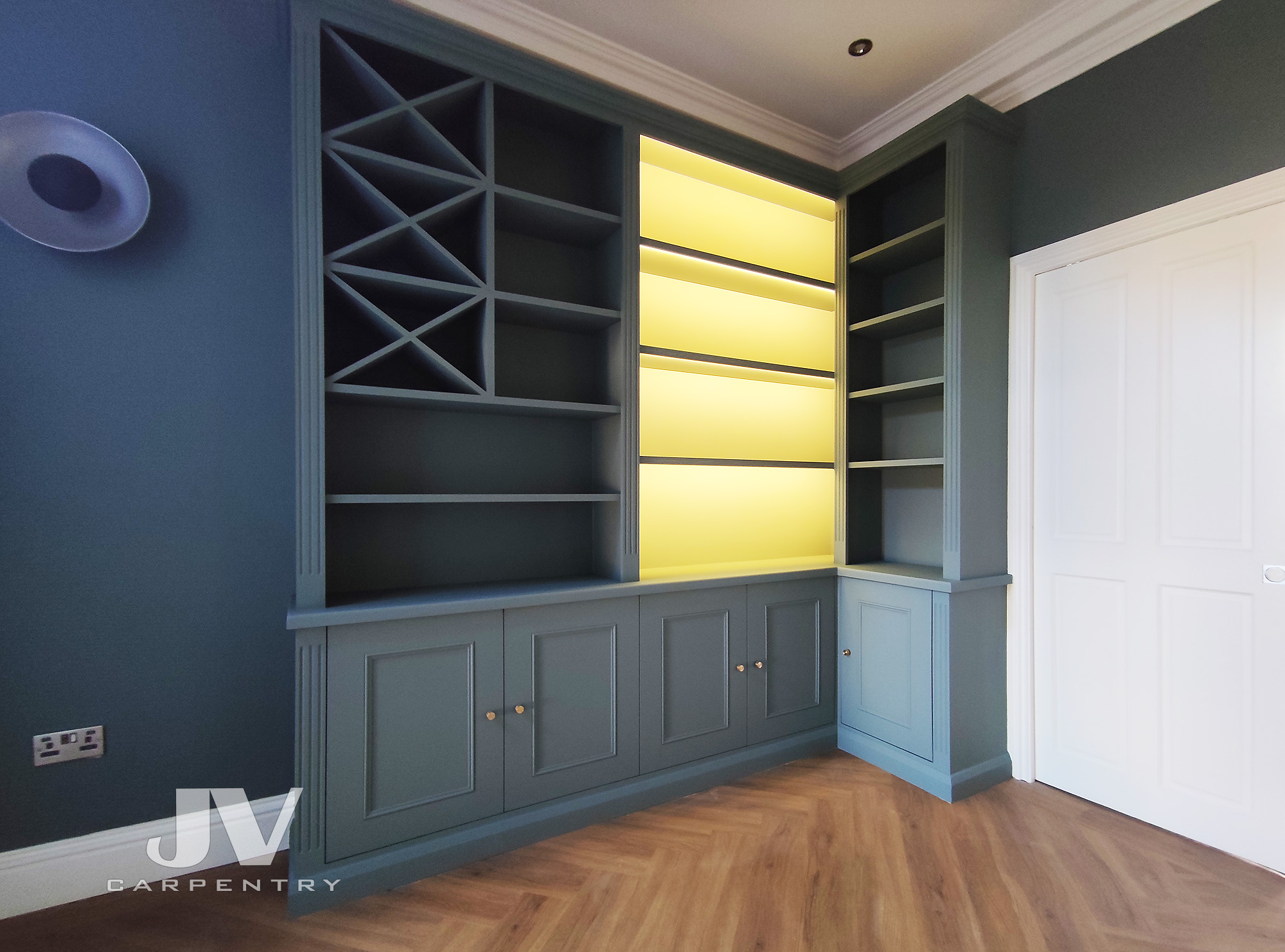 Absolutely stunning corner bookcase with custom wine rack and LED lights. It would roughly cost £4,400+VAT
Custom bookshelves with drawers and whine rack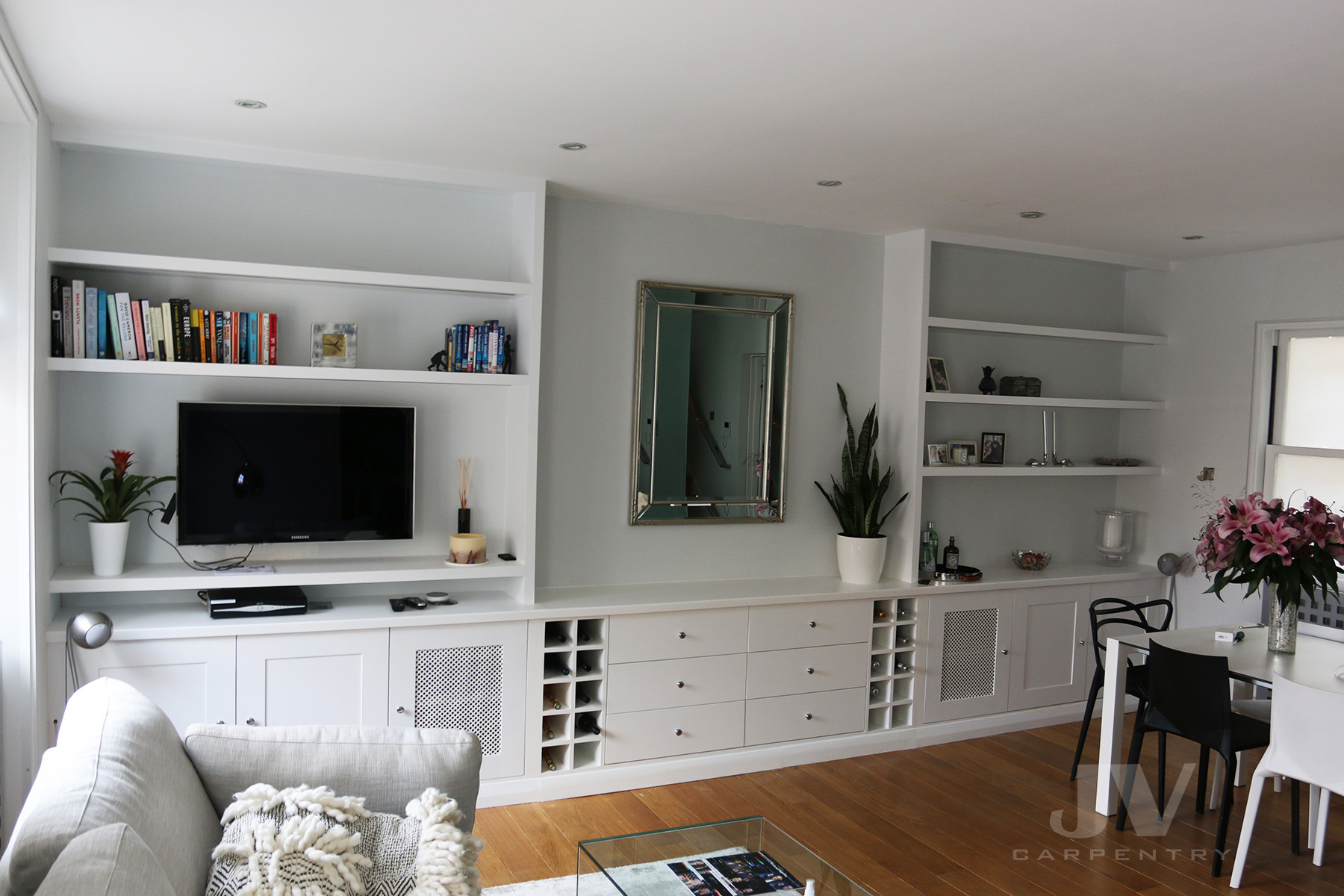 This custom bookcase is cover whole wall and it made with cubby holes for wine and some drawers in the middle. Looking insanely good! The rough price for these bespoke shelving units is £5,000+VAT
Custom bookcase fitted under the sloping ceiling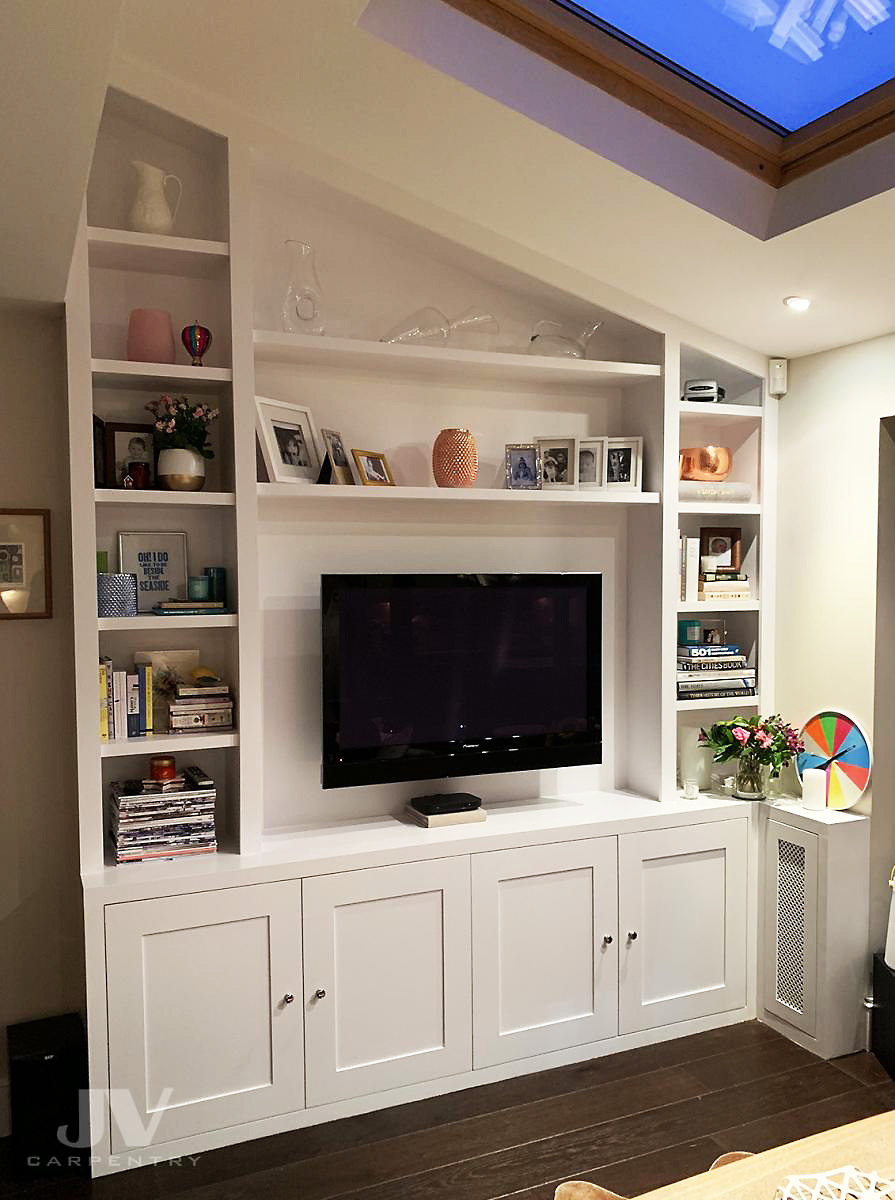 Custom shelving unit with pull-out desk and whine storage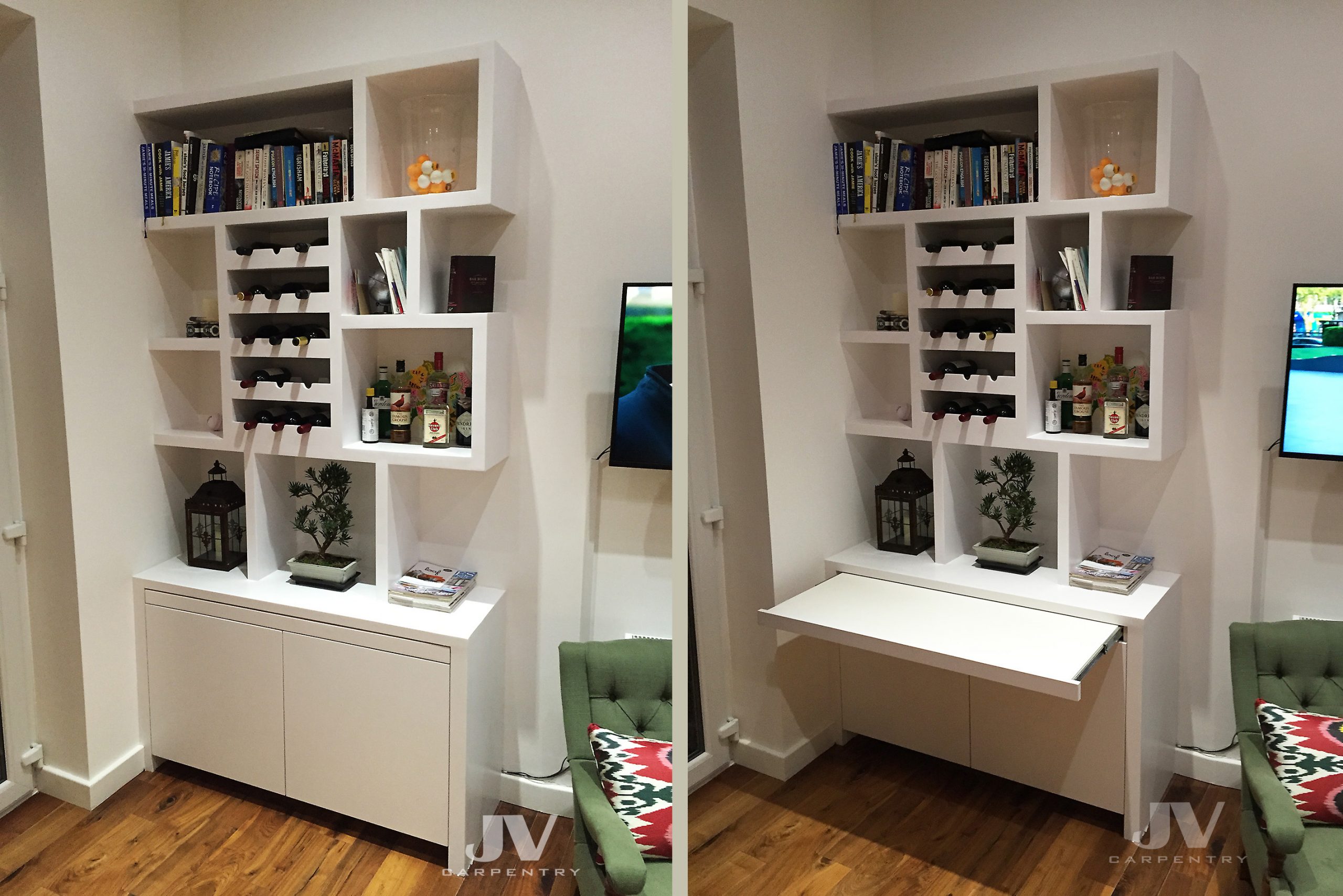 We designed this interesting custom bookcase for our customers in South London. It's very handy to have a little desk for the laptop where you can work at home so this bookcase got this feature. Sd you can see from the photo we also created a space for 15 bottles of wine surrounded by the shelves.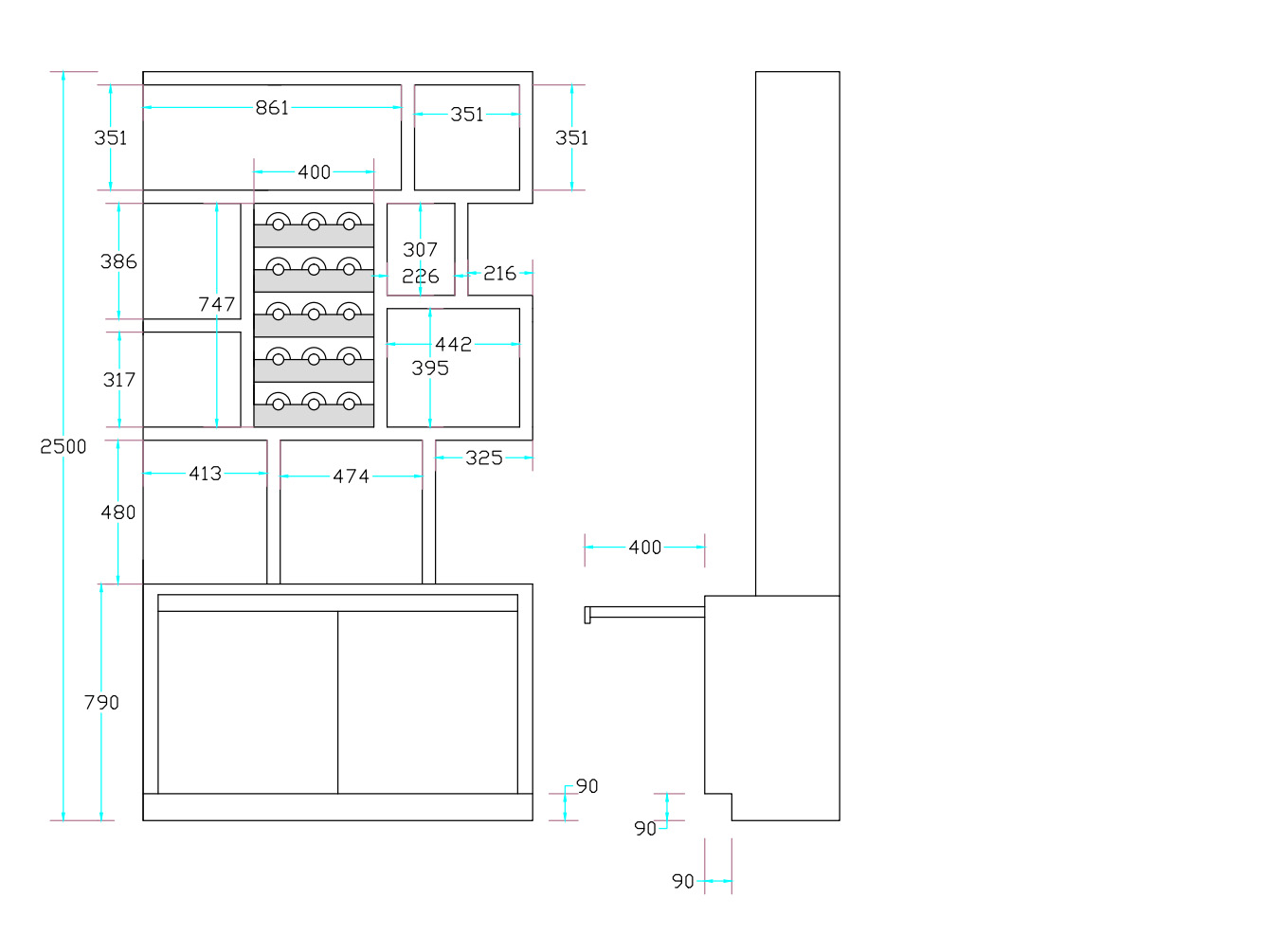 I am also happy to share our original Cad drawing for this bookcase that we made for the customer before we started installation. This is a good example of how we work. A detailed Cad drawing is always provided to agree on the sizes and all specifications.
Bespoke fitted bookcase with cabinets and two drawers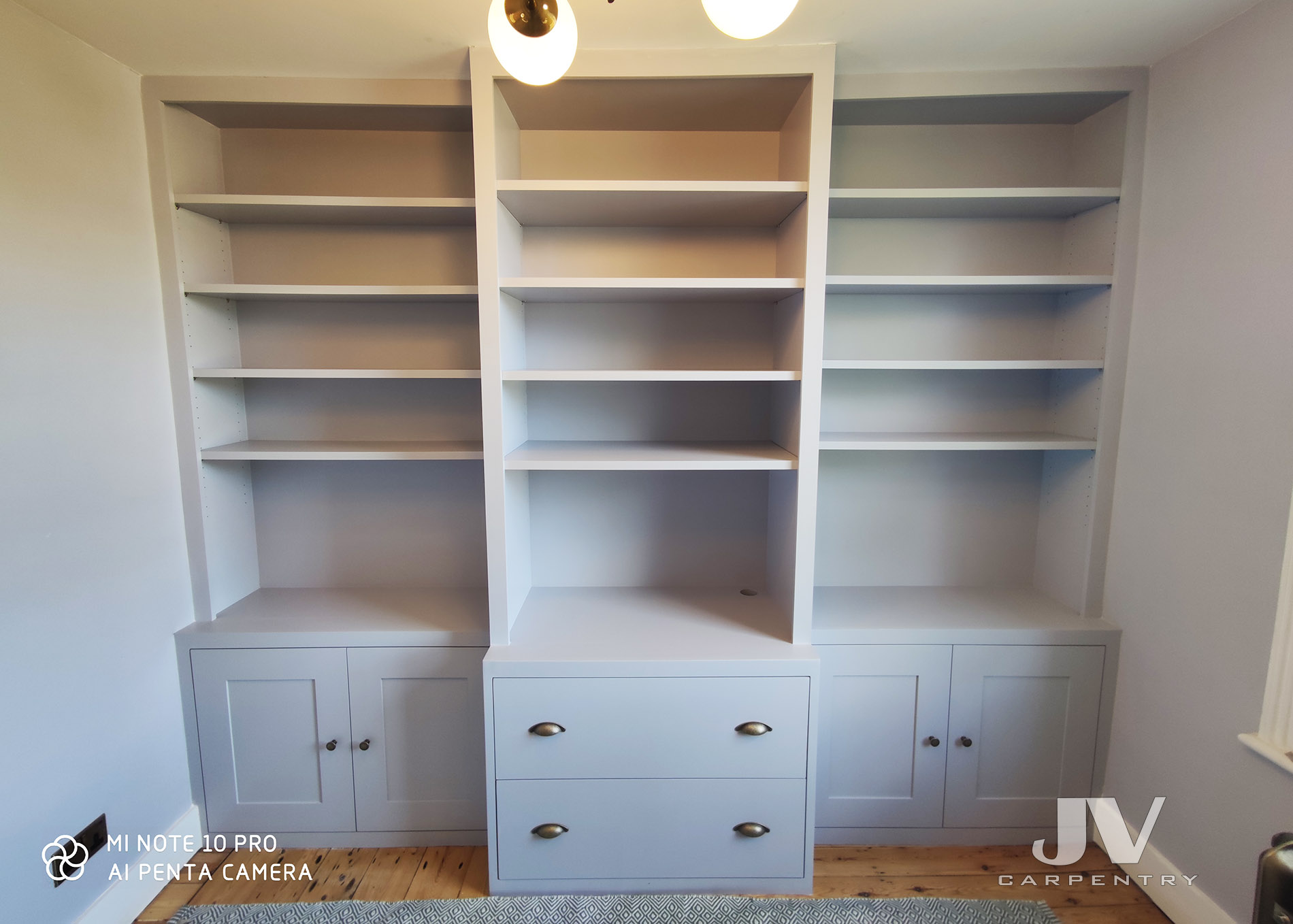 This bespoke bookcase with draws is about 3m wide and 2.5m tall. Rough price is £3800+VAT
Contemporary bookcase with desk space on the side. Ealing, West London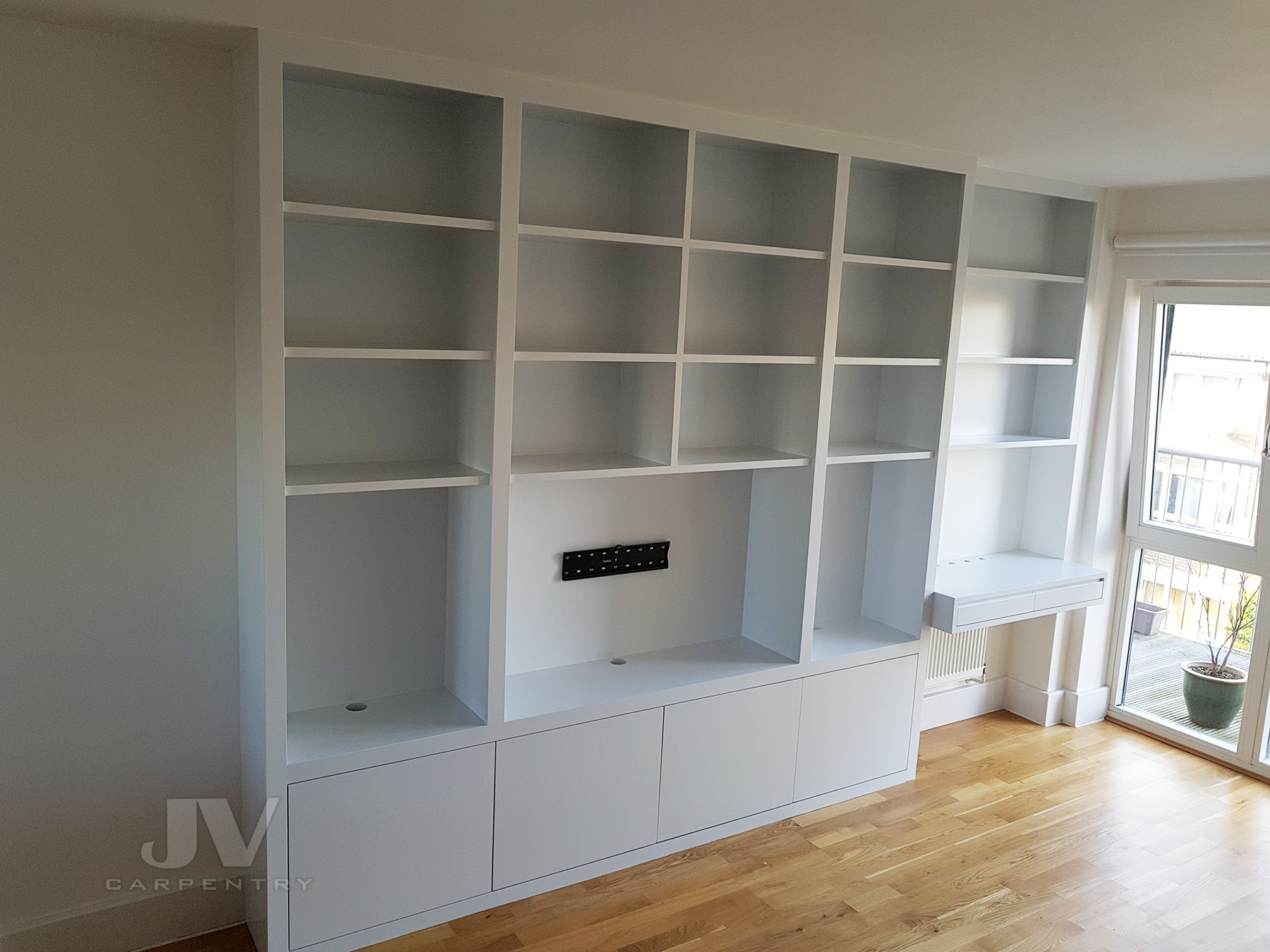 A contemporary bespoke bookcase that we built in West London in the summer of 2021. It was designed with a desk area on the side, two small drawers underneath the desk and bookshelves above. The main unit is made with plain push-to-open doors and plenty of shelving space above the cabinets.
Custom bookcase & Radiator cover two in one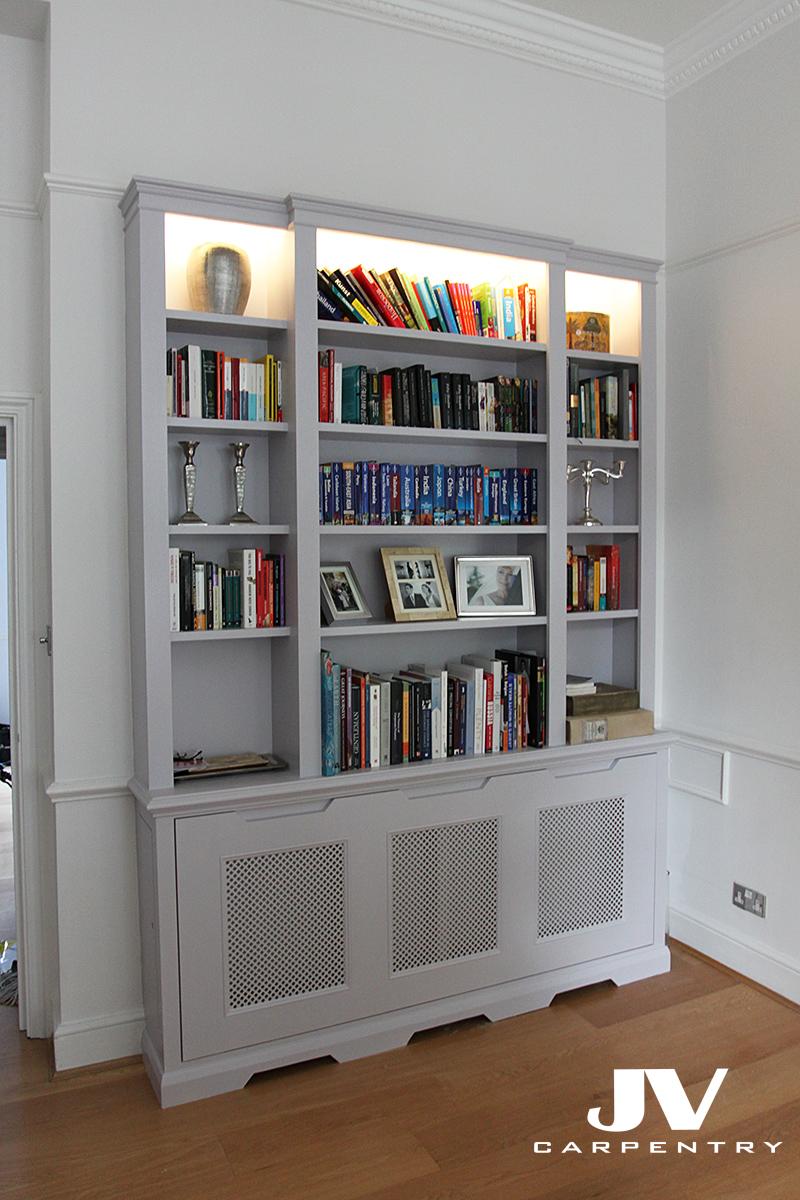 This bookcase designed and built around radiator to hide it from view and to create some storge space for books at the same time.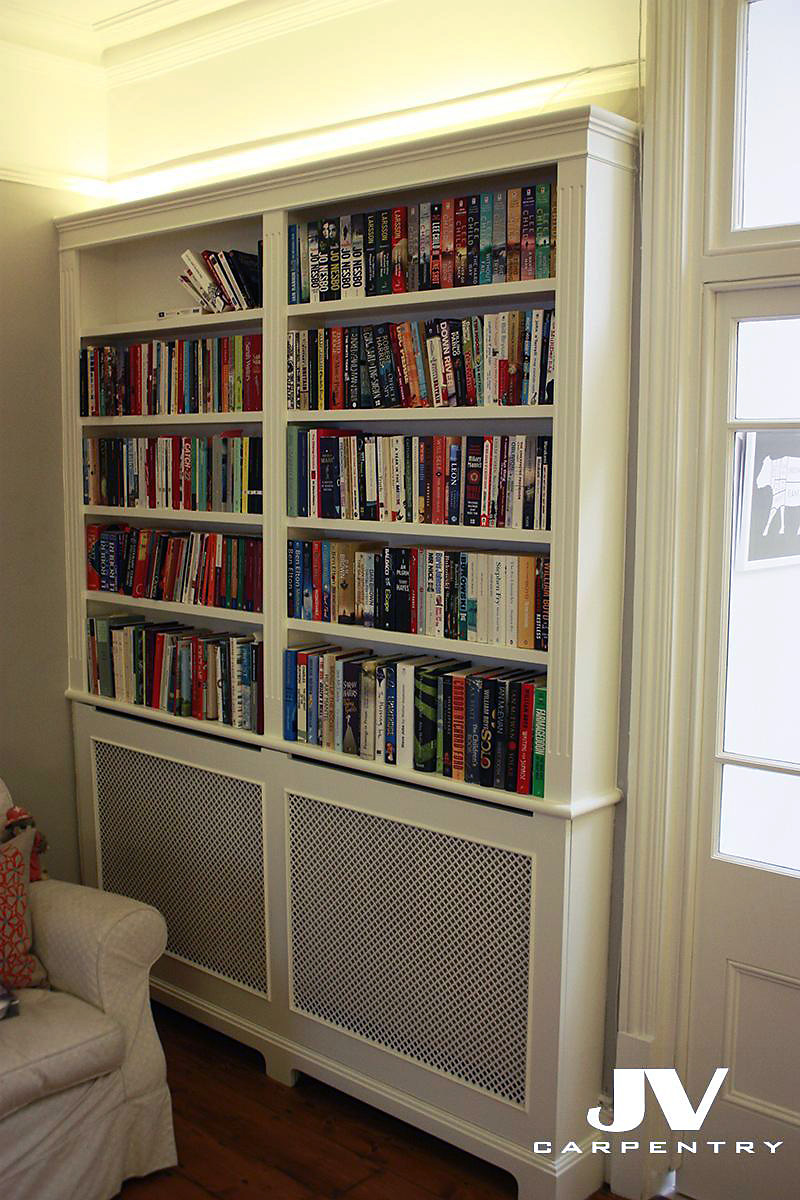 This is another bespoke radiator cover with bookshelves above. It is a good way to hide the radiator and to create some shelving space at the same time.
Some other custom bookcases examples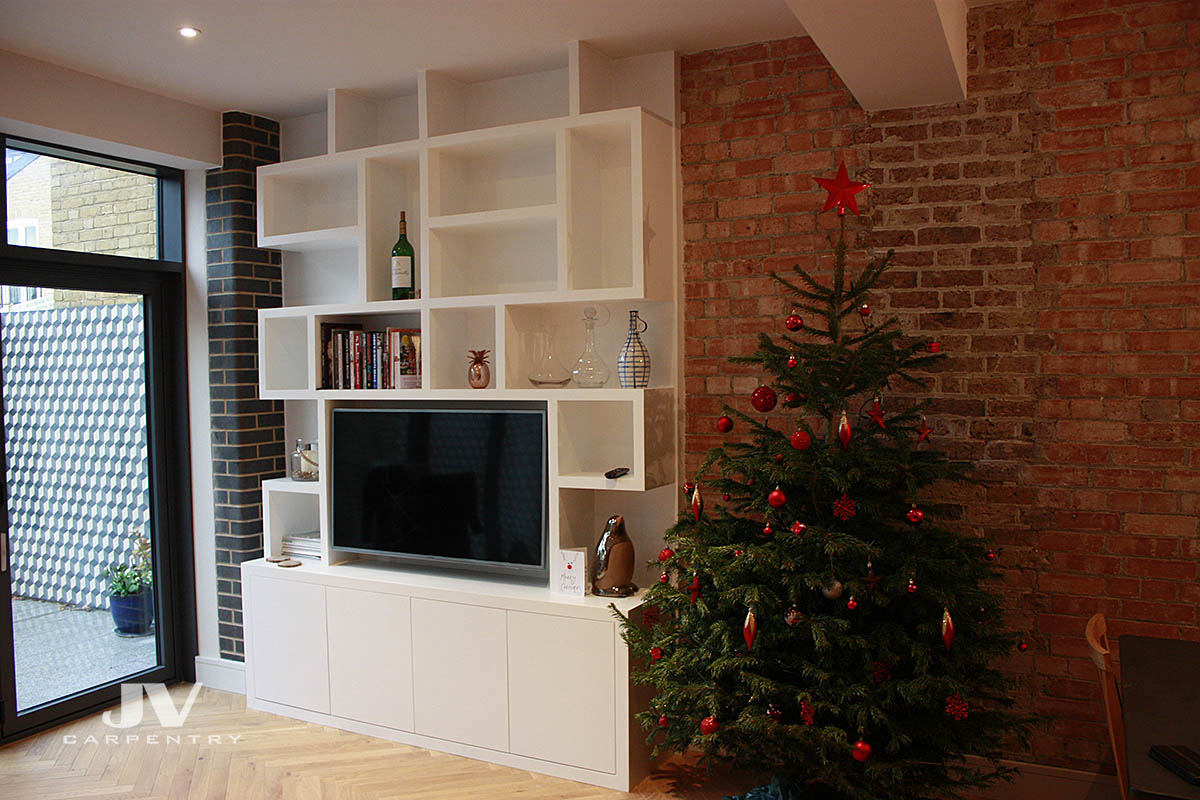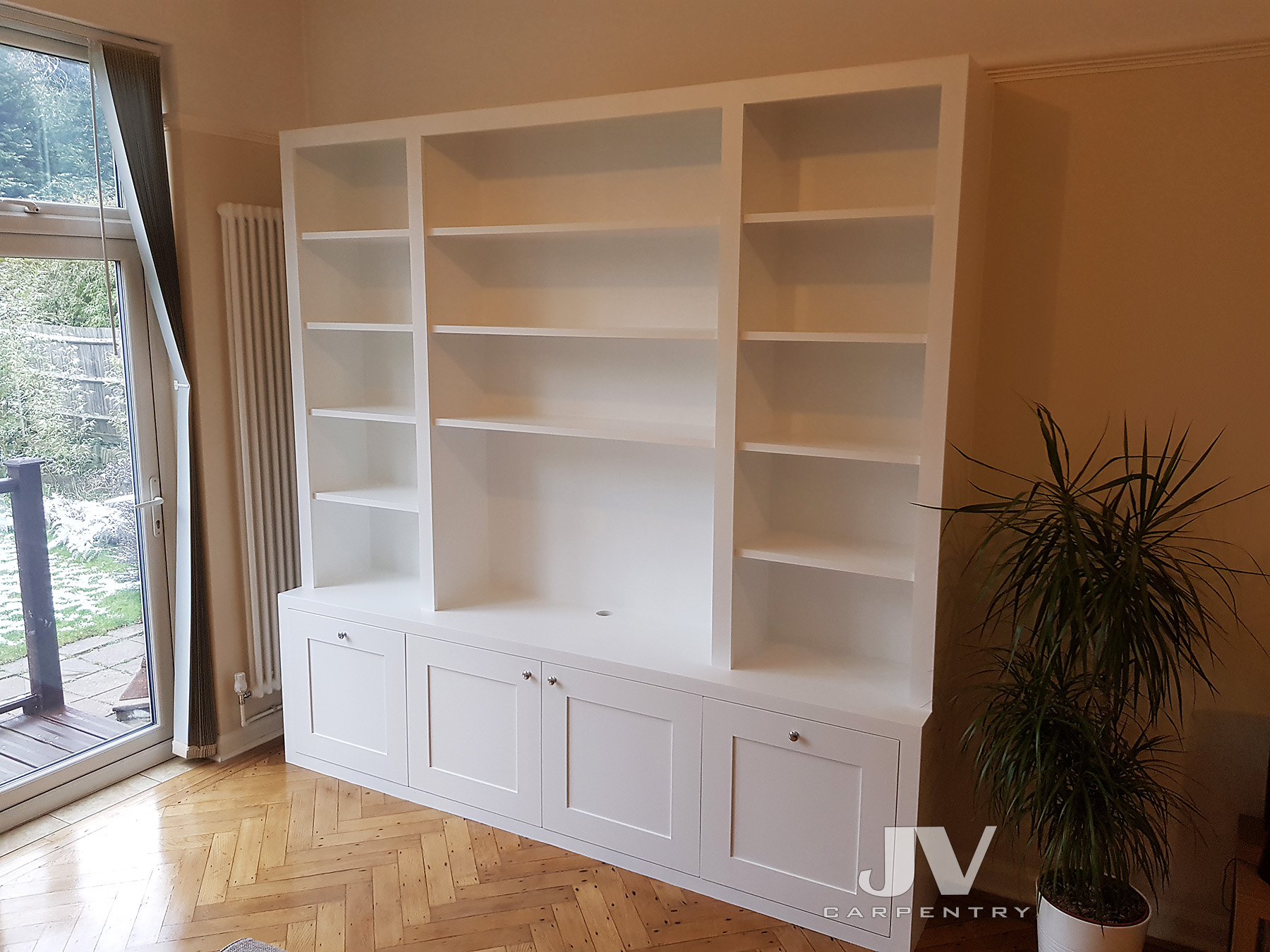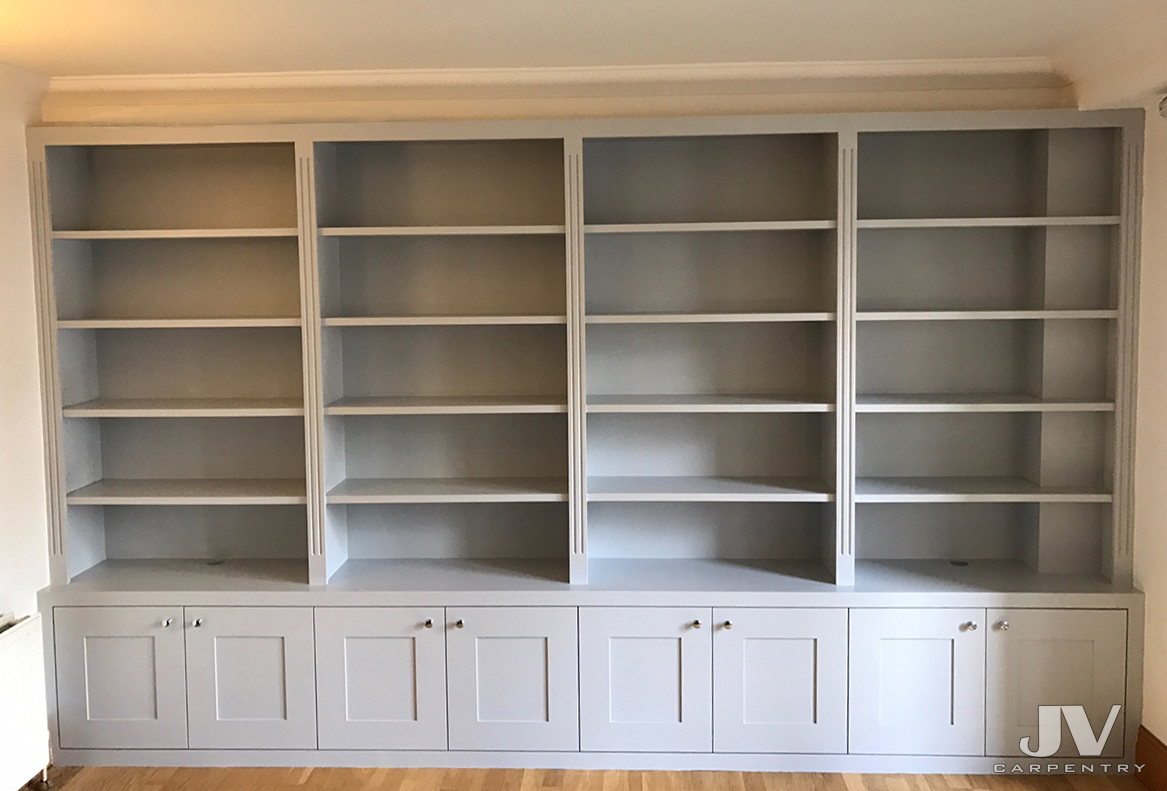 If you'd like to get a free quote for your fitted wardrobes, please contact us today! We have 17 years of experience in fitted furniture and we cover all London areas
Related pages:
Alcove Shelving Gallery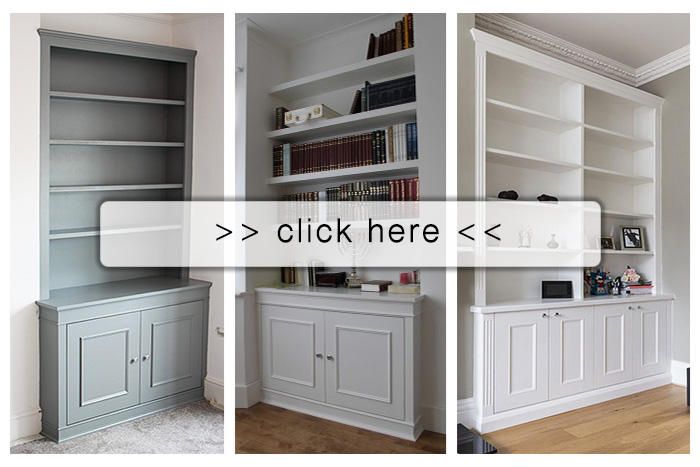 Photo Gallery of our best alcove shelving in the living room either side of the chimney breast with cabinets and without.
Fitted Bookcases Gallery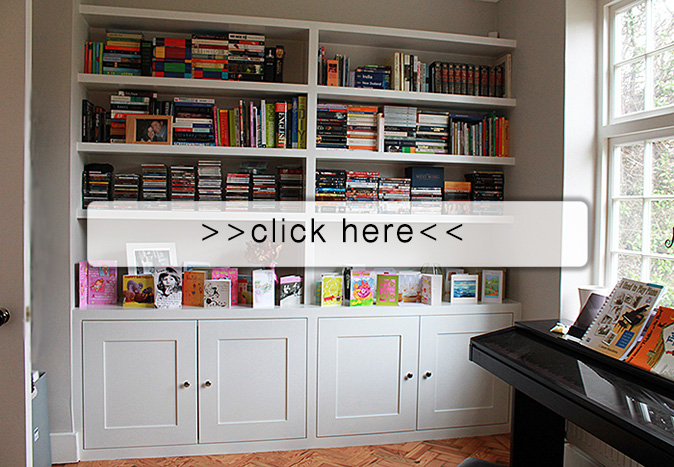 Photo Gallery of the Living room fitted furniture. You can find many examples of the bookshelves and shelving units of any kind with cabinets and without, fitted libraries, tv and entertainment units.