Built in wardrobes around chimney breast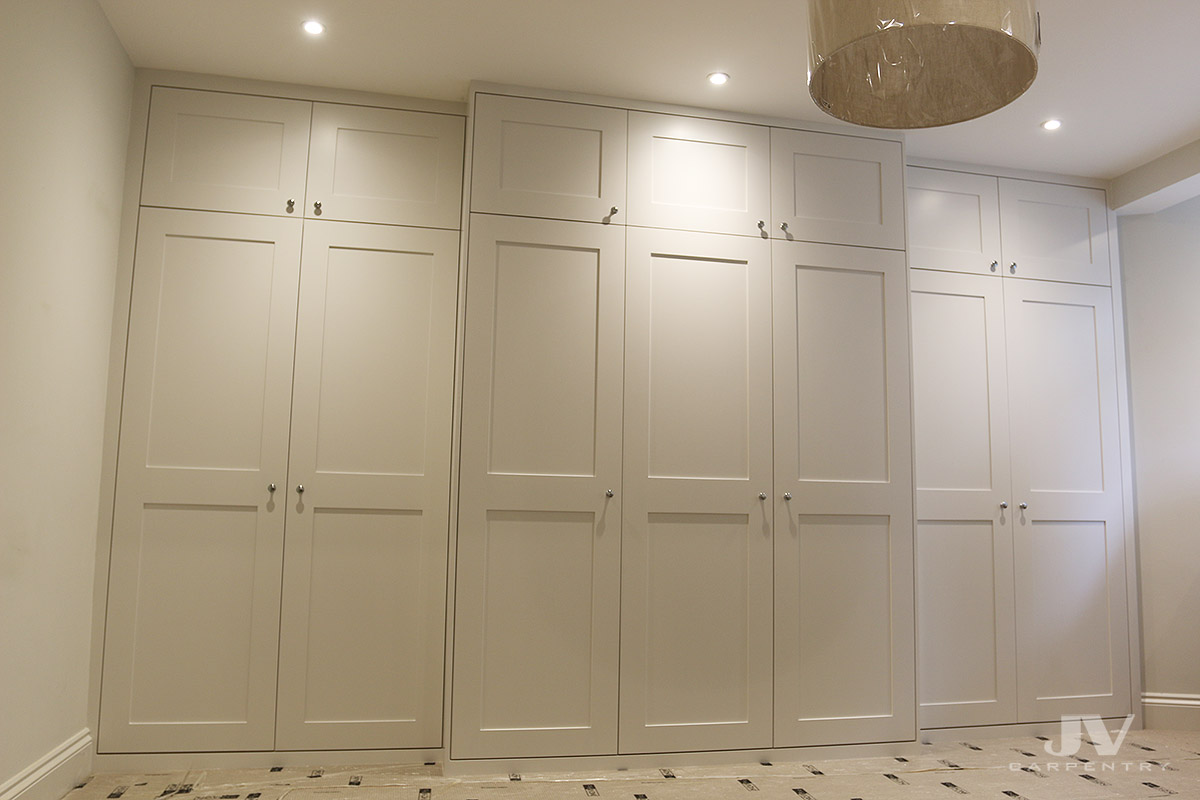 This built in wardrobe was designed and made in two bedroom flat for one of our customer in Hammersmith, West London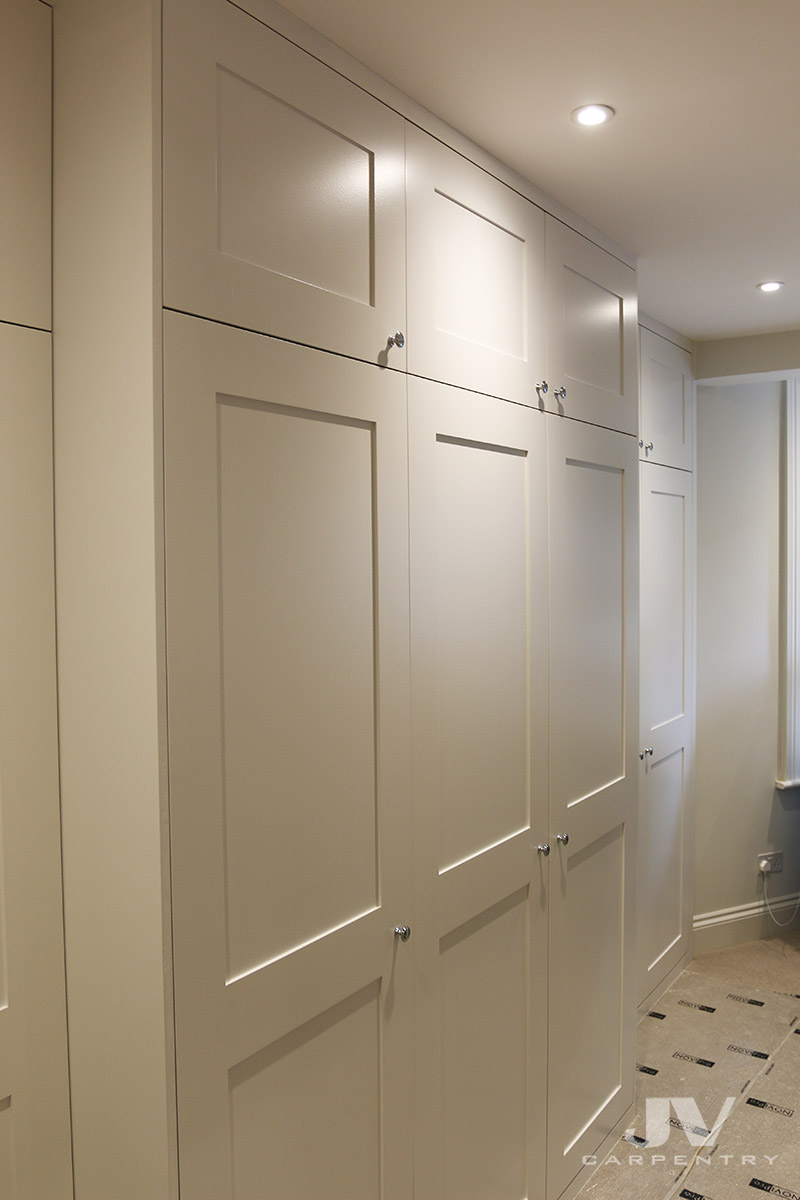 Many old homes will have a chimney breast in the bedroom and alcoves either side are great spaces were your can have your wardrobes to be made. Sometime you can face a problem when you need a lot of wardrobe space and two alcove wardrobe simply won't give you enough storage. In this case we can create a large built in wardrobe running across whole wall and fitted around chimney breast like we did for this client.
The idea was not only build wardrobes inside the alcoves and also to us available space at the front of the chimney breast.
This built in wardrobe interior was designed with six fully extended drawers with cut-out handles and column of shelves and double hanging rails inside alcove wardrobes either side of the chimney. The cupboards with small doors along the top of this wardrobe give you an extra overhead storage space to sore large items  like boxes, suitcases and bedding.
This built in wardrobe was made with seven tall shaker doors and seven smaller cupboard doors at the top. The doors were fitted with round chrome handles and concealed hinges.
We built this fitted wardrobe out of MDF and installation took us 1 working day. We carefully measured the space and then cut all the pieces required to build this wardrobe in our workshop to minimalize disruption, dust and working time in your property.
The day after the carpenters finished installation the painters start painting those built in wardrobes. They applied three coats of paint including primer, undercoat and oil based eggshell paint for the top coat. It took them 3 working days to paint this wardrobe with extra attention to the final details.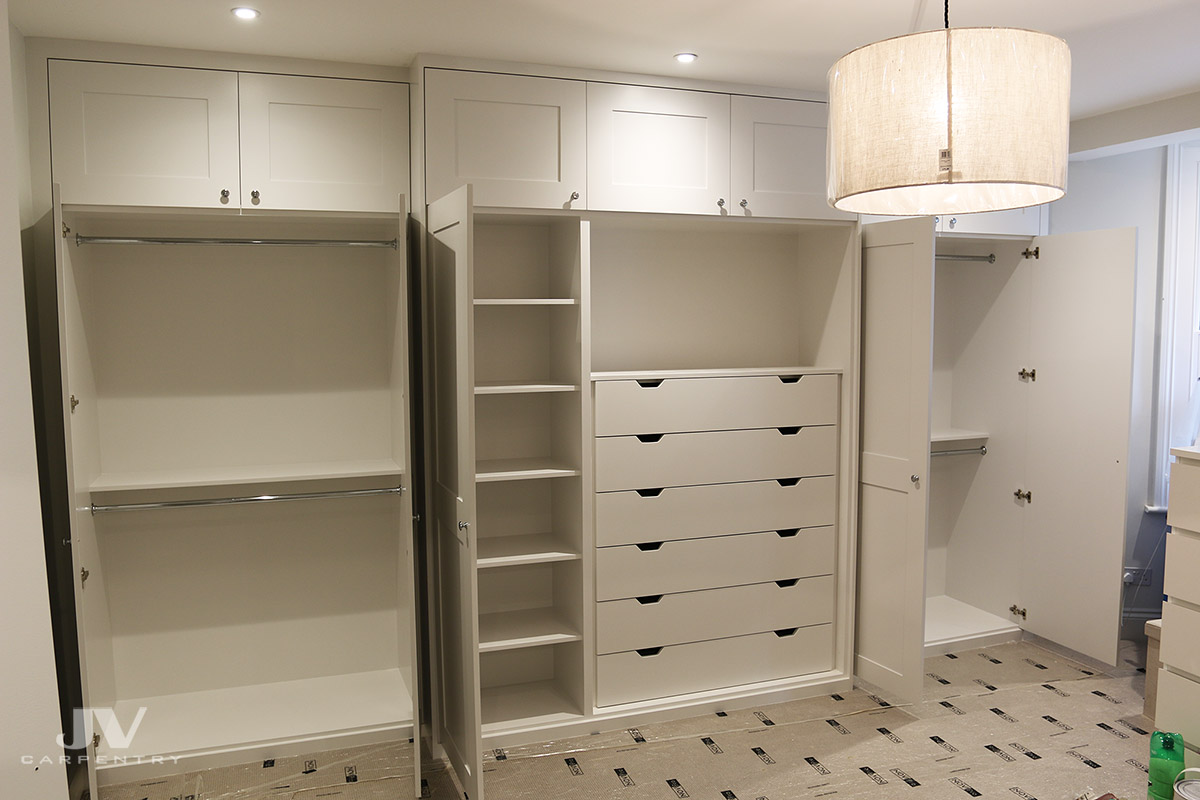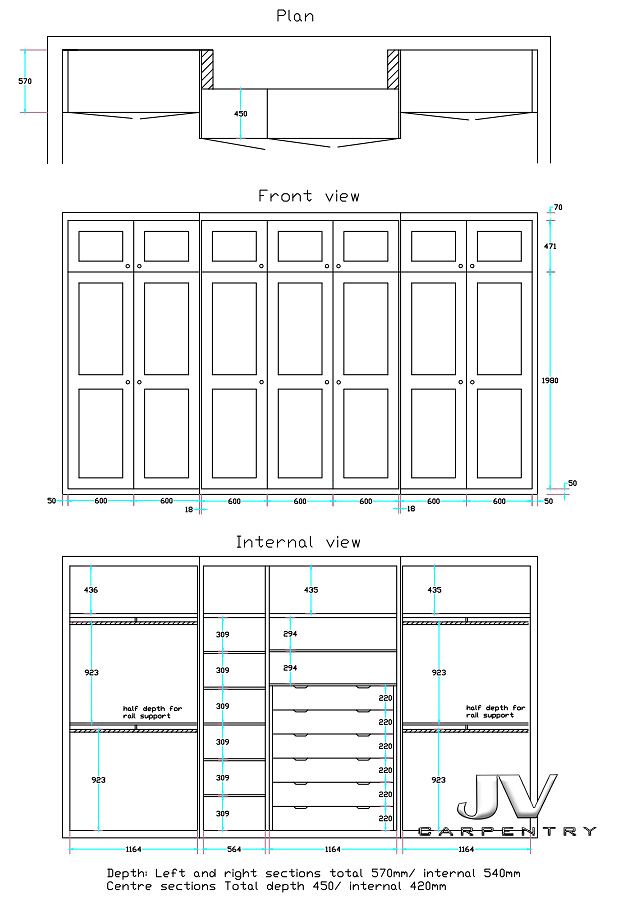 Here we are happy to share with you our original plans and drawings for these built in wardrobes around the chimney breast. This drawing can give you an idea how bespoke is each job and hopefully can help you to understand how can you design your own fitted wardrobe around your chimney breast in your bedroom.
As you can see from the drawings this built in wardrobe is 2570mm tall and total width of these wardrobes is around 4,3m. We always build our fitted wardrobes with quite thick frame around the doors and we make this frame to be flush with the doors so this way the doors on the wardrobe are flush with the trim around them. I never like an idea when some fitted furniture companies making the doors to protrude form the carcases make the edges of the doors visible from certain angles, it makes the wardrobes looks unfinished to my opinion and would look much better when the doors flush with the frame like we showing you on this wardrobe example.
You can see from the drawing that we managed to make this wardrobe with all the doors the same size, so all of these wardrobe doors are 600mm wide. It's not always possible due to different size of the alcoves either side of the fireplace sometime and we have to build the wardrobe with slightly different door size.
The depth of the alcove wardrobes are 570mm and that's more than enough for hanging space. The wardrobe sections at the front of the chimney breast are 450mm deep and that's good idea to add some shelves and drawers to organise your storage.
Explore big range of our fitted wardrobes we made in the past.
If you looking for wardrobes internal design ideas please follow this link.