Our best Alcove Shelving images for your living room ideas
We often meet the solution when we see a chimney at your home which creates two alcove spaces either side. And we always think that alcove spaces are perfect places to fit shelving and maybe with additional cabinets at the bottom. On this page we put together some of our alcove projects we did in the past. I hope that gives you lots of great ideas to choose your perfect design.
Alcove shelving will allow you to use a lot of potential space . When you have two fitted cabinets with shelves either side of the fireplace you not only get lots of storage for books and ornaments you also bring the beauty and cosines to your living room.
Our alcove shelves solutions are very bespoke and can be modified for your taste. On this page you also will find images of the floating shelves.
Here we are pleased to show you an image of the most demanded alcove furniture units we made in the past. They are many examples of the different styles from contemporary to traditional. We also shared some pricing examples for your information below. If you have any questions please get in touch with us.
All of our alcove furniture are made from MDF and available in different styles and fitted with professional carpenters and hand painted on site by professional painters with any custom color you like. Read more about How we work.
So If you live in London and within M25 range we would be pleased to hear from you. The members of our team will be glad to assist you with rough prices first before we continue to the next step - your home visit and measuring process. We are a registered limited VAT company and accept all forms of payments including major Credit Cards, PayPal or direct transfer payments.
Alcove cabinets with floating shelves in Victorian property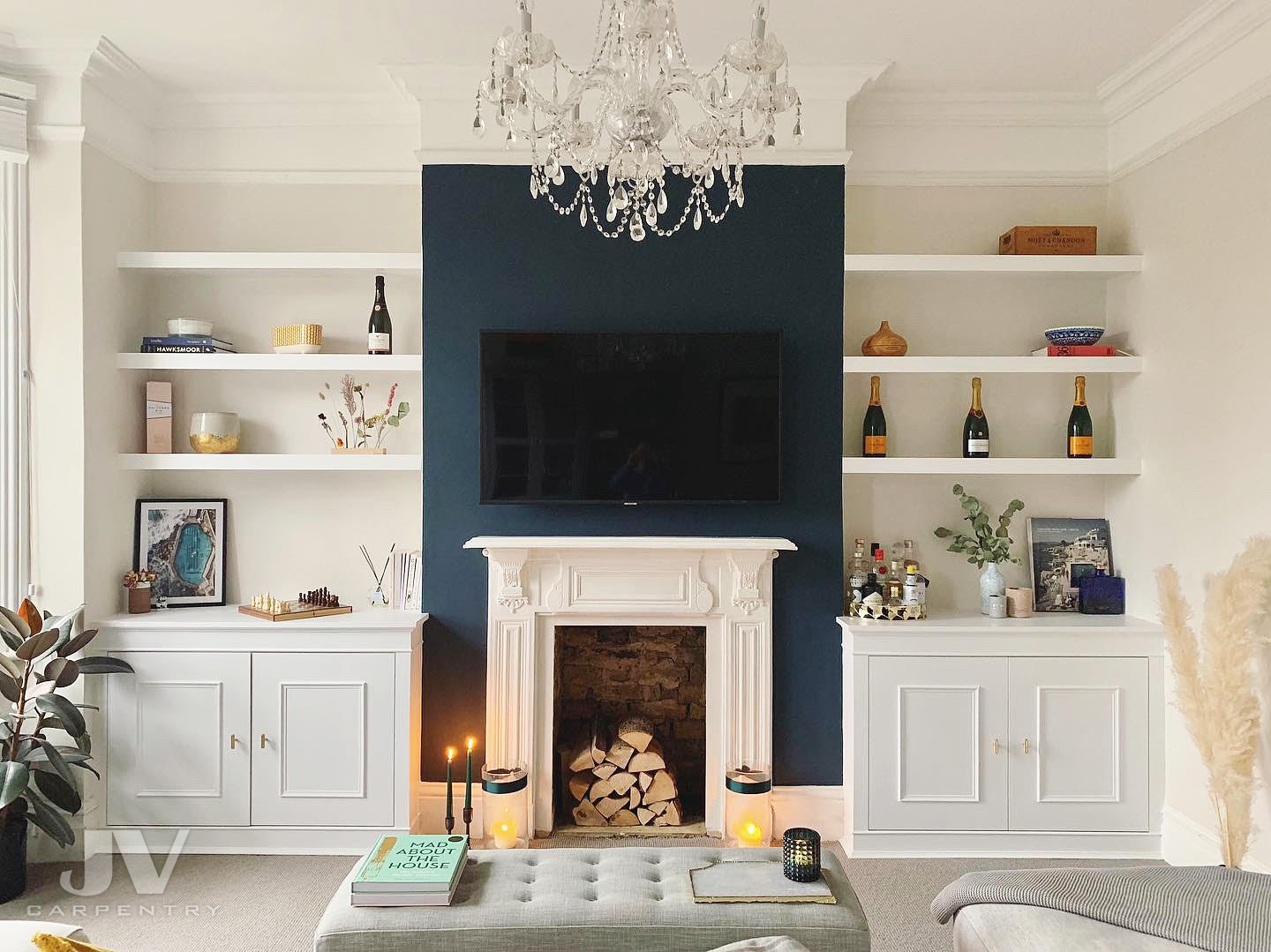 Traditional alcove cabinets with modern floating shelves in Victorian house with fireplace in between.
Traditional alcove shelving with cabinets at the bottom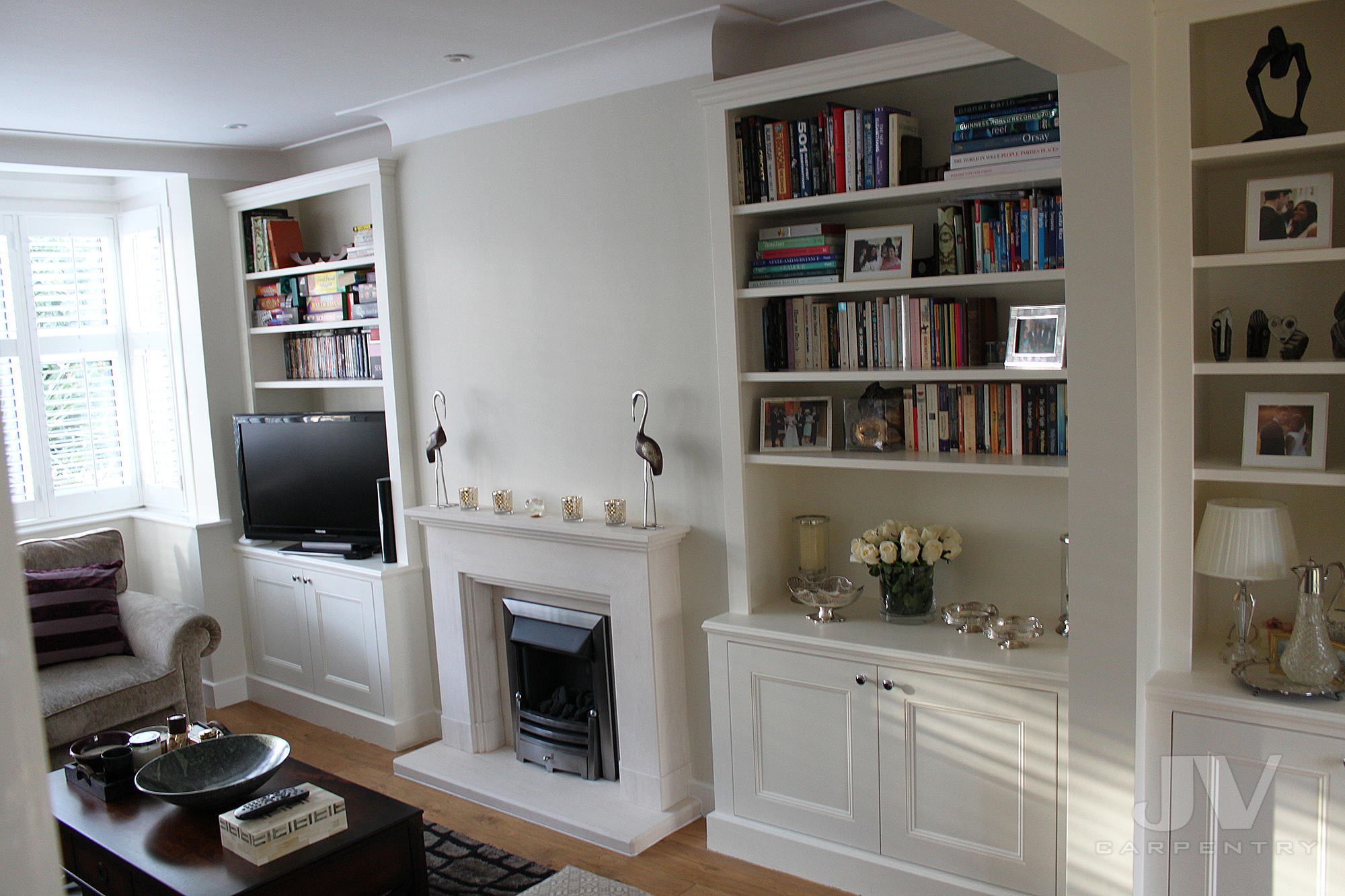 The main feature of these alcoves is that the shelving units above the cabinets are not in line with the chimney breast and sticking out by a few inches. This is a very good idea for the shallow alcoves in order to maximize the shelving space. It also doesn't look bad at all especially the cornice around the corner of the top of the shelving unit. Those two built-in alcove bookshelves would roughly cost £2500+VAT
Alcove shelves with lights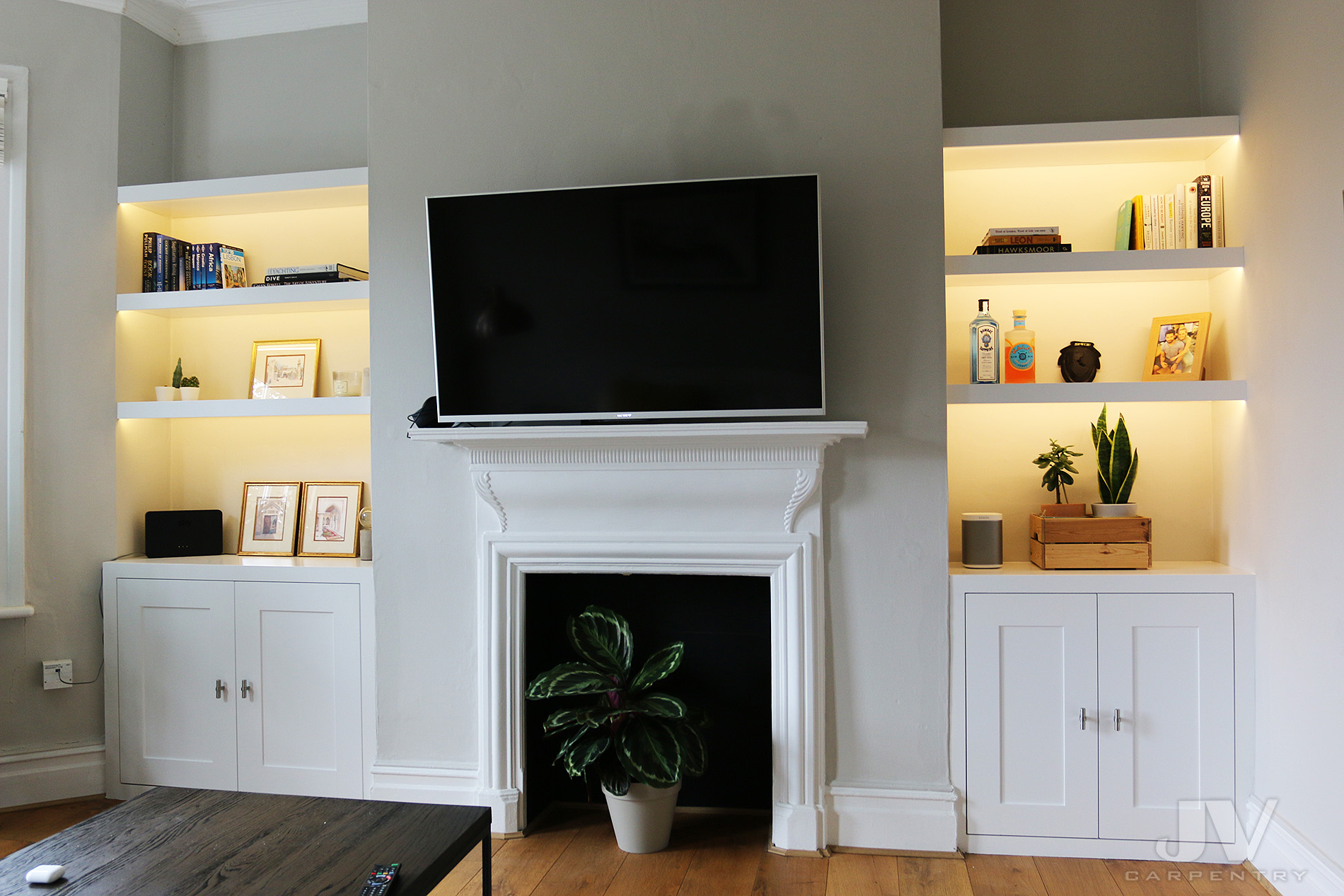 Fitting the light into your alcove shelves it's always a brilliant idea! By adding light into the bookshelves you transform your living room and creating a cozy atmosphere which can boost your mood. Find out more about this project including the cost...
Shelving and cabinets in exposed brick alcoves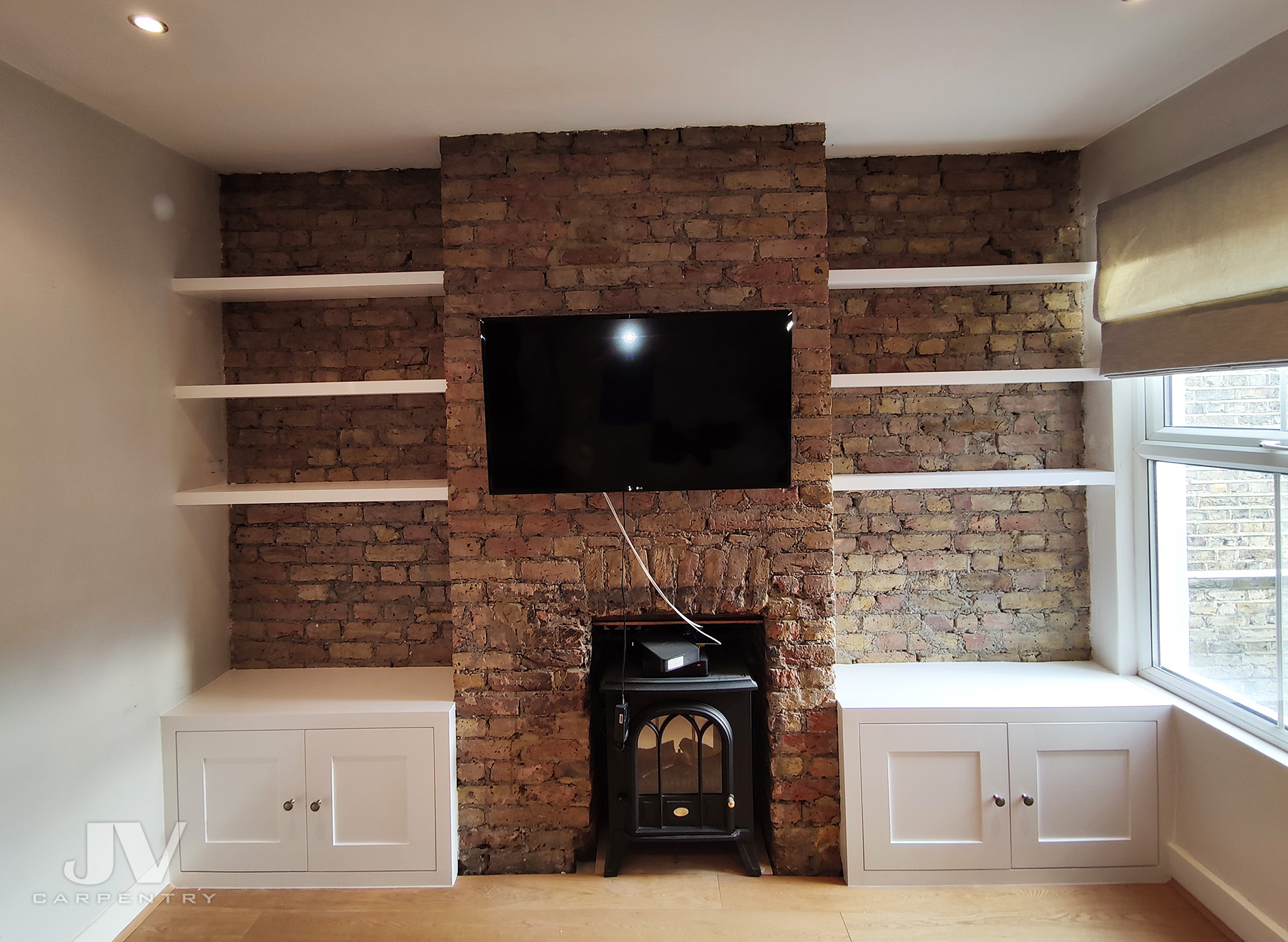 Thinking about putting shelves and cabinets up on exposed brick walls? We already did it before as you see in the photo above and it looks outstanding! Floating shelves work the best to expose brick alcoves walls because you don't want to hide these beautiful bricks behind bookcases with the wooden back.
A pair of traditional bookcases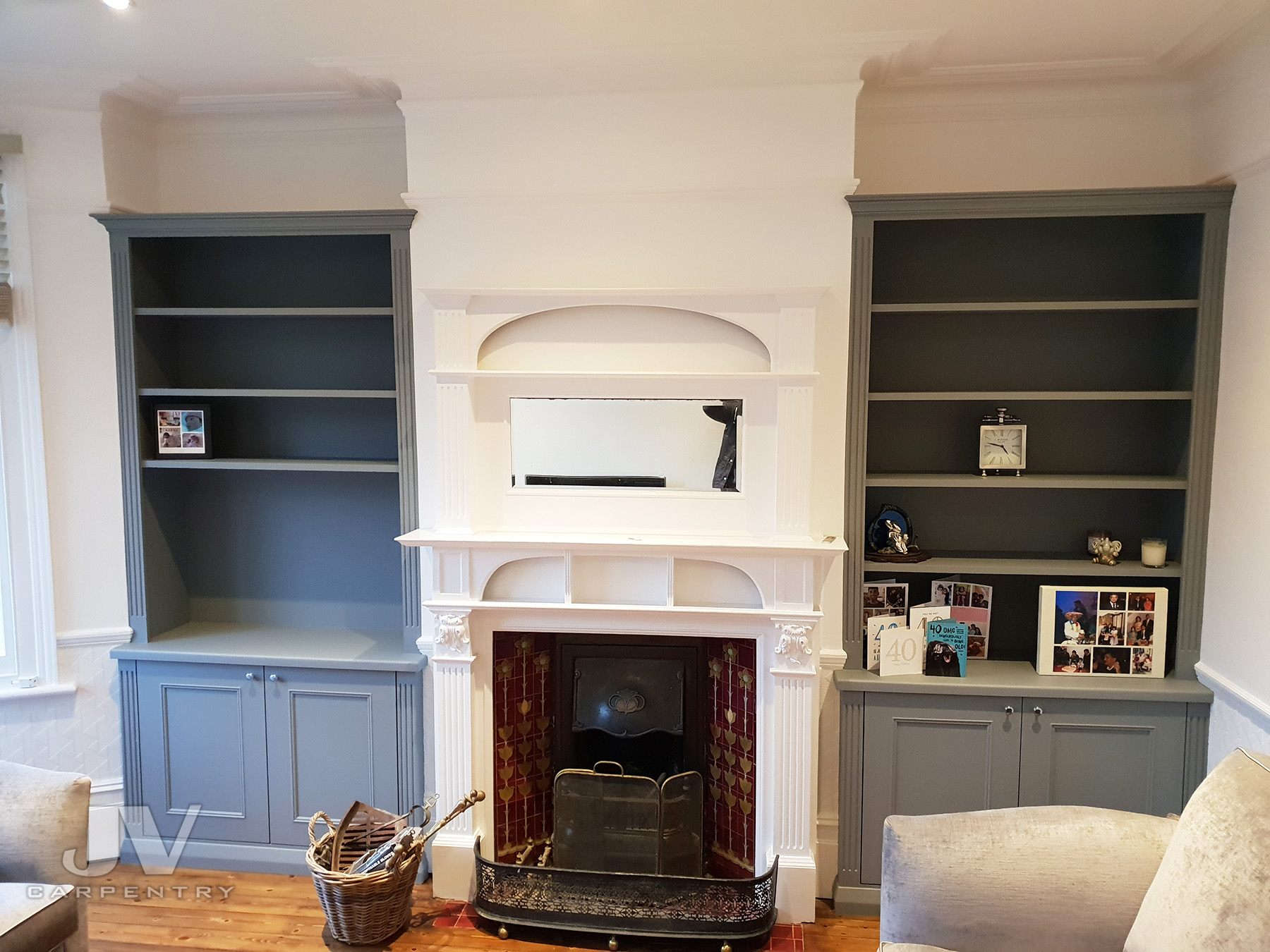 Two alcove bookcases designed to match the Victorian fireplace. The customer decided to paint it with grey color and it really transformed this living room and created a cozy atmosphere.
Fitted Alcove units painted with custom colour.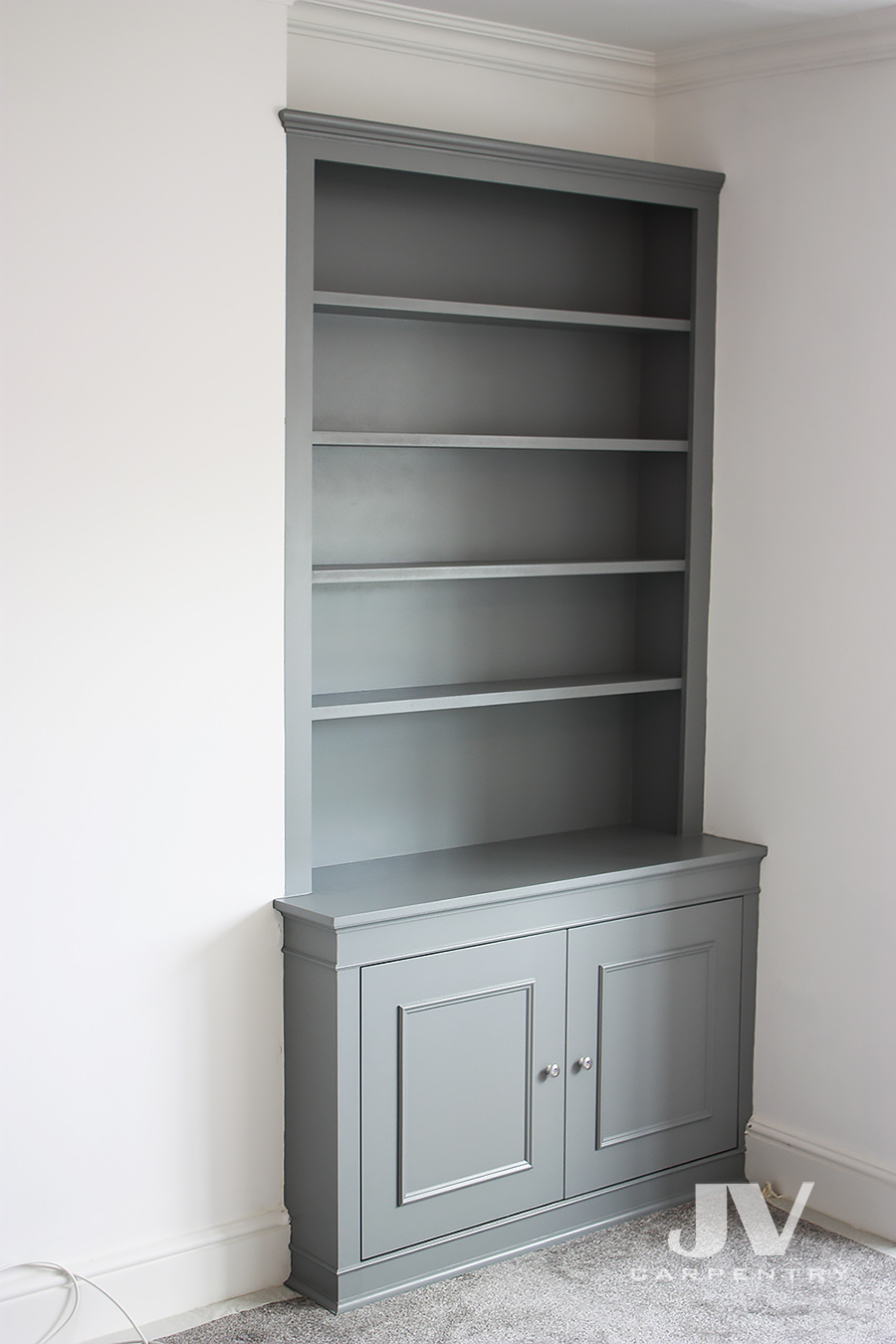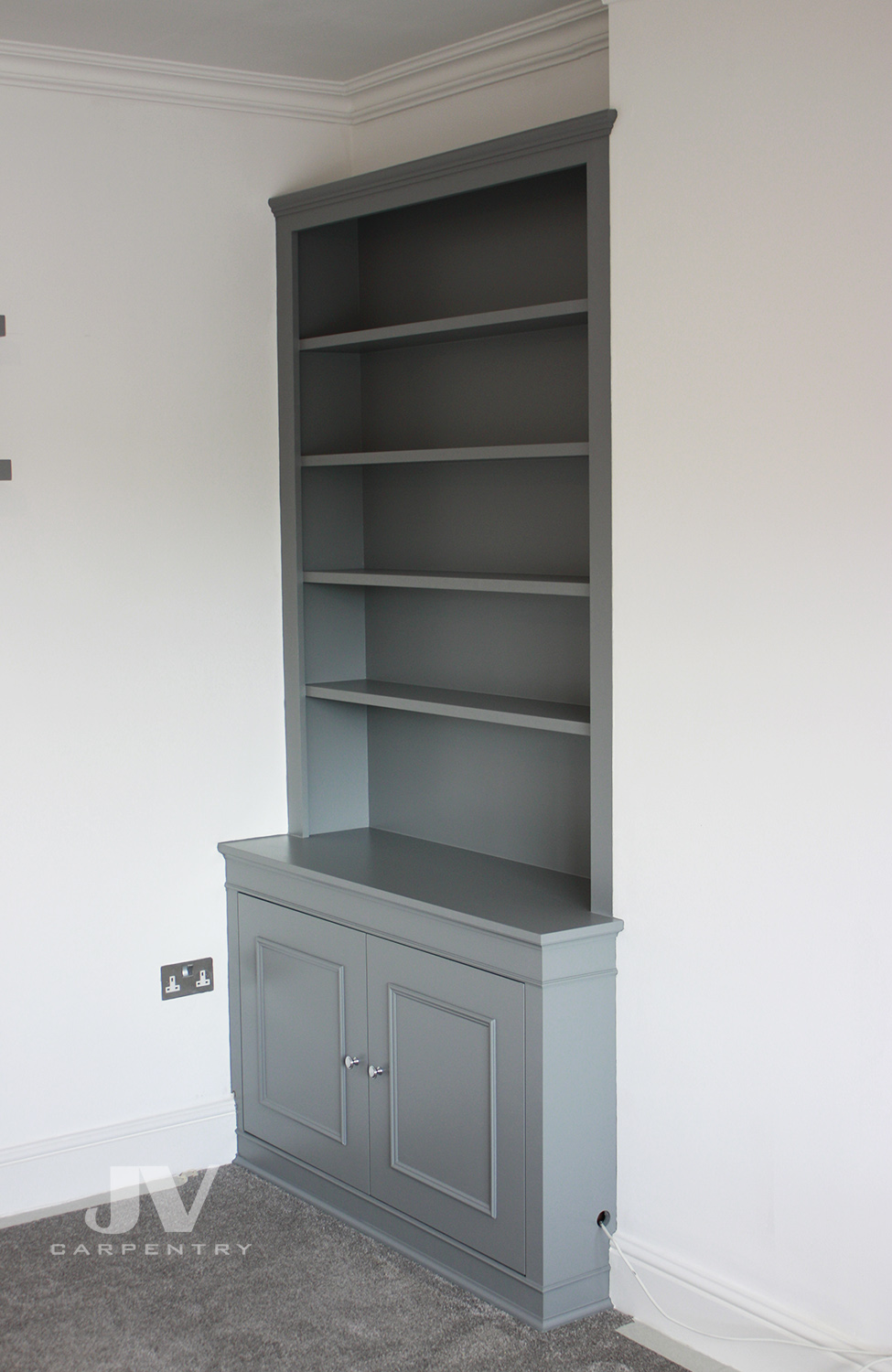 This bespoke alcove bookcase became very popular because of its color. We used a dark paint specified by our client and the result was quite good. With almost 50k impressions on
Pinterest
these alcoves are on the first place of great ideas. The rough price for those fitted alcoves is around £1900+VAT
Traditional alcove bookshelves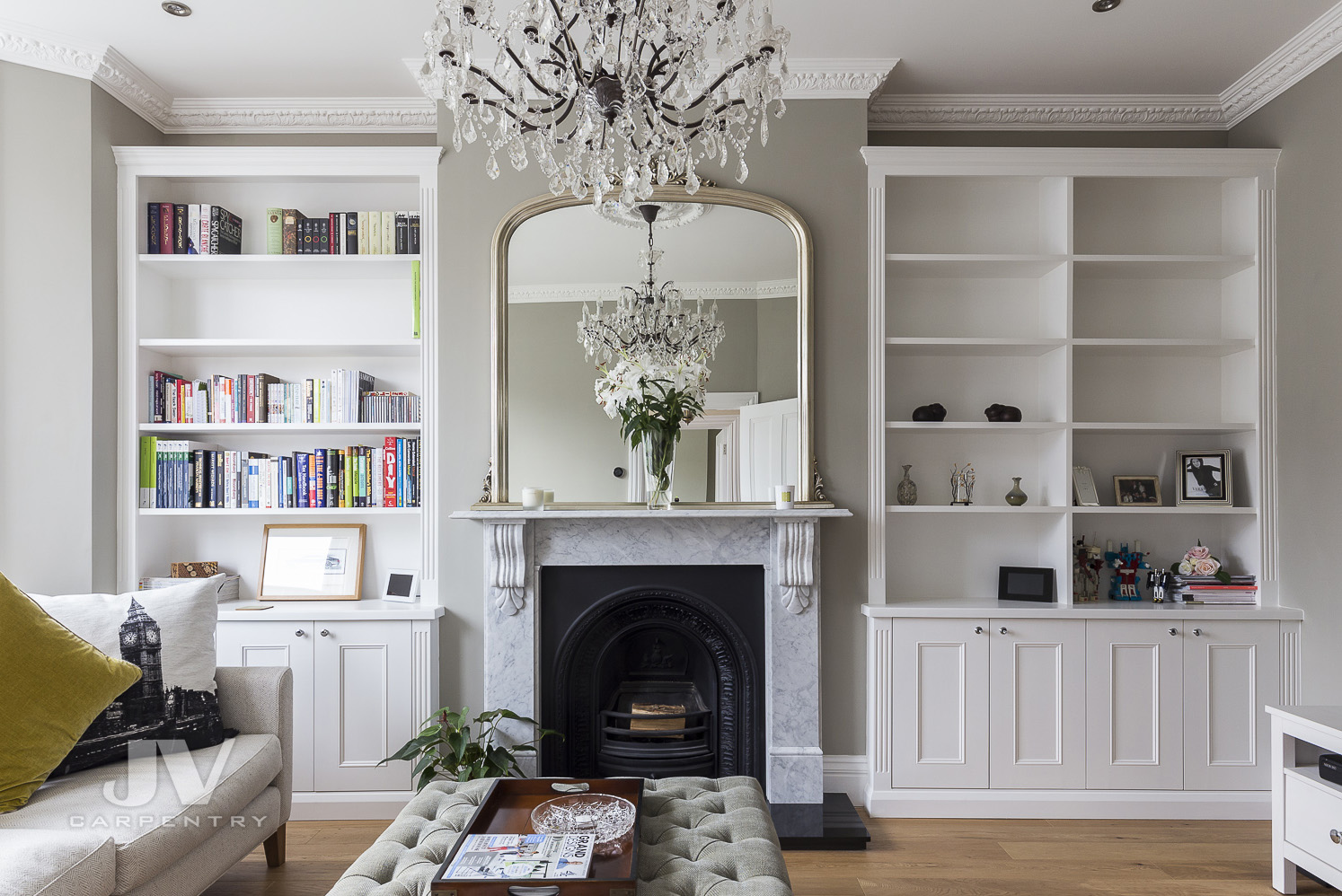 An example of traditional alcove bookshelves with Victorian style detailing to match the property features. As you can see those tow alcove shelving units made with a lot of details such as grooves on the side columns and dressing moldings.
Random alcove shelves contemporary and with minimum details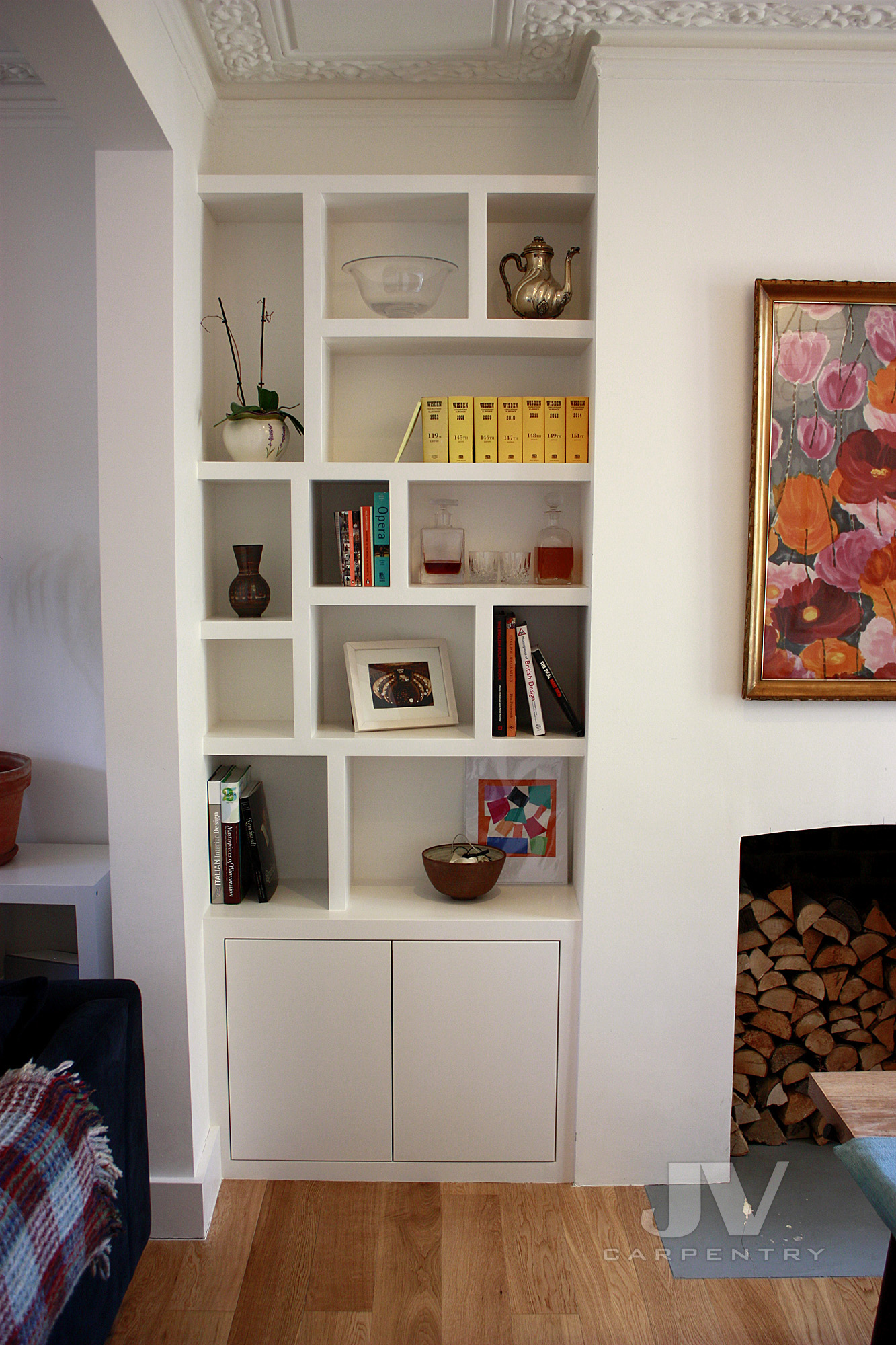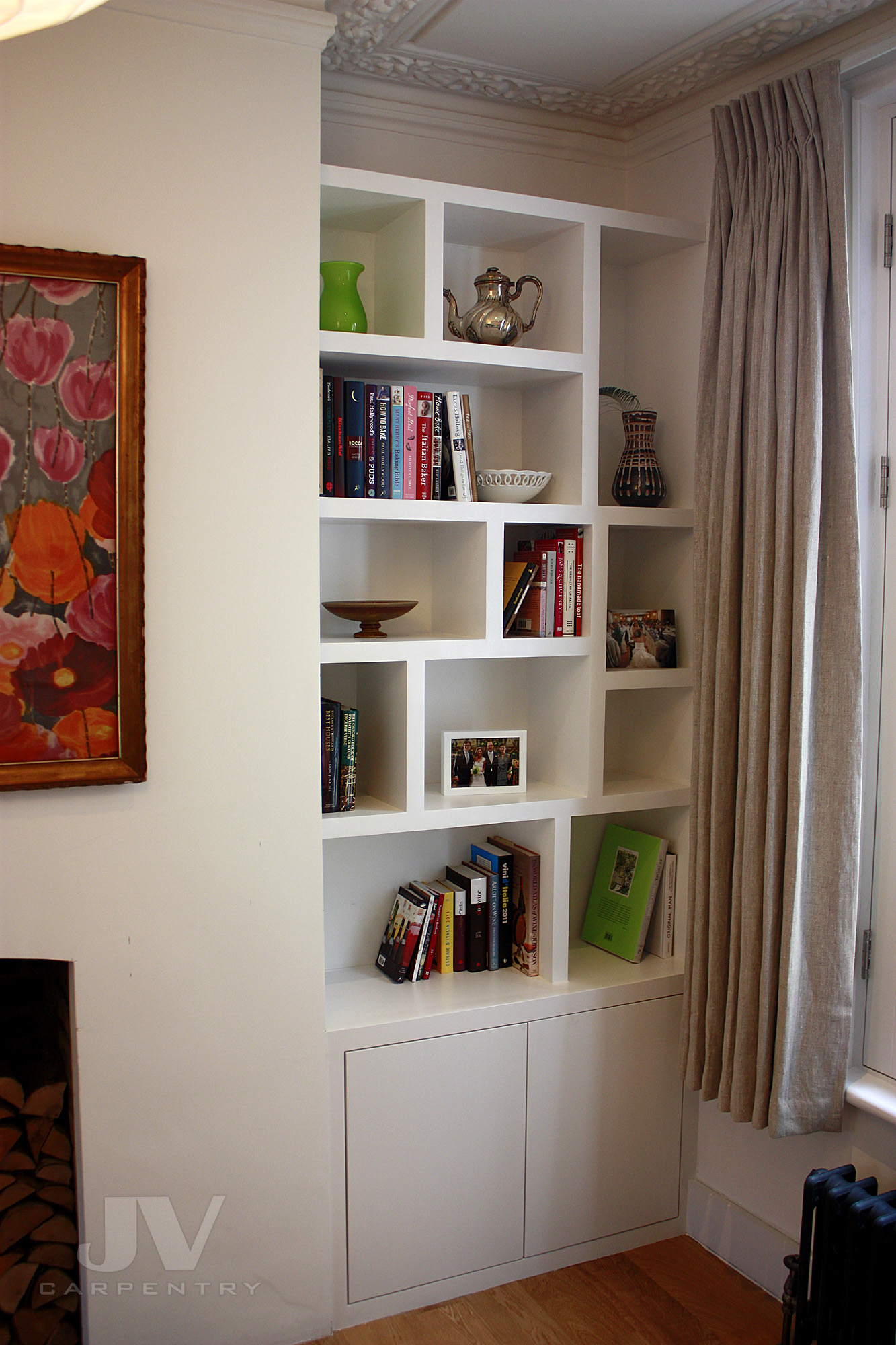 Another great example of an alcove shelving units with random floating shelves in modern living room. The shelves design to creating different size random cubby holes inside the alcoves with thickness of the shelves to be around 43mm. The shelves fitted randomly but the alcove units built symmetrical so left and right units are like mirror reflection of each other. The lower alcove cabinets designed to be in line with the chimney breast same depth as a shelves.
Our most demanded alcove floating shelves with cupboards at the bottom.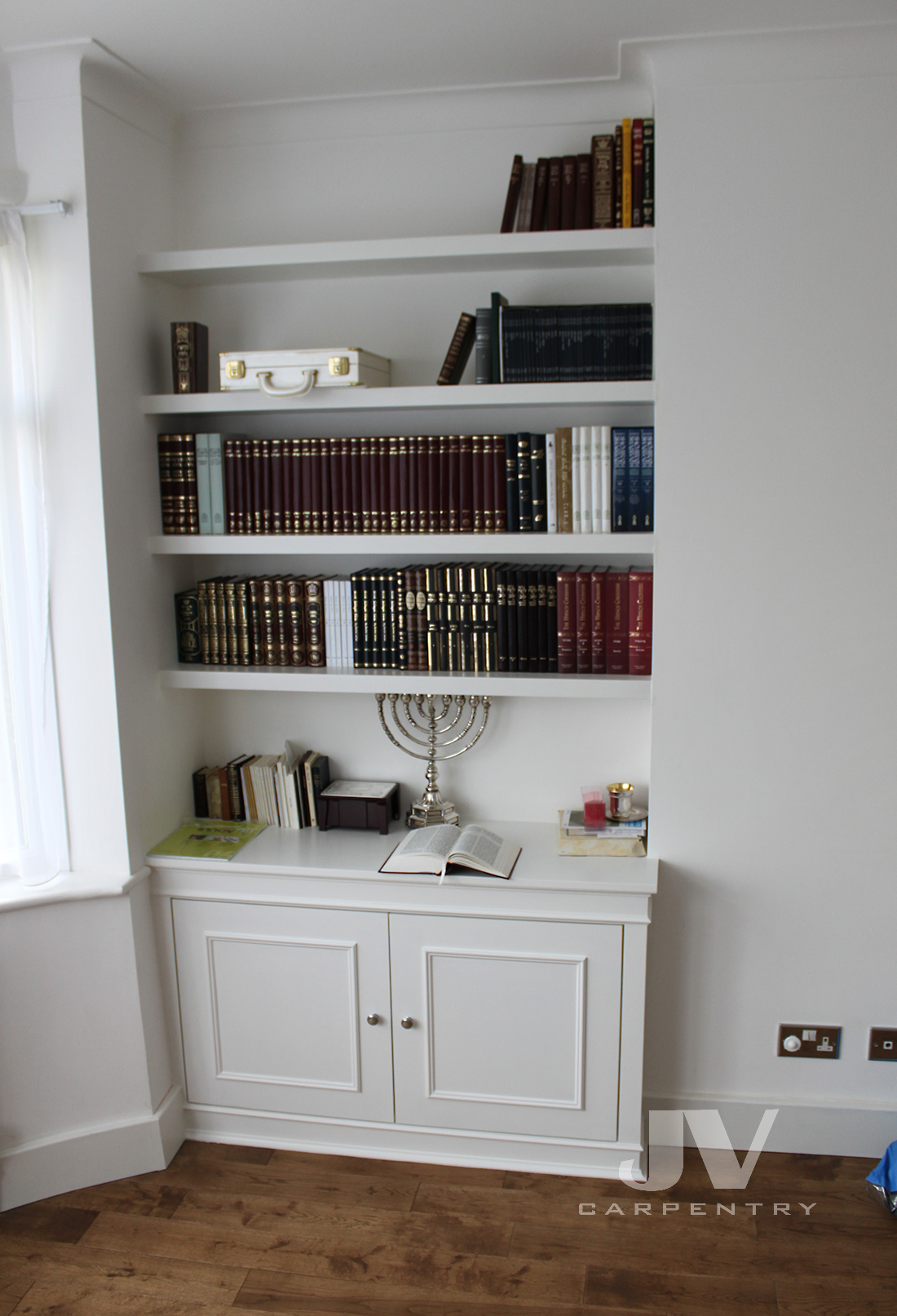 The style of this alcove shelving is definitely one of our best sellers. We made these alcoves in 2011 and since then this design is a very popular choice.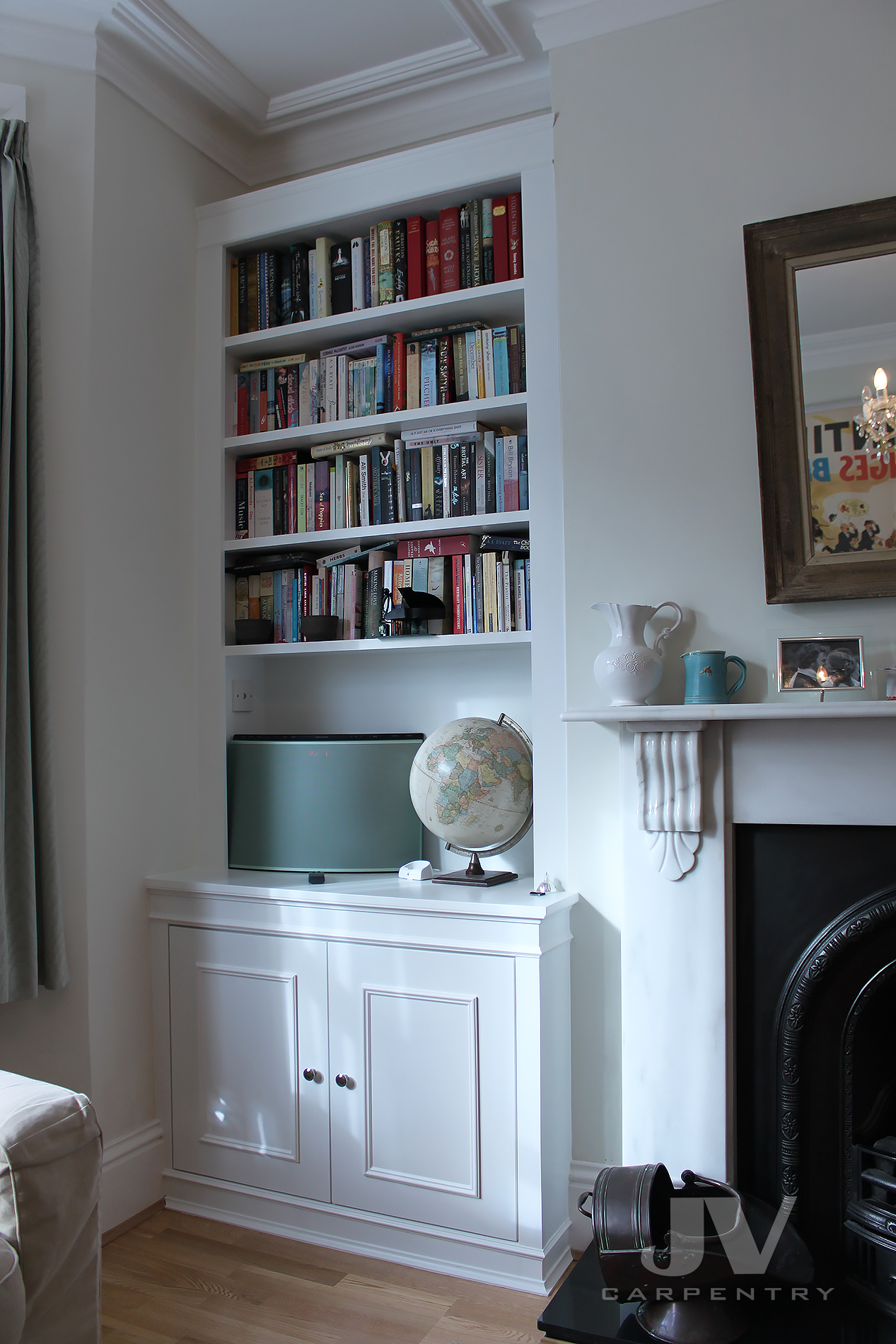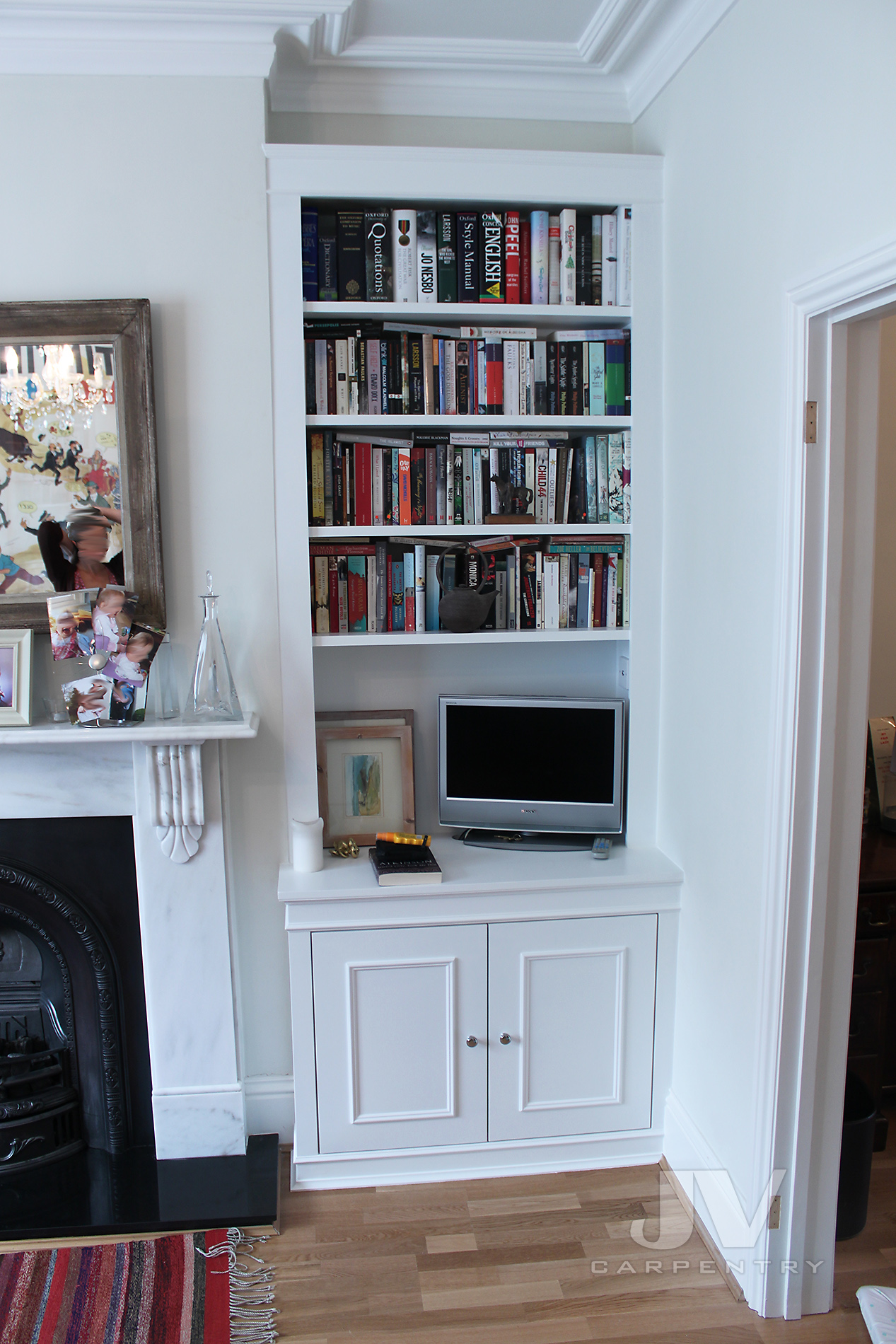 Traditional white alcove shelving with cabinets. They are pretty much the same style as the first two alcove bookshelves but painted in white finish.
Alcove shelving with glass doors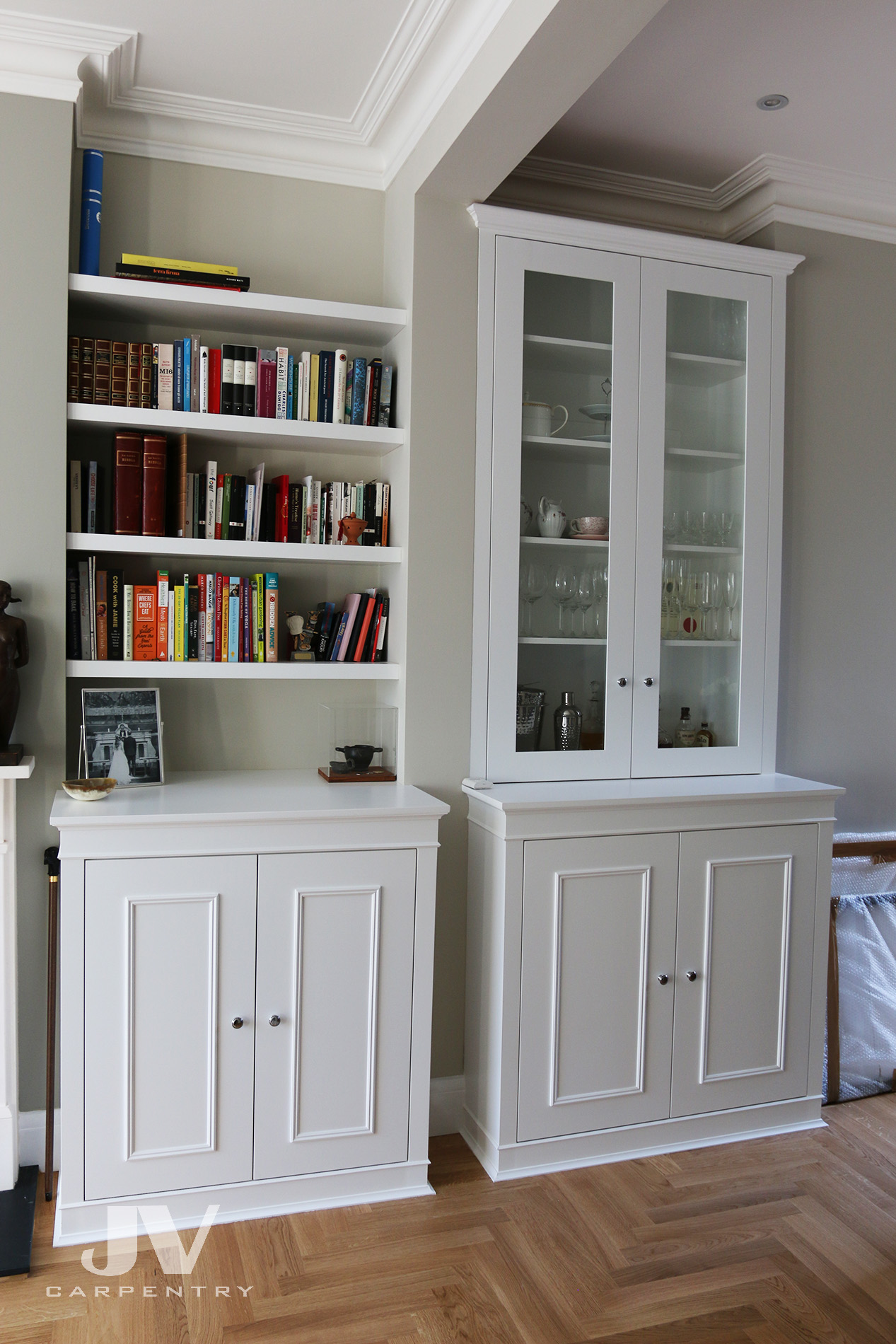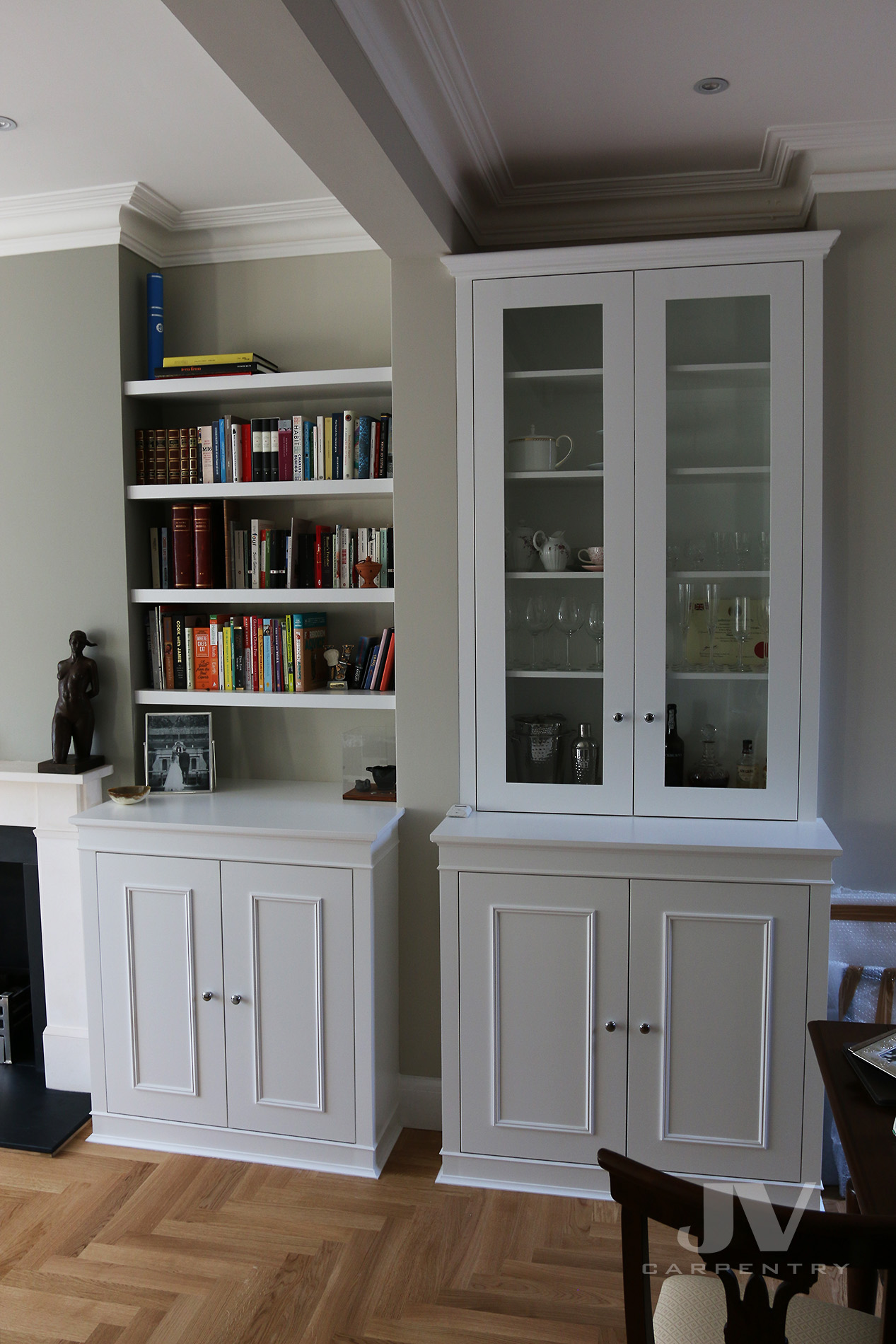 In this example we show you to alcove units. The one on the left is made with floating shelves and a lower cabinet. The unit inside the right alcove is designed to have a display cabinet with paneled glass doors giving you an opportunity to keep your favorite things on show but away from dust.
Alcove shelving with TV cabinet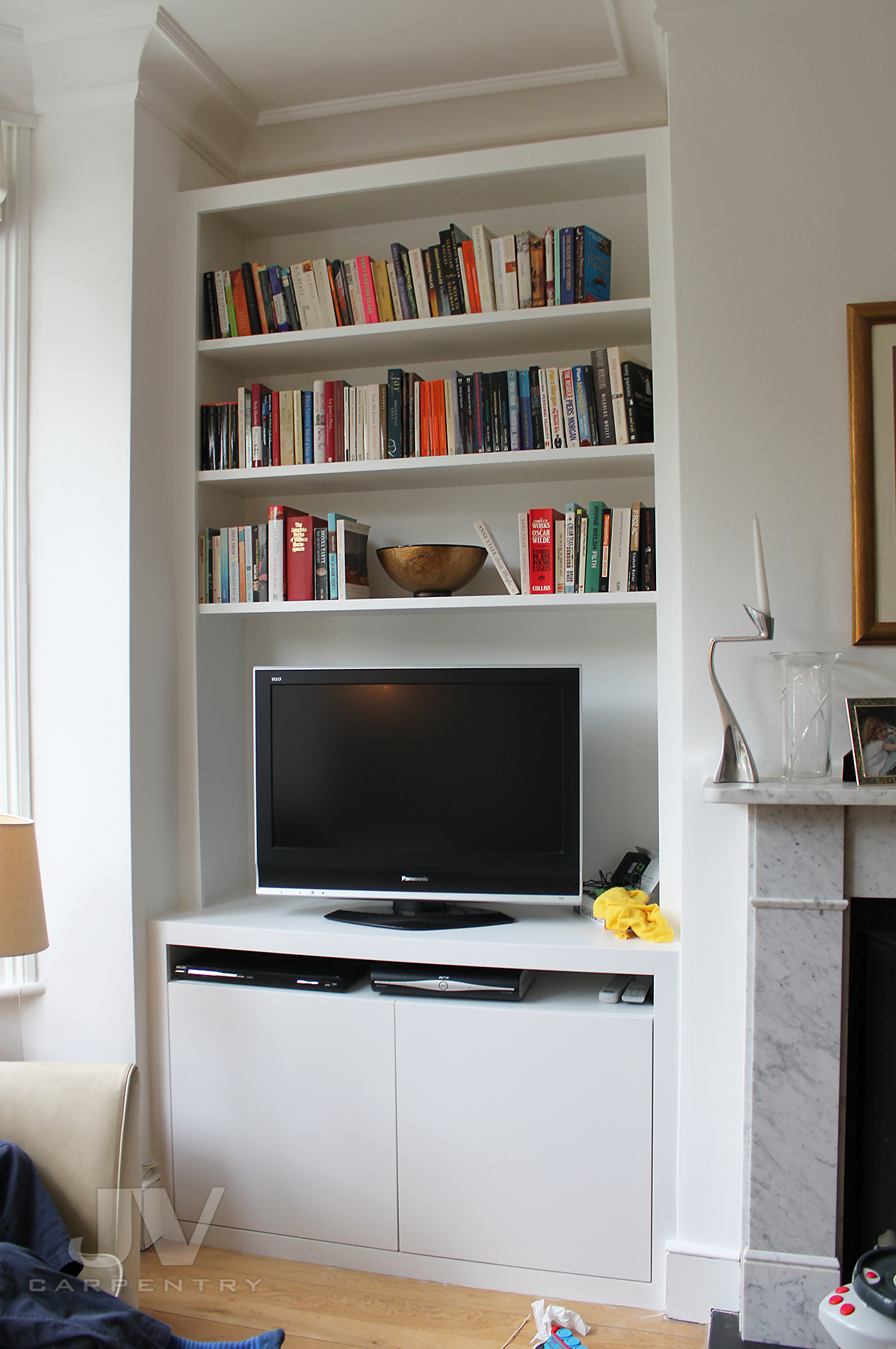 Alcoves in the living room are not only good for shelves, they are also perfect places for your TV cabinet.  Here we are sharing with you two examples of alcove shelves made with a TV cabinet at the bottom. In the first example the cabinet was made with a sort of open shelf to store your TV equipment. The second picture of the alcove features floating shelves above the cabinet with the shallow shelf for the sound bar above TV.
Alcove floating shelves with shaker cabinets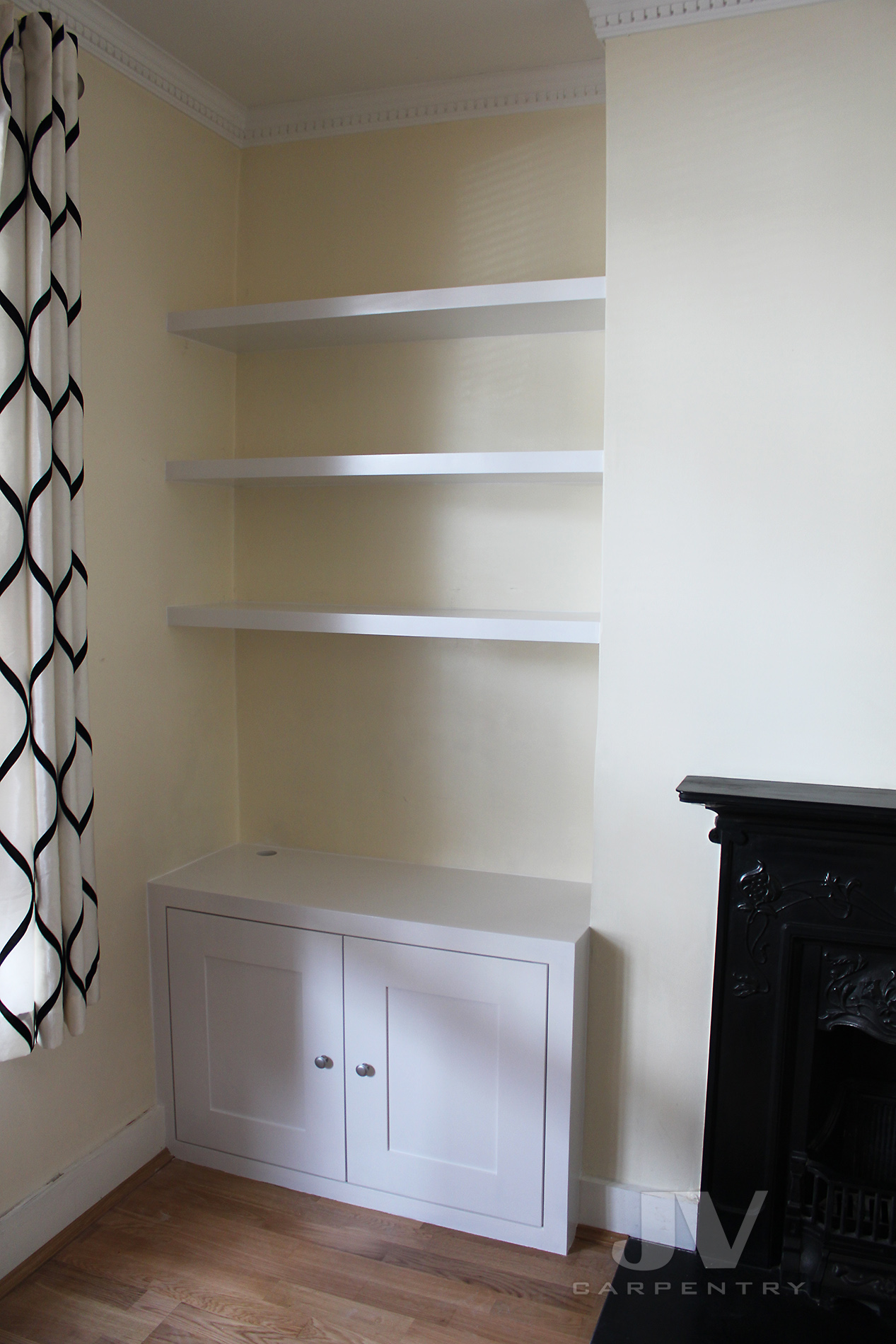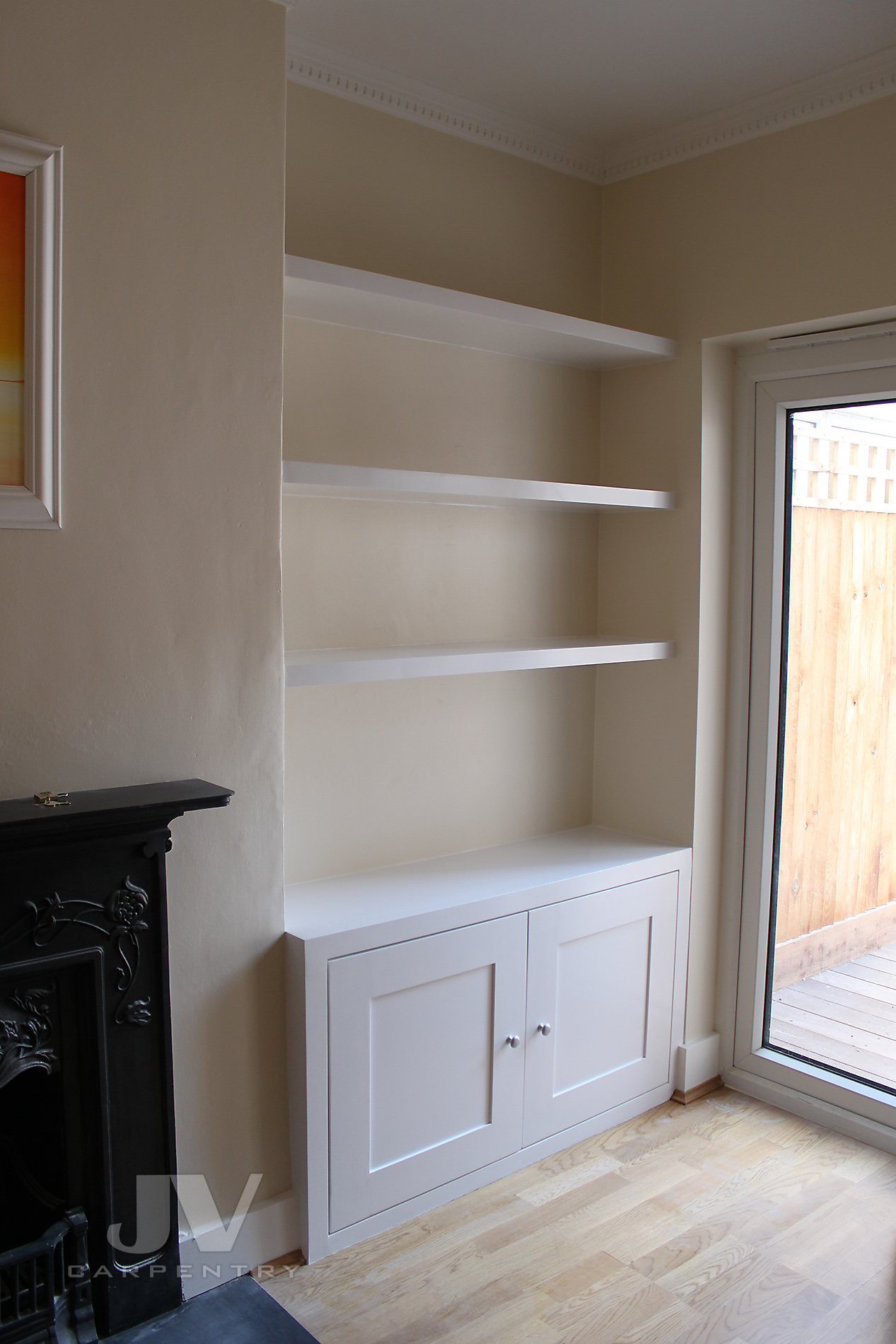 Above we share another option for your alcove shelves in your living room. This one is quite simple. Only 3 floating shelves and lower alcove cabinet with shaker doors. Minimum details and simple look it's a good idea especially if you are looking to save some money.
Alcove bookshelves only and without cabinets at the bottom.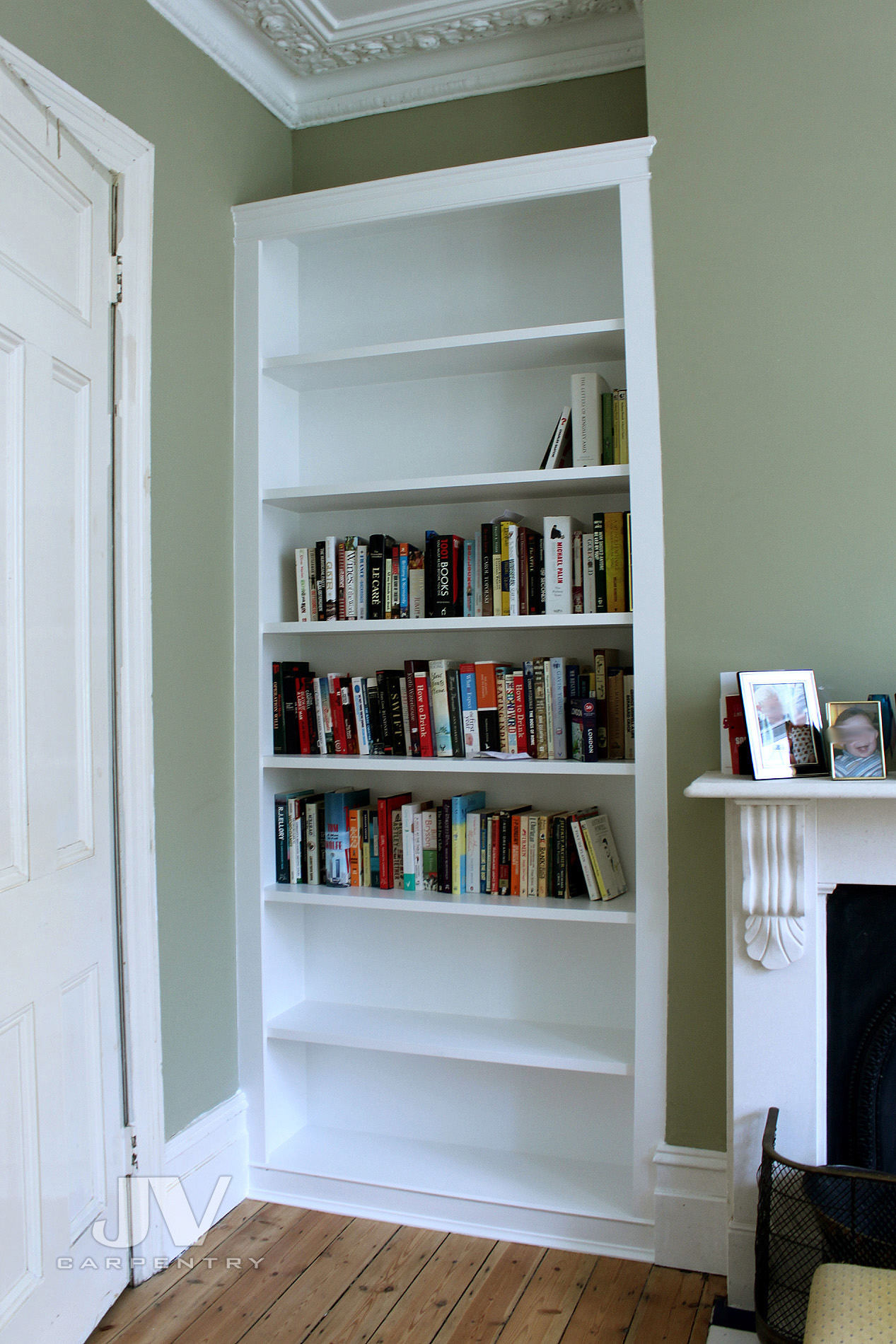 Here the two examples of alcove shelving units made without cabinets at the bottom. Why build the cabinet if you want more space for books? Making shelves from the bottom right to the top of your alcove you create a lot of storage space for your books.
Another example of classic alcove bookcases with cabinets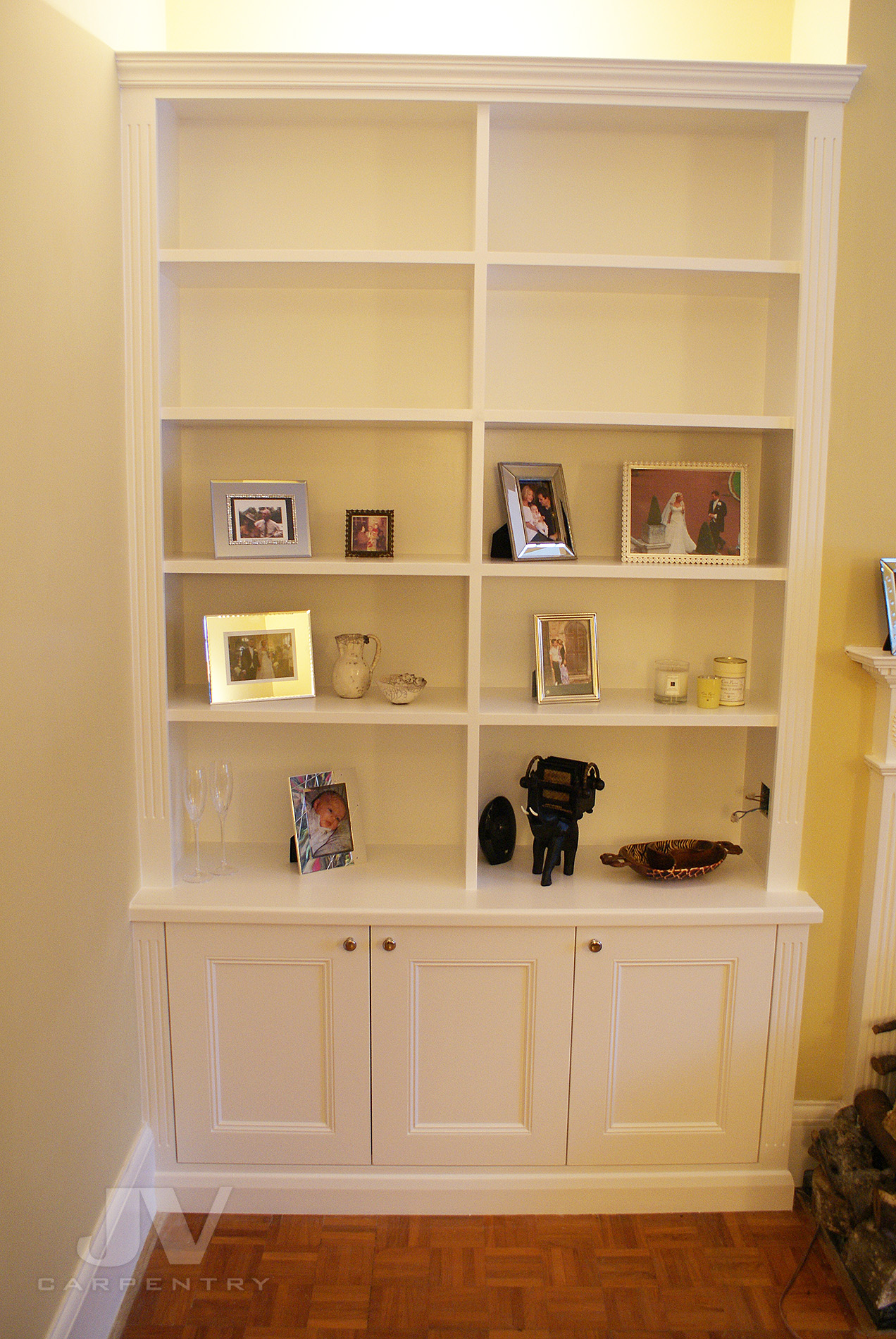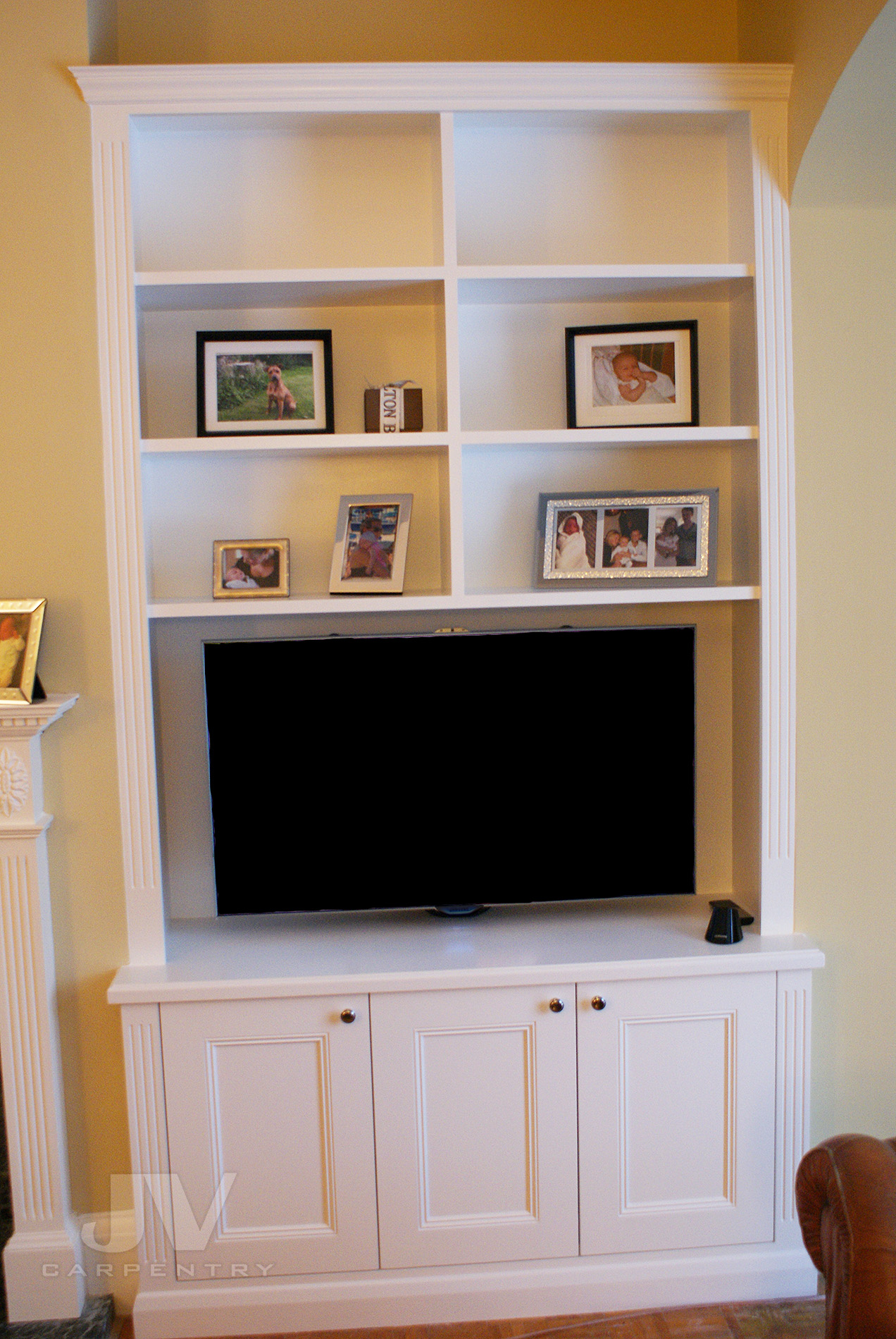 Classic fitted bookshelves inside living room alcoves. Containing plenty of detailing like skirting at the bottom, beading around the doors and grooves along the side of the units.
Alcove bookshelves with log storage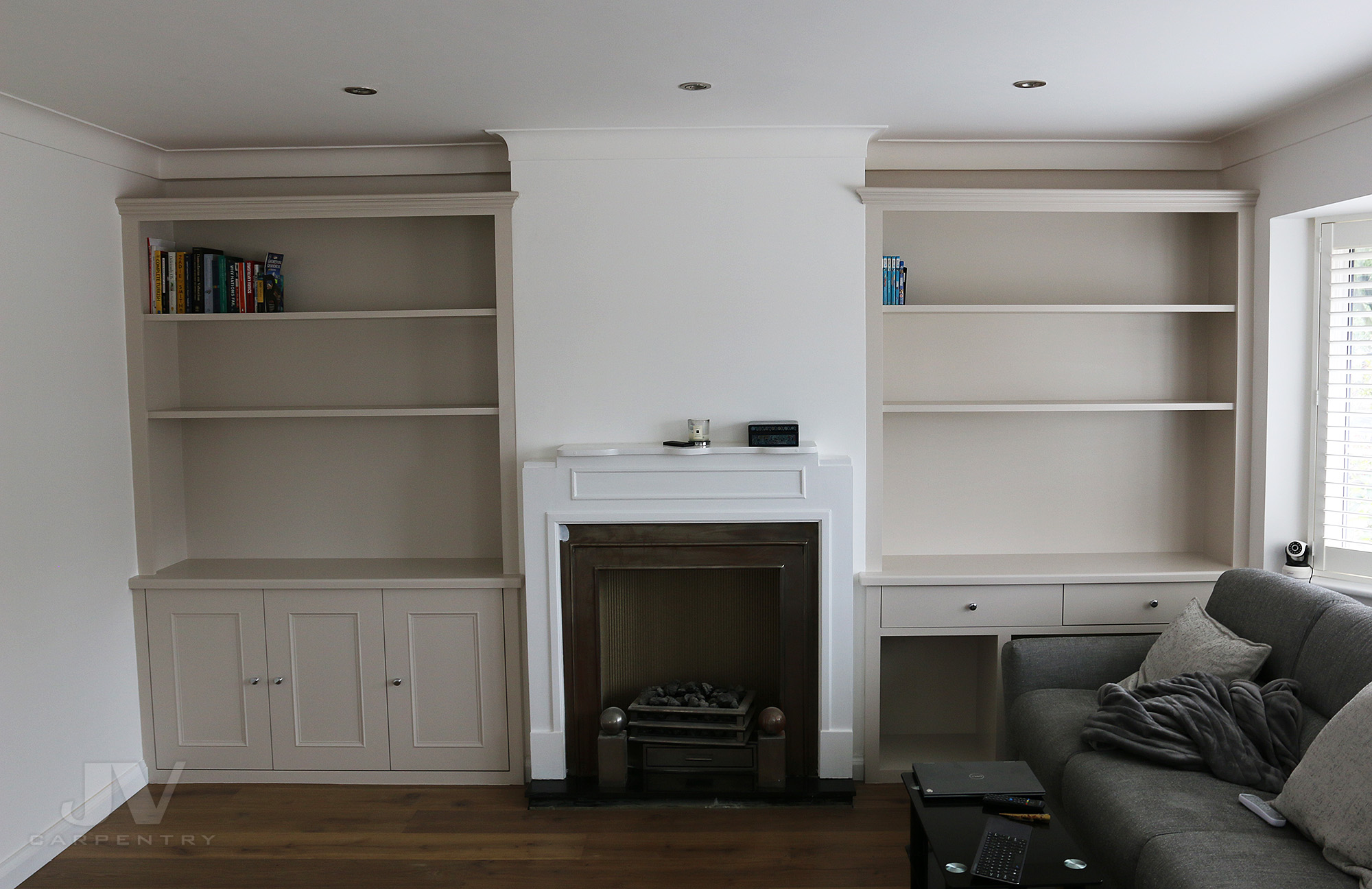 Looking for alcove log store ideas? Combine wood storage with drawers and shelves like on this example above. You don't need to have firewood storage on both alcoves. Like in this case we have normal classic alcove bookshelves on one side, however on another side we have completely different alcove design. This alcove is made with a wood storage cabinet and drawers at the bottom finishing with shelving above.
Traditional alcove cabinets with floating shelves
Another beautiful example of our product - a pair of alcove cabinets with floating shelves above. Cabinets made with traditional shaker beaded doors, plain skirting board at the bottom and finishing 36mm thick countertop with the lip around.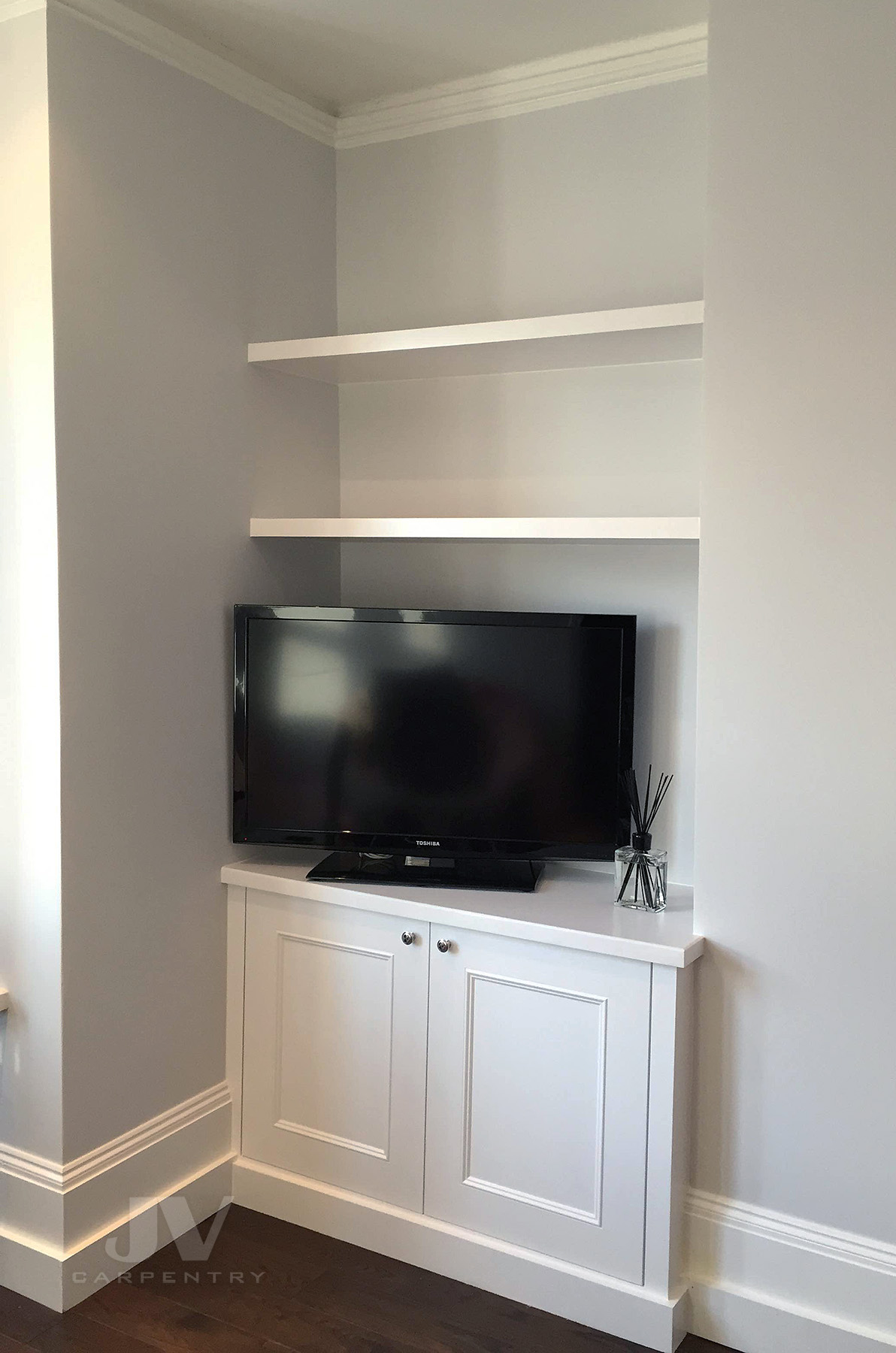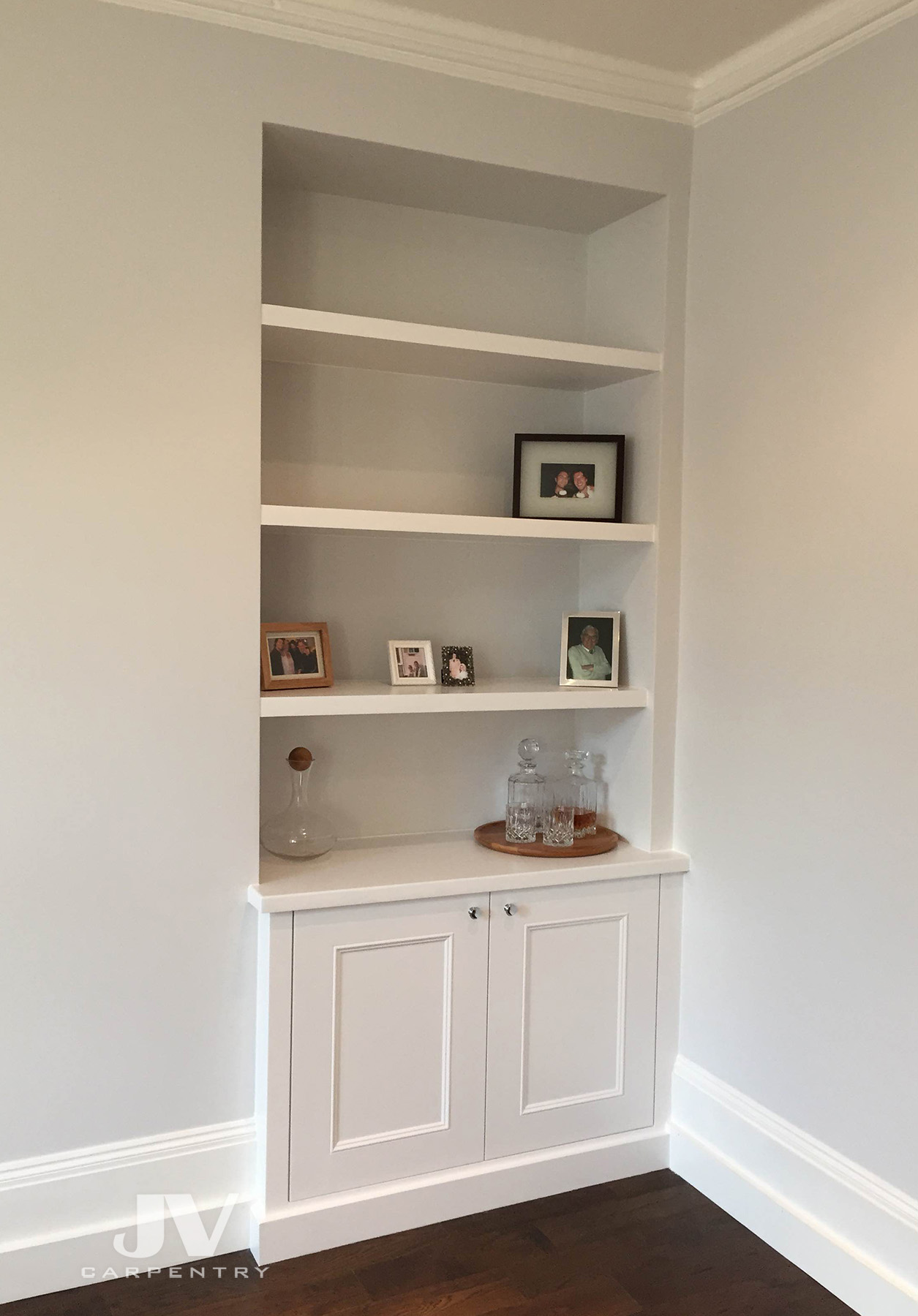 Few more AMAZING alcove shelving examples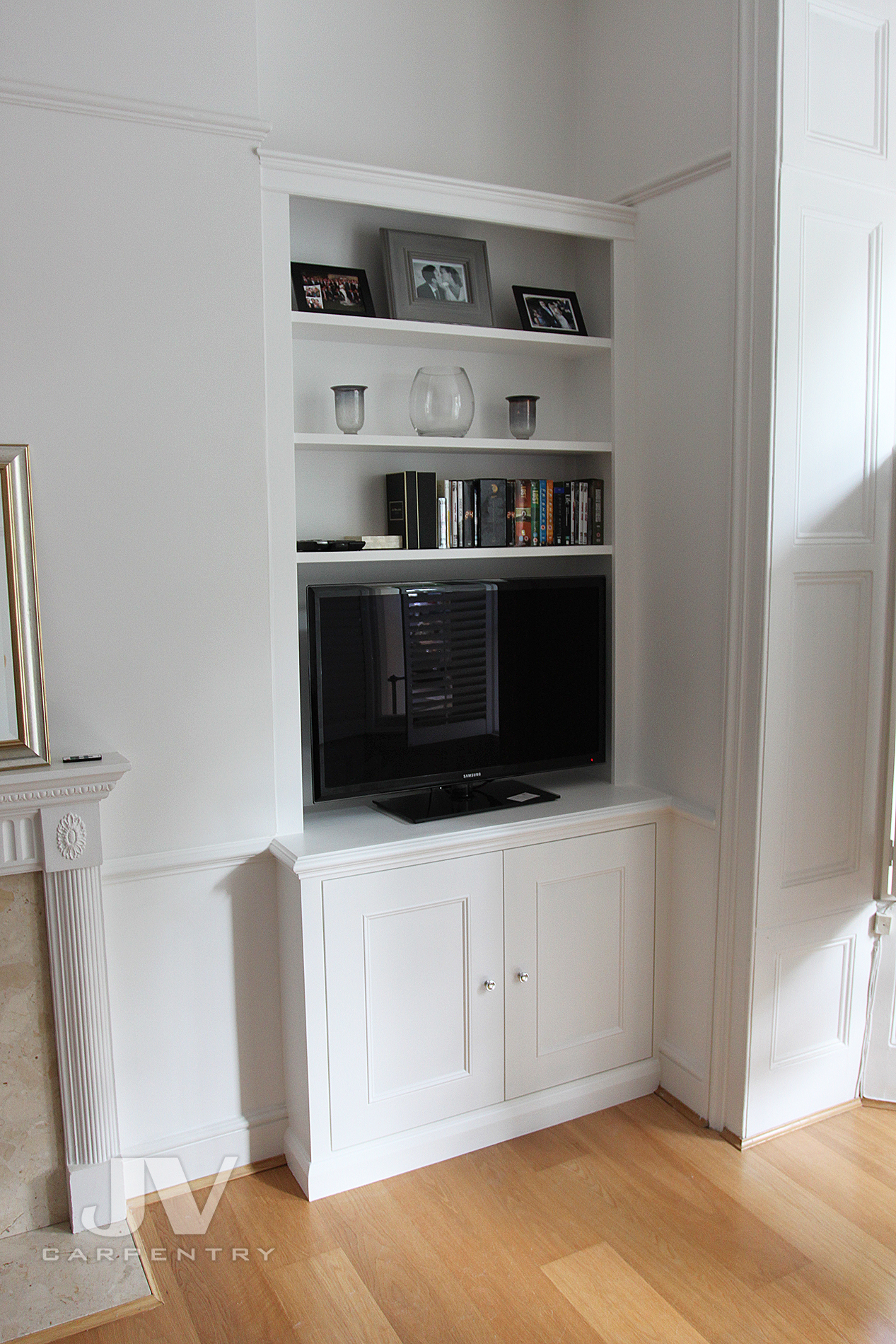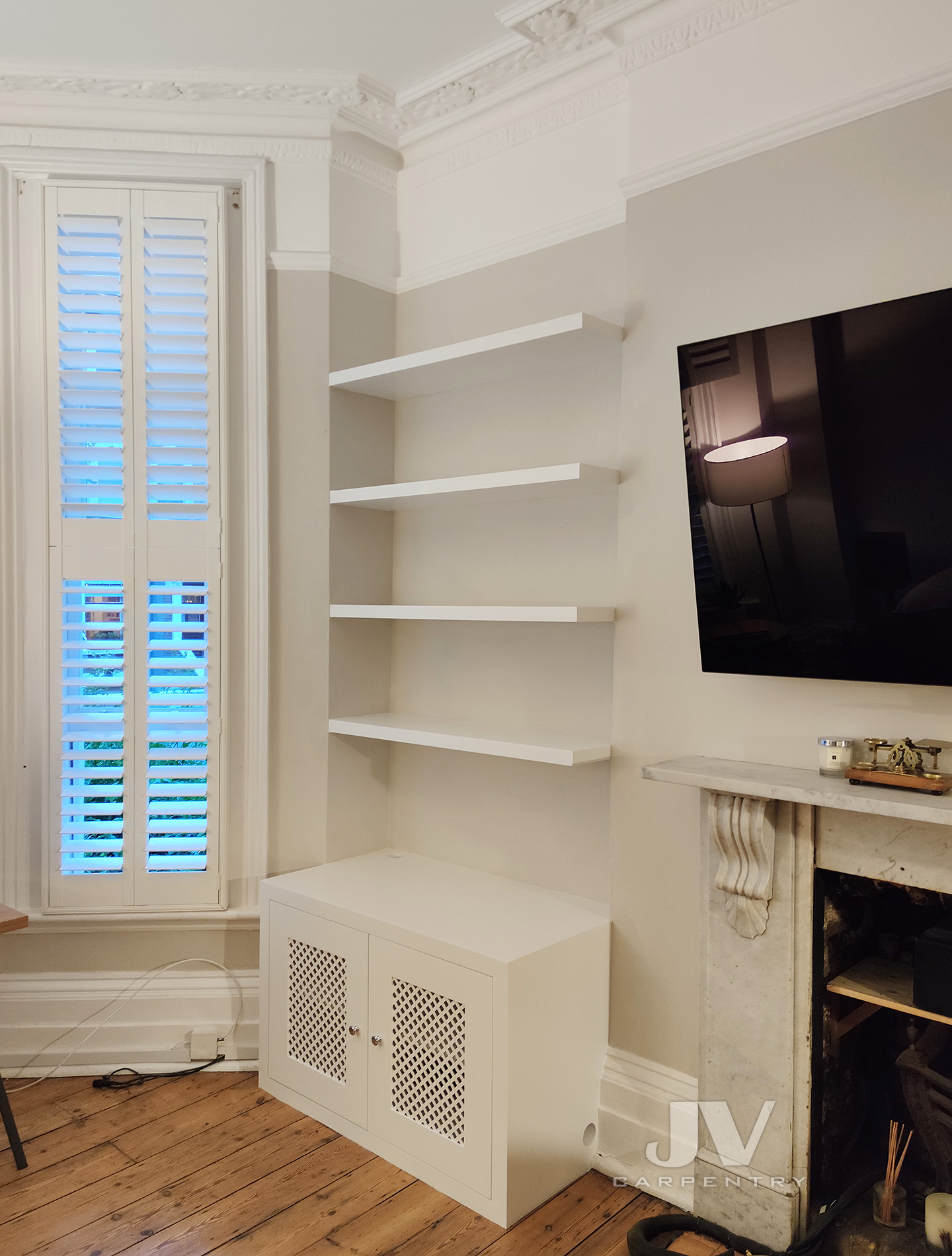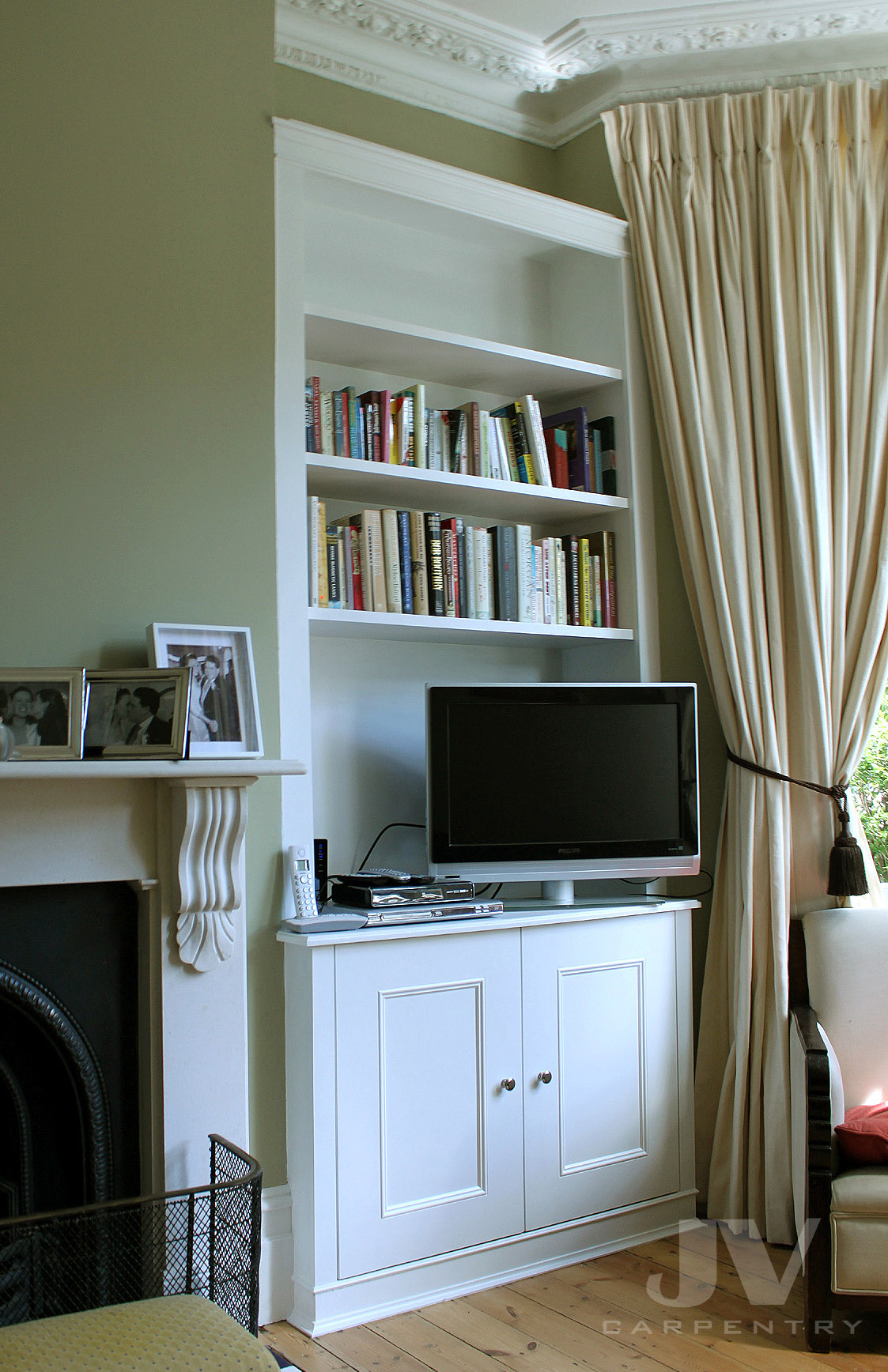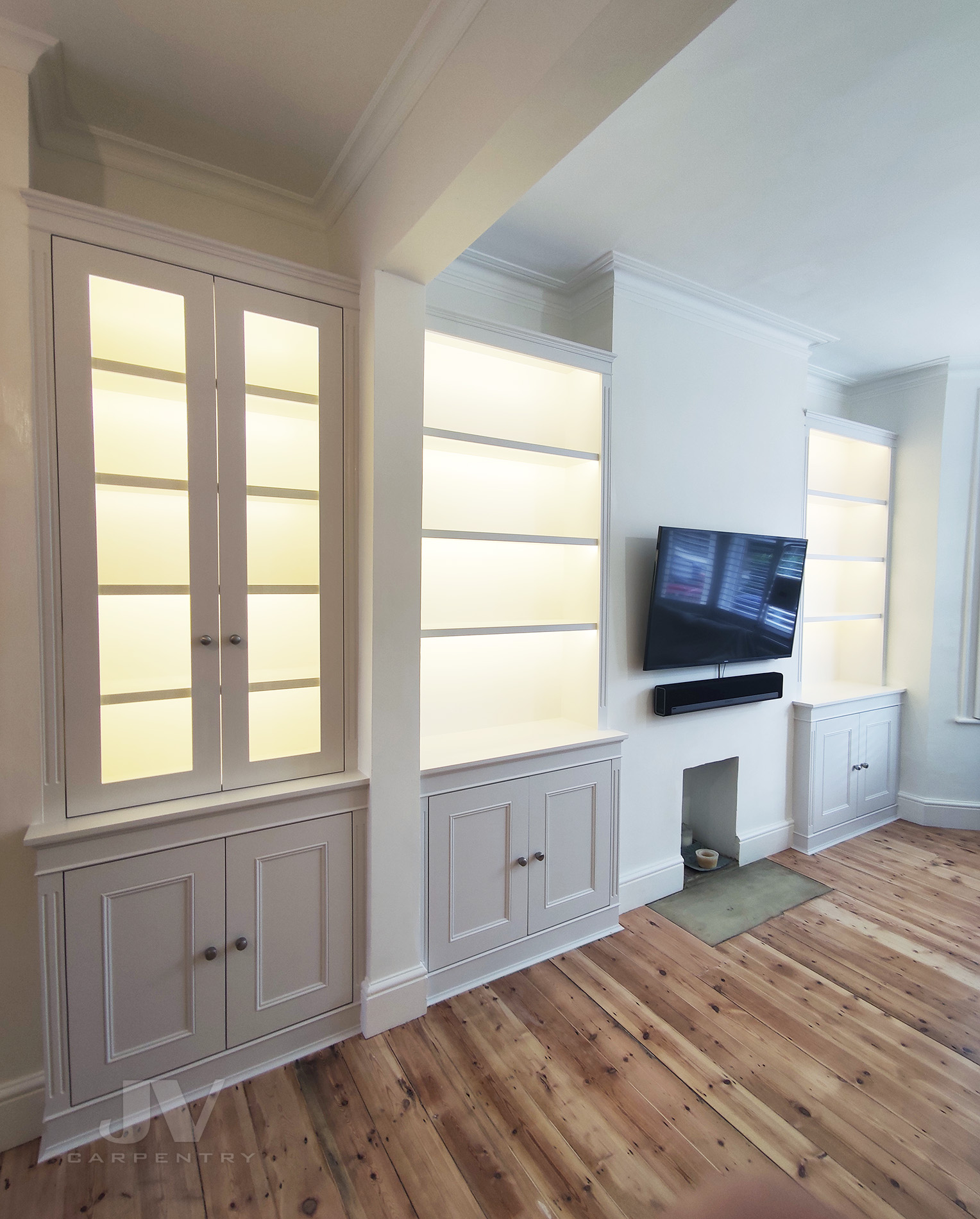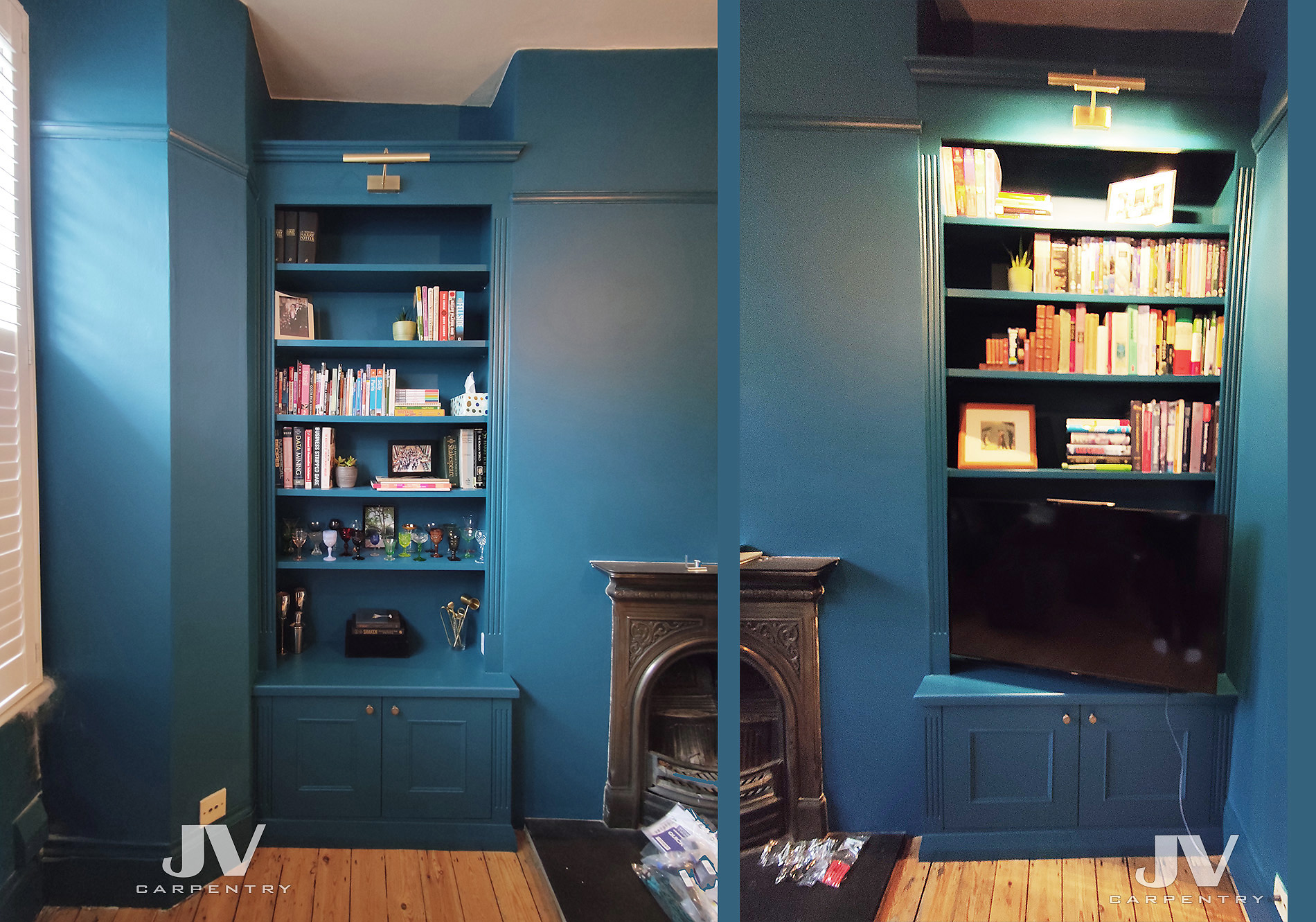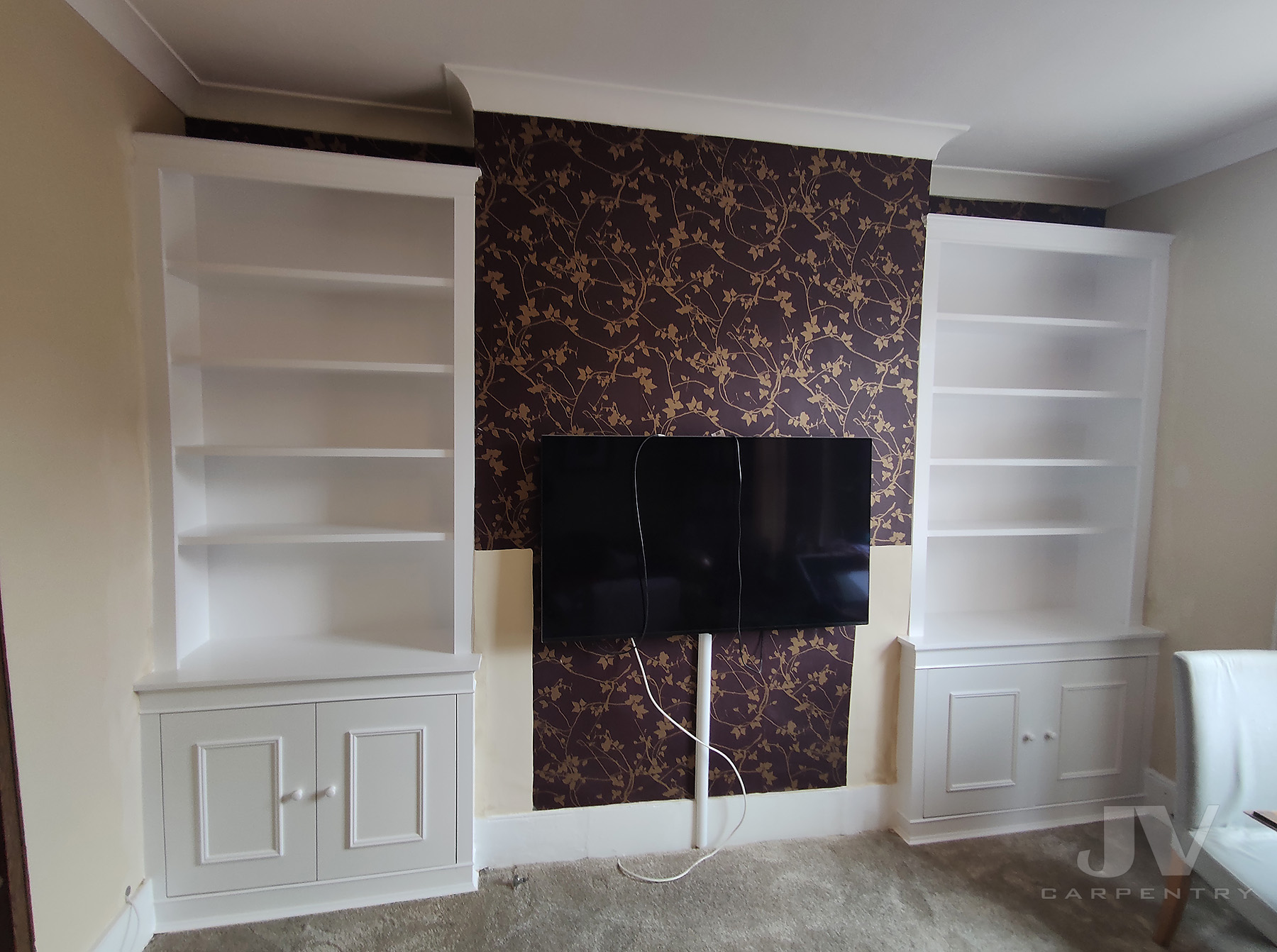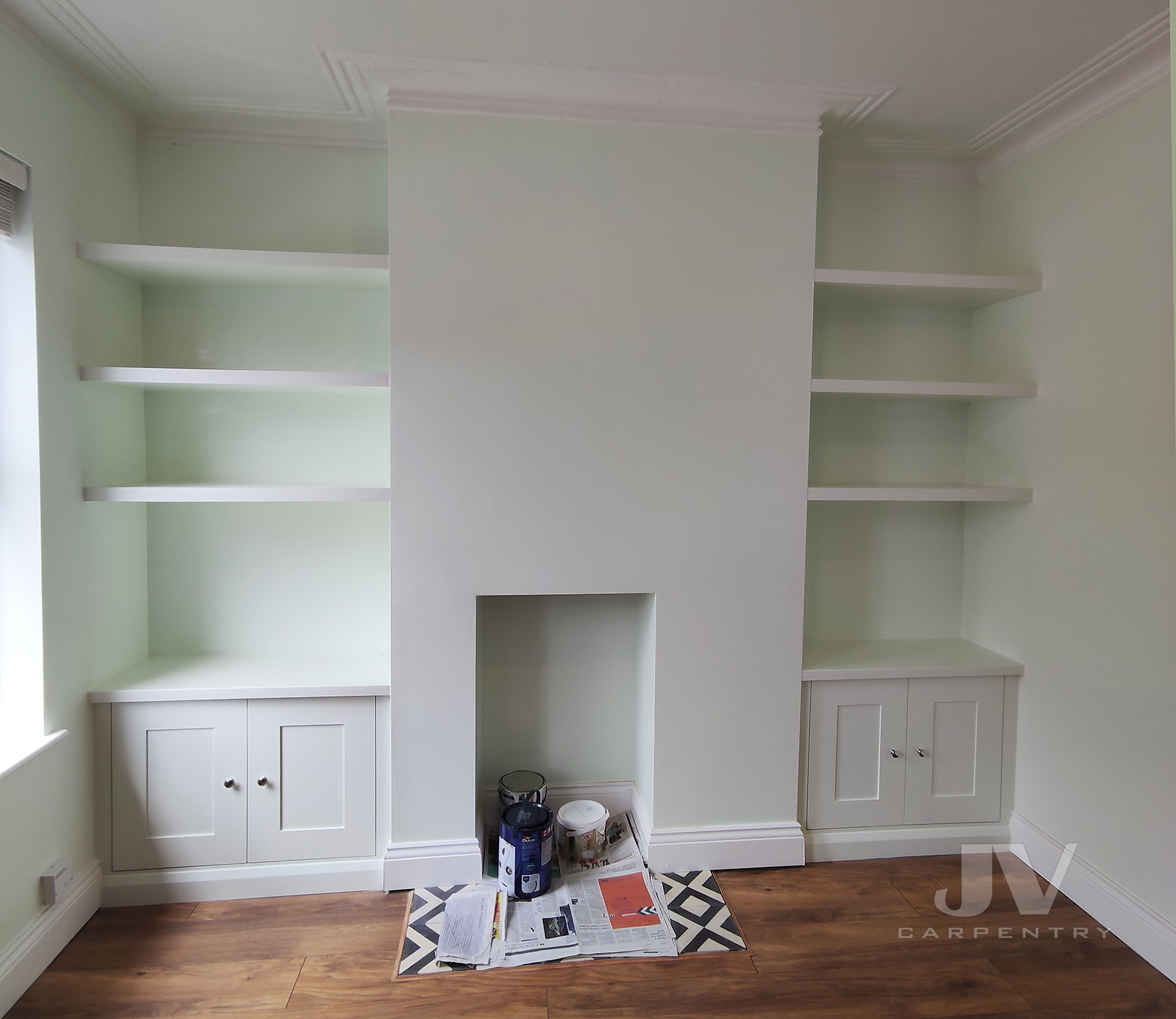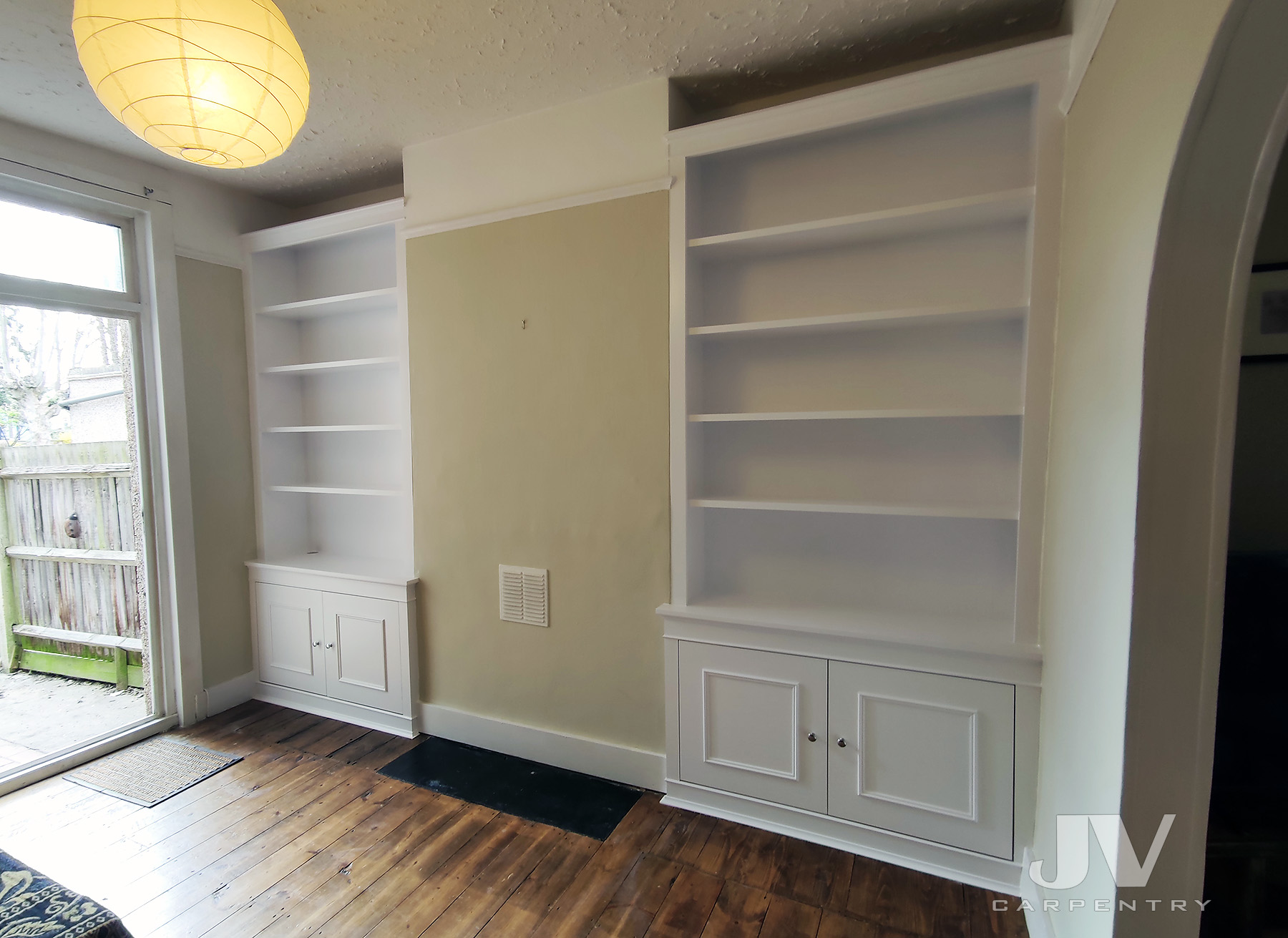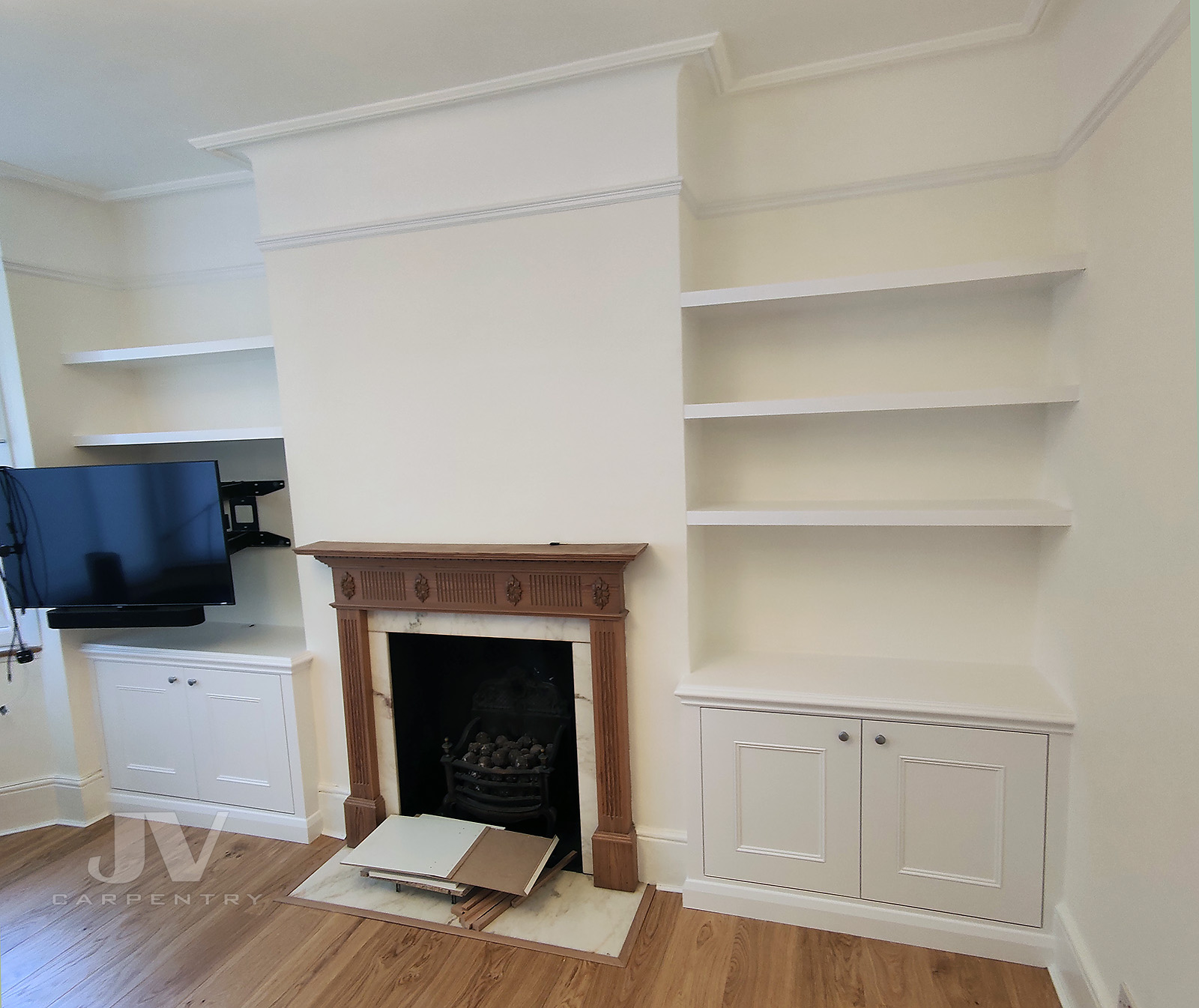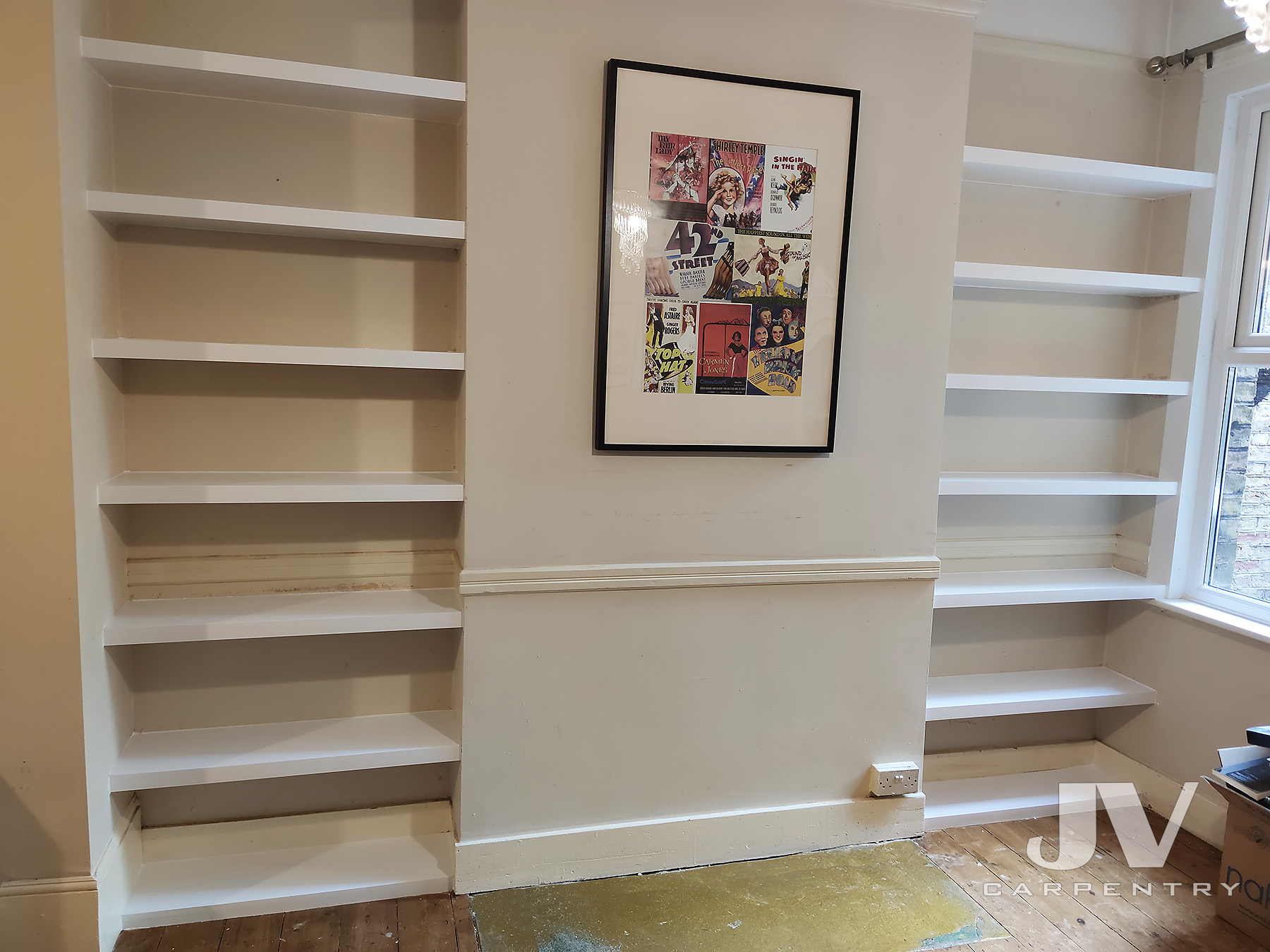 If you'd like to see more ideas of the living room fitted furniture, not only alcoves but also large wall shelving units, please follow the link below:
Fitted Bookcases Full Gallery