64 Best Built-in wardrobe interior layout ideas
Looking for fitted wardrobe ideas to help you to understand how to use correctly all available space inside your new bespoke wardrobe? Below you can find many images of the wardrobe interiors we made in the past. These made-to-measure wardrobe examples should give you some good tips on how to maximise storage space inside. It's important to organise your wardrobe with some shelving and hanging space, drawers, shoe-racks, pull-out shelves and even light inside your wardrobe. All these wardrobe ideas with many examples you'll find below.
Please take a look at our bespoke wardrobe ideas interior examples below to get an idea on how to arrange space inside your wardrobes.
Few tips and ideas on how to maximise the space inside your wardrobe
People always asking us - how to maximise potential space inside their fitted wardrobes? So here is few ideas and tips for you:
Wardrobe total space
To plan your wardrobe first measure the length of available space you have.  That should give you roughly 1 double section (wardrobe compartment with two doors) per meter. For example if you have a three meter wall that means your fitted wardrobe can be made with six doors and three compartments. After that try to visualise the space inside your wardrobe compartments by drawing a simple diagram.  Try to create a few different drawing designs with different configurations it should help you with some ideas on how to organise the space inside your wardrobes.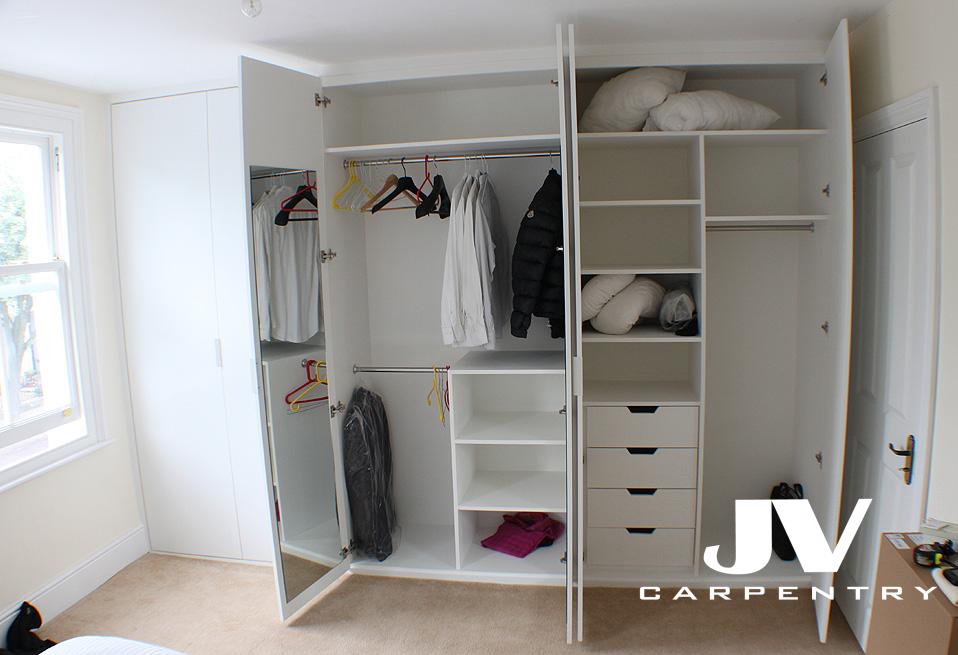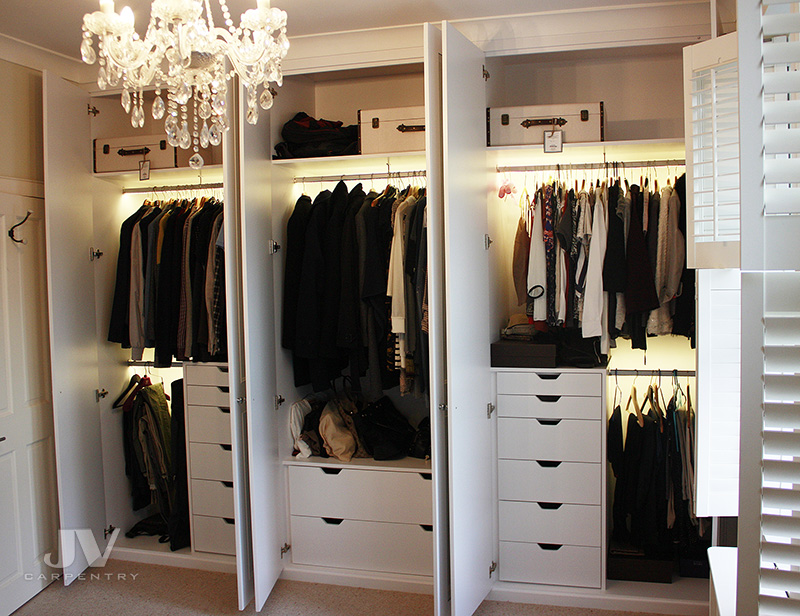 Drawers and Shoe racks inside your fitted wardrobe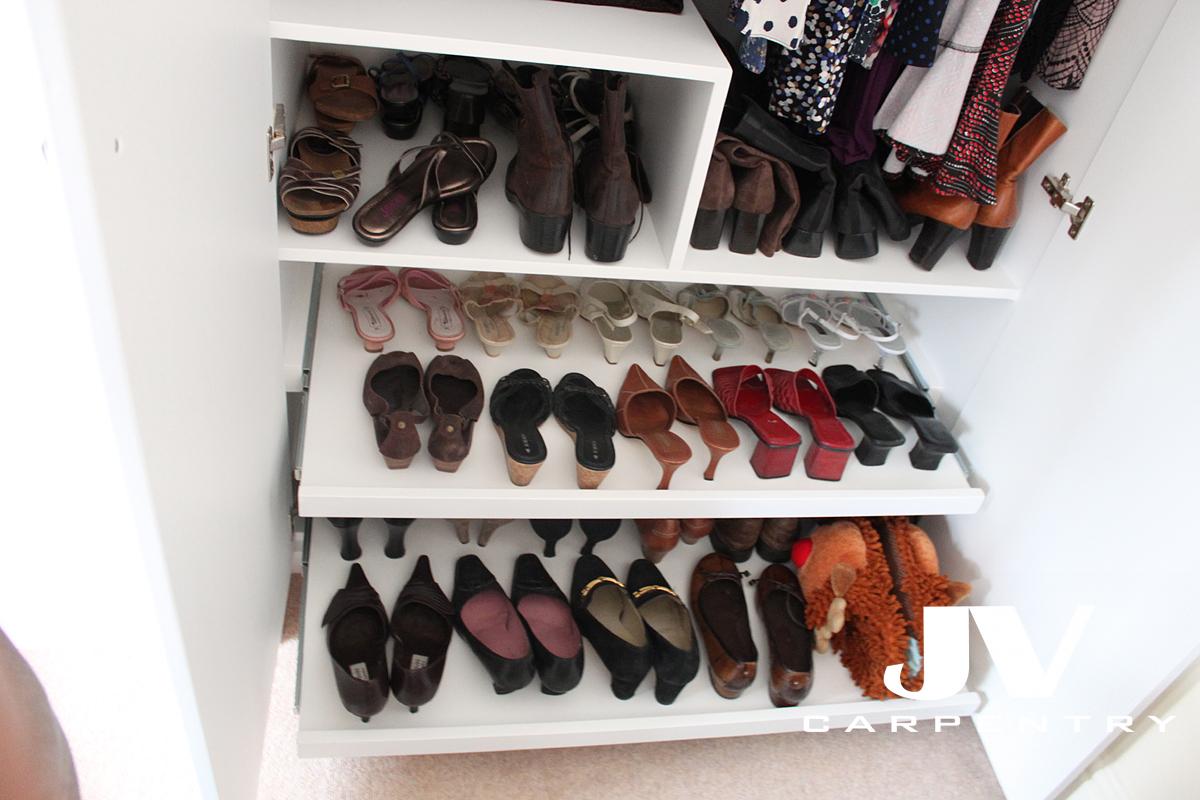 If you have a lot of socks and underwear it's a great idea to add a few drawers into your built-in wardrobe. This way you keep your clothes well organised and easy accessible.  Shoe rack is basically a pull out shelf with the lip at the end and it's also a great idea to have them in your wardrobe especially if you have many shoes. Shoe racks will help you to see all your shoes once you pull it out from the wardrobe. You can find many examples for your bedroom wardrobes interiors made with shoe racks you can find in our gallery above.
It's a good idea to place your short hanging pieces of cloth at one end of your fitted wardrobe and your longer hanging clothes at the other that will open up lots of space underneath, where you can have a chest of drawers, shoe rack or few small shelves for shoes.
Wardrobe top shelf
The very top shelves can be located behind the cupboard doors at the top of the wardrobe. They are good for suitcases, beddings and season clothes which you can keep in the storage boxes away. Normally people using top shelves in their wardrobes for keeping things they don't use very often.
Add Lighting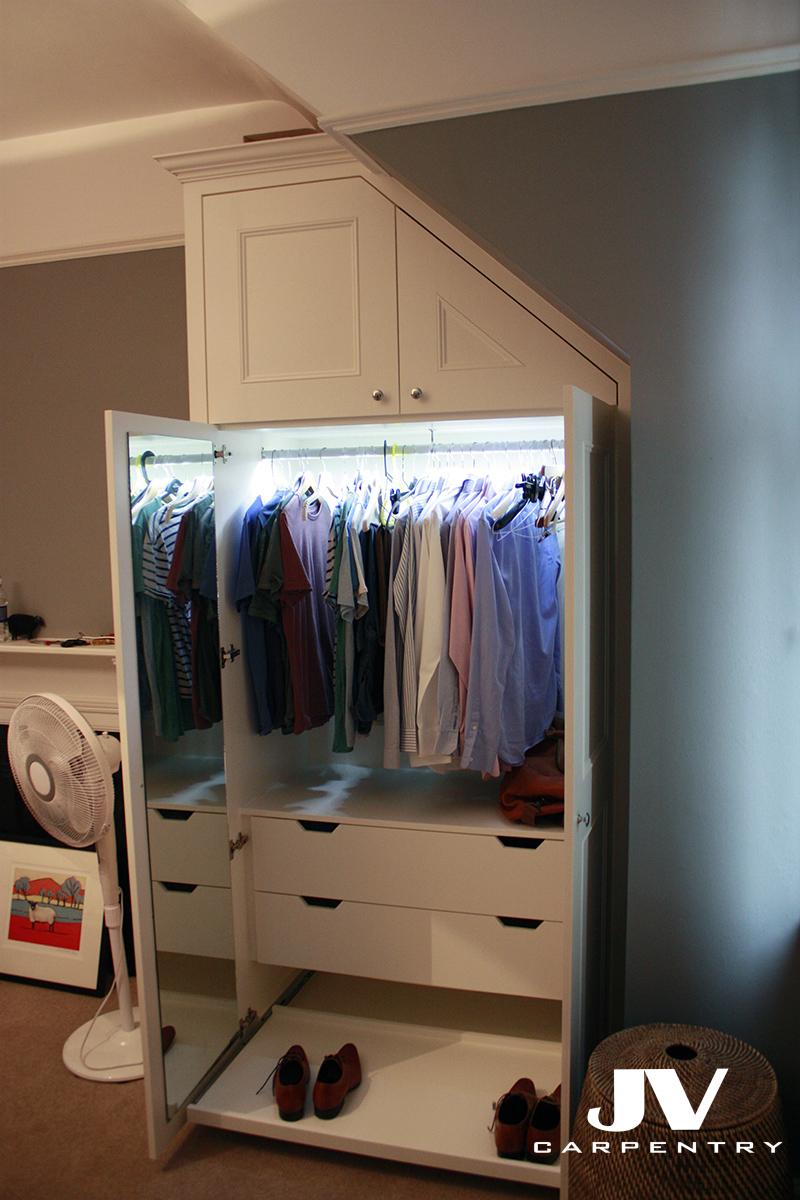 Another great idea is to Illuminate your fitted wardrobe. Just having more light in the wardrobe will make it look bigger not to mention that it will make it a lot easier to find the right jumper on the rail. Add an LED hanging rail, which is motion activated and you never lost your clothes in the dark. You can get a rough idea on the price here
Make Use of the shelves inside your Wardrobe
You can add a lot of the extra storage space by adding a column of shelves on the side of your hanging space. As a result It turns the space into little cubby holes to give you plenty of storage space for your folded clothes, so they don't mix with each other and create a mess.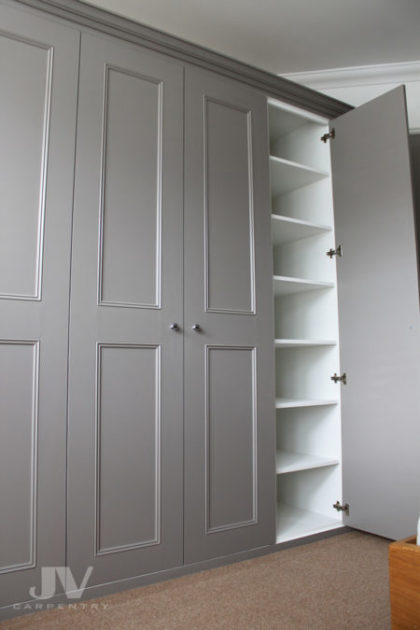 Another idea is Hang a Mirror at the back of the Wardrobe Door
Mirrors at the back of the fitted wardrobe door not only help you to chose the right clothes they also a great way to create the illusion of a bigger Wardrobe.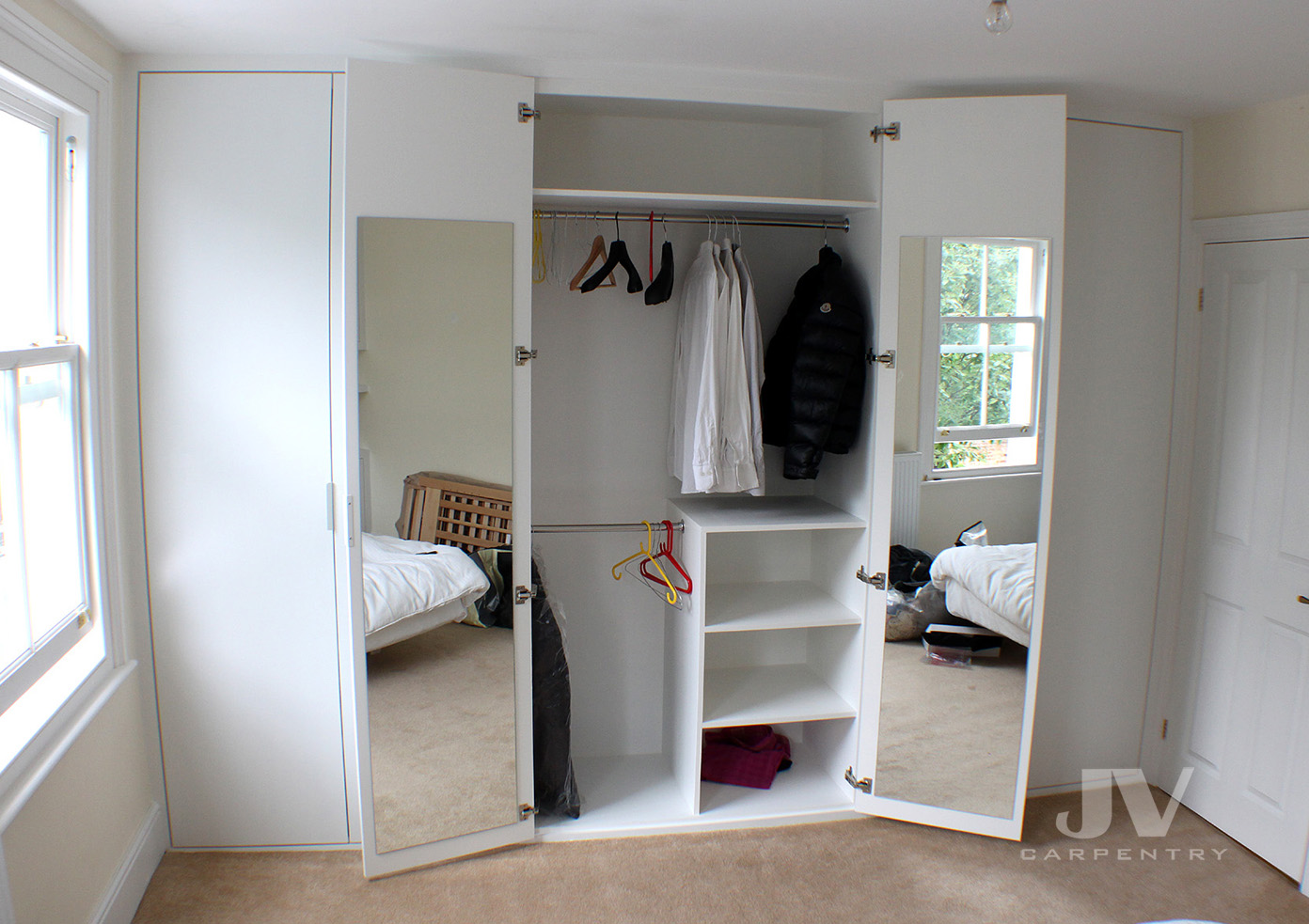 Maintain the Space inside your Wardrobe
If you use most of the space inside your wardrobe you can do some seasonal reorganization and store away clothes that you're not going to be wearing during those seasons. The idea is that you can move your winter clothes in the loft in the spring and put them back inside the wardrobe in the autumn.
For more wardrobes ideas check out our Fitted Wardrobes page were you can find many pictures of wardrobes different style and design.
I hope you like our fitted wardrobe interior ideas we shared for you on this page. If you are looking to build your perfect fitted wardrobe and you are located in London within M25 please feel free to contact us today. We are looking forward to hearing from you and to work on your project and make your ideas come true.
If you have you have your wardrobe built already and looking for some tips and hacks on how to better organise the space inside, check this out it will help you a lot: