Hallway Fitted Wardrobes and Storage Solutions
A hallway fitted wardrobe can be a good solution to organise your hallway and hide all your coats, jacket and shoes out of view behind the doors. It's a good idea to get your hallway right as first impressions are important when you and your guests walk through the front door. With hallway built-in wardrobes you will transform your hallway into a functional storage space and improve its overall look. Making your home entrance cosy, clean and tidy.
Fitted wardrobes in the hallway will provide you with plenty of storage space. They can be made with some shelves to store your letters and keys. Additionally adding some hooks and hang rails will give you storage for all your outwear.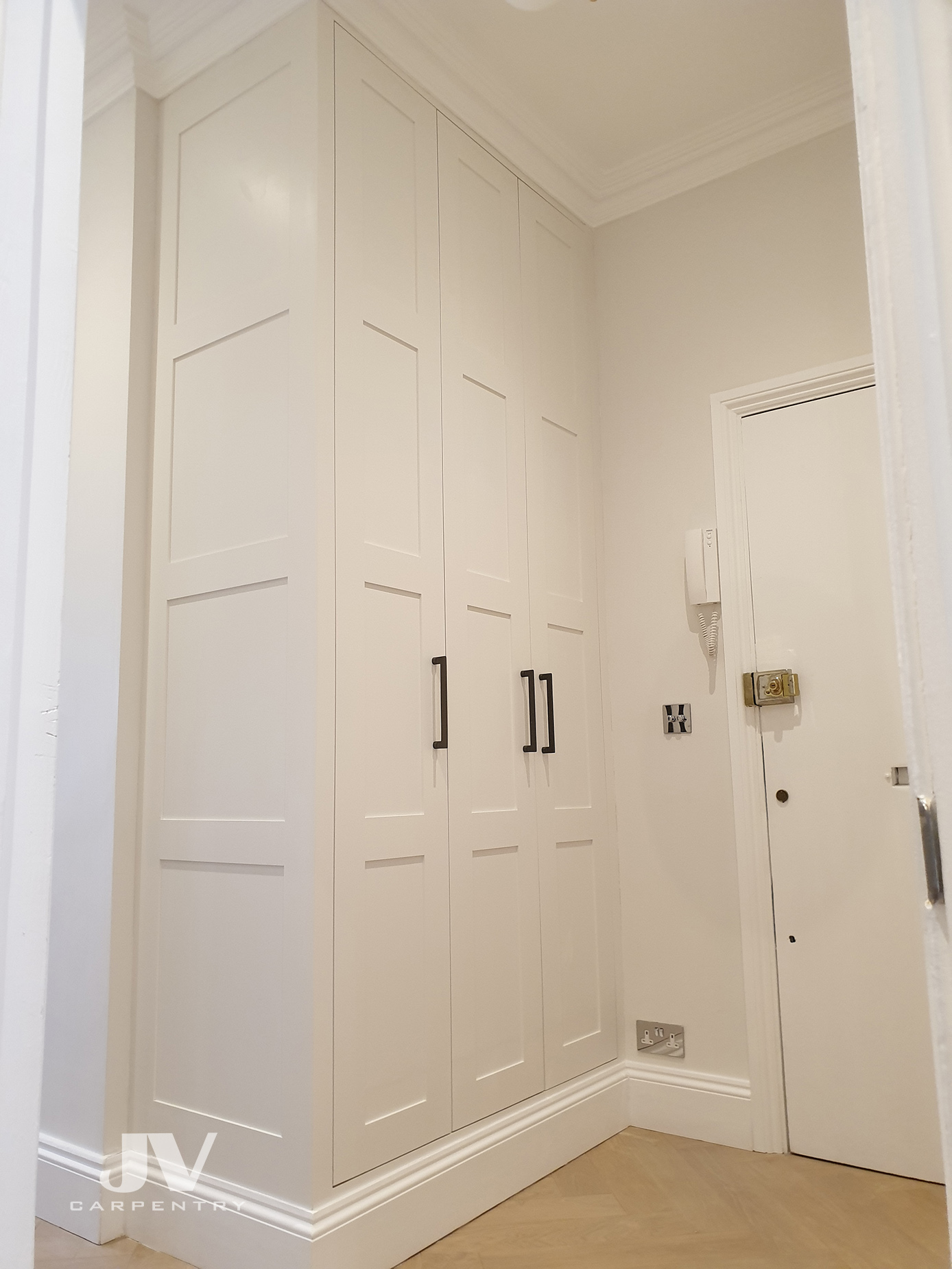 When you are looking for hallway wardrobe ideas you can find some wardrobes below with an open space without the door for easy access. Moreover, we made some of the wardrobes with the option to sit down to put on your shoes. This is definitely a great idea to have it in your hallway.
When you think of hallway cupboard ideas, colour can play quite an important role. Some colours can make your hallway visually look bigger. For instance, light colours such as white or light grey will make your space look bigger. But if you decide to choose a dark colour for your hallway fitted furniture you can then paint your hallway with dark colour as well. This method is known as colour drenching and it gives the impression of a bigger space.
On this page, we put together some pictures of the Built-in hallway wardrobes that we designed and installed in the past. I hope it helps to give you some ideas when you are looking for hallway storage wardrobes for your home.
Hallway built-in wardrobe with open space for hooks
The hallway built-in wardrobe in this example is designed with some open space for hooks.  This is a good option when you are looking for hallway fitted storage ideas when accessibility is important for you.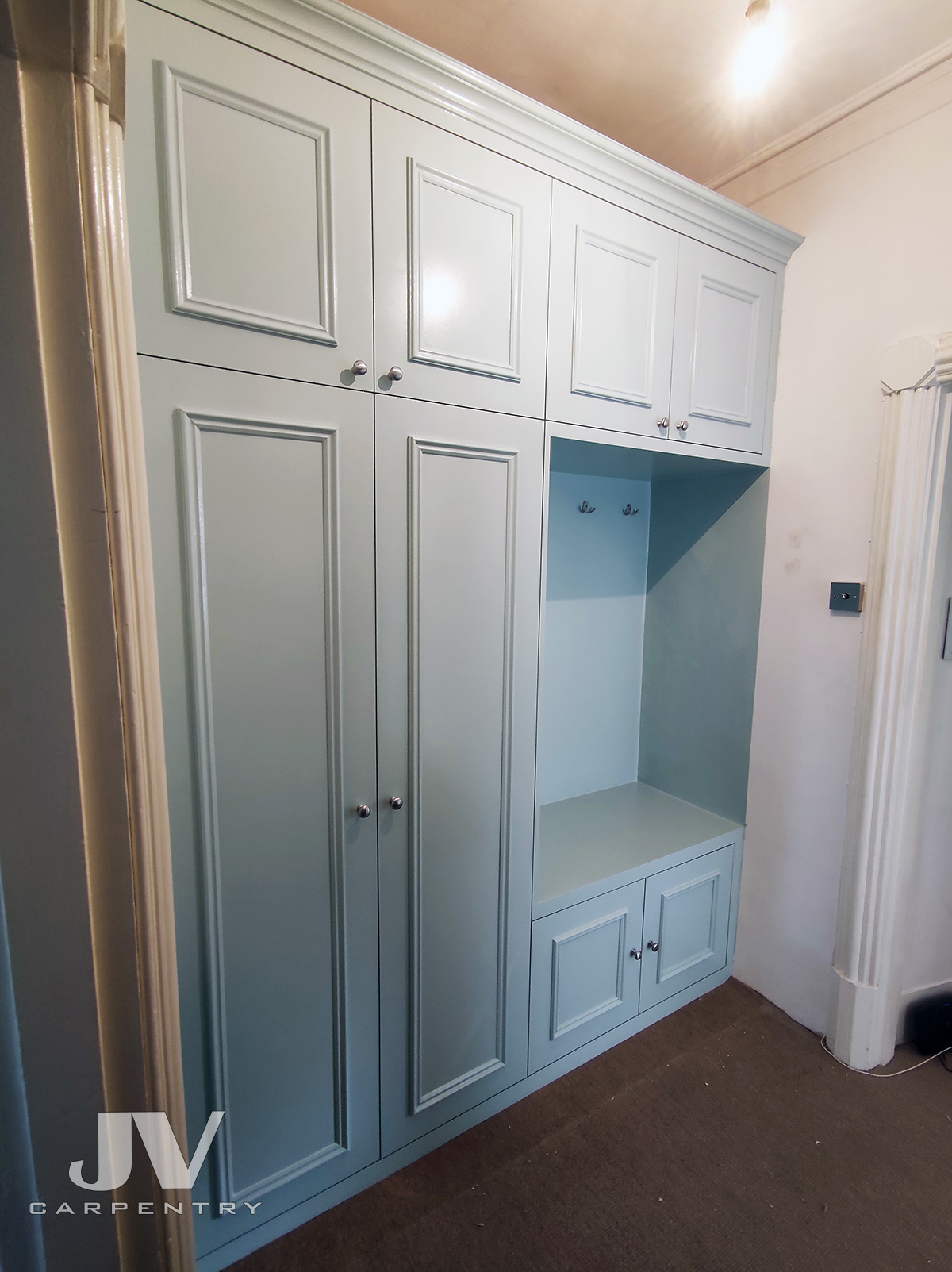 This hallway wardrobe also features a small cupboard space on the side. It is a good way to create a sitting area for comfortably putting your shoes on.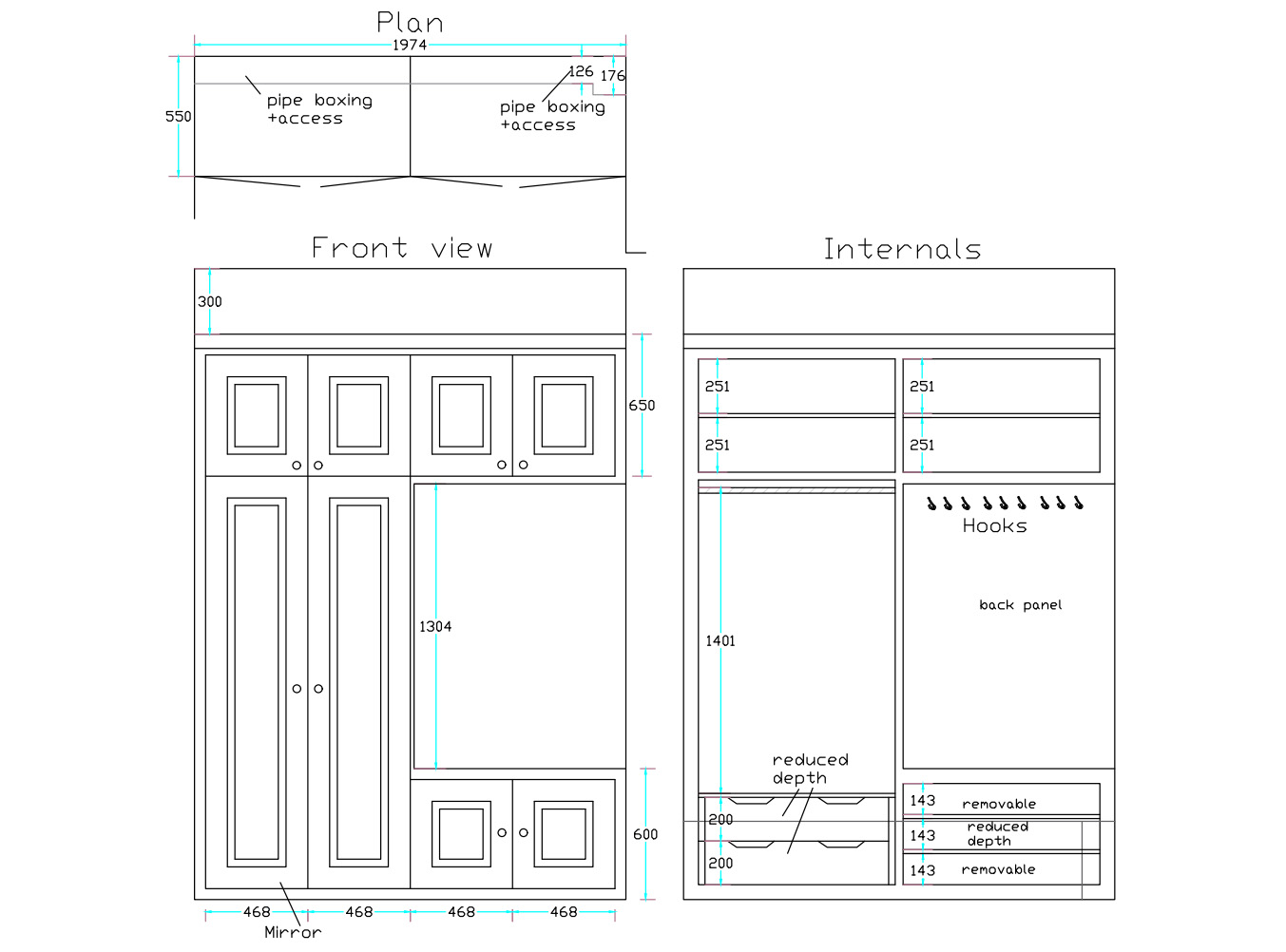 We are pleased to share our original Cad drawings for this bespoke hallway wardrobe. You can see from this drawing that we made this wardrobe with mirror at the back of the door, two drawers, hanging space and some shelves inside. Moreover, this wardrobe was installed around the pipes which made this job slightly challenging. This hallway wardrobe cost £3.200+VAT including back wooden panel for hooks, pipe boxing with access and all the features shown on the drawing.
Bespoke hallway cupboard under the stairs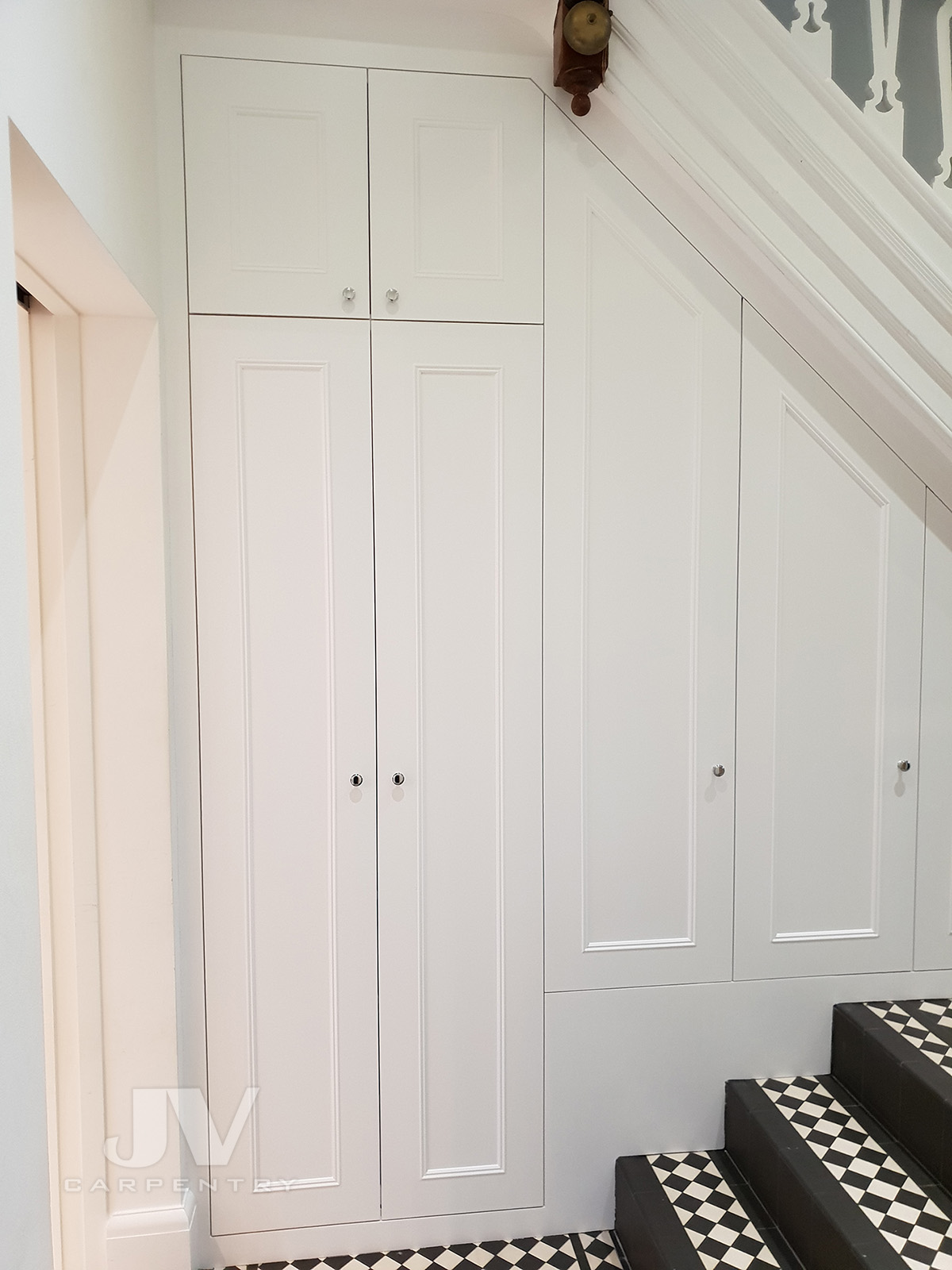 Once you come into most of the London homes you will meet a staircase in the hallway. So, that awkward space underneath of the stairs is ideal to create a hallway under the stairs fitted wardrobe like we did on this example.
Fitted wardrobe in the hallway by the staircase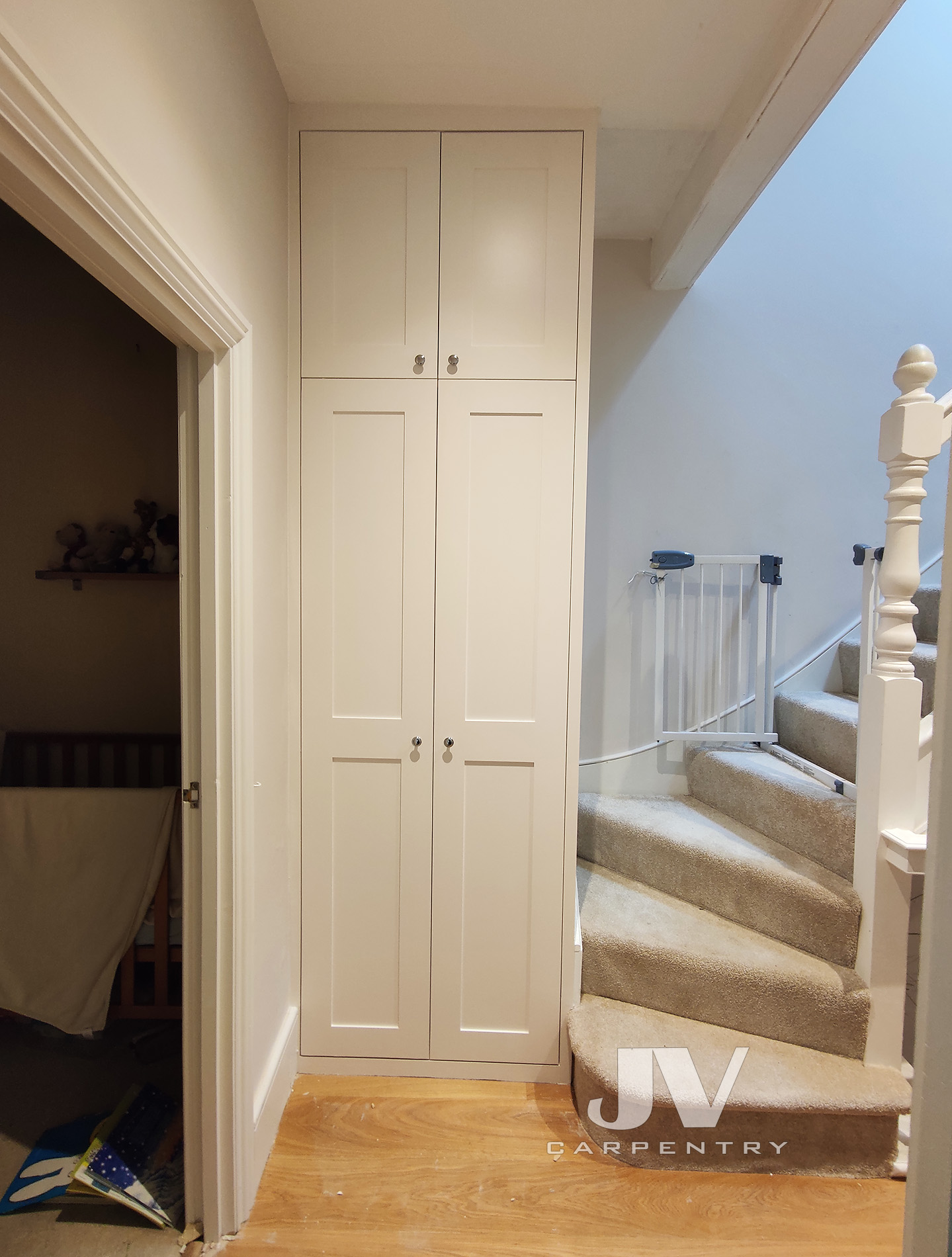 After completing his loft conversion this customer ended up with a big gap in his hallway between the wall and staircase. That space was ideal to create a hallway built-in wardrobe on the landing by the stairs.
For more examples of the fitted wardrobes that we made in the past please follow the links below:
Please contact us today if you'd like to receive a free quote for your fitted wardrobes!  We have more than 17 years of experience in fitted bedroom furniture and we cover all London areas within M25 and even can go a little bit further!