How we making our alcove cupboards with bookshelves.
Here we sharing our story on how we fitting our bespoke alcove cabinets with the shelves. These two traditional alcove units were made for a small property in Acton, that had all of its original features from times it was built. Bookshelves on this example made with the back and the sides and with trim around an alcove. In this design we cut 3 grooves on this trim to match the look of the property.
 Both units made with bottom cupboards for storage featuring with inset beaded panelled doors and skirting board around the bottom. The units are around 1 meter wide and 2.9 meters tall. Made on site of MDF and hand-painted in white eggshell finish.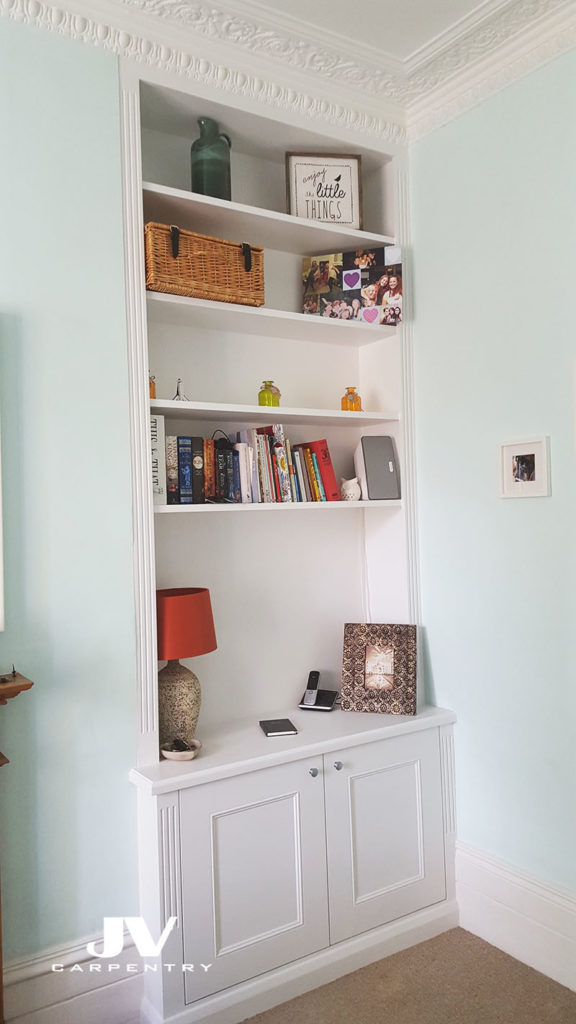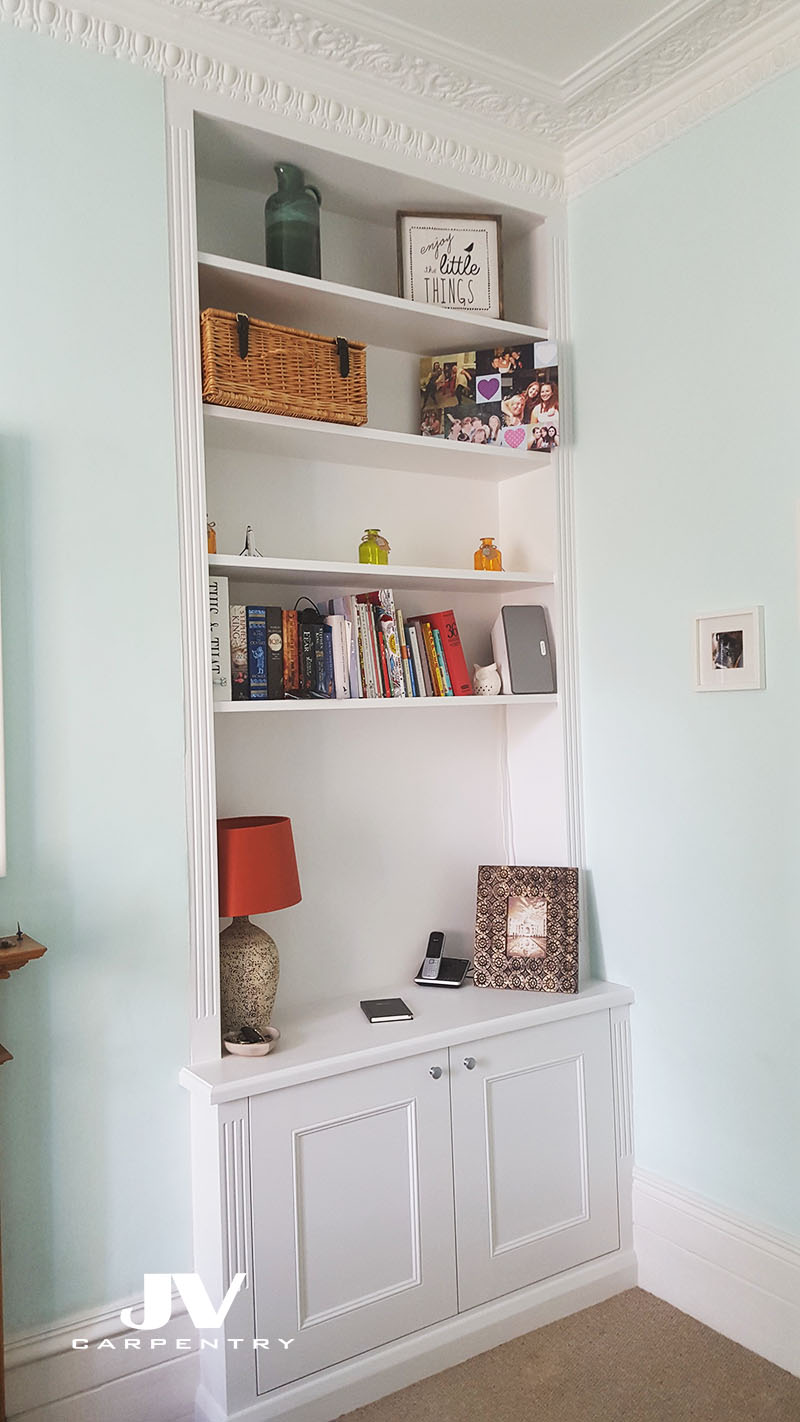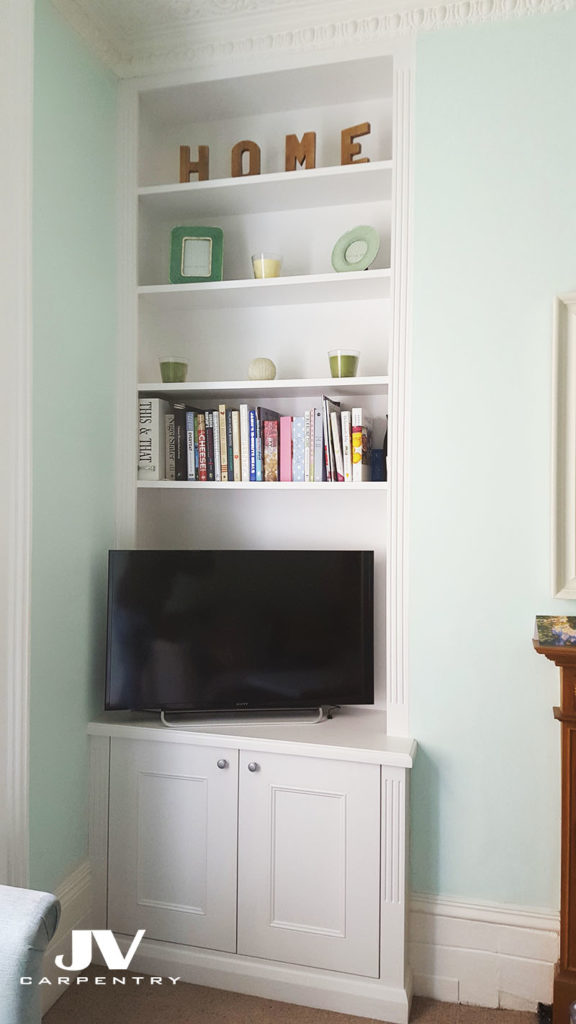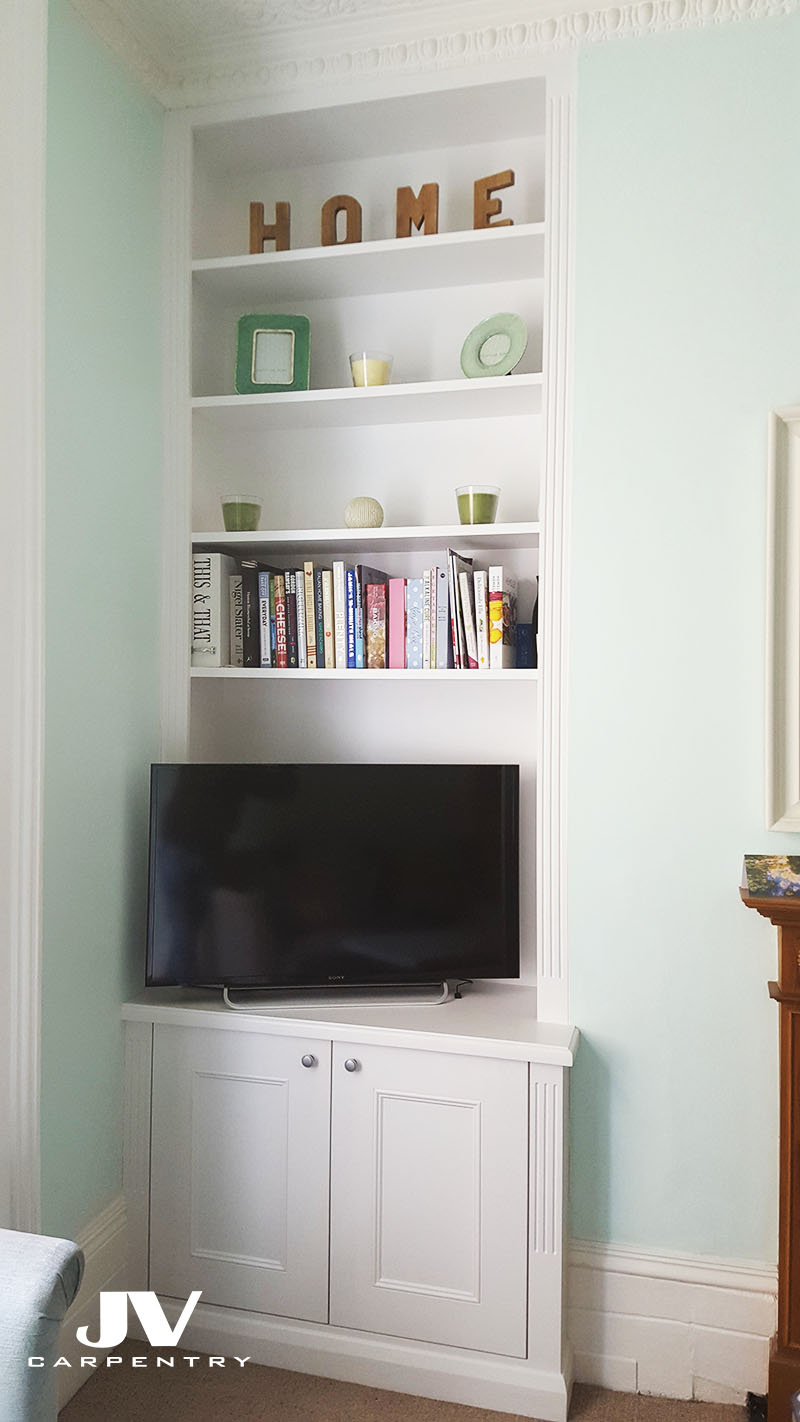 You can see on the pictures the fist step before installation is to protect your floor and the furniture in the room by wrap all in the plastic sheets. Then we assembling the units on site and fitting them into the alcoves.
The secret of success job is to do a math and make accurate calculations following with drawing. When we designing fitted alcoves we always making CAD drawing on computer first to illustrate design and show it to the client. Once design approved we calculating materials for this project and preparing everything for delivery and installation.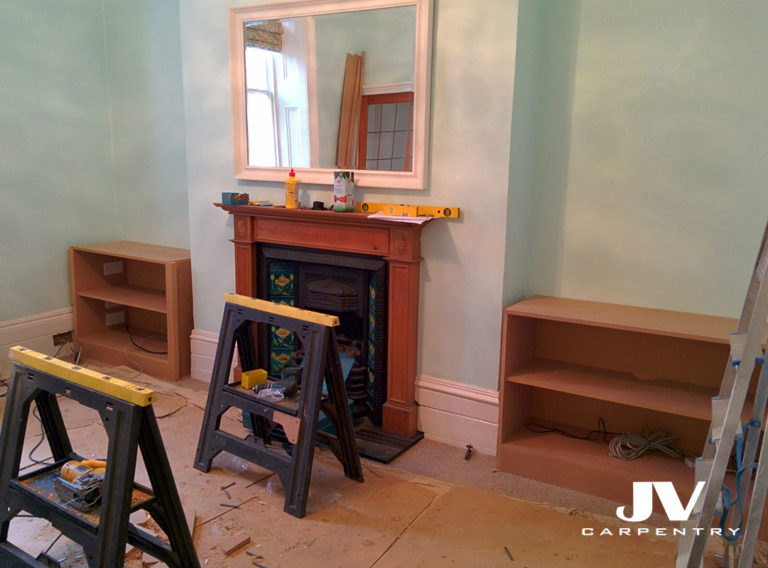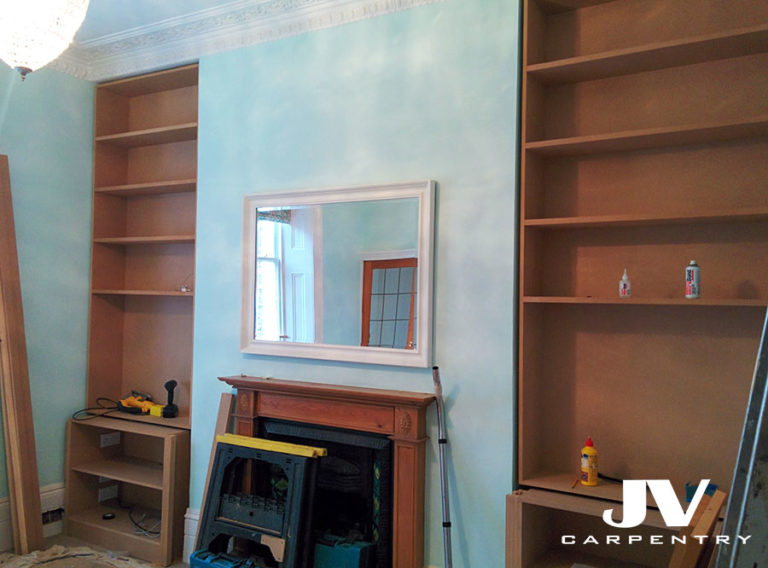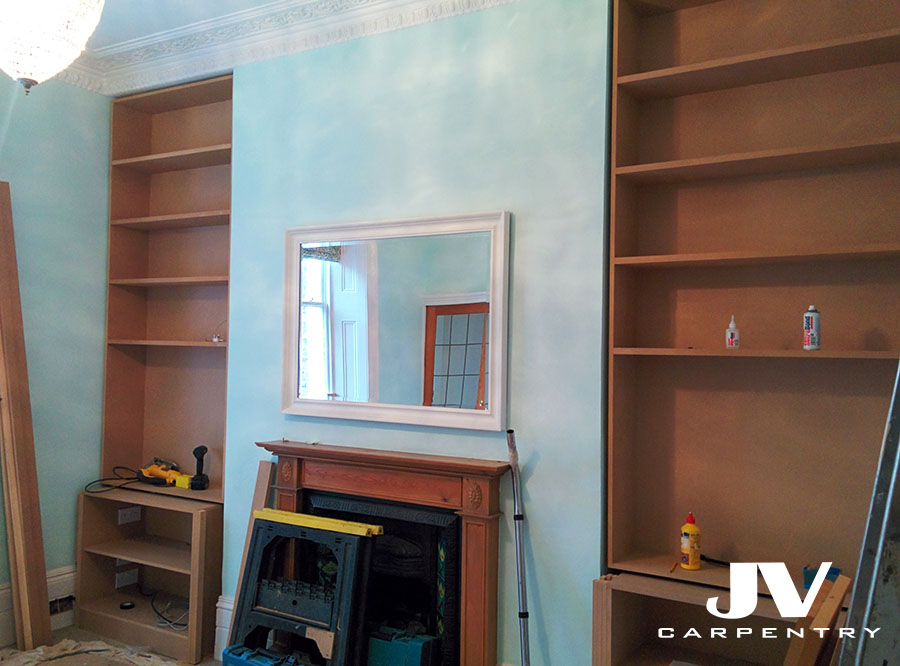 On the picture you might see that we relocating all power sockets to inside and alcove cupboards, make the power sockets look neat and well accessible behind the doors so you can plug your TV and other equipment and hide them inside the cupboards.
We normally cut a hole for plugs on top of the cupboards to plug a lamp or TV placed on top of the cabinet.
The whole process of the woodwork only takes one day for the project of this size.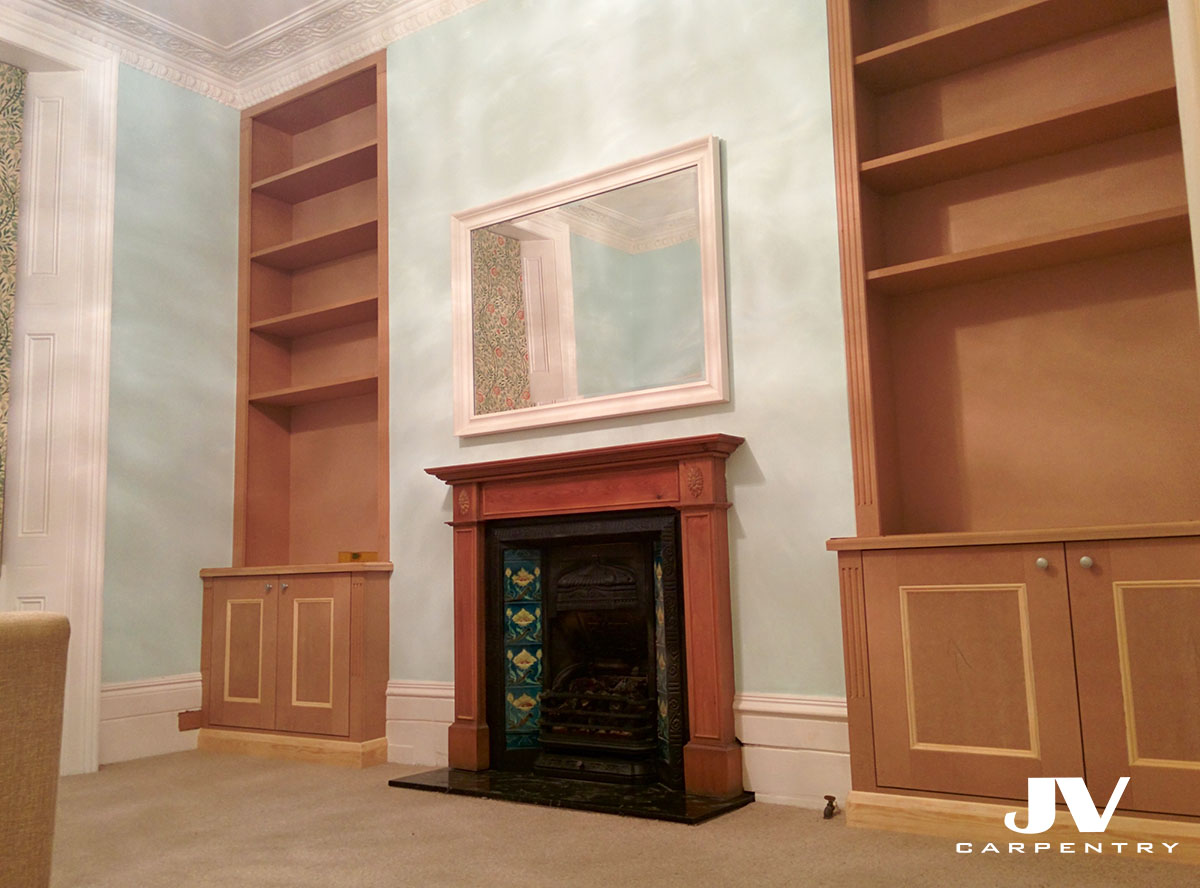 After our carpenters finish installation they always make a good vacuum cleaning to make sure they leave your property in the same condition they started. We normally arranging our painter to start painting your fitted furniture on the next day after the carpenters finish with installation.
Soon after we finished installation of your alcove bookshelves the painter start his work.
First our member of the stuff prepare the surface for painting by filling small gaps and masking pin holes and sanding the edges of the shelves. After this painter painting alcove furniture with at least three coats of paint including primer, undercoat and topcoat. Light sanding between the coats are necessary for creating quality finish of our fitted furniture product.
Painting process is normally slower than carpentry and this project taking 1-3 day to finish by the painter. As a result this pair alcoves normally taking 3 days to build and paint at the customer property.
Explore many of ideas in our Full Living Room Fitted Furniture Gallery where you can find many bespoke items such as fitted alcove cupboards, bookshelves, floating shelves and bookcases.
Explore some of our bespoke furniture projects below