Alcove Cupboards and shelves, Acton, W3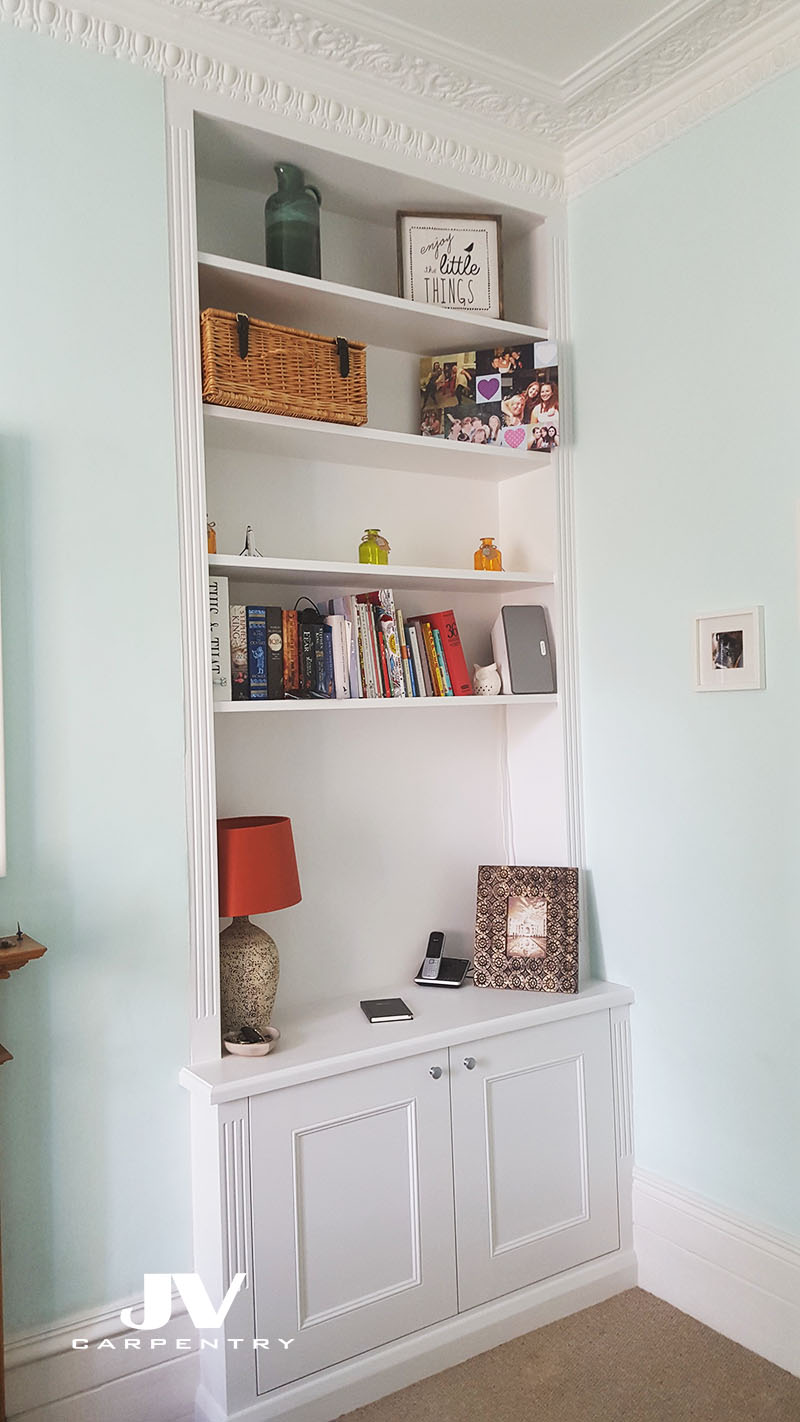 These two traditional alcove units were made for a small property in Acton, that had all of its original features from times it was built. Both units made with bottom cupboards for storage with moulded shaker doors and open shelves above. The units are around 1 meter wide and 2.9 meters tall. Made of quality MDF and hand-painted in eggshell finish.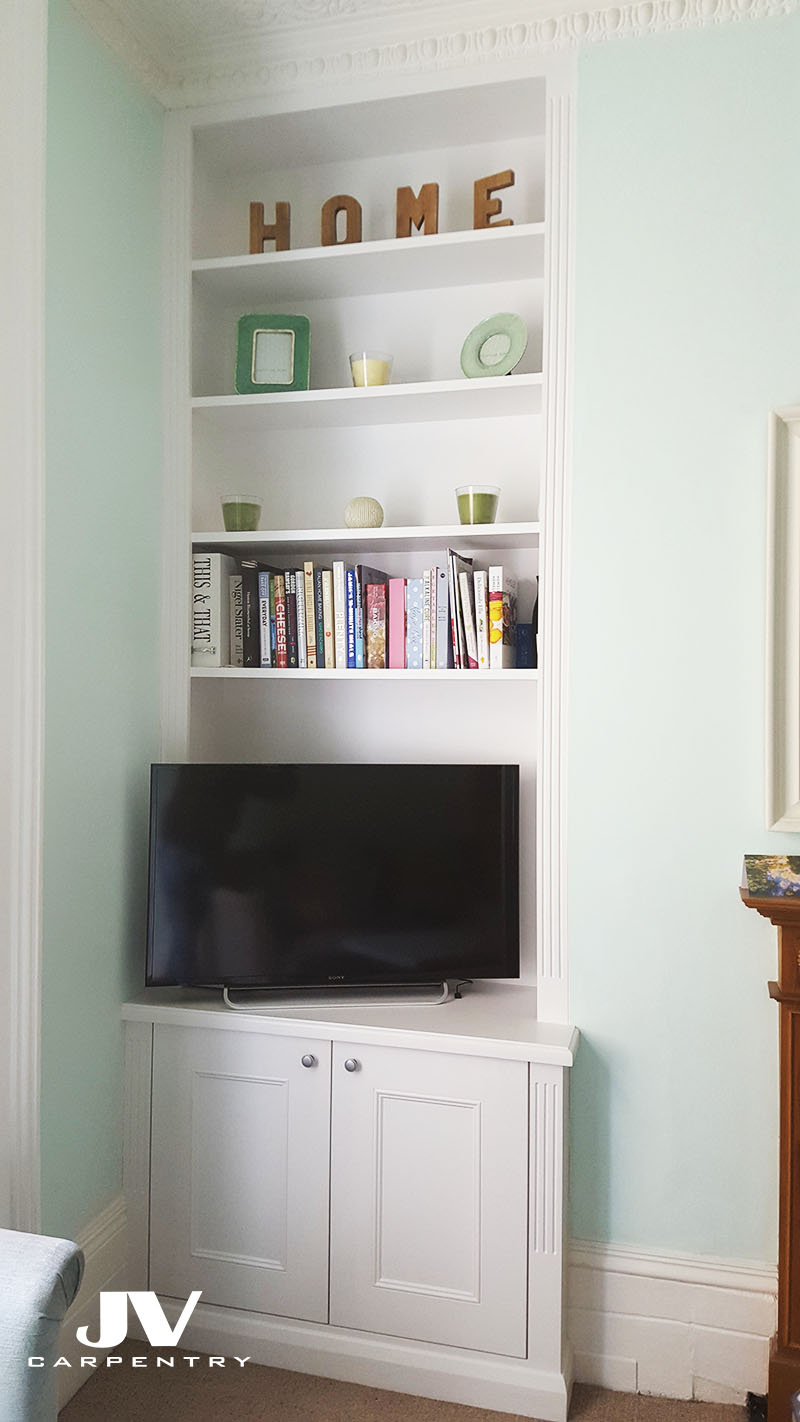 These classic fitted alcove bookcases with cupboards featured original features of Victorian properties. Thick frame on cupboards were made with 3 grooves to match the property style. A thick counter top with detail cut on the lip, Recessed beaded doors (shaker beaded) and skirting board at the bottom.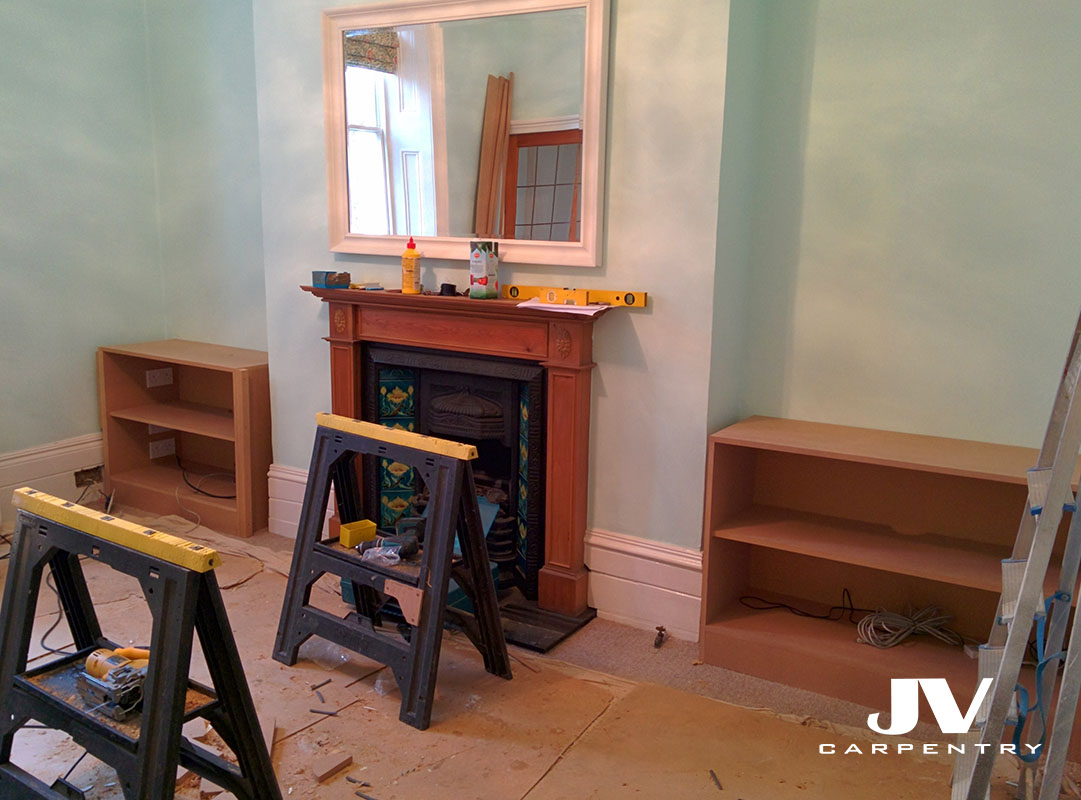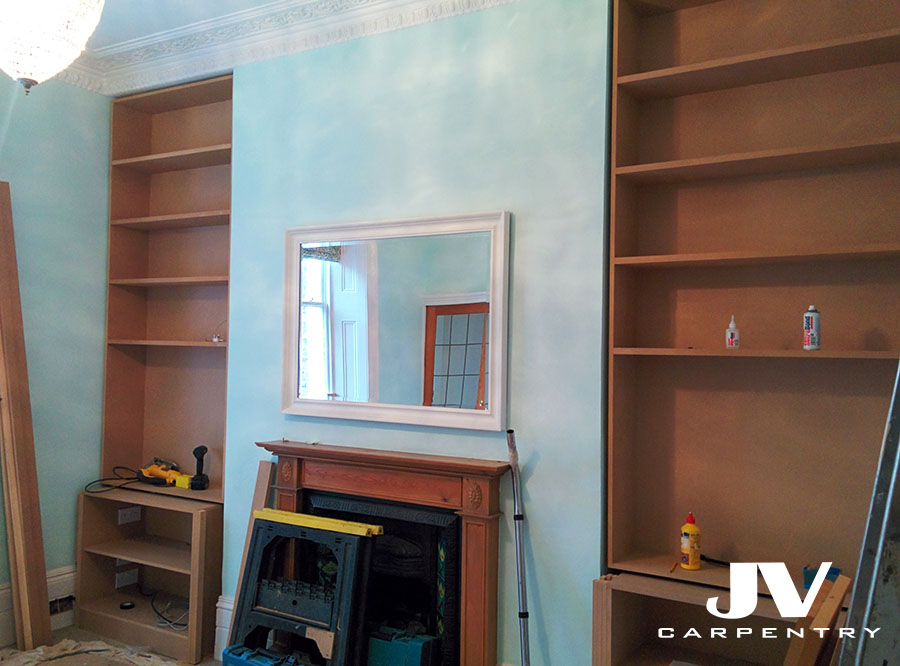 Here we showing you our process of installation of these fitted cupboards. We making our alcove bookshelves and other fitted furniture out of MDF. We pre-cut most part of the pieces in the workshop for minimal cutting on site.
Woodwork for this size of the project only takes one day.
As you can see we relocating all power and telephone sockets to inside of the cupboards, make them look neat and hidden behind the doors so you can plug your TV and other equipment and place them inside the cupboards.
We normally cut a hole for plugs on top of the cupboards to plug a lamp or TV placed on top of the cabinet.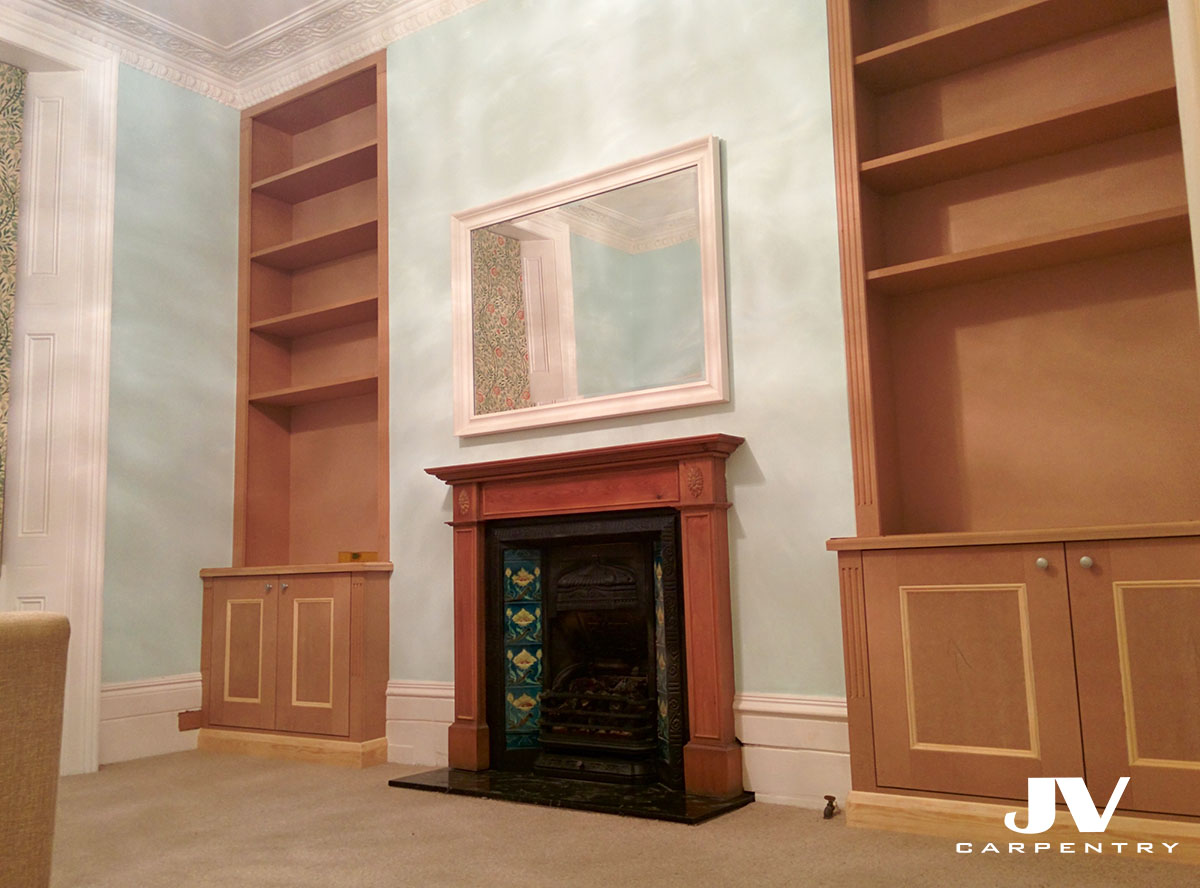 Now fitted alcove cabinets have been installed and our carpenters made a good vacuum cleaning to make sure they leave your property in the same condition they started. We normally arranging our painter to start painting your fitted furniture on the next day after the carpenters finish with installation but short a couple of days delay can happened some time.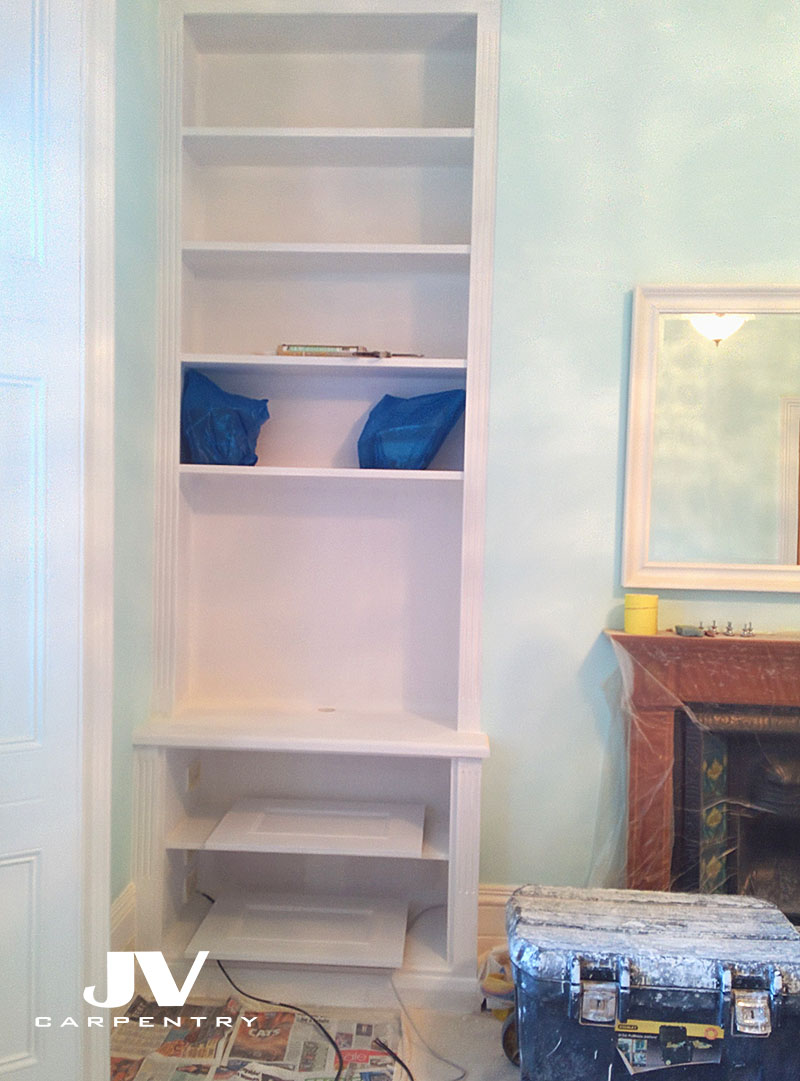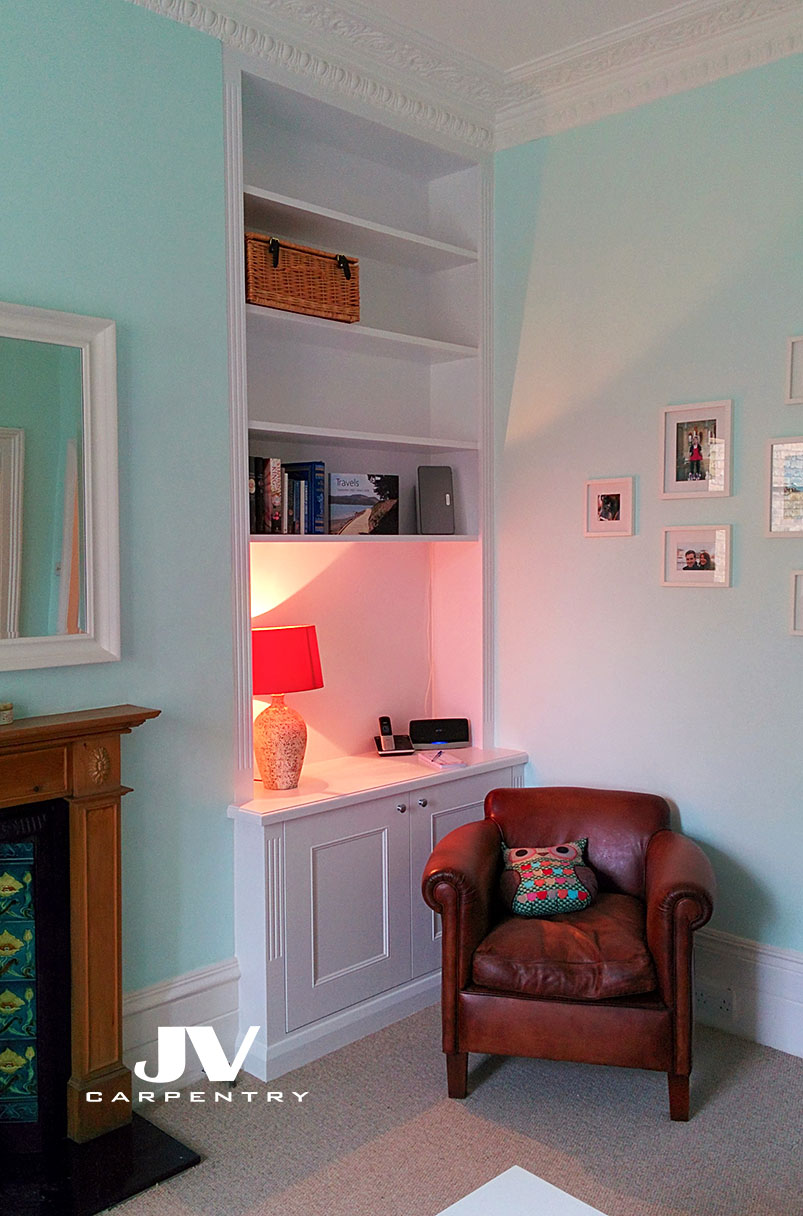 Soon after we finished installation of your alcove bookshelves the painter start his work.
First he prepare the surface for painting by filling small gaps and masking screw/pin holes and sanding the edges and filler down.
The painter then painting alcove cupboards with three coats of paint.
With light sanding between the coats the painter creates a quality finish of your fitted furniture pieces.
Painting only took 2,5 working days for this project because of three coats of paint and it brings the total duration of work in this property 3,5 days for two very tall bookcases.
It would roughly take 4 days to build a pair fitted wardrobes either side of the chimney breast.
Please note that we do have minimum spend rule and we might not be able to help you for example to fix few floating shelves. Thank you for understanding.