Fitted Wardrobes Cost
How much does our bedroom wardrobe cost?
In order to send you an exact fitted wardrobe cost we'd like to know your built-in wardrobe measurements, style and internal configuration first. However, we completely understand that getting a rough idea of the quote for your built-in wardrobe before arranging the visit of your home is very important for you and can save some time for both parties.
We are happy to share some examples of the prices for our made-to-measure wardrobes below. Price guide including manufacturing, installation and painting the wardrobe with white color. Inside of the wardrobes we assuming a few shelves and a hanging rails without drawers.  Our designer will be happy to give you an exact wardrobe quotation after your free design visit. If you would be happy with the cost we will be glad to assist you further and send a drawing design for you. You can amend the drawing then and send us back your comments on the wardrobes interior and exterior design. We also would be happy to provide you with different wardrobe estimates depending on the style and interior configurations.
Wardrobe with two doors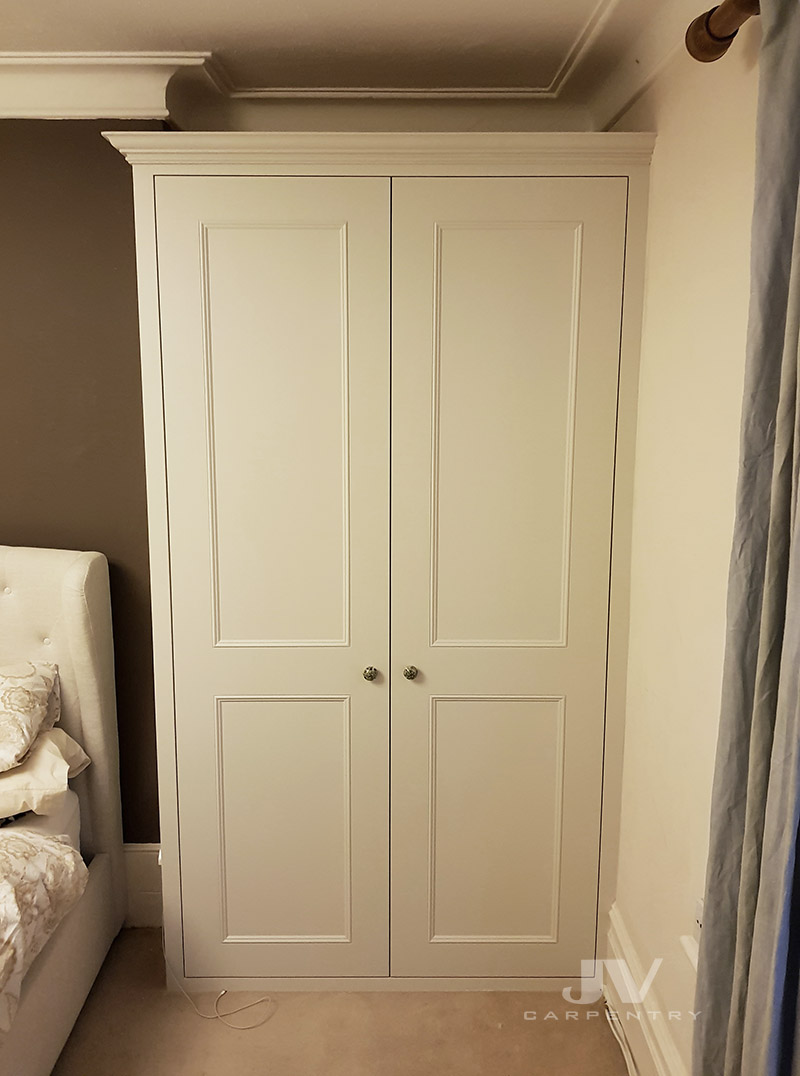 This alcove bespoke wardrobe would cost from £1650+VAT with basic interior design.
Built-in Wardrobe with three doors

This wardrobe would roughly cost £2400+VAT made with shelving and hanging space inside.
A pair of Fitted Wardrobes in both alcoves

Two alcove wardrobes either side of the chimney breast with simple interiors would roughly cost £3300+VAT
Large fitted wardrobe with 7 doors and overhead storage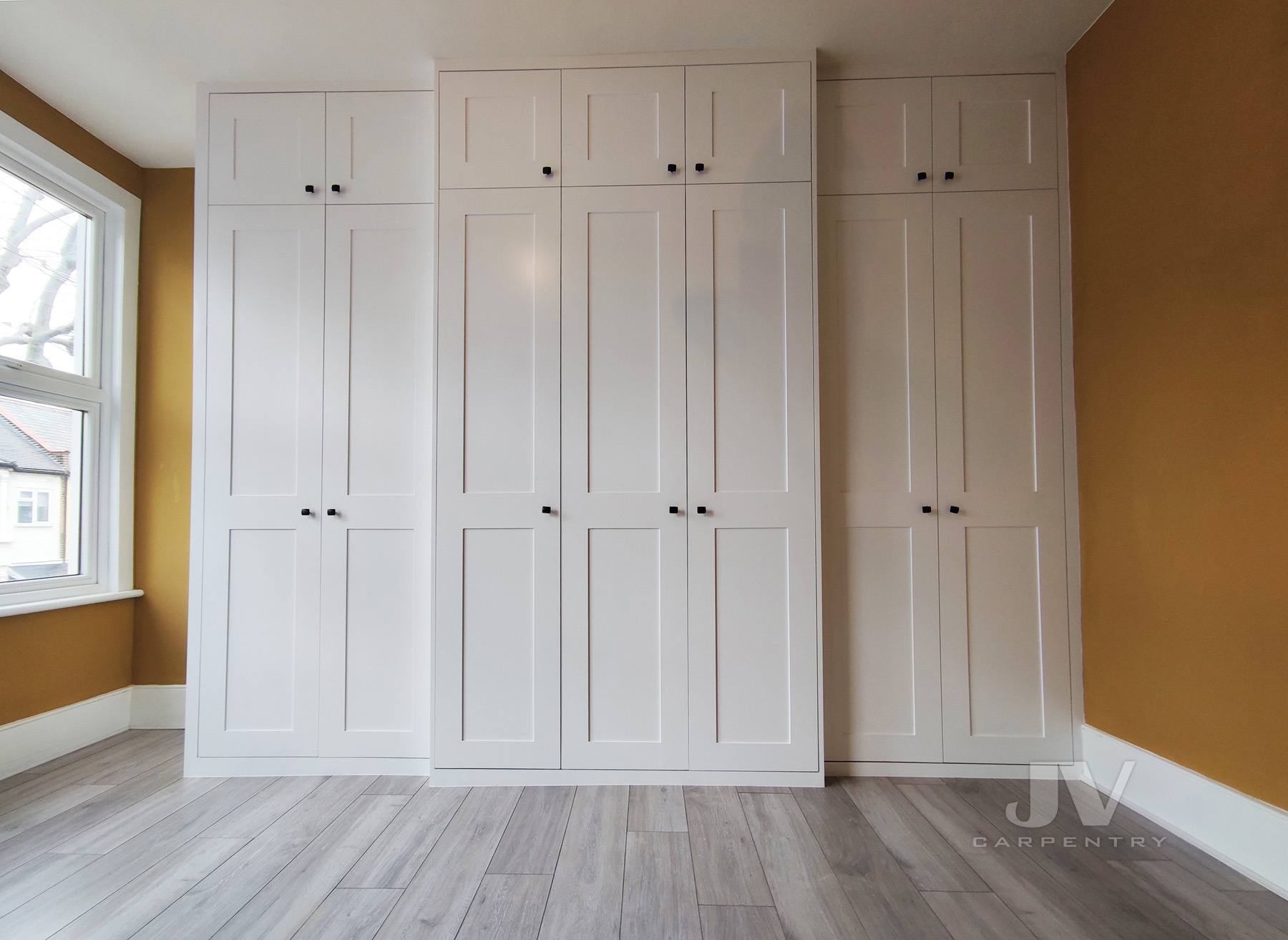 This fitted wardrobe would roughly cost £5000+VAT with  some shelving and hanging space for interior
Fitted Wardrobes internal features cost
Internal drawers
The prices for the drawers inside your wardrobe are slightly different depend on the size. The cost of the small internal wardrobe drawer would be £120 and the large drawer is up to £140+VAT.
The drawers inside the wardrobes are the most demand features. They keeping your clothes to be more organised and easy accessible. The drawers are perfect to store your underwear, socks, t-shirts and shirts, ties and even makeup or perfume and make look tidy inside a fitted wardrobe.
We normally making internal drawers with cut-out handles, but they can be made with normal handles or knobs. In our wardrobes we only using heavy duty double extension drawer runners. They are very strong and smoot, they have double rail extensions make the drawer pulling out completely. It can holding the weight up to 40kg.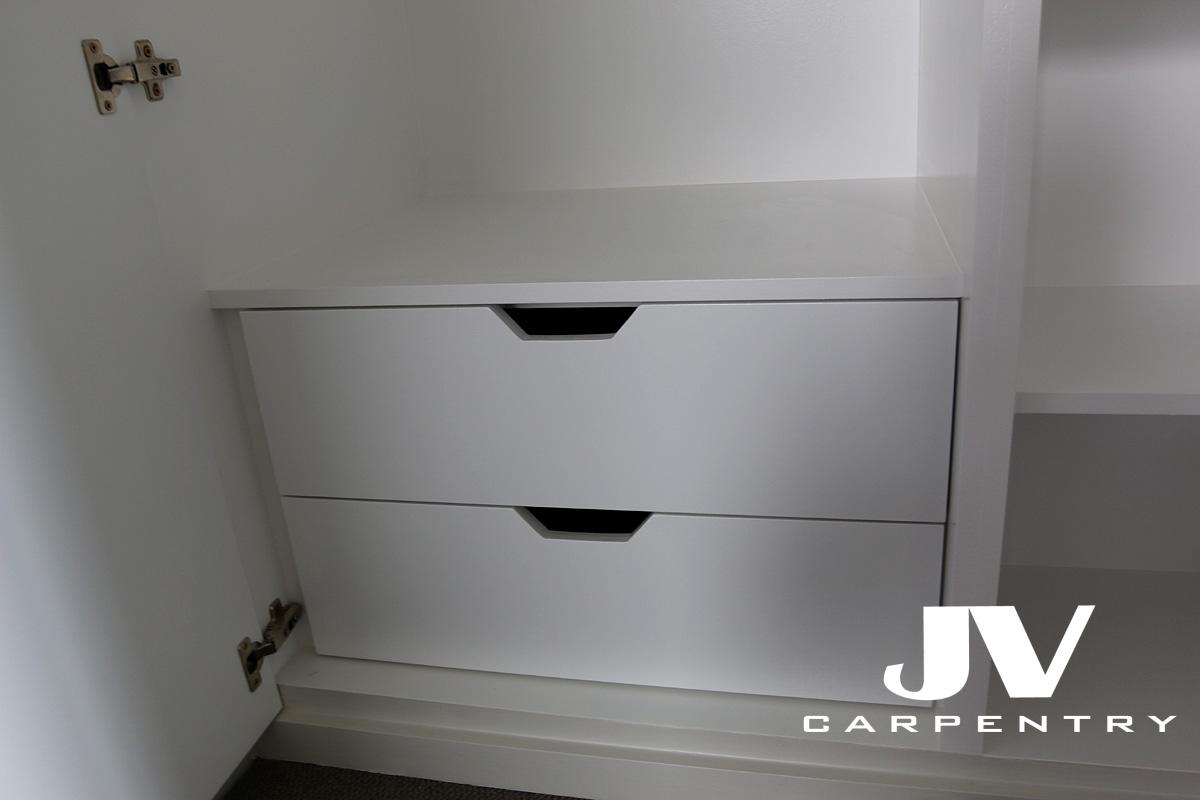 Price for internal drawers From £120+VAT per drawer
Shoe racks inside the wardrobes
We make a shoe racks inside the wardrobes and the price is around £100+VAT for each.
People also call it a pull-out-shelf for shoes. We making it with small lip at the front and bottom for preventing your shoes to sliding off. It's practical thing to have a shoe rack in your wardrobe especially at the bottom where difficult to reach and to see your shoes. Shoe rack will give you an easy access to your shoes inside your wardrobe to make your life a little bit more easier.
If compare to the drawer shoe rack has slightly more surface space due to less materials fitted around, it also keeping your shoes a little more ventilated and more open to the eye moreover it costs slightly less, and it's good thing to have inside your fitted wardrobe. The only downside that its only design for shoes compare to the drawer which can fit both - shoes and clothes like socks, underwire, shirts the things you wouldn't be able to store on the shoe racks so maybe in some situation you will be better with the drawers inside your built-in wardrobe.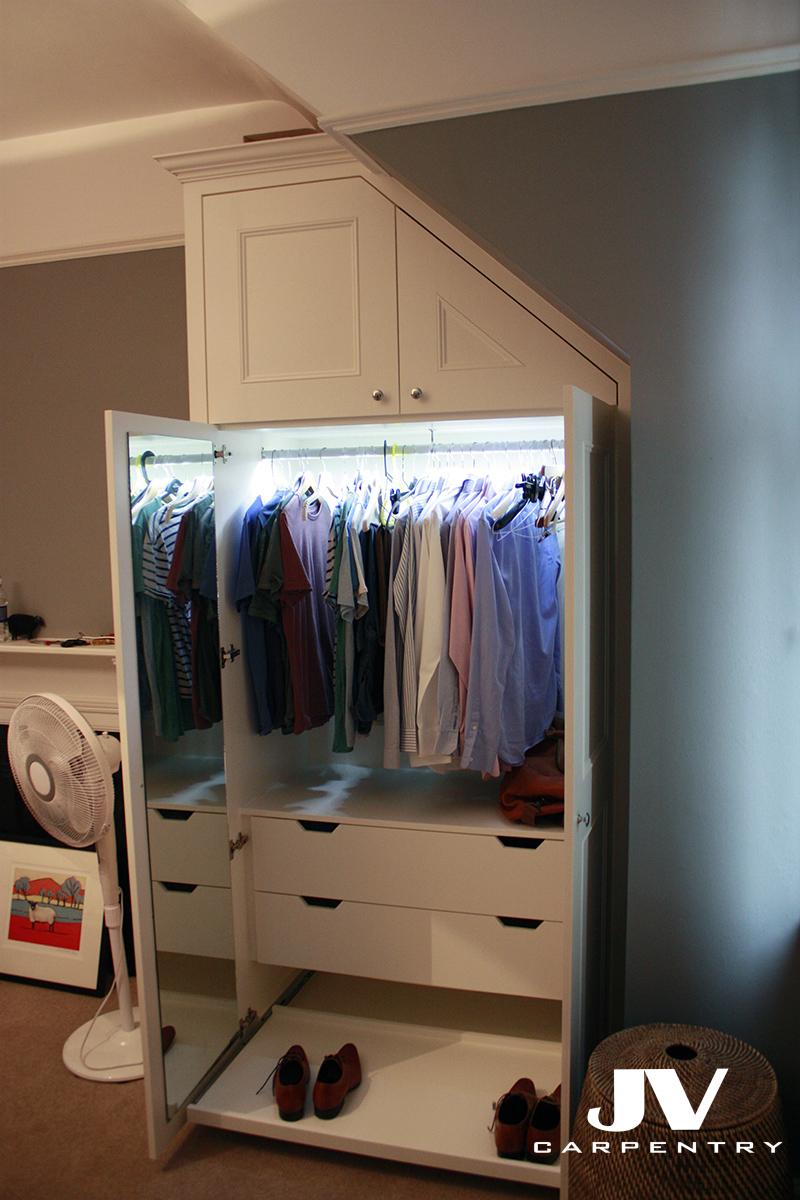 Mirror at the back of the built-in wardrobe door cost from £180+VAT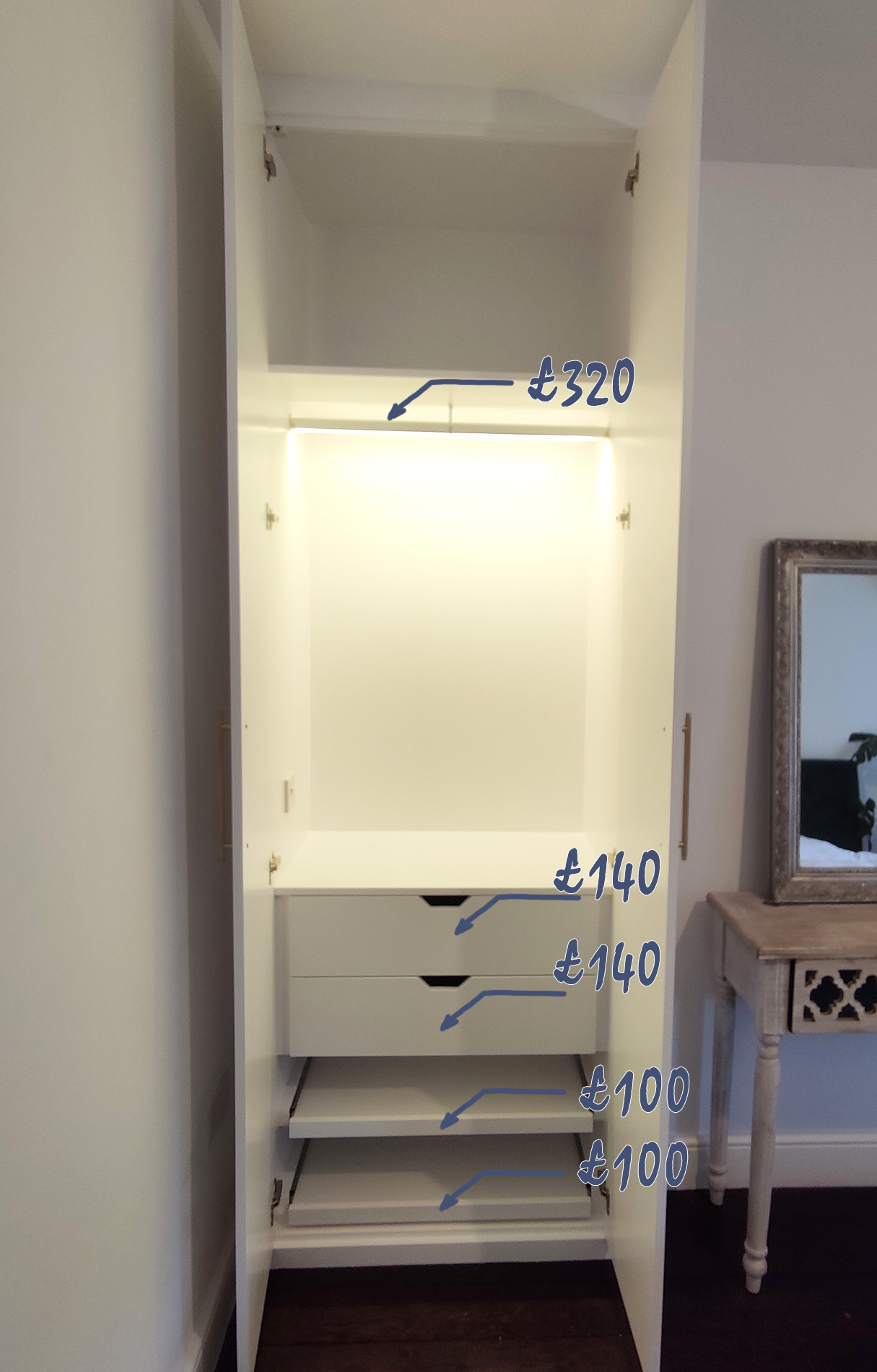 Rough price for LED wardrorobe hanging rail
Connection cost £200+vat  £120 +vat per hanging rail in the same wardrobe.
So you if you'd like to have 2 LED rails in one wardrobe they would cost £440+vat if 3 then £560+ vat and so on
Please note that the power socket should be located within the wardrobe area.
If you looking for bedroom wardrobes ideas take a look at some of our fitted wardrobe we made in the past we have many examples for your inspirations.
*Minimum order £2000+VAT should apply.
*Prices include making, installation and painting, cost can vary depending on dimensions and design of the wardrobe, property access and location, paint color, paint type and finish, available working space in the bedroom, parking situation, and some other factors.
Explore some of our interesting bespoke furniture projects (click to find out more)
Fitted Furniture Comlete Photo Gallery: