How we work
When working with JV carpentry its impotent to remember that we do have a set process for the construction and installation of every project we work on. We stick with these proven processes because they can produce better quality results.
Part of our process involves getting as much information as we can from the customer about the installation they would like to have done. Contact us with some of the following information before we arrange our free site visit:
A picture of the space where you want the custom piece
The rough measurements of the area
A picture, link or example of a furniture item from our website/portfolio that you would like for that space.
If you have an idea for a custom piece that we have not taken on before, please sketch some of the details in a rough format for what you may want to have in your space. Even just sending us a link of another style furniture product and the width and height that you would like for the space can be extremely helpful in determining the budget for a project we have never taken on.
Once we have basic information about the type of project you would like to create, we can start to prepare a rough quote for the design and installation of the new furniture item.
We will send a rough quote back to you and if the quote suits your budget, we can arrange an official home visit to take measurements. We are available for home visits at any time to suit your schedule. We can show you some ideas from our portfolio as well as discuss how you would like to use the space effectively.
After our on-site interview and measurements we will provide a final quote for the cost of the installation.
If you would like to proceed we will send you the final drawings so that you can contact us with any changes you might want to make.
After accepting the drawings we will fully prepare and cut materials in our workshop to arrive on site at a predetermined date.
We start work on site at 8 AM in the morning and we can assemble furniture pieces, while taking full care and attention to protect the environment we work it. We will bring a wide array of protection cover for the floor, furniture, ceiling as well as a professional vacuum cleaner. We may have to perform light adjustments and sawing during installation to adjust the pre-cut pieces to the level dimensions of your home.
Depending on the size of the furniture installation you need completed, we can perform most installation services within 1 to 2 installation days. Our crews work as efficiently as possible to perform installation and clean-up on our custom furniture items.
The day after installation we will perform the painting process. Our painter will arrive with proper dustsheets and clean-up items as well as the paint that you have specified. Occasionally there will be a gap of 1 to 3 days between the woodworking/installation process and painting. This will depend on the painter availability. We do not offer off-site painting services and the painting process always takes place after installation.
We apply at least three coats of paint to our MDF fitted furniture. Our professional painters will fill in all of the gaps, mask screw holes as well as sand down the surface to improve finish. The painting and finishing process requires care and detail and three coats of paint from our professionals generally takes between 3 to 4 days depending on the size of your furniture project.
Marvellous Job - thank you!
This is the first time I used a company without a personal recommendation, but having read so many of the positive reviews, and being able to see the gallery of photo, I thought I would take a chance. I am so very glad that I did.
Every interaction with Jeff and his team was incredibly professional, from first visit, to design, and then on site doing the construction and painting work. I am incredibly happy with the outcome - even better then I had imagined the wardrobes and shelves would look. Thank you Jeff - I would have not hesitation recommending JV Carpentry and i will certainly be using your services again.
Roberta Sapsford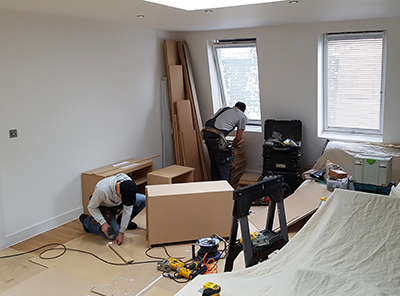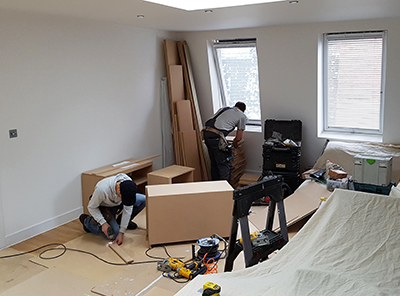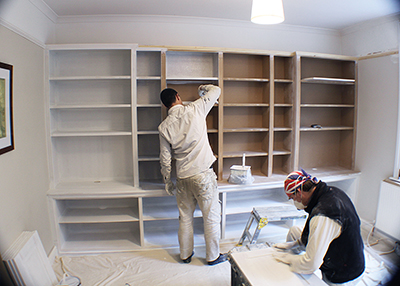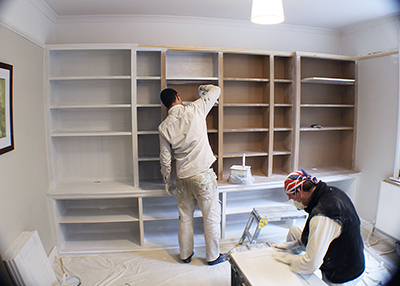 Some past examples