Bespoke Grey built-in wardrobes a great idea for your bedroom
Beautiful made-to-measure wardrobe painted in grey color.
This absolutely stunning Grey Fitted Wardrobe with hinged doors has been designed for our customer in Hanwell, West London.
In order to paint this wardrobe, we used grey F&B paint for the wardrobe exterior to match grey color of the bedroom walls. Therefore we used white eggshell paint for the wardrobe interior to give it an amazing bright look. The shaker beaded doors and traditional coving along the top are adding to this wardrobe an extra element of charm.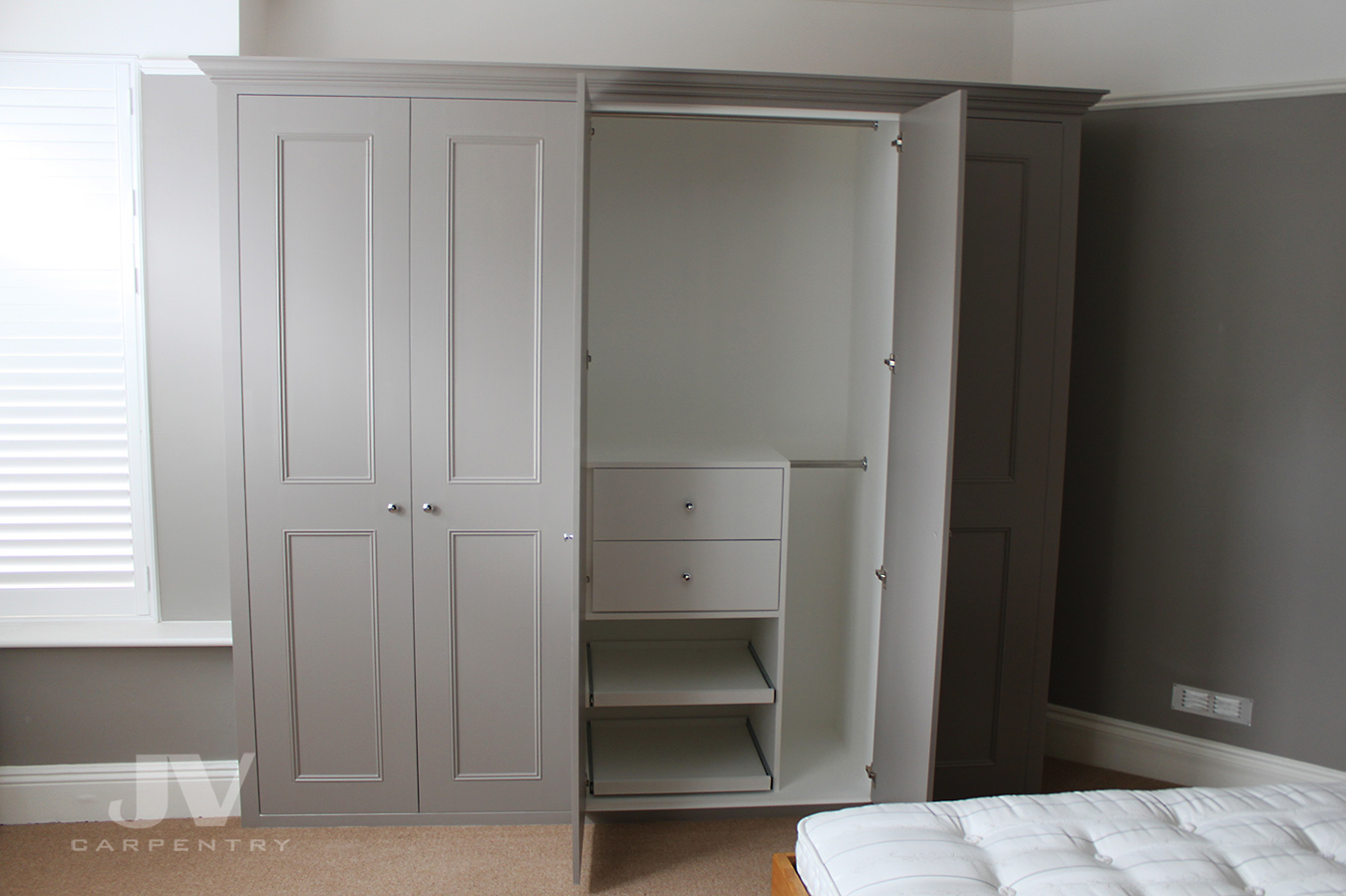 All our made-to-measure bedroom furniture including this grey wardrobe is designed to fit the exact space of your bedroom and create more storage space for your clothes. Unlike freestanding and flat pack furniture, our made-to measure wardrobes maximize all potential space you have. they can stretch from wall-to-wall and floor-to-ceiling, giving you a lot more space than ordinary wardrobes!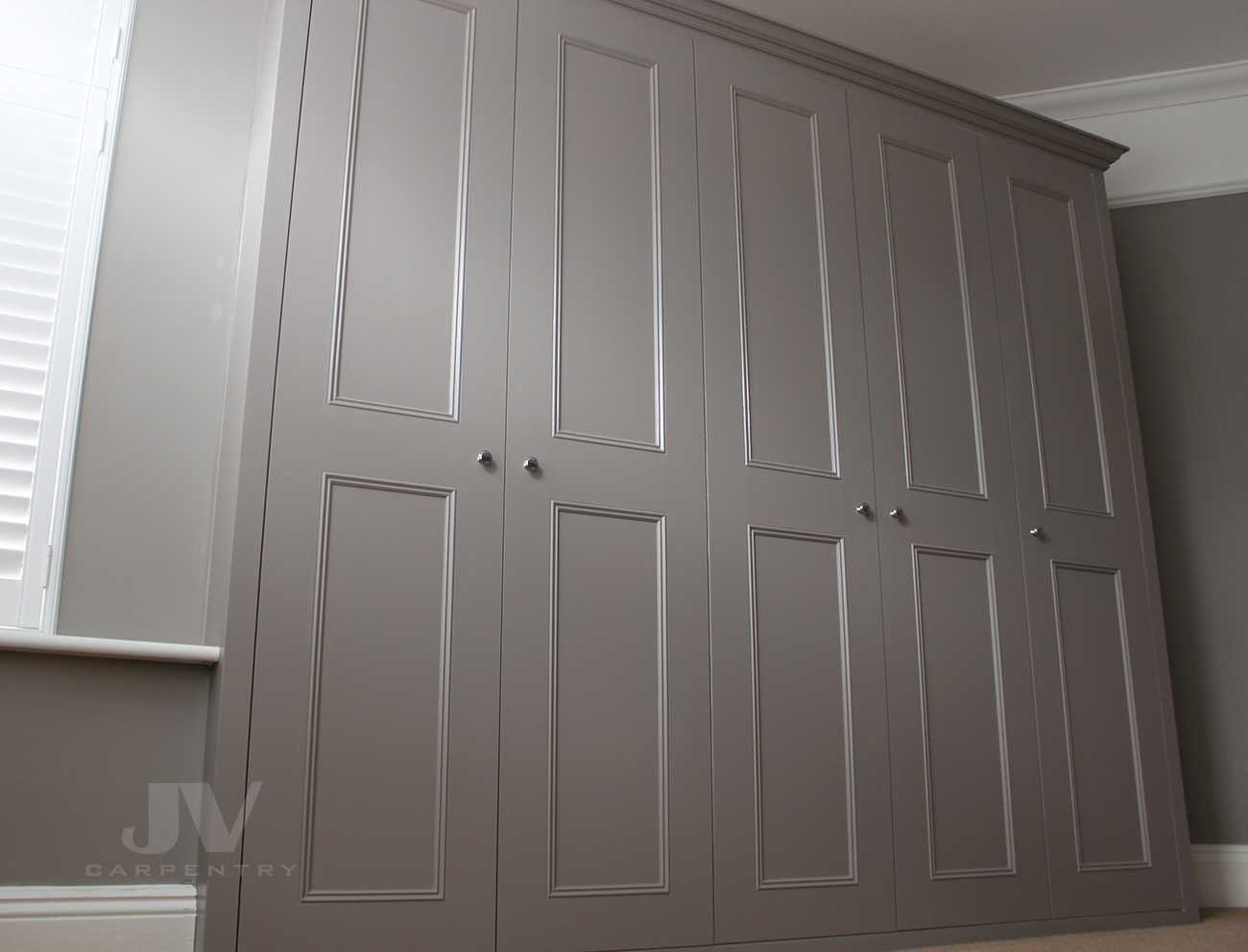 This unique bespoke grey wardrobe is our old project, we installed it a long time ago in 2012. It became very popular and some of the pictures were stolen from our website and used by other designers and fitted furniture companies. As a result we started using our logo watermarks on all our wardrobe pictures. Most of those pictures here have never been shared on the internet before and we are pleased to show you all the beauty of this wardrobe on this page.
The wardrobe was designed with 5 doors and it contains two double and one single compartments. Inside one of the double compartment we installed a chest of drawers above the two shoe racks. There is also a short hanging rail on the side. A single compartment of this wardrobe made with the shelves from top to bottom creating tons of the shelving space. Another double compartment made with double hanging rails above each other for jackets and shorts.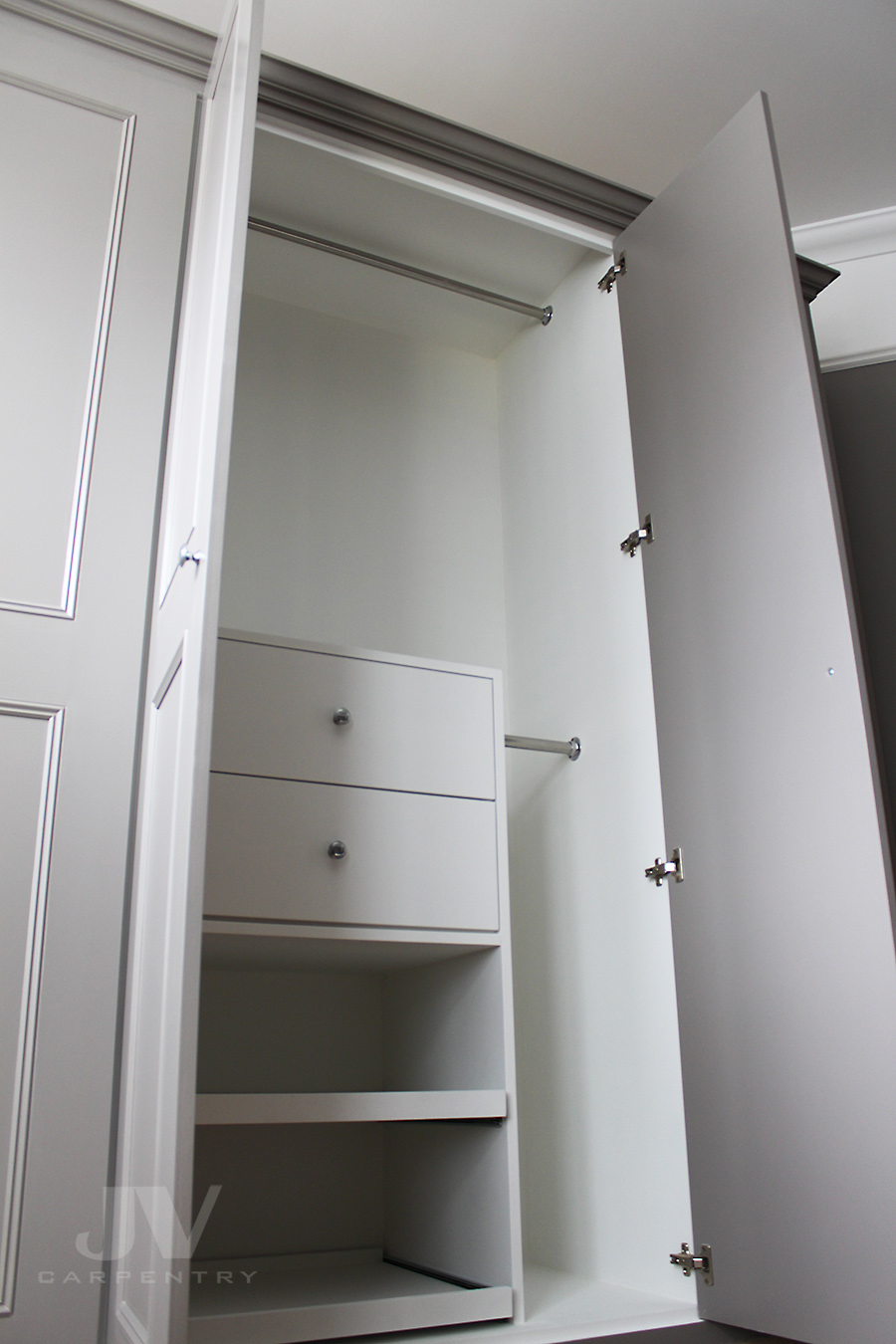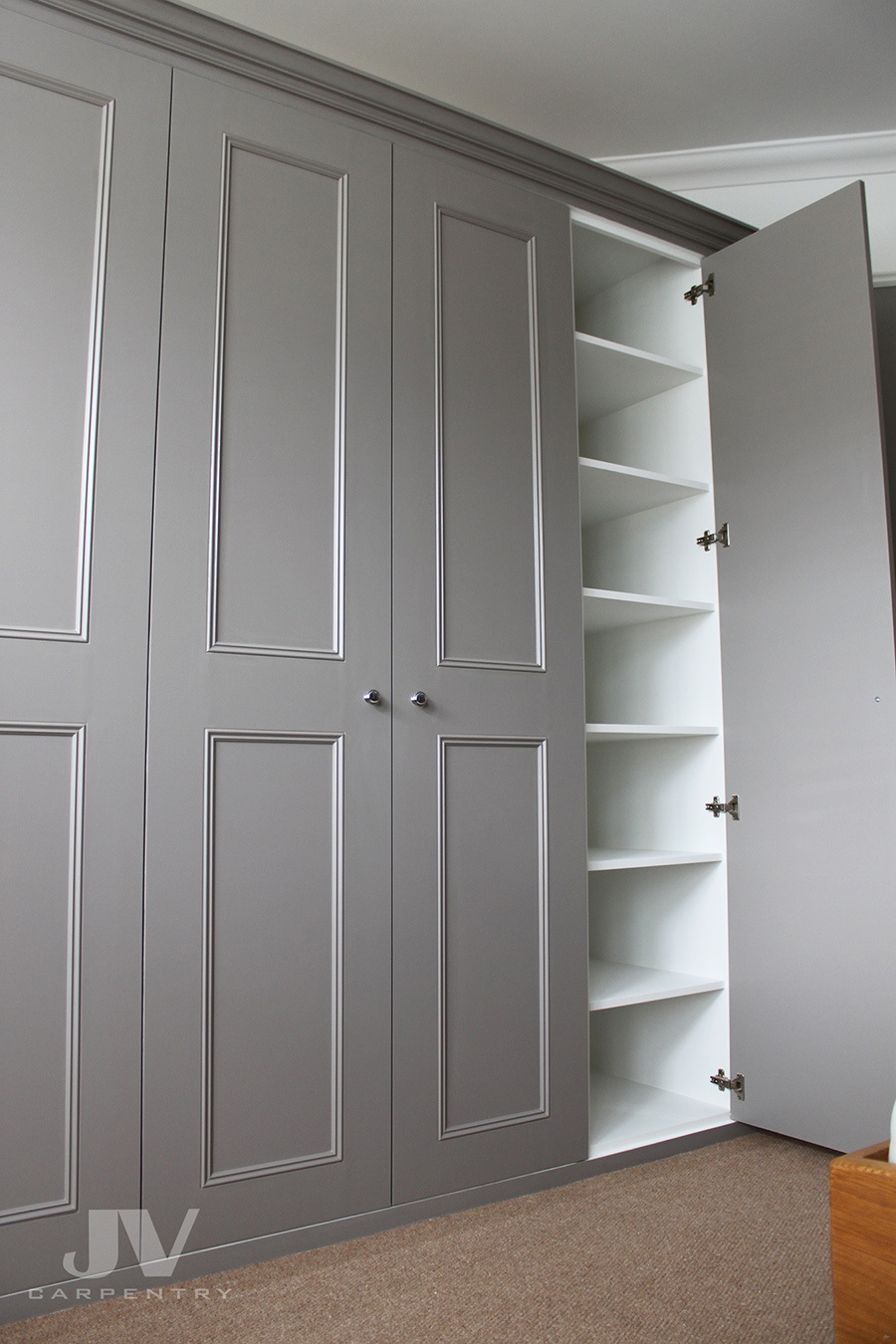 The doors of this wardrobe made in traditional style with shaker beaded panels and simple round polished chrome knobs. To make it look more traditional we added a nice decorative cornice along the top.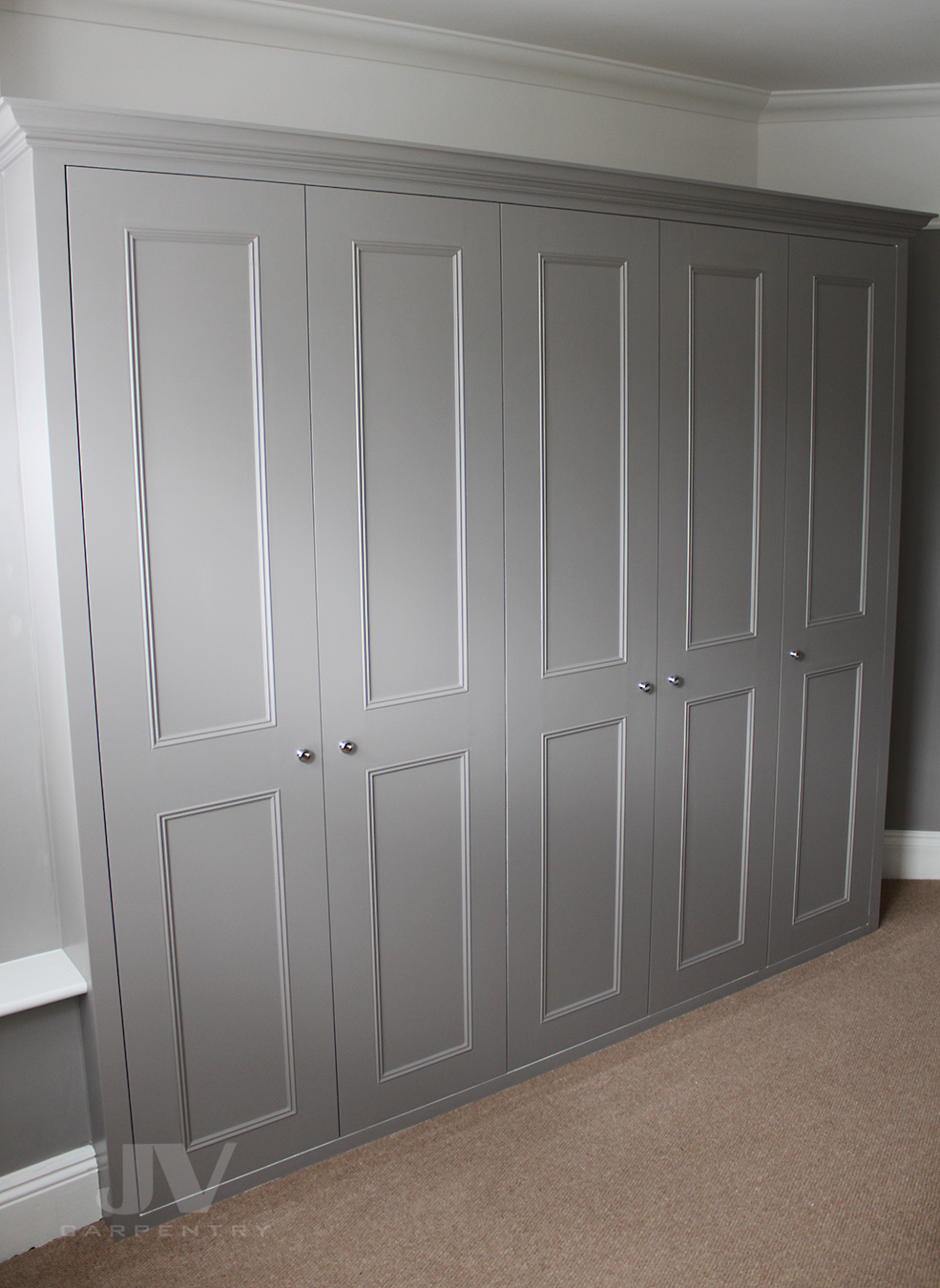 I personally prefer to make  bespoke bedroom furniture right to the ceiling and we always recommend doing so in order to maximise all potential space.  But unlikely in this case the customer decided to make his wardrobe only up to the picture rail. His idea is to blank this grey fitted wardrobe with the grey wall and leave the coving on the ceiling exposed. Sometimes you need to sacrifice the wardrobe space in order to make it look right and match the details of the house.
The price tag for this wardrobe was about £3800+VAT
Grey Fitted Wardrobe with odd shaped doors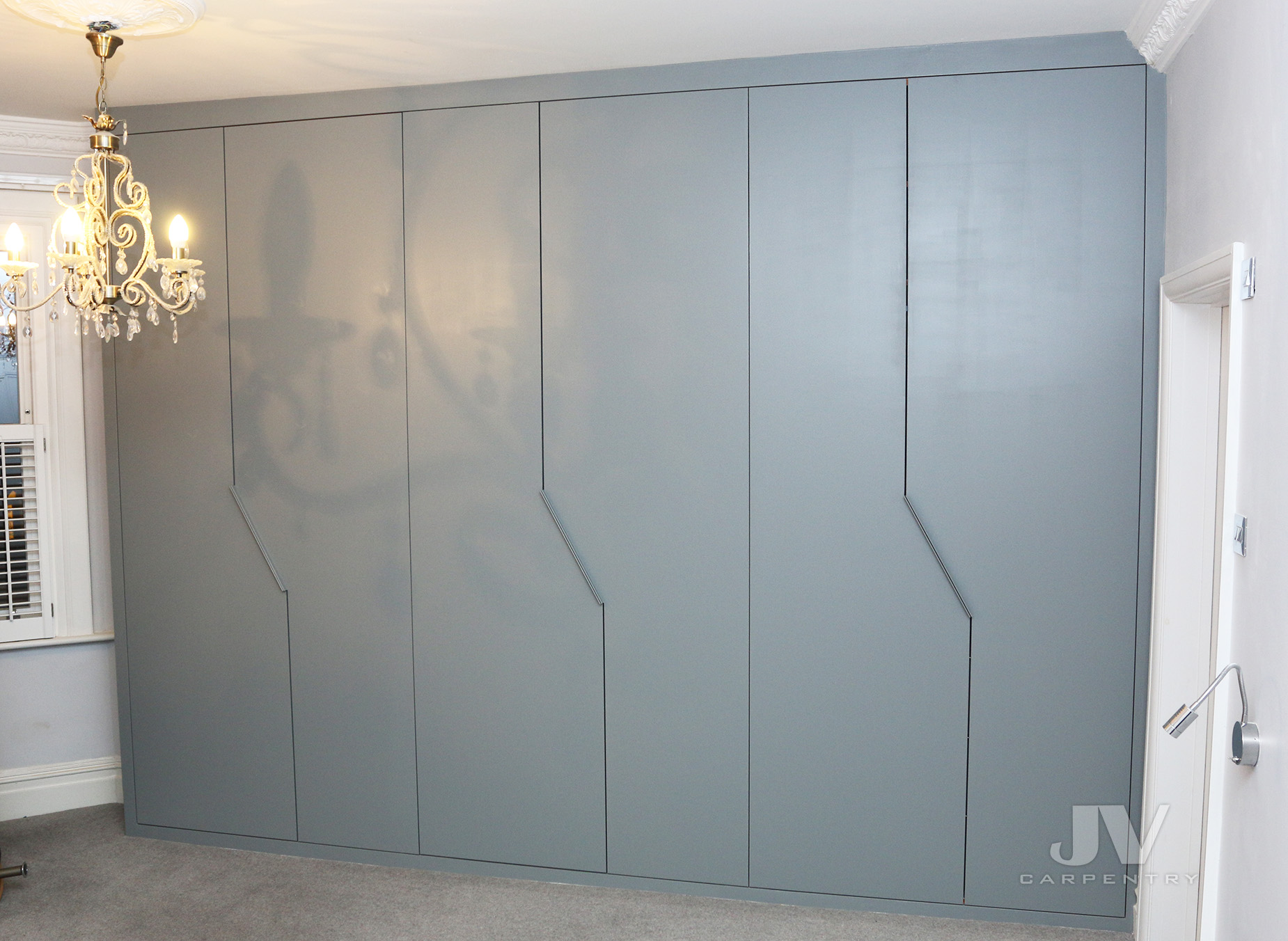 This grey fitted wardrobe designed with unique doors
Grey alcove wardrobe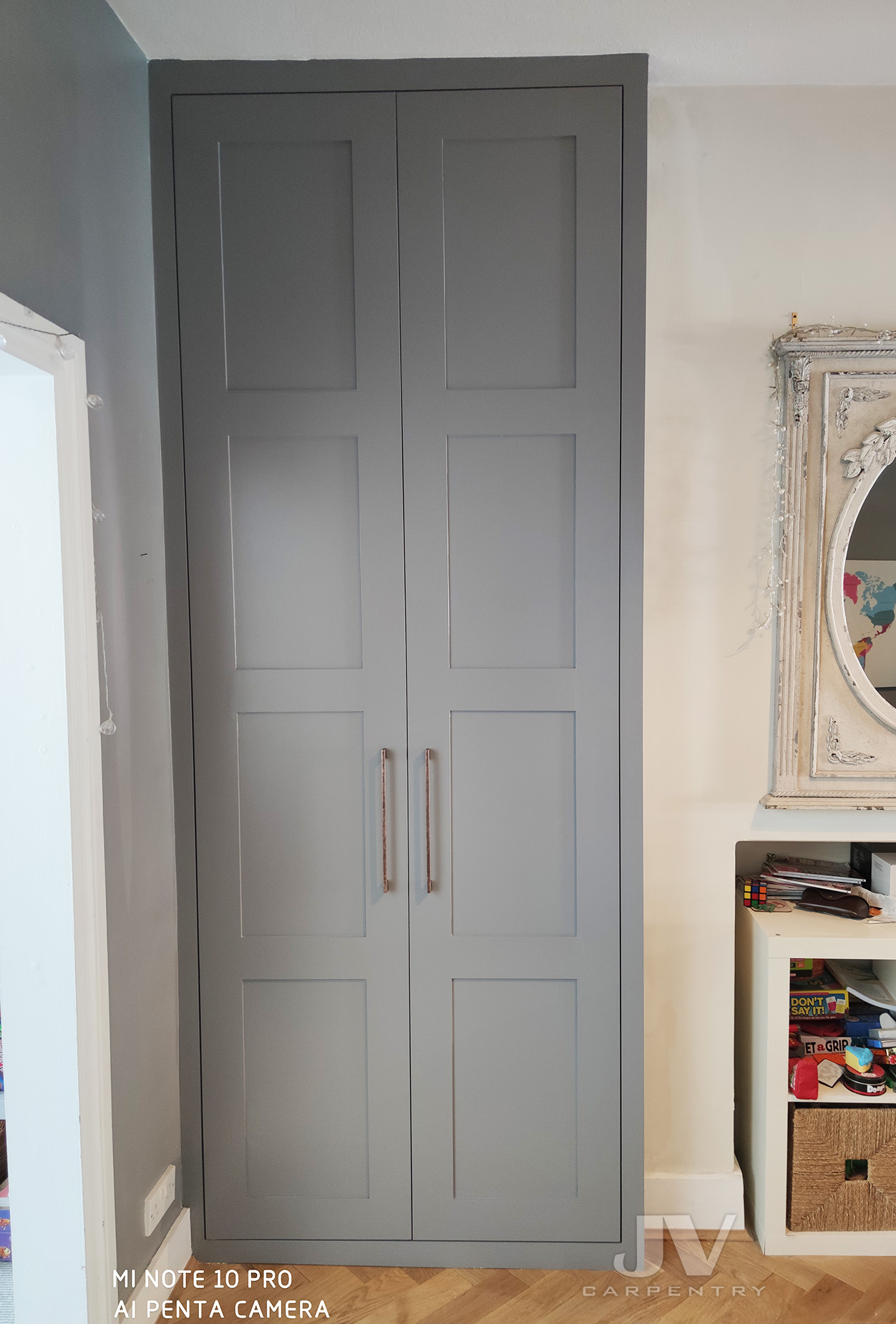 This grey wardrobe designed to fit an alcove space. Grey color suits very well this shaker design. The wardrobe multipaneled doors made with antique brass handles.
Light grey wardrobes with shelves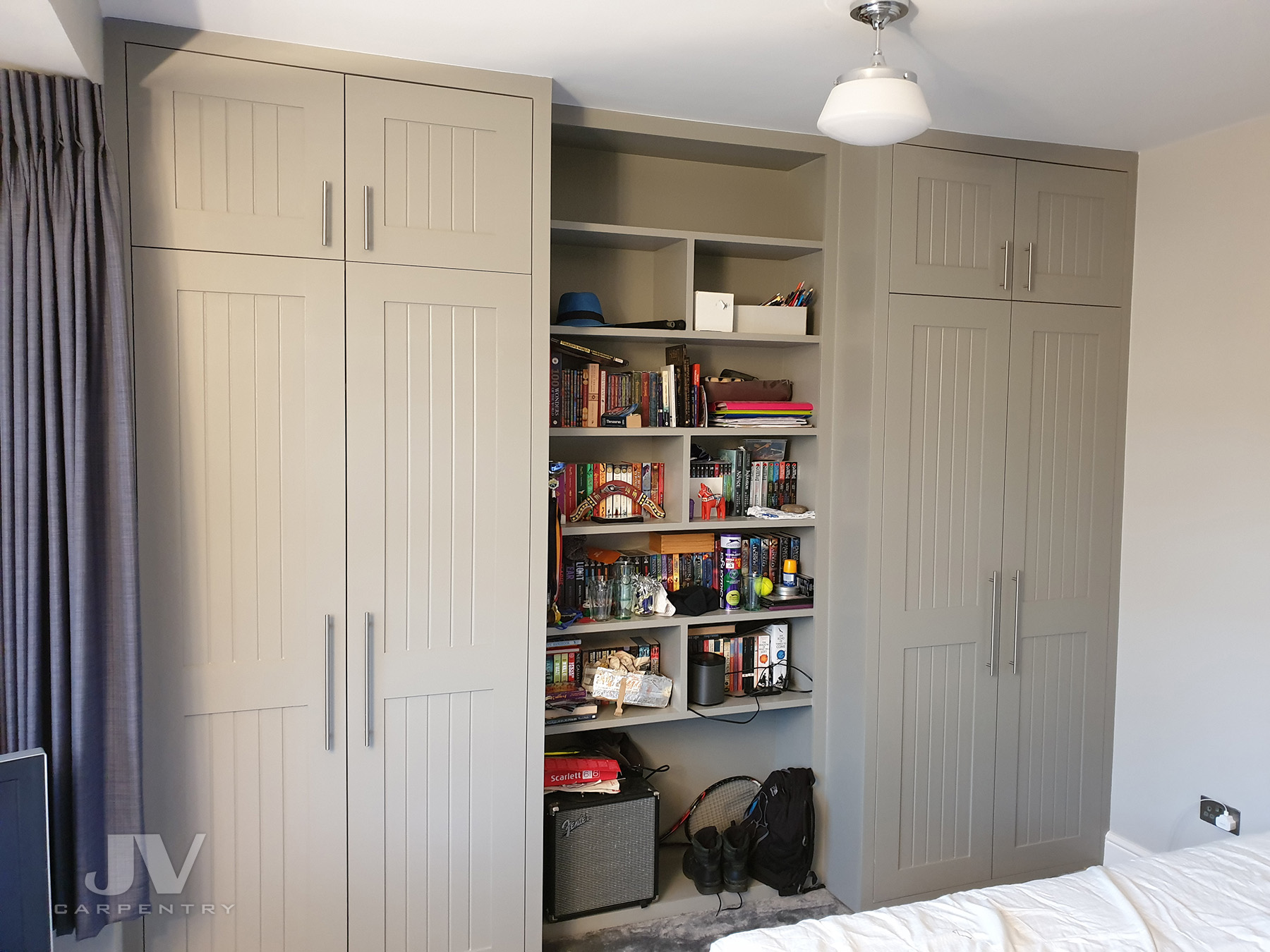 Light grey fitted wardrobes designed to fit two alcoves with bookcase in between. The wardrobe doors made with tong and groove effect and T-bar handles. The color is not particularly a strong grey but more like a shade of lite grey color. Anyway the wardrobes look much sharper than the classic white ones
Grey shaker wardrobe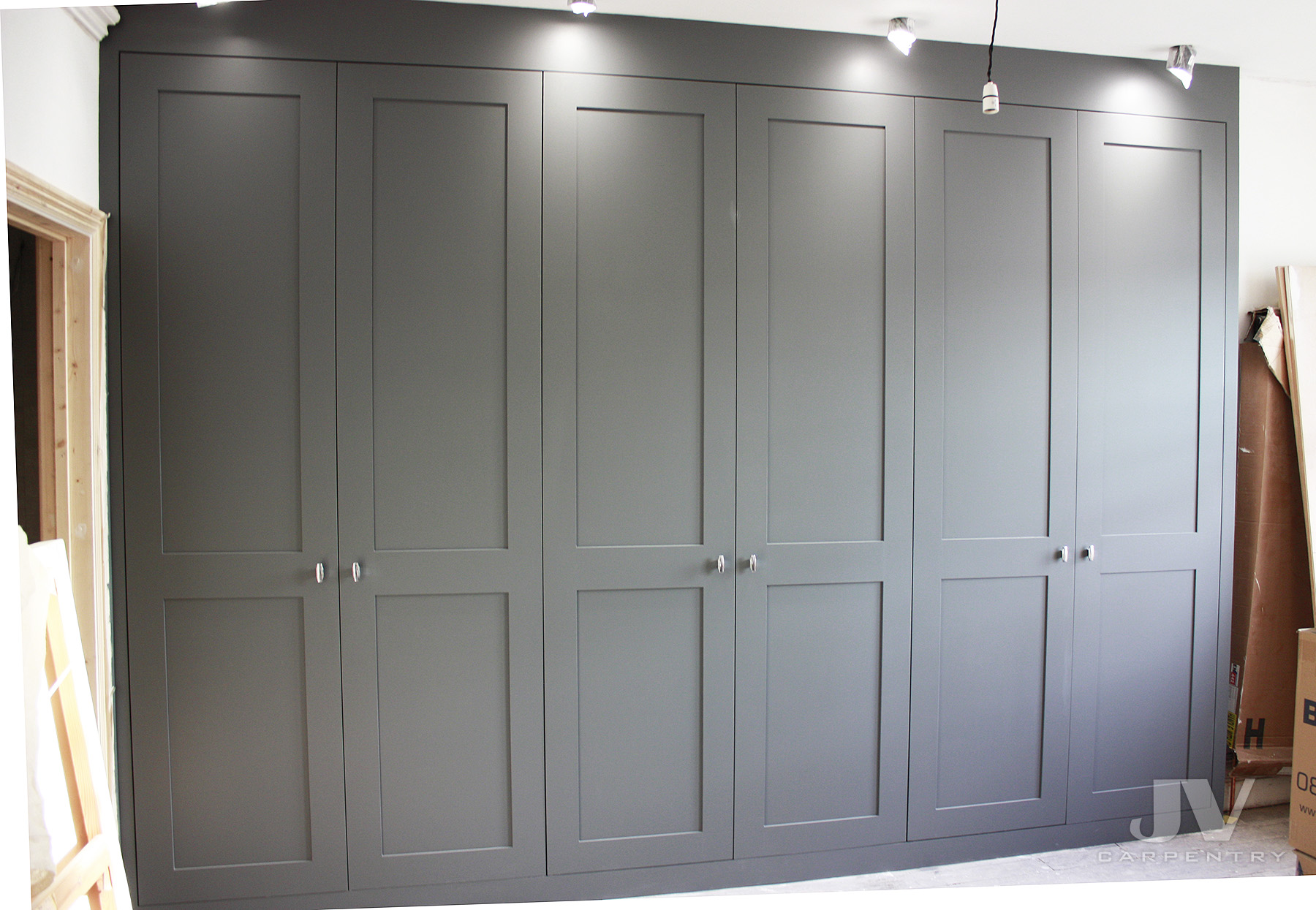 Shaker style grey fitted wardrobe
Contemporary grey fitted wardrobe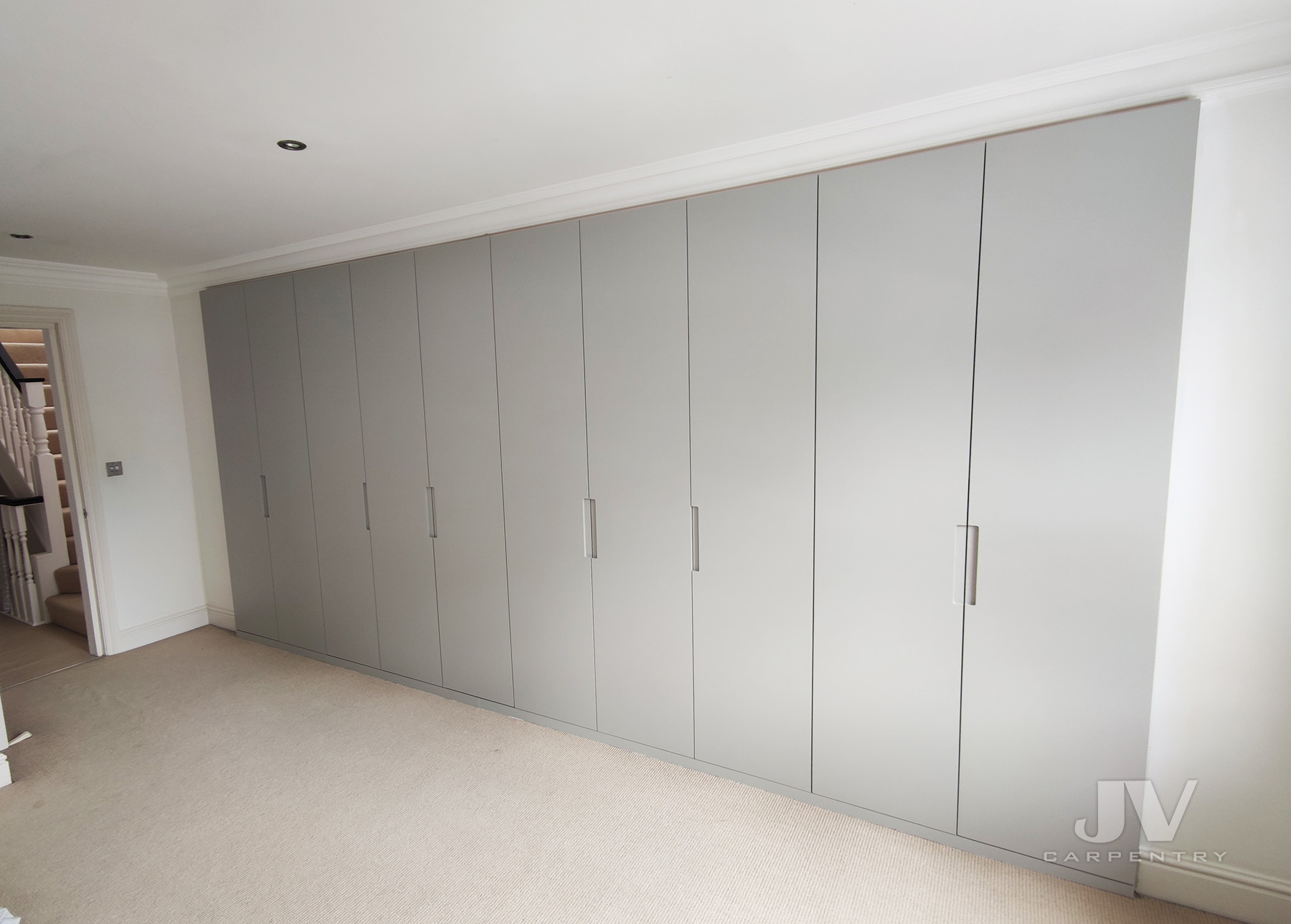 Large grey fitted wardrobe with plain doors and cut out handles
Traditional grey built-in wardrobes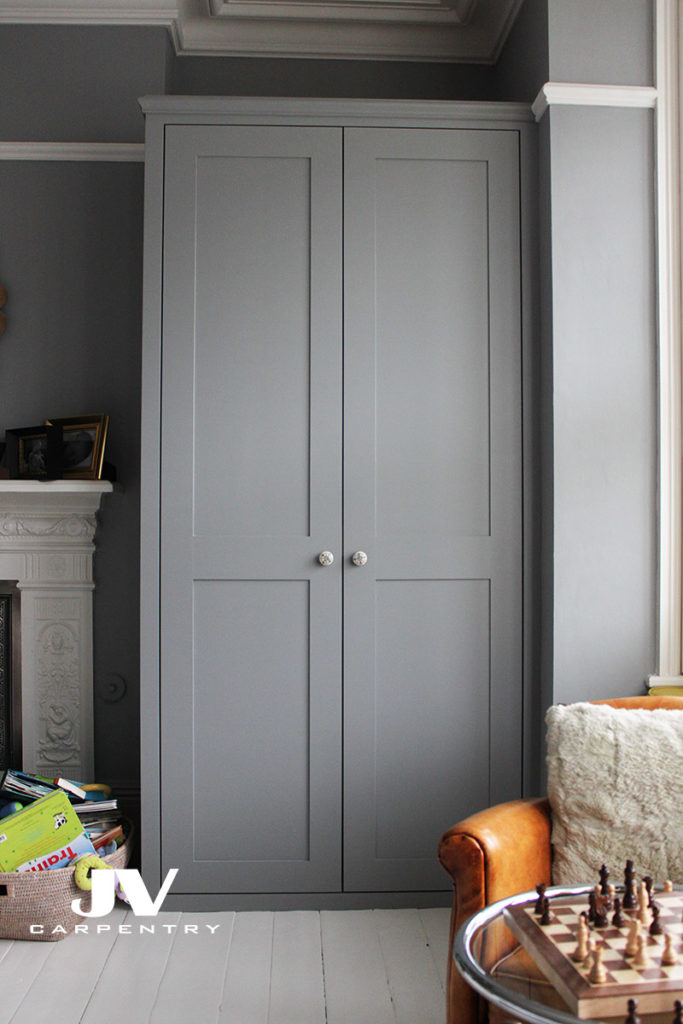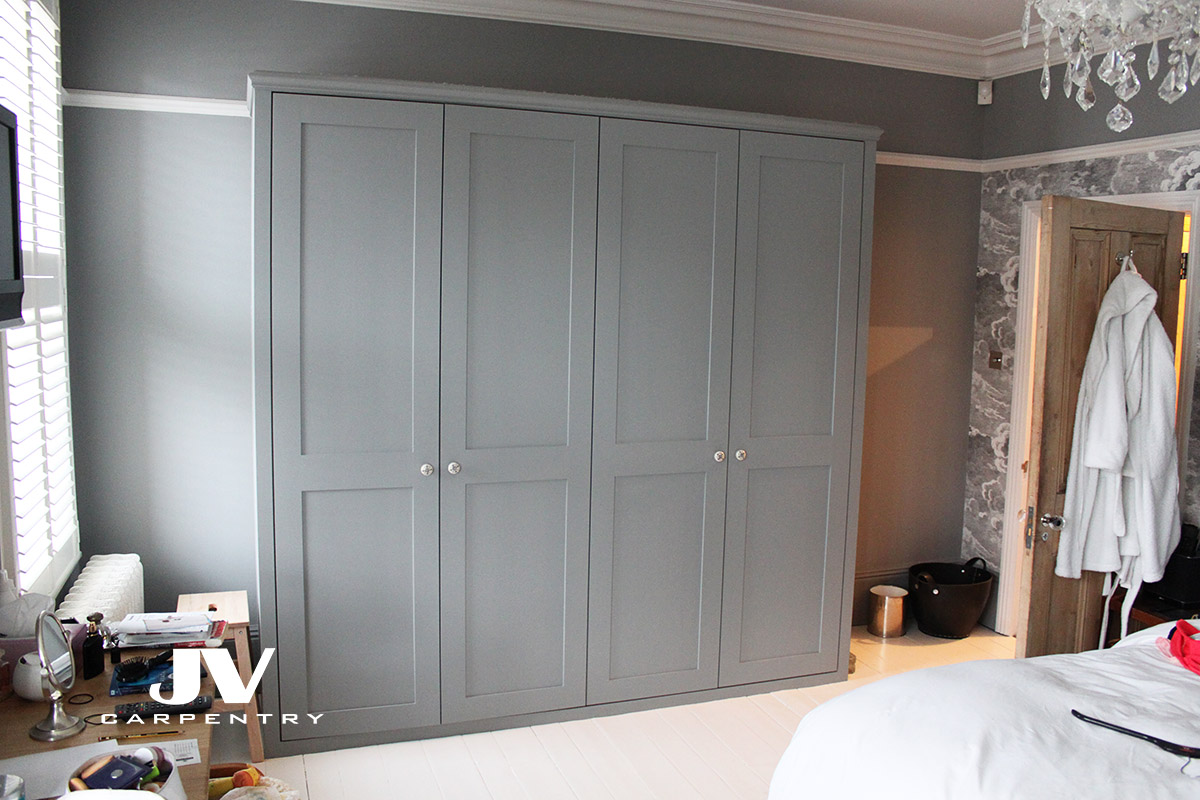 Traditional grey fitted wardrobes made for one of our customer in Chiswick, west London. These bespoke shaker wardrobes made out of high quality MDF and hand painted Farrow and Ball Estate No.88 Lamp Room Gray colour.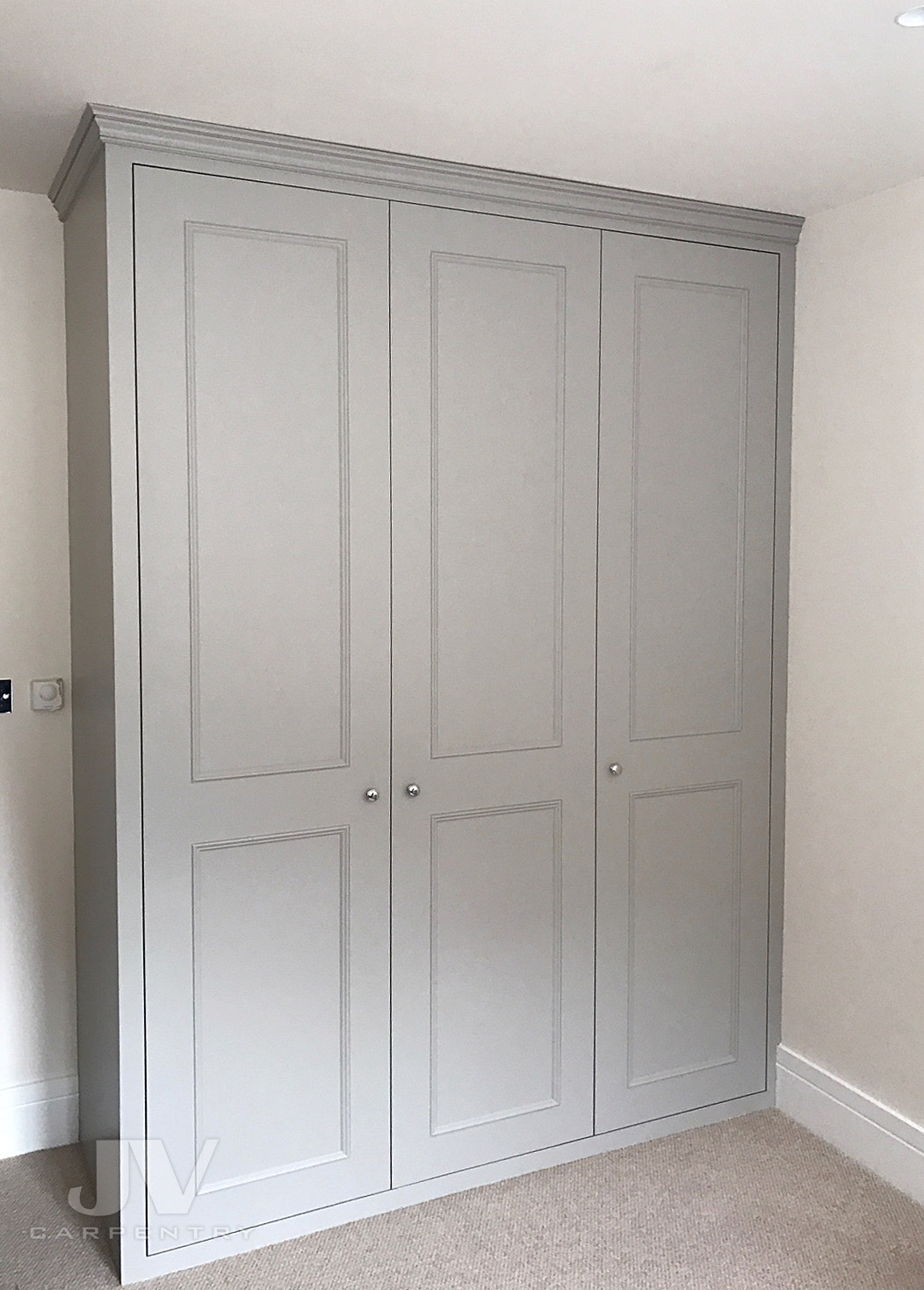 Traditional grey fitted wardrobe with three doors. Rough price from £2400+VAT