Our best Built-in Wardrobes Around and Over the Bed images for your bedroom ideas
When you don't have much of the available space in your bedroom fitted wardrobes around the bed would be the best option for you. Two wardrobes either side of the bed linked with overhead storage cupboards, also called over bed wardrobes. They provide you with a massive amount of storage space. Our bedroom wardrobes solutions are very bespoke and can be modified for your specific situation. On this page you will find images of the fitted wardrobes we built over the bed and around a bed. They are many examples of the different styles from contemporary to traditional. I hope that gives you lots of great ideas to choose your perfect design.
Fitted wardrobe with over bed storage.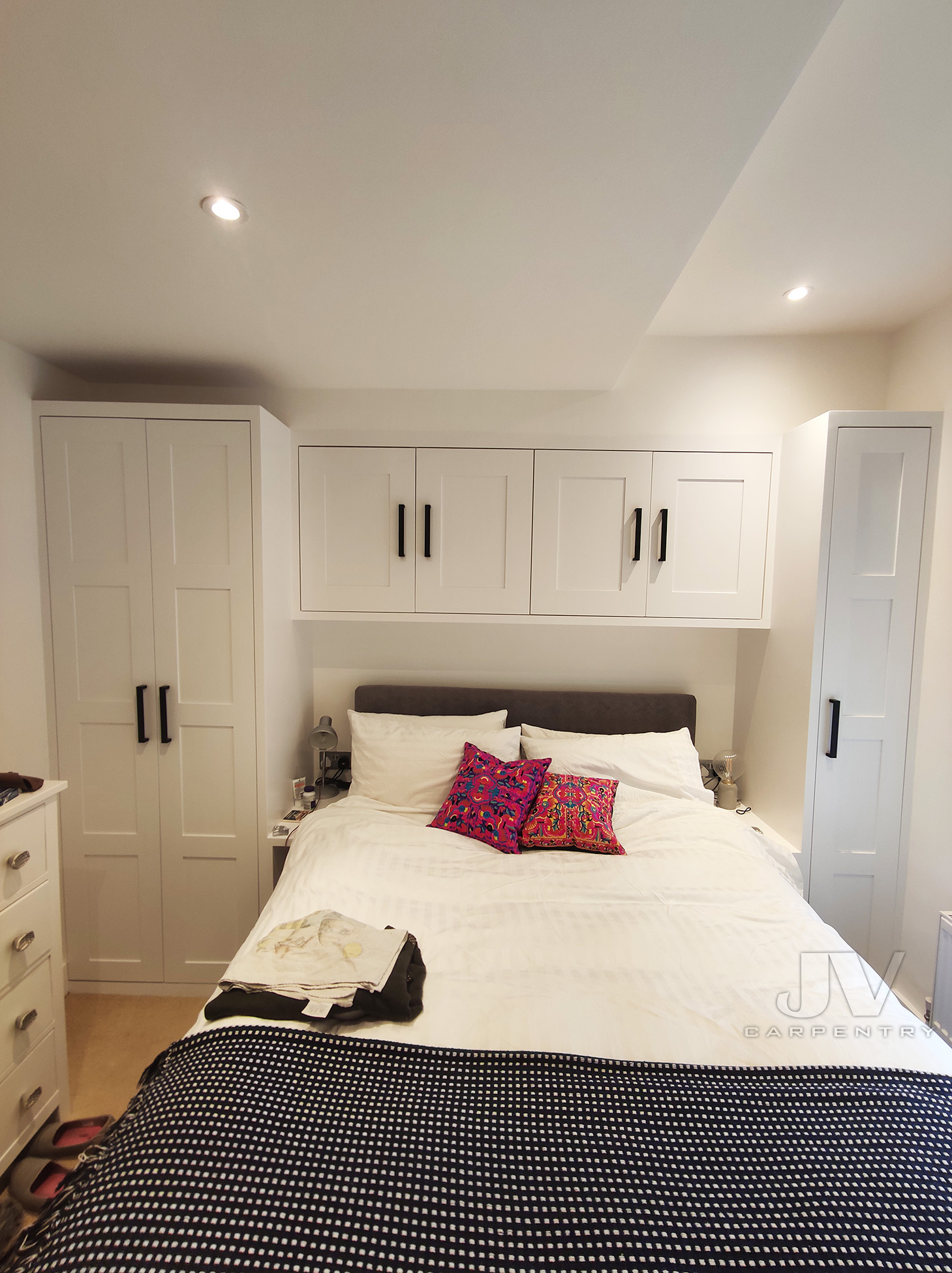 It's important to maximise the space if you have a small bedroom and we did this by building a wardrobe over the bed with storage cabinets. This idea allows you to use all available space inside your bedroom.
For more fitted wardrobes for small bedroom ideas please click here.
Fitted wardrobe around single bed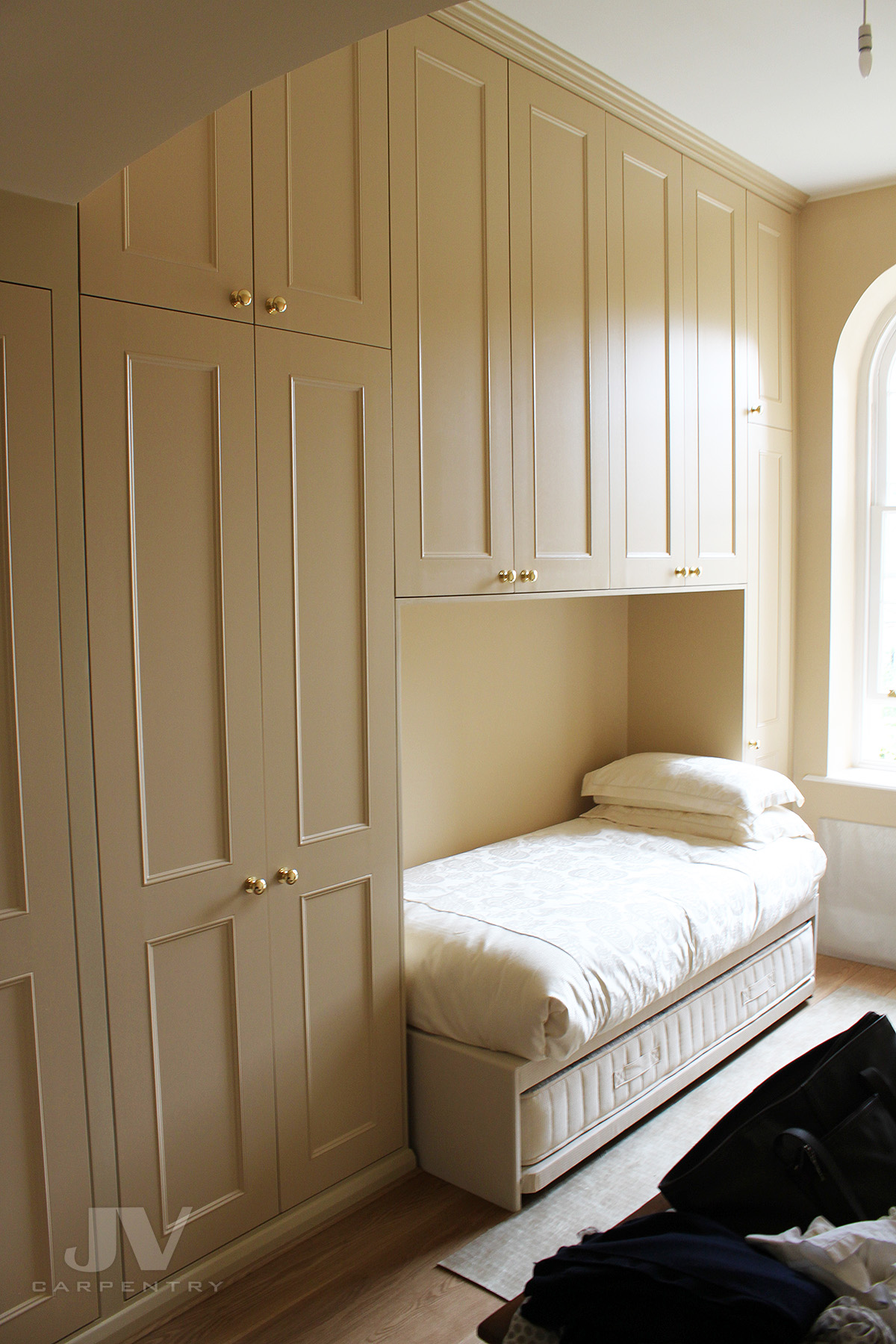 Sometimes you want to build a large fitted wardrobe but you don't have enough space for bed. In this case we can design a wardrobe with the slot for the single bed like in this example above.
Wardrobe fitted over the bed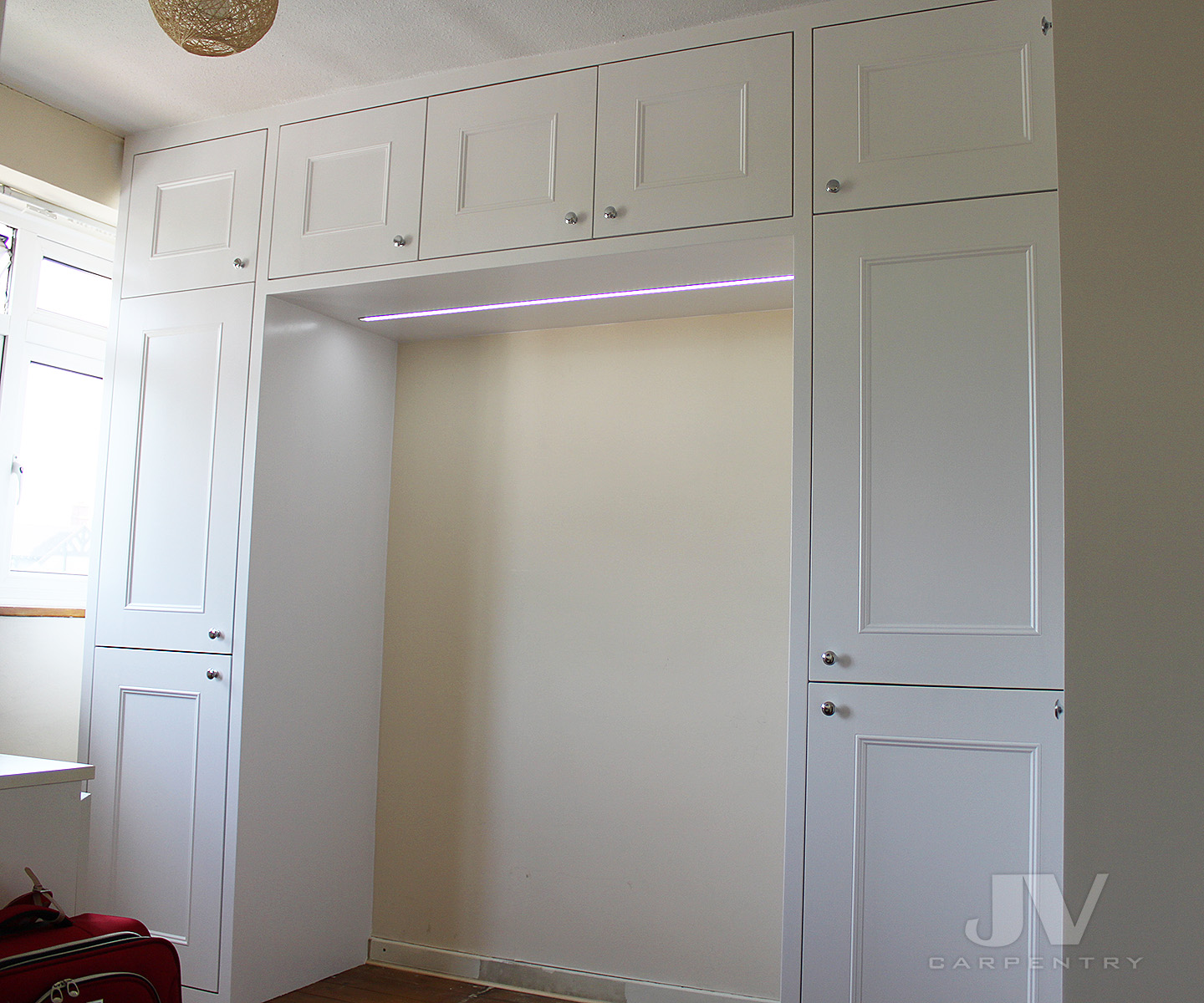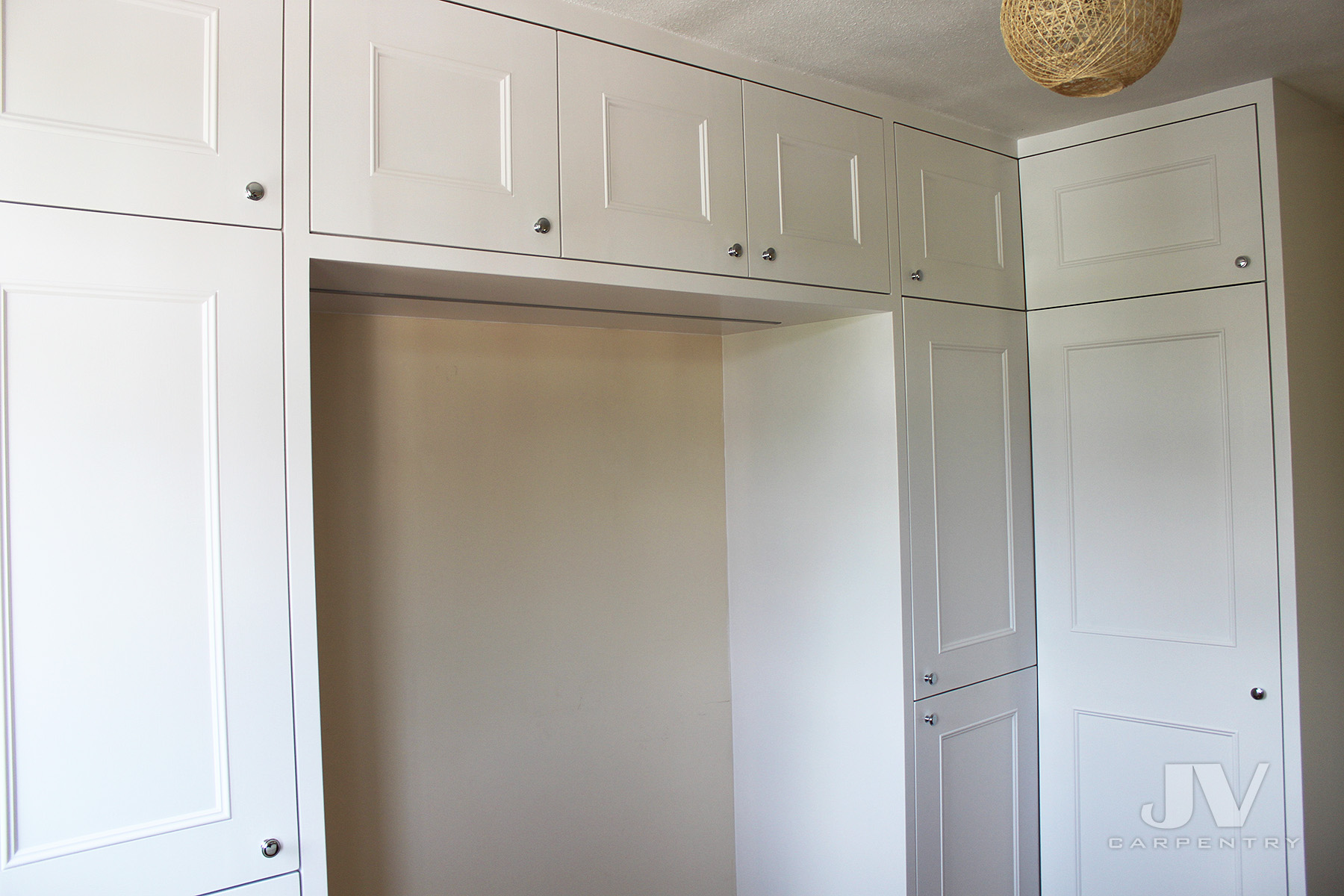 This an L-shaped fitted wardrobe designed to fit over the double bed with overhead storage. The wardrobe provides a lot of storage space. Moreover It features an LED strip above the bed for reading.
Fitted wardrobes with bed in the middle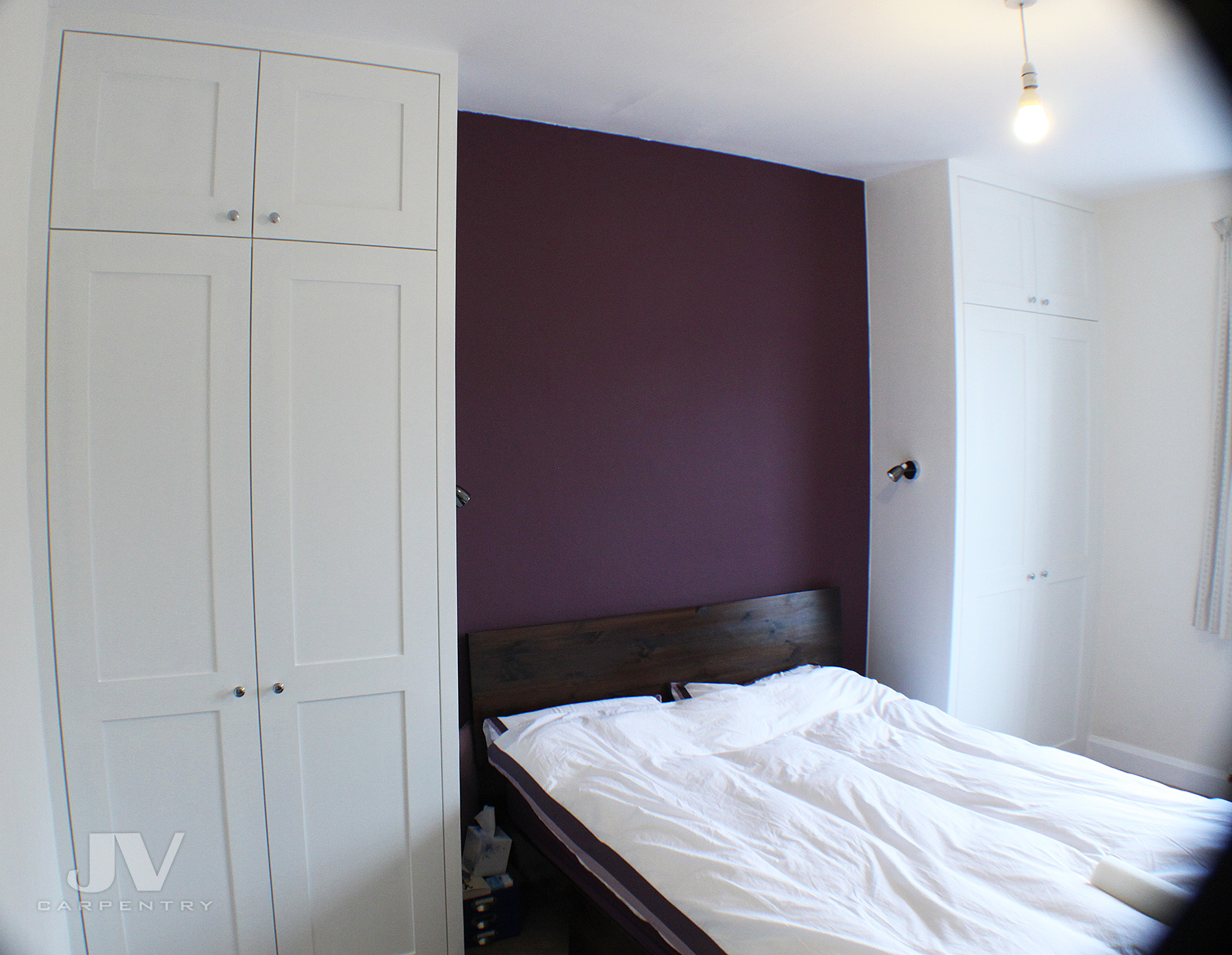 Alcoves either side of the chimney breast are the best place for fitted wardrobes. This will create a perfect space for the bed in between the wardrobes in front of the chimney breast like on this example above.
Over bed plain white fitted wardrobe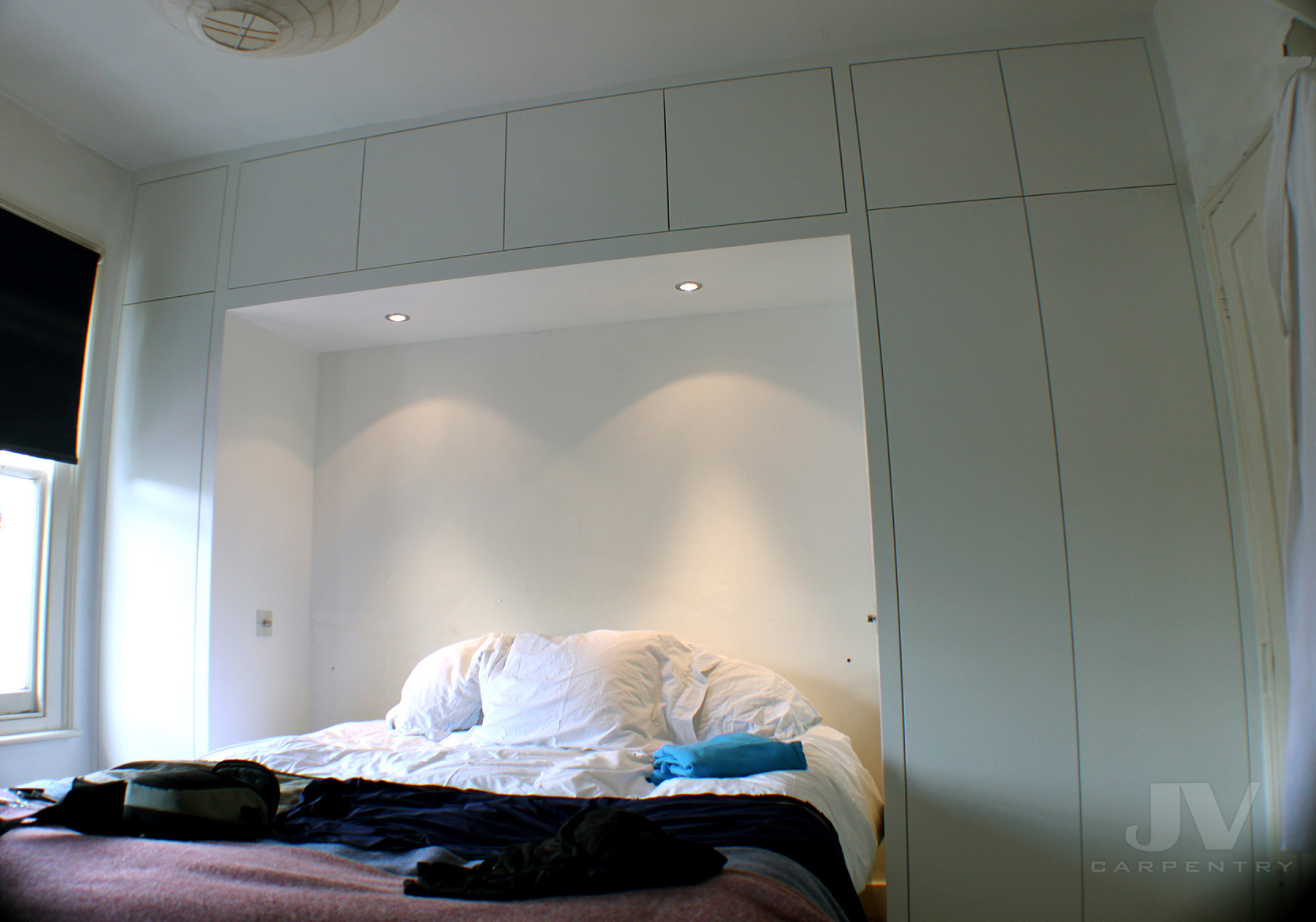 In this example we built this wardrobe around a double bed with overhead storage above. The wardrobe is made with plain doors without handles with push to open mechanism for minimalistic look.
Fitted wardrobe with bedside tables, overhead storage and floating shelves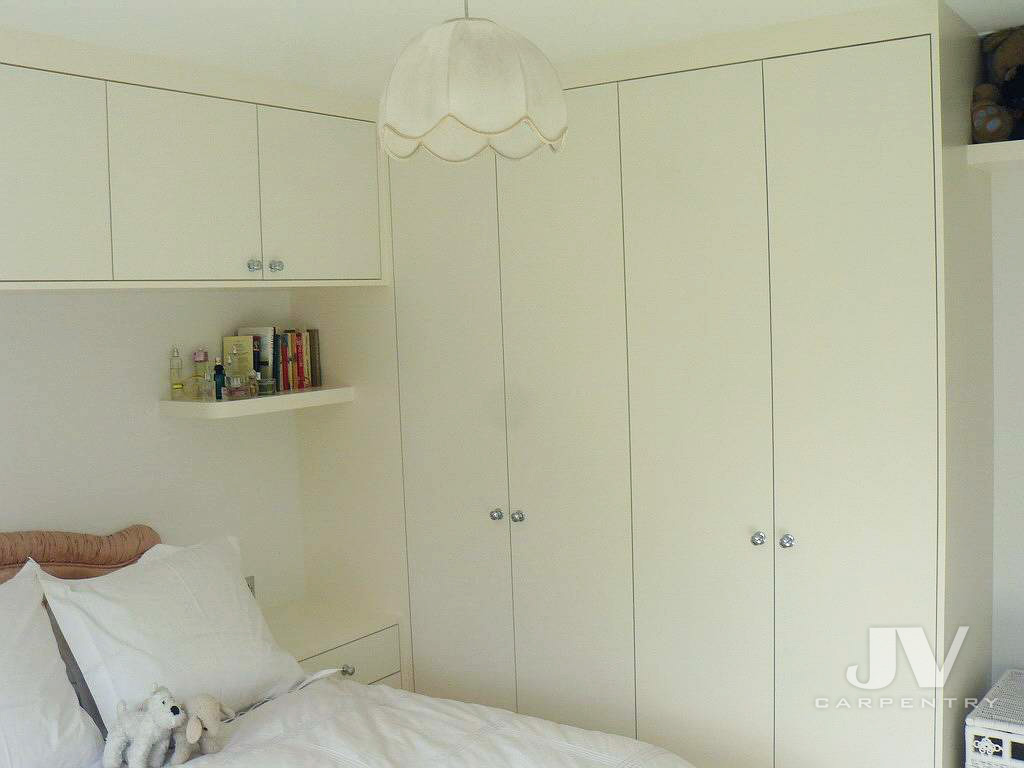 Complete fitted bedroom project featuring a fitted wardrobe with overhead storage, bedside tables and floating shelves.
Small fitted wardrobes either side of the bed
Two absolutely unique design bespoke wardrobes fitted in the corners beside the bed. The idea was to create a bed side table and connect it it with fitted drawers and the wardrobe unit for hanging clothes at the very top. This is an excellent idea for the bedrooms with limited space. The corner shelves beside the wardrobe units create some storage for books and to display your favorite things.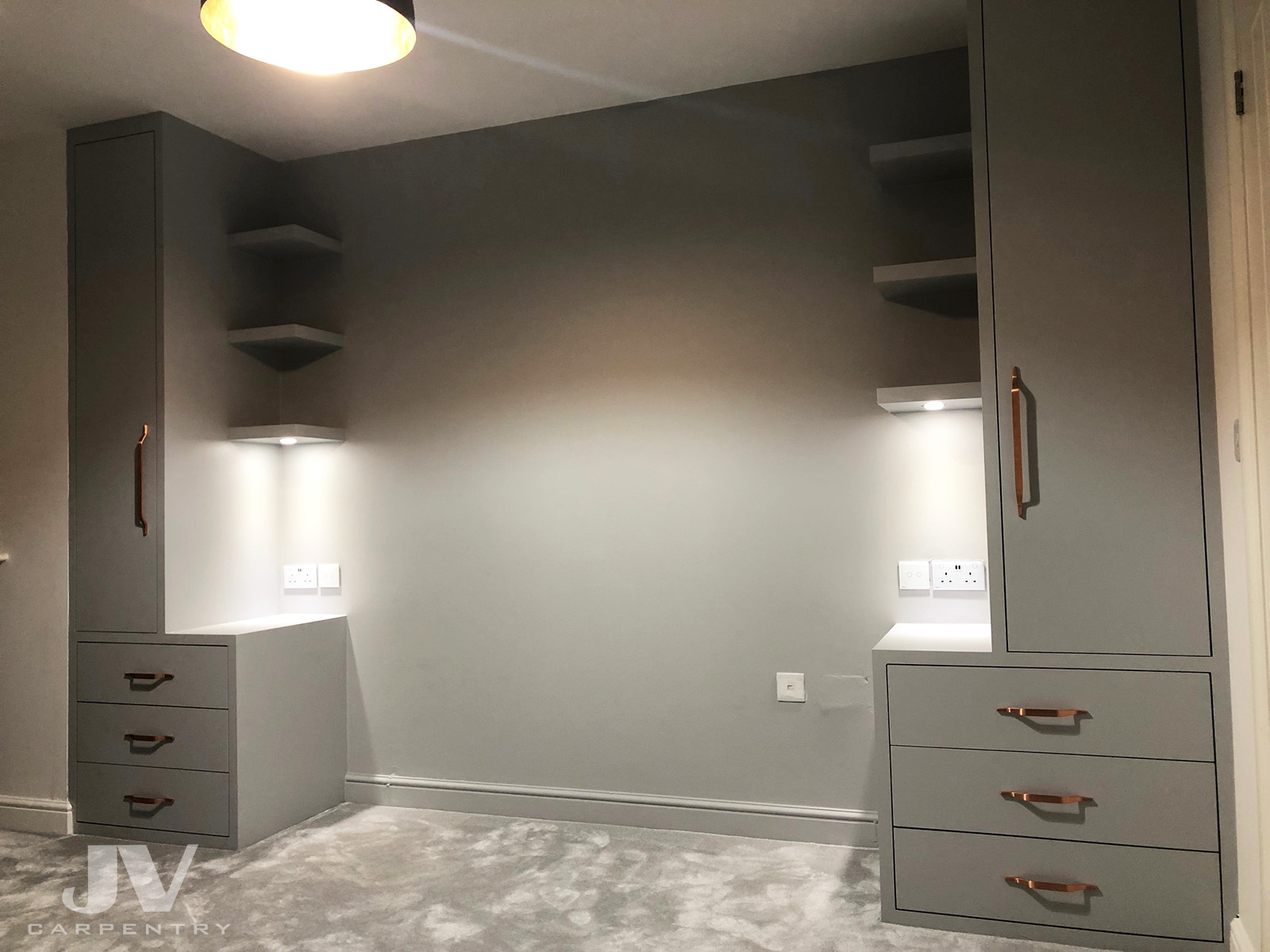 The wardrobes also made with small LED spot light for reading and in addition to that a power sockets above the dressing table with USB slots. That's make it perfect place for your phone to charge over night and a glass of water.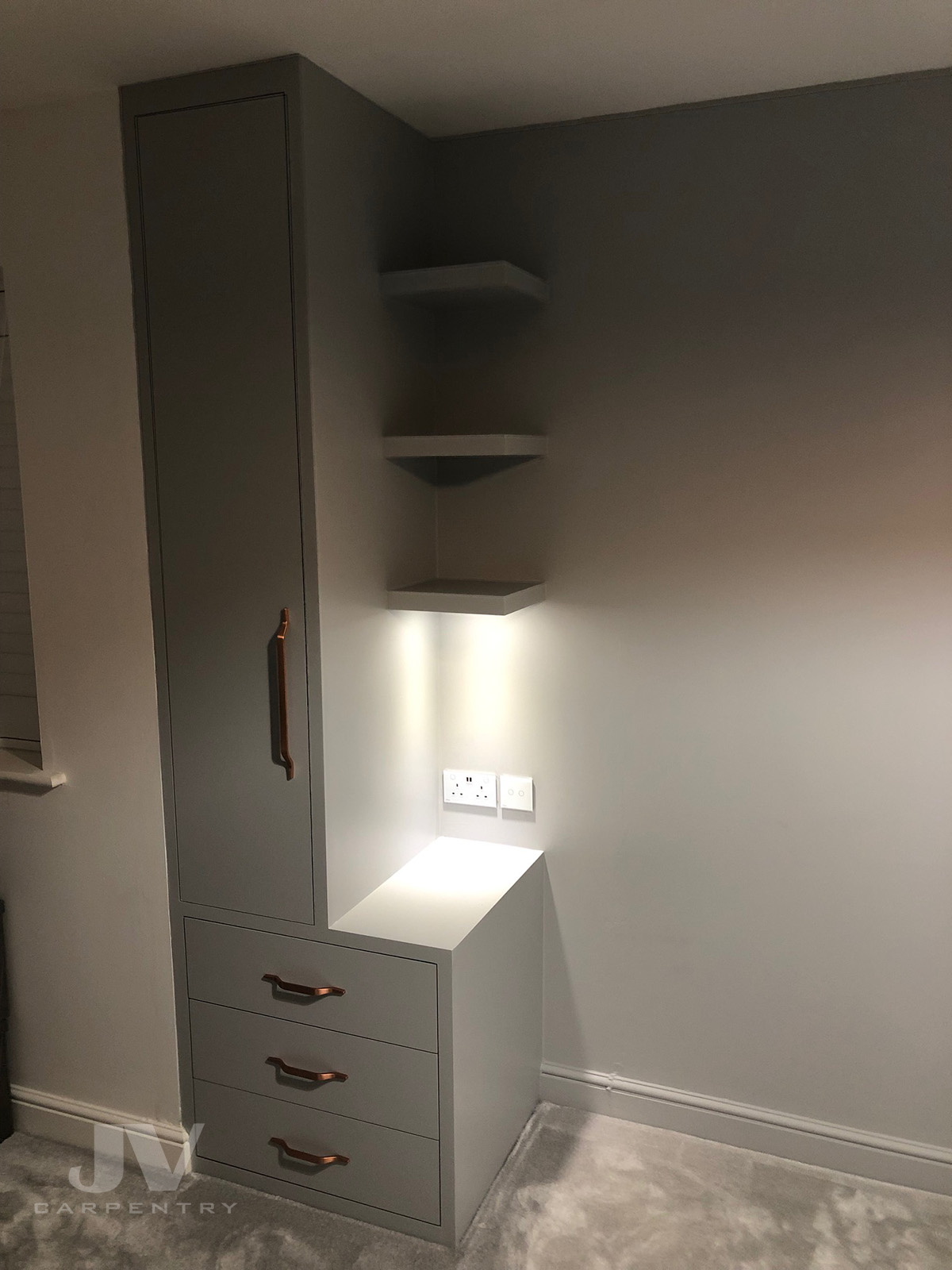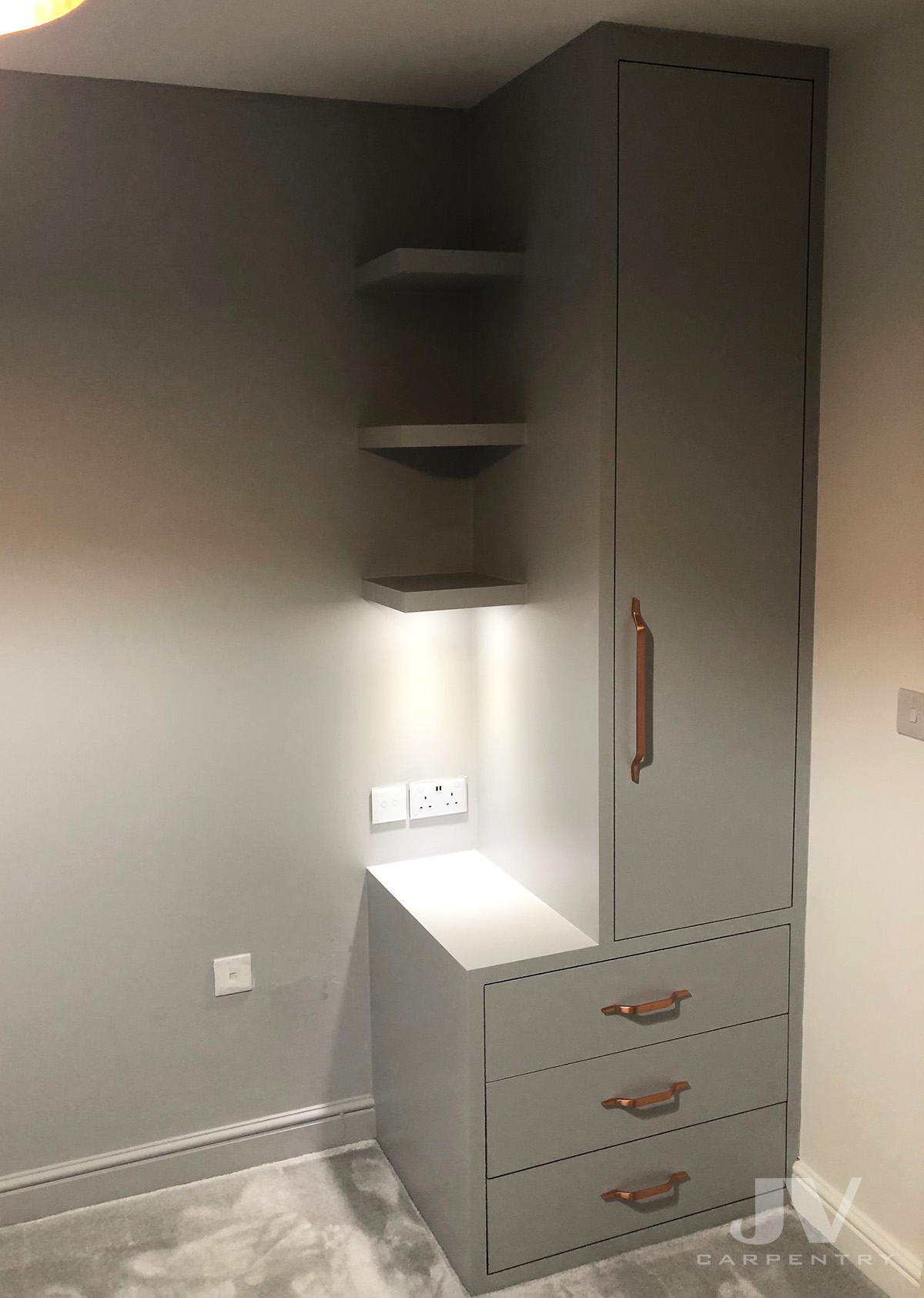 These pair of bespoke wardrobes feature a drawing space, a corner floating shelves and in addition a hanging storage space which are very important things in your bedroom.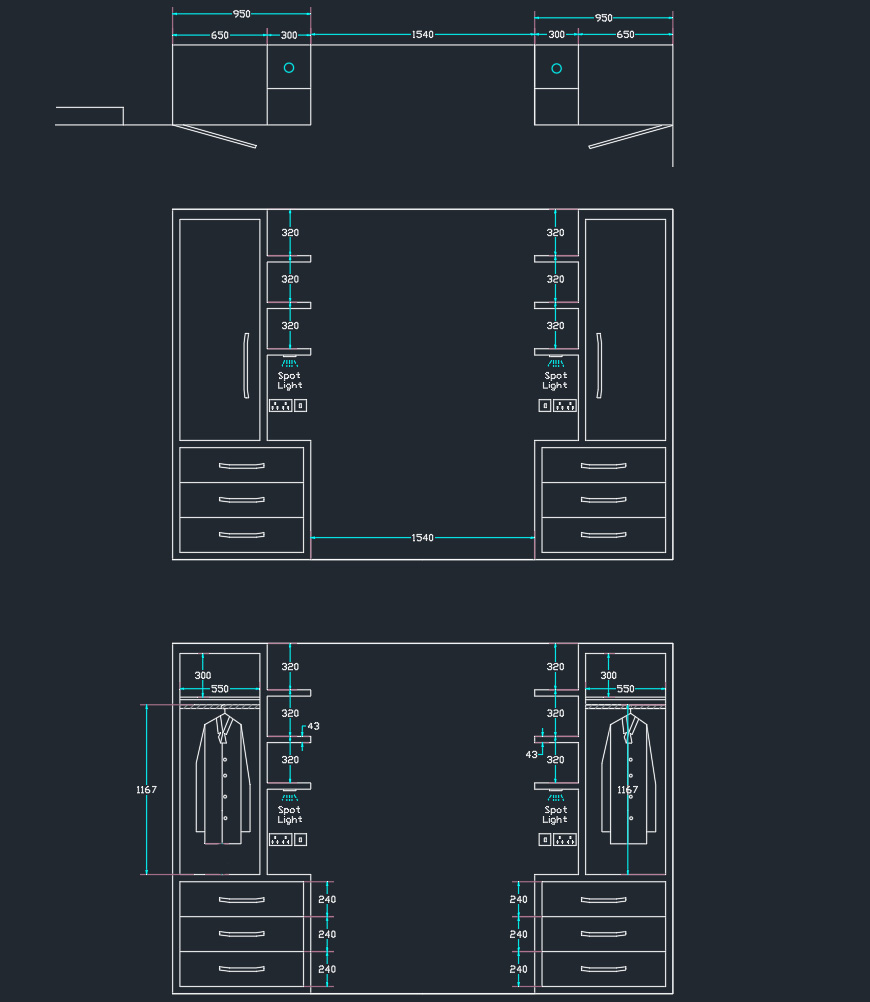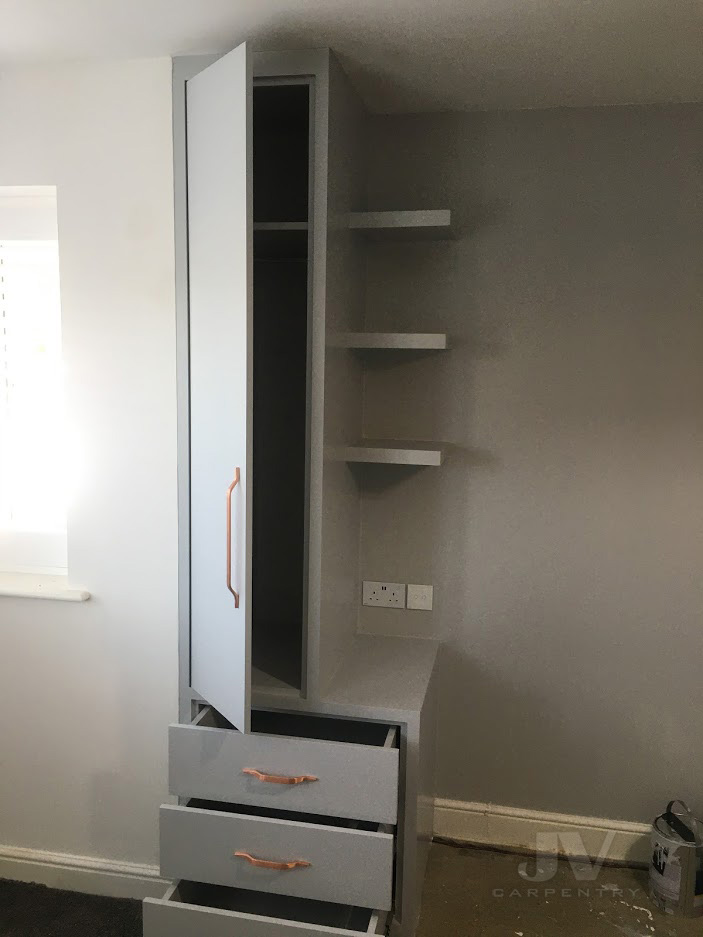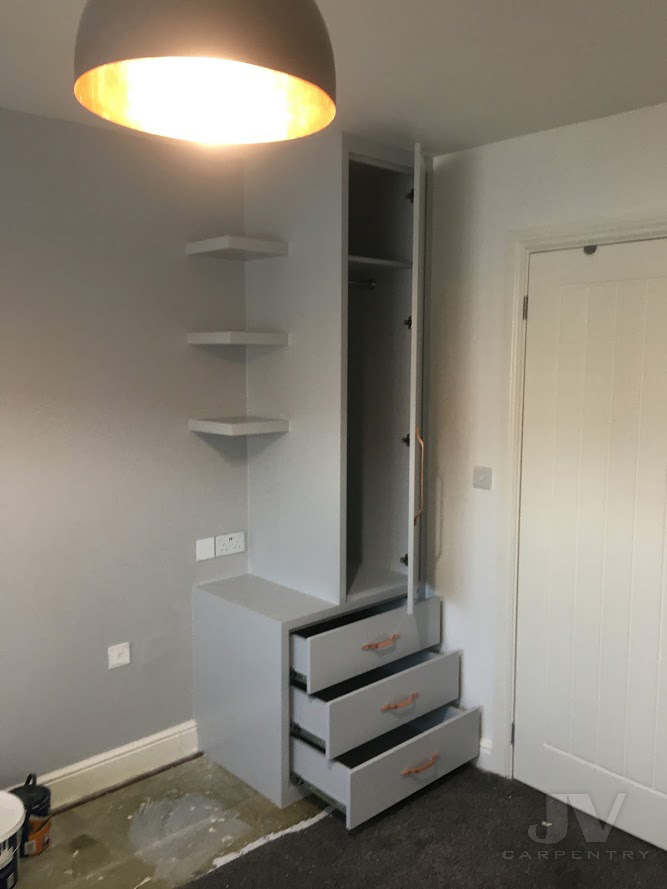 Those wardrobes either side of the bed cost £3200+VAT including making, fitting and painting.
Small alcove wardrobes either side of the bed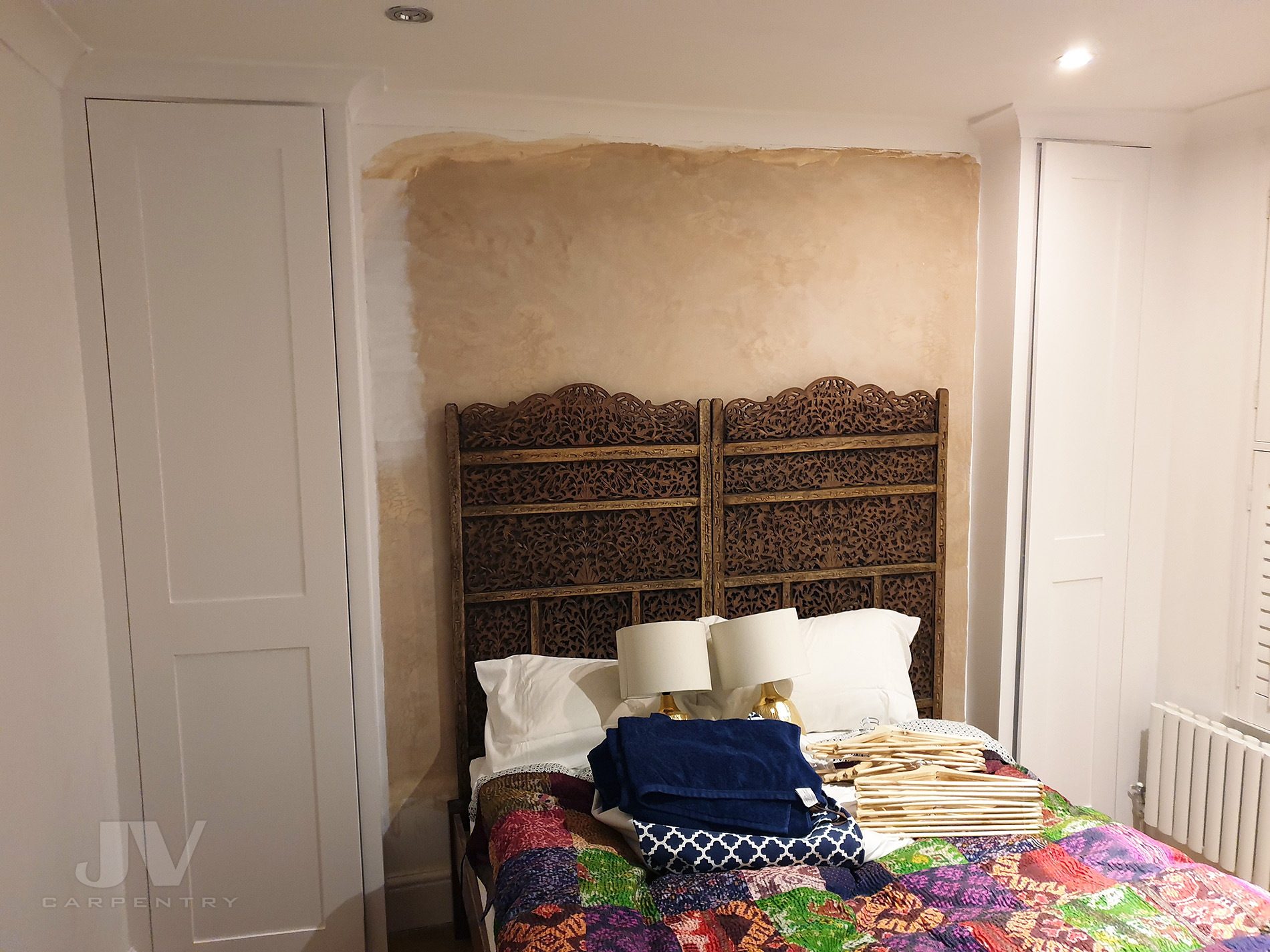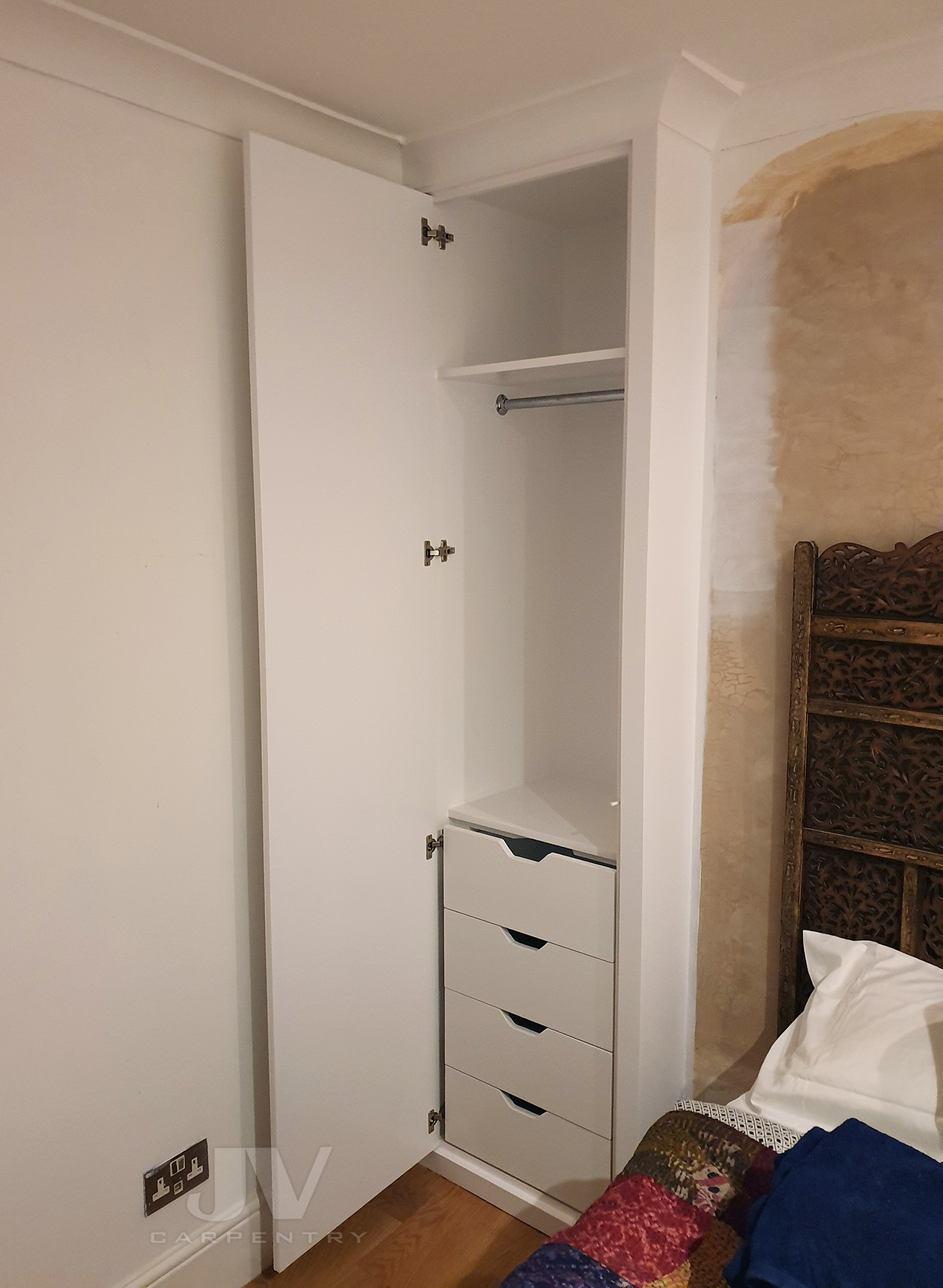 A pair of single wardrobes either side of the bed. They made with push-to-open shaker doors and inside you will find four drawers.