Fitted Wardrobes in Wimbledon, SW19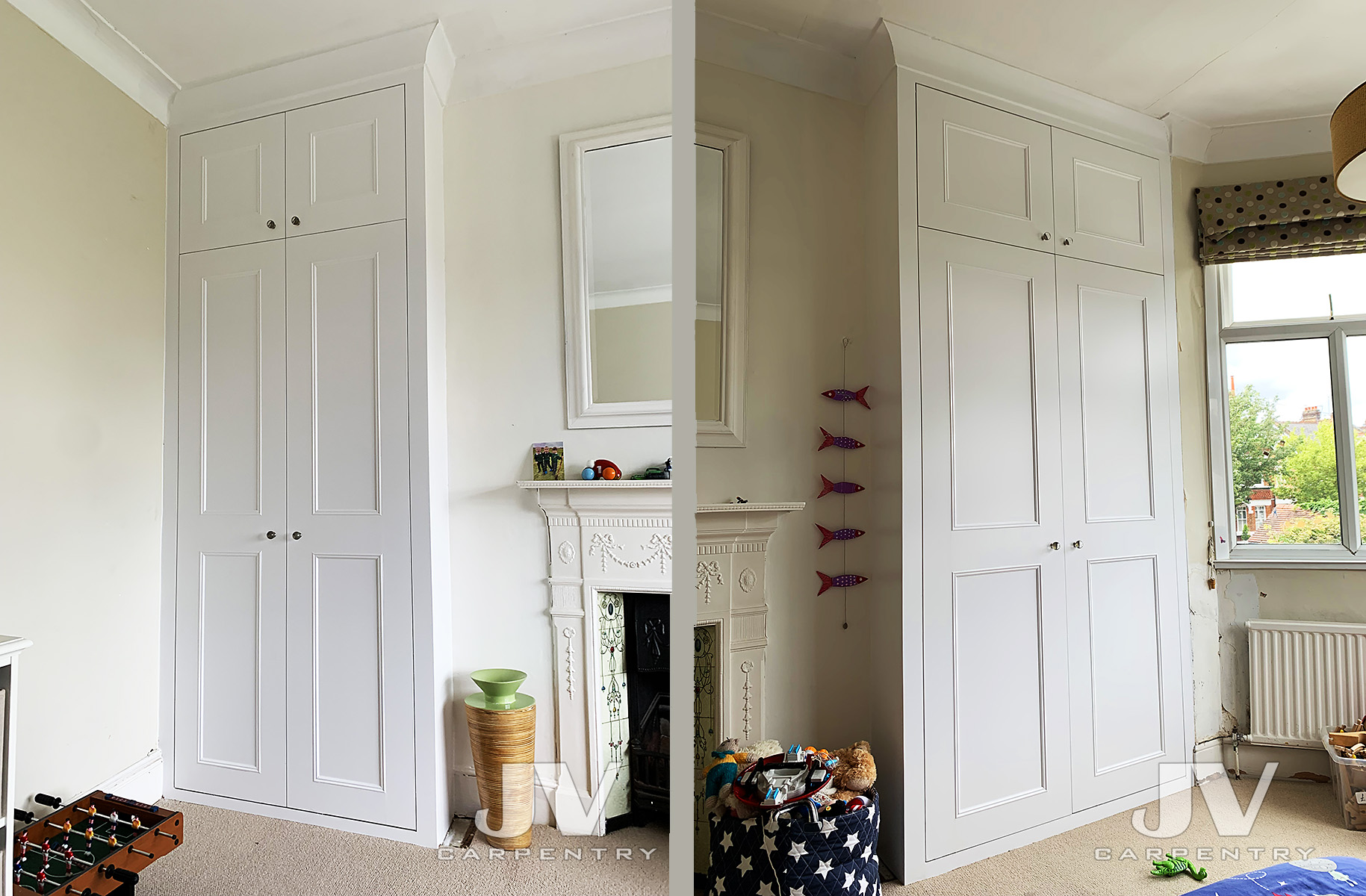 We built these stunning fitted wardrobes for our customer in his newly purchased semi detach house in Wimbledon.  These wardrobes perfectly fitted into two alcoves either side of the fireplace and they match traditional style of the house which is very typical for most of the properties in Wimbledon area.
As you can see from the pictures, we made these wardrobes full height from the floor to the ceiling to take advantage of the high ceiling and maximize every inch of potential space. At the top of the wardrobes, we created an overhang space with separate cupboard doors, and we finish the top with the coving which we match to the existing one. This extra detail is quite important to make the wardrobes look like they've been in the house from the moment it's been built.
The wardrobes are designed with recessed beaded doors. They are traditional-style doors, and we also call them shaker-beaded doors. We finished the wardrobes with a chunky 2-inch frame around the doors to create a stunning look.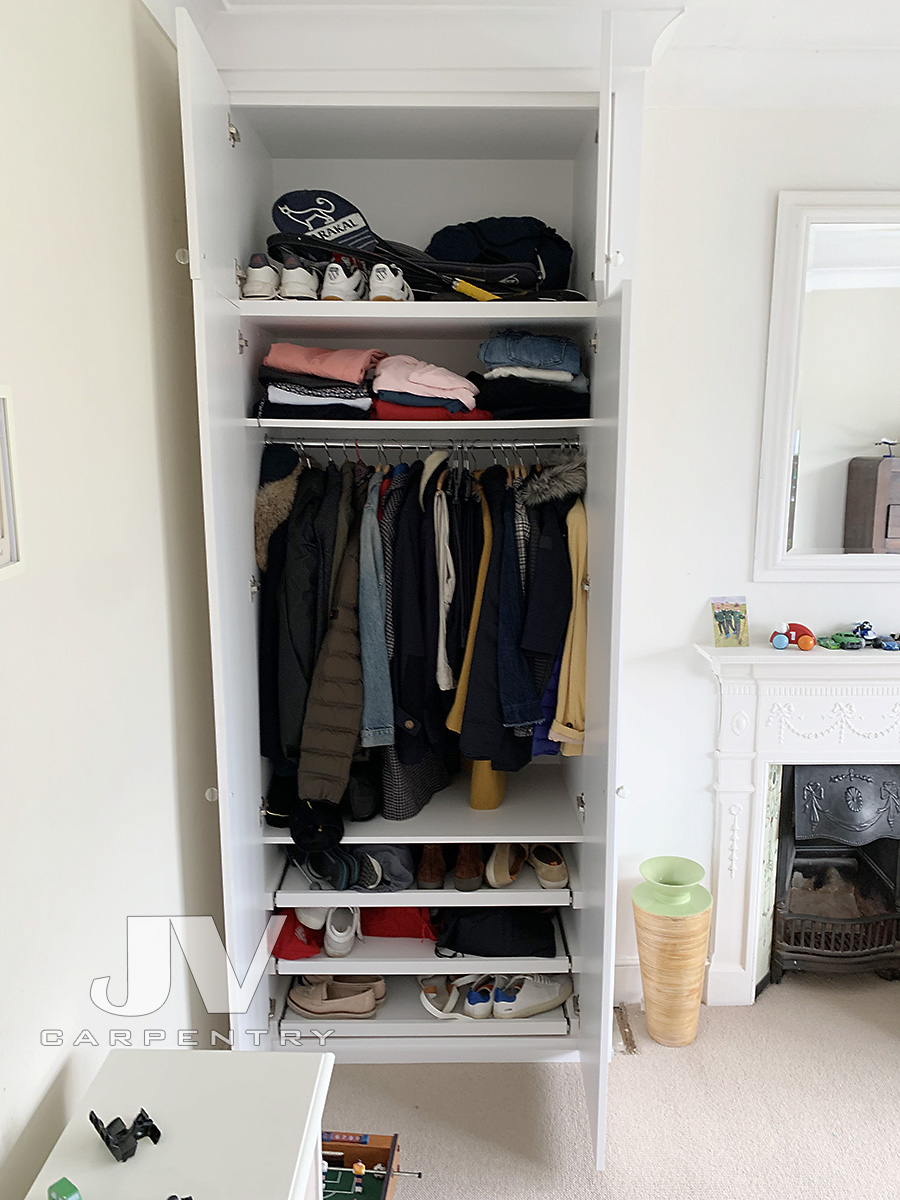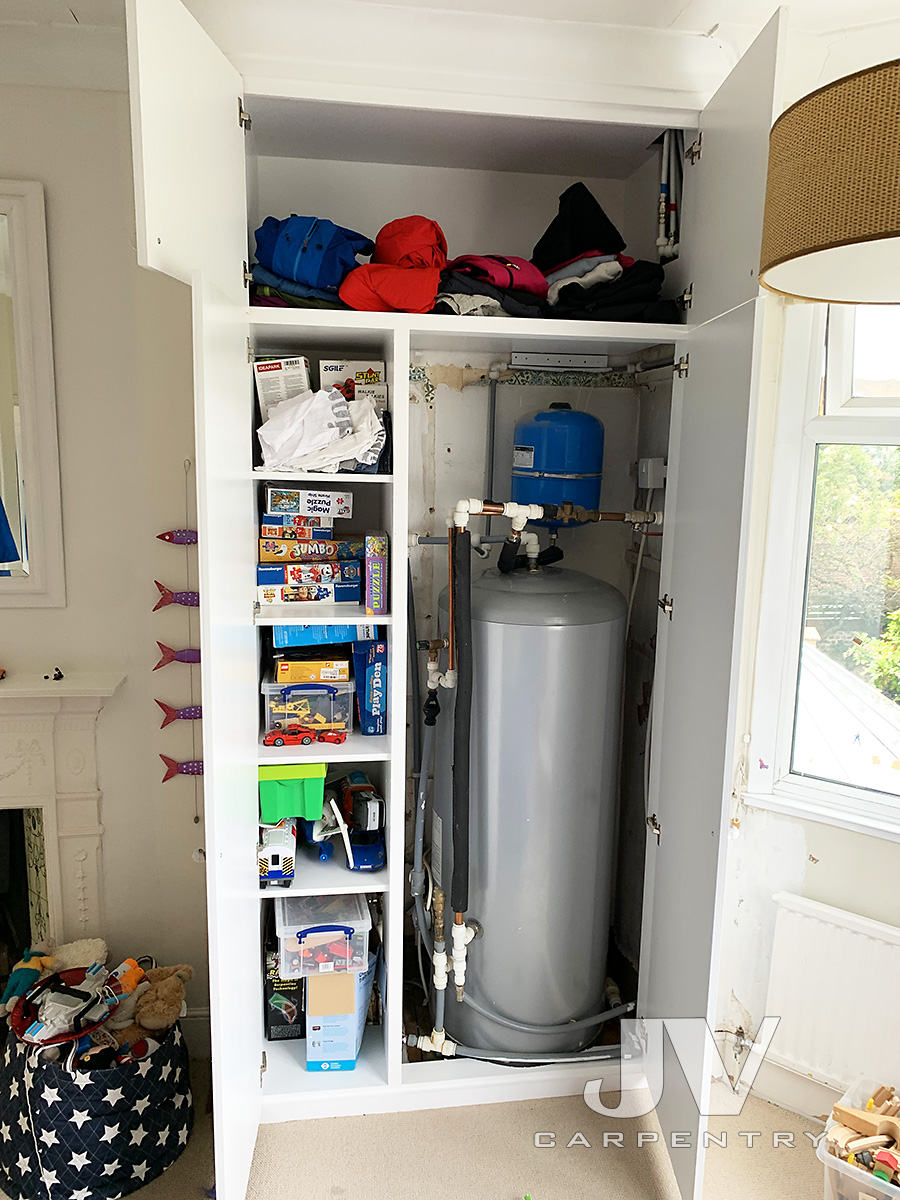 Here you can see the interior of the wardrobes. The one in the left alcove is made with 3 shoe racks on the bottom and hanging rail and some shelves above. A shoe rack is simply a pull-out shelf where you can store your shoes with easy access. It's similar to the drawer but more open.
The wardrobe inside the left alcove was fitted around a huge hot water storage tank. This is a good way to hide your old bulky water tank or boiler inside of the built-in wardrobe. For extra storage, we created a column of shelves on the side of the tank and there is also some storage inside the overhang cupboard behind the top doors.
We made the wardrobes out of MDF and hand-painted them on site after installation. This is how we normally do it - we build them first and paint them in situ for an awesome result without any gaps and cracks.
It took us 1 day to install and 2 days to paint to make a total of 3 days of work inside the customer's house.
These two fitted wardrobes cost £3400+VAT in total
If you'd like to get a free quote for your fitted wardrobes, please
contact us
today! We have 17 years of experience in fitted furniture and we cover all London areas including Wimbledon, Raynes Park, Surbiton and Kingston!