Built-in shaker wardrobes in Chiswick
We built these classic fitted wardrobes with shaker doors for our customer who owns a 3-bedroom house in Chiswick, West London. These bespoke shaker wardrobes are made out of high-quality MDF and hand-painted with Farrow and Ball Estate No.88 Lamp Room Gray color.
Shaker style doors and decorative rail around the top of the wardrobes add extra details and match the wardrobes with the traditional style of the property, typical to the properties in the Chiswick area.
One of the wardrobes is made with two shaker doors shown just below.
Inside of the wardrobe...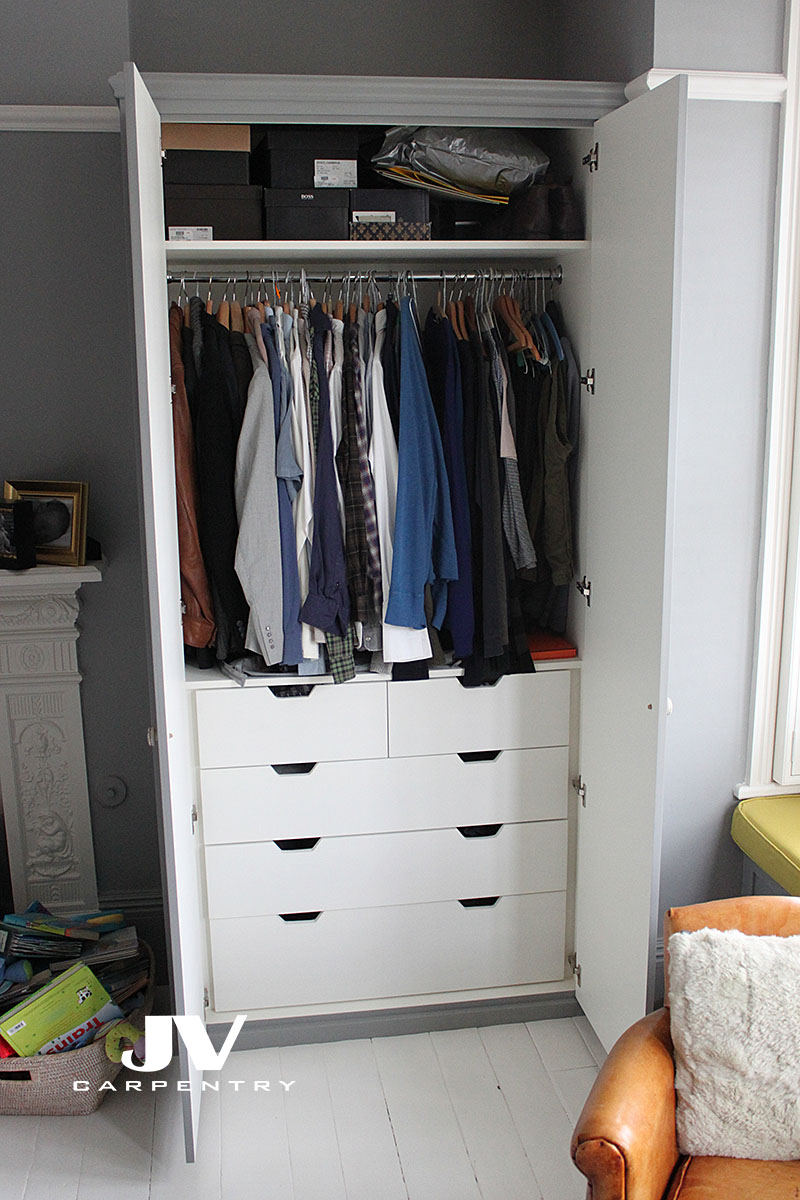 The Interior of this wardrobe features a lot of drawing space at the bottom, hanging space for cloth and storage space at the very top. To paint the interiors of this bespoke wardrobe we used white eggshell paint to make it brighter. The wardrobe is made with shaker doors, 110° concealed hinges and heavy-duty double-extension drawer runners.
Fitted Wardrobe with four shaker doors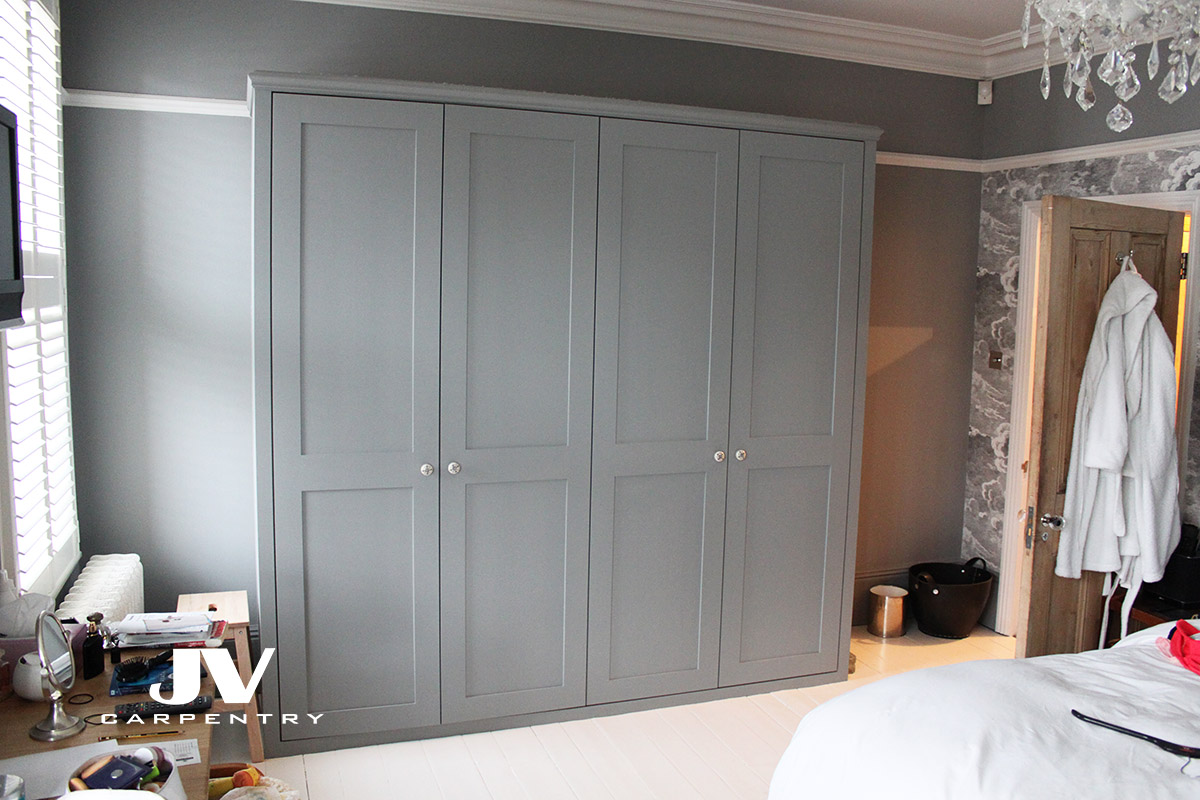 We built a second wardrobe on the opposite wall to the first one. This wardrobe is made in the same shaker style design as the first one but with four shaker doors instead of two. Moreover, this Fitted wardrobe is not connected to the walls on either of its sides so it makes it look freestanding when you first look at it. When you look closely you won't see any gaps between the wall and the wardrobe to make it completely fit into this space with the existing picture rail running around the top.
As you probably noticed both of these wardrobes are made with a gap at the top between the wardrobe and the ceiling. Even though it won't maximize all of the potential space, it will create the feeling of a bigger room and make it look more open.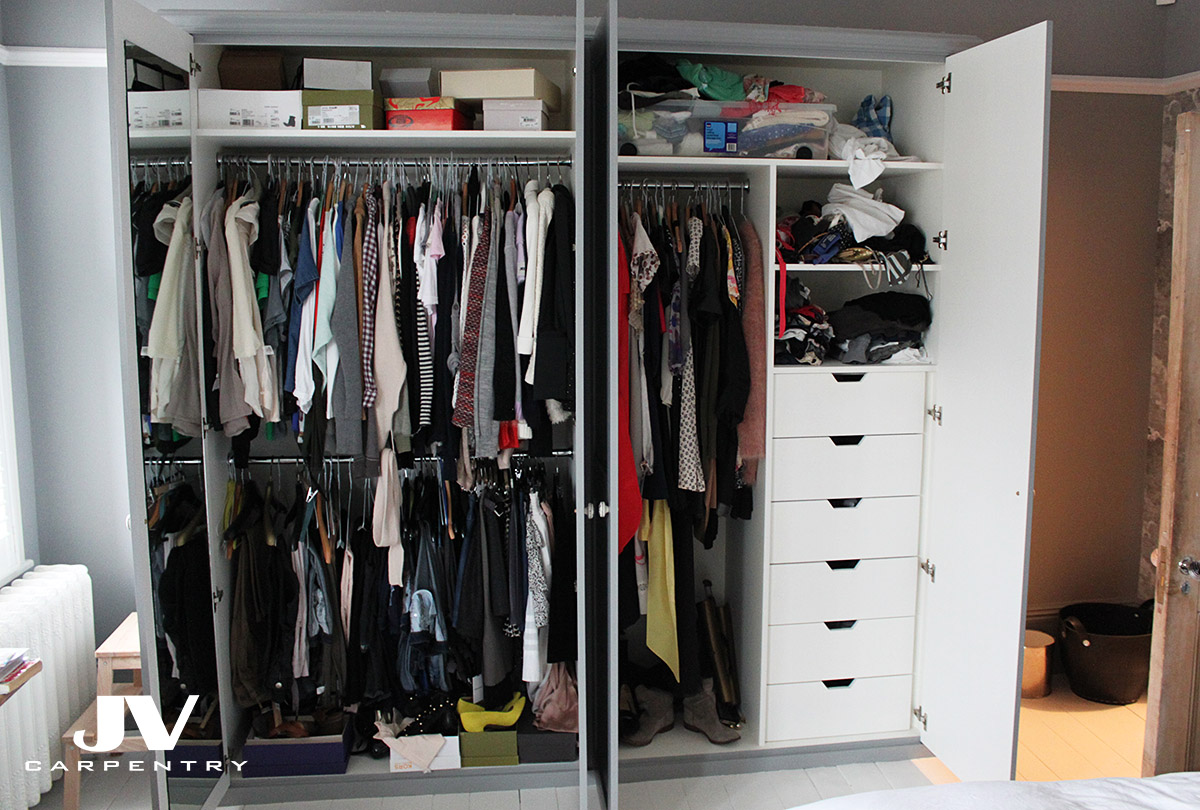 The interior of this bespoke wardrobe is made with a column of six small drawers which give plenty of storage space for socks and underwear. You can also see a lot of hanging space for long and short clothes. Moreover, on one of the shaker doors, we hang a full-length mirror.  The Interior of this wardrobe is hand-painted white eggshell to add some extra brightness.
For a free quote for your fitted wardrobes, please contact us today! We have more than 17 years of experience in fitted bedroom furniture and we cover all London areas including Chiswick, Fulham and Richmond!

Explore some of our resent cabinetry projects