Mirrored wardrobes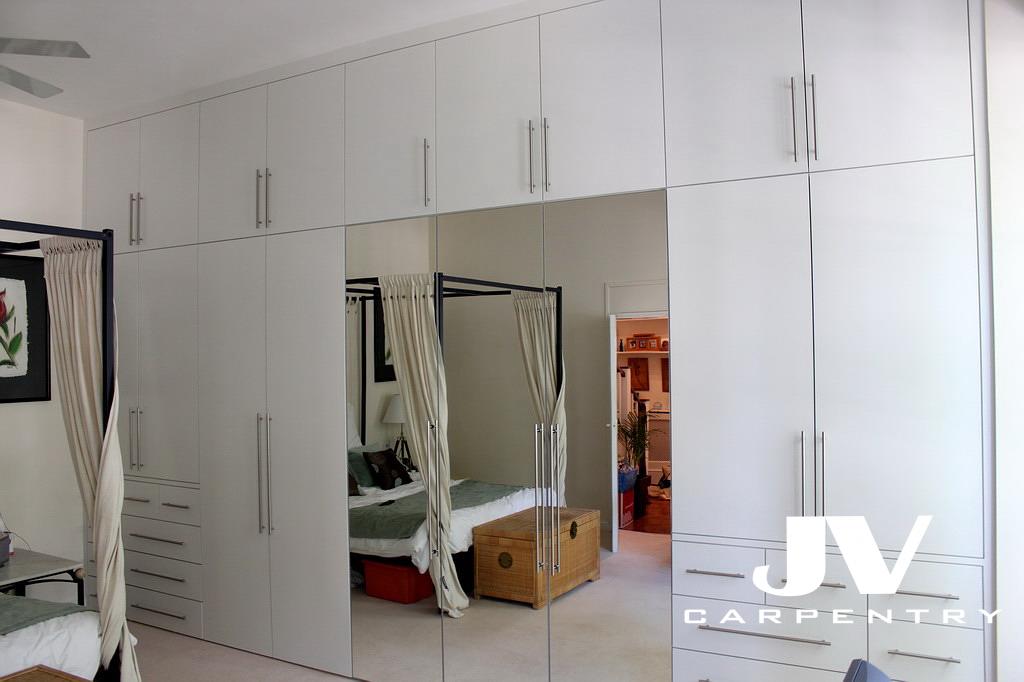 Built-in wardrobes with mirrored doors
for bighter bedroom
Adding mirrors to the fitted wardrobe doors is a very good idea. It creates an illusion of a bigger bedroom. Mirrors also reflect a lot of light and that makes your bedroom much brighter. You can always fit your clothes in front of the mirror because it is always there on your wardrobe door!
Here at JV Carpentry, we can design and make any custom mirrored fitted wardrobe to fit your exact space. We can build your bespoke wardrobe into an alcove, along the straight wall or even around the chimney breast. Moreover, we can even fit our wardrobes in awkward spaces for example under a sloping ceiling.
Why choose a mirrored wardrobe?
It makes your fitted wardrobe look stunning!
Wardrobes with mirrored doors make your room feel bigger
Mirrored wardrobes reflect a lot of light and make your bedroom brighter
You can fit your clothes in front of the mirrors right by the wardrobe
Examples of Custom Mirrored wardrobes we made in the past
We designed and built at least a hundred fitted wardrobes with mirrored doors in the past so here on this page, we are happy to share with you some of the best custom mirrored wardrobes we installed for our customers in London.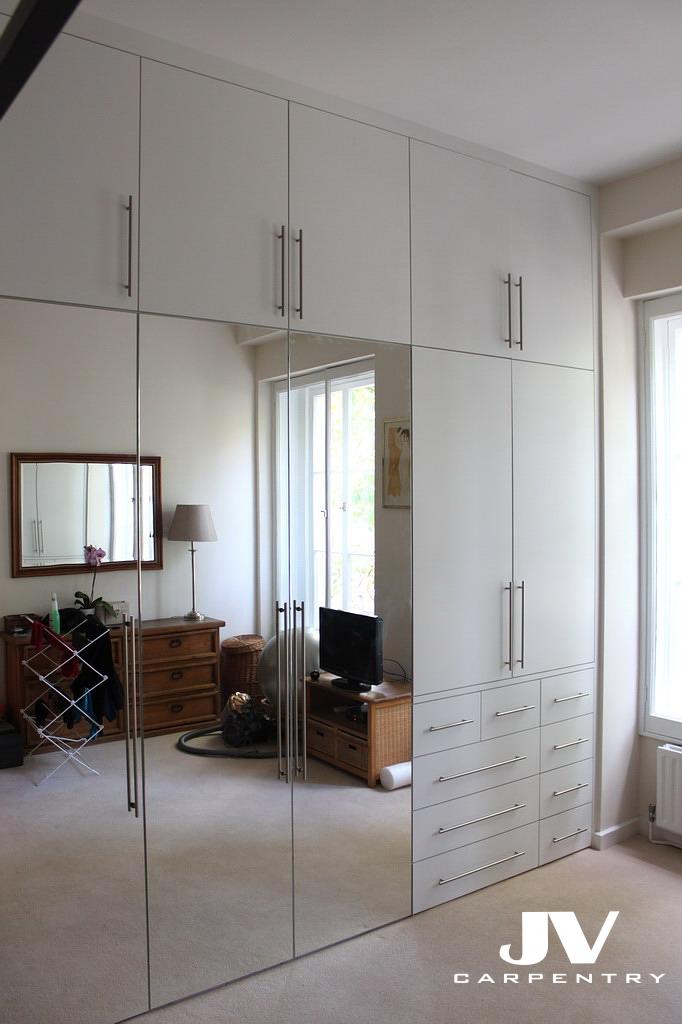 A huge fitted wardrobe with mirror doors in the middle. One of the tallest wardrobes we ever built. It's around 3.6m tall!  We designed and built it for our customers in Paddington. To fit those T-handles on the mirrored doors we had to drill big holes in the mirrors. Those holes had to be slightly bigger in diameter than the handlebar to avoid metal handles touching the mirror. This wardrobe is also made with external drawers on either side.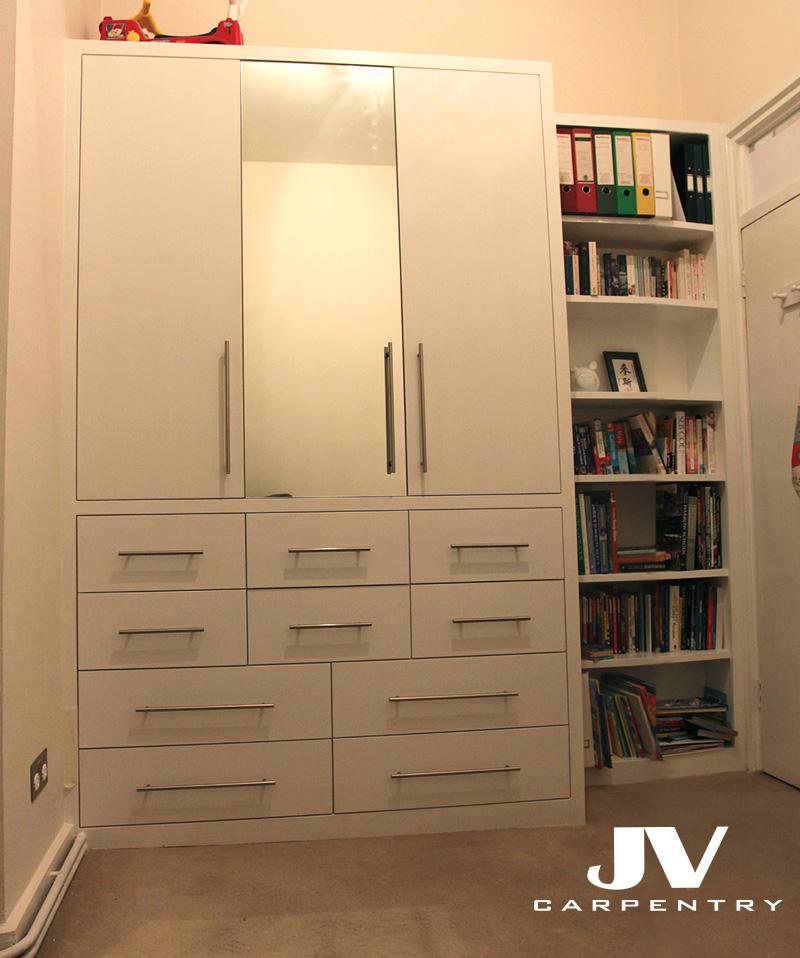 Another fitted wardrobe with mirrored doors is very similar to the previous one. The difference is that this wardrobe is not going right to the ceiling. It is also designed with a custom bookshelf on the side to fill that gap between the wardrobe and the door. Take a look at how we cut this wardrobe around radiator pipes at the bottom!
Alcove wardrobe with mirrored doors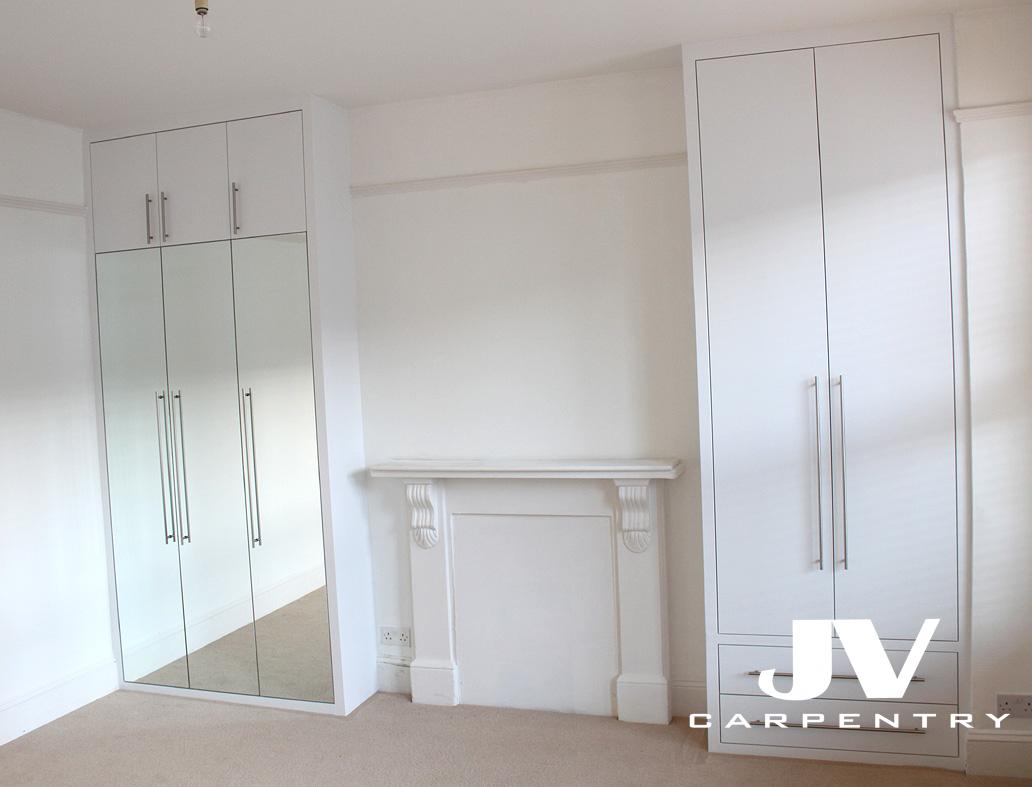 This fitted wardrobe with tree mirror doors built into an alcove. The ceiling in this bedroom is quite tall so we had to make that wardrobe on the left with overhead cupboard doors.
Bespoke wardrobe with mirrored shaker doors.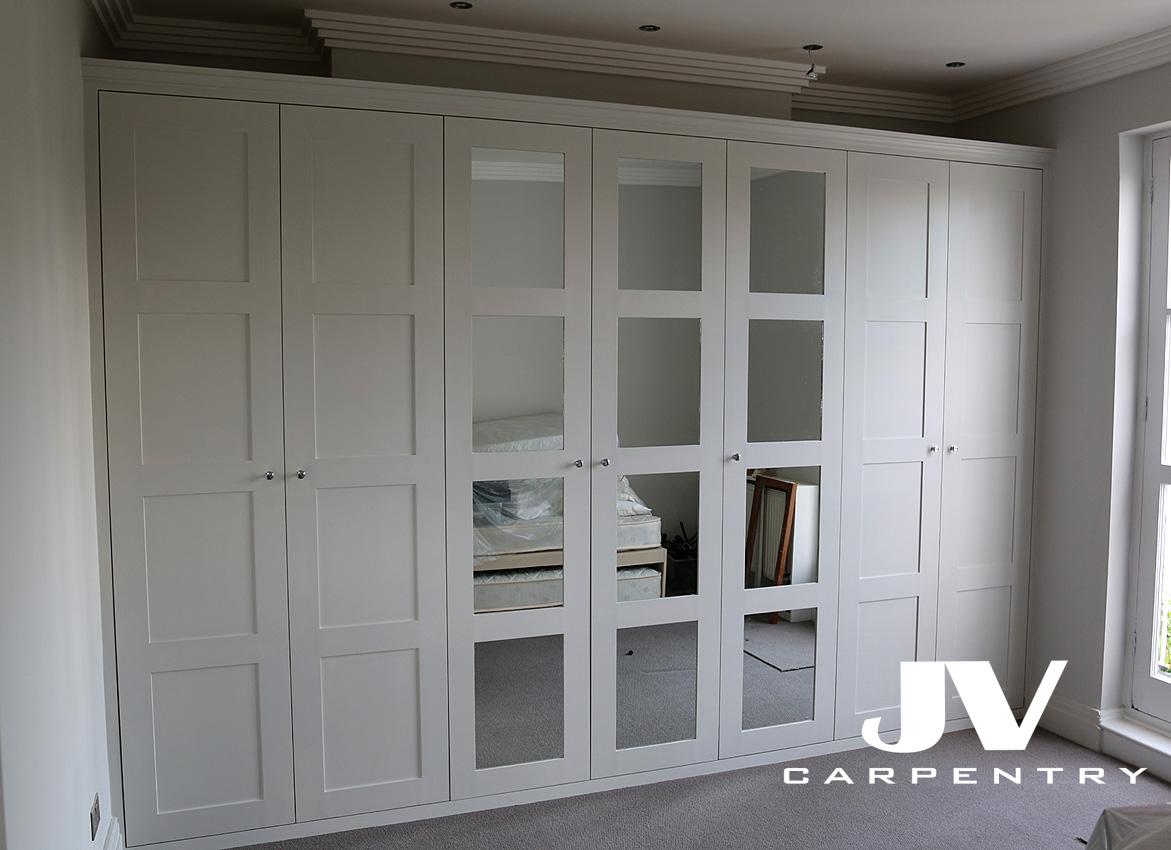 Another option to create a stunning mirrored wardrobe is to add mirrors inside shaker panels as we did in this example. I personally love this style! The doors still have some wooden frames around the mirrors to make this custom wardrobe look very unique. This fitted mirrored wardrobe was built around the chimney breast (you can still see the chimney in the gap between the wardrobe and the ceiling). If you'd like to see how we fit our wardrobes around chimney breasts go check this page out - Built in wardrobes around chimney breast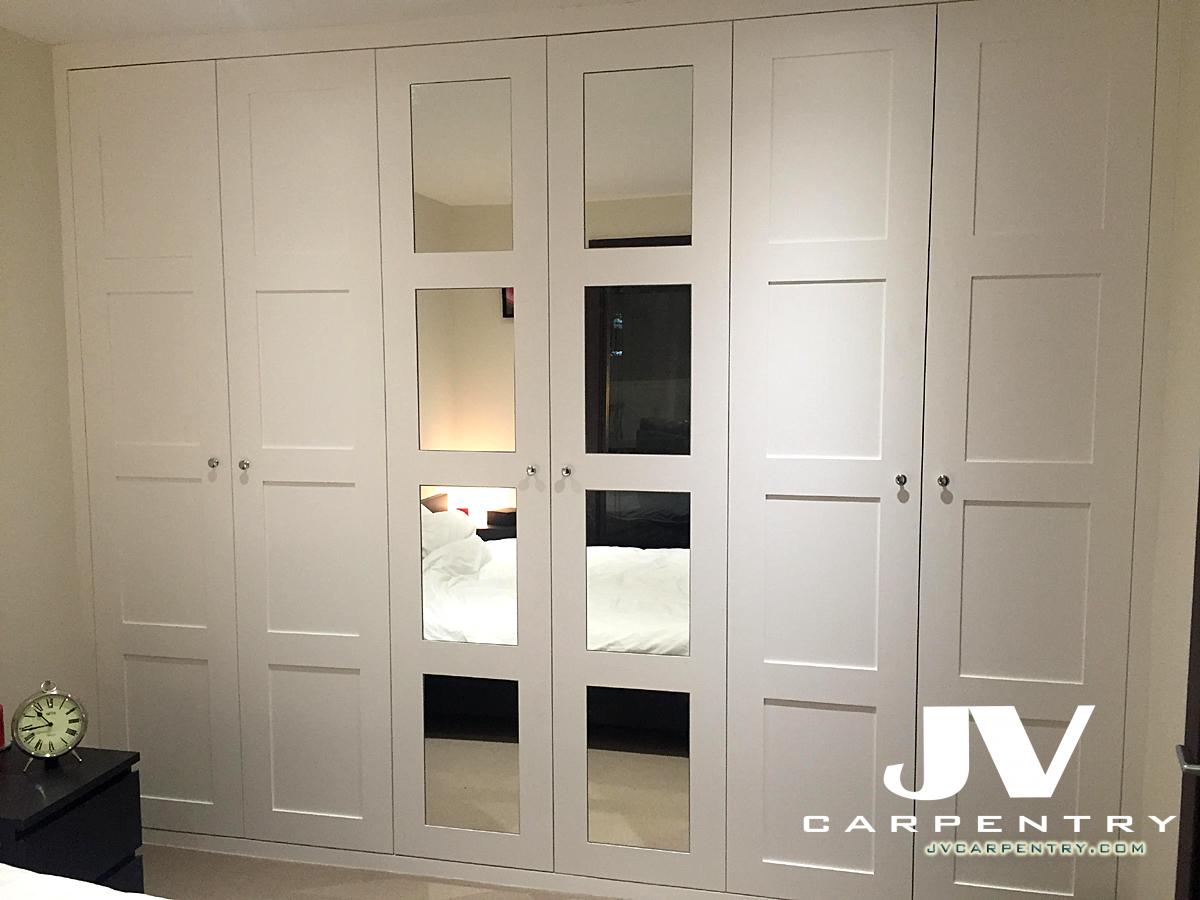 This mirrored wardrobe is the same style as the previous one. The only difference is that it is made from the floor to ceiling.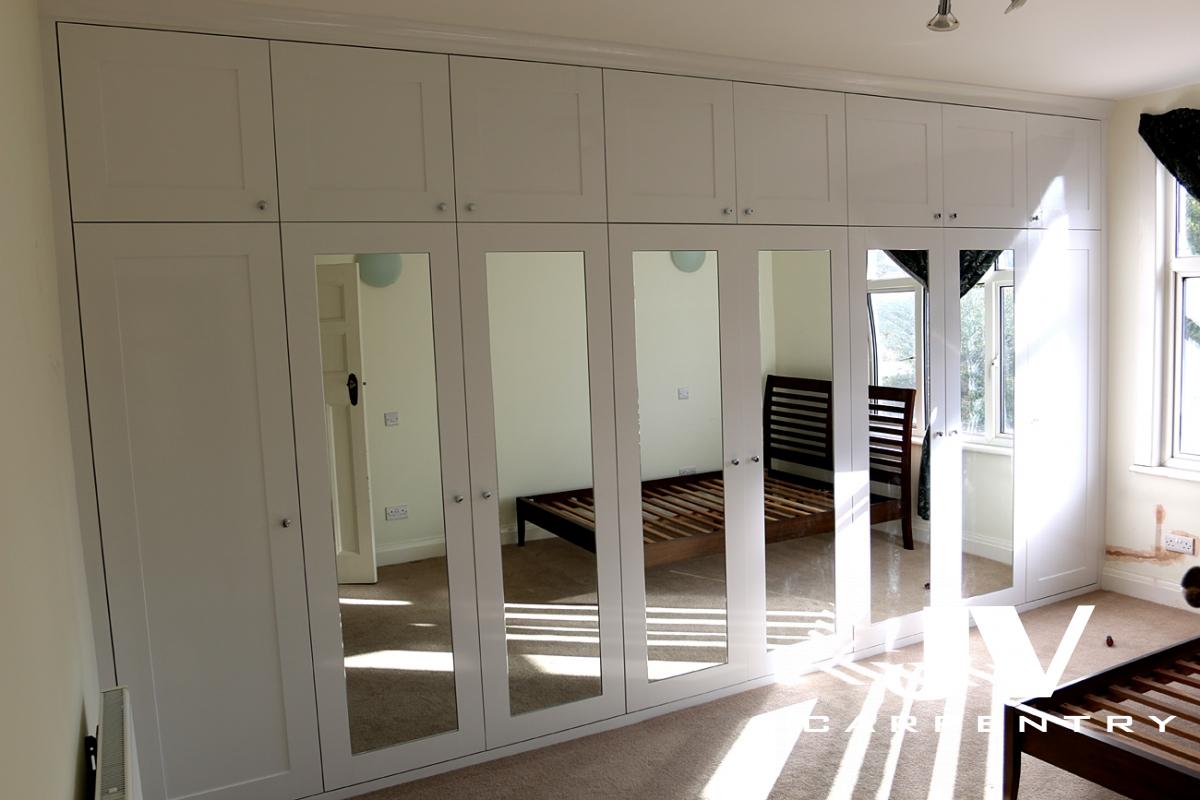 This custom mirrored wardrobe is designed with long mirrors fitted inside the door panels. This is another way to add mirrors to your bespoke wardrobes.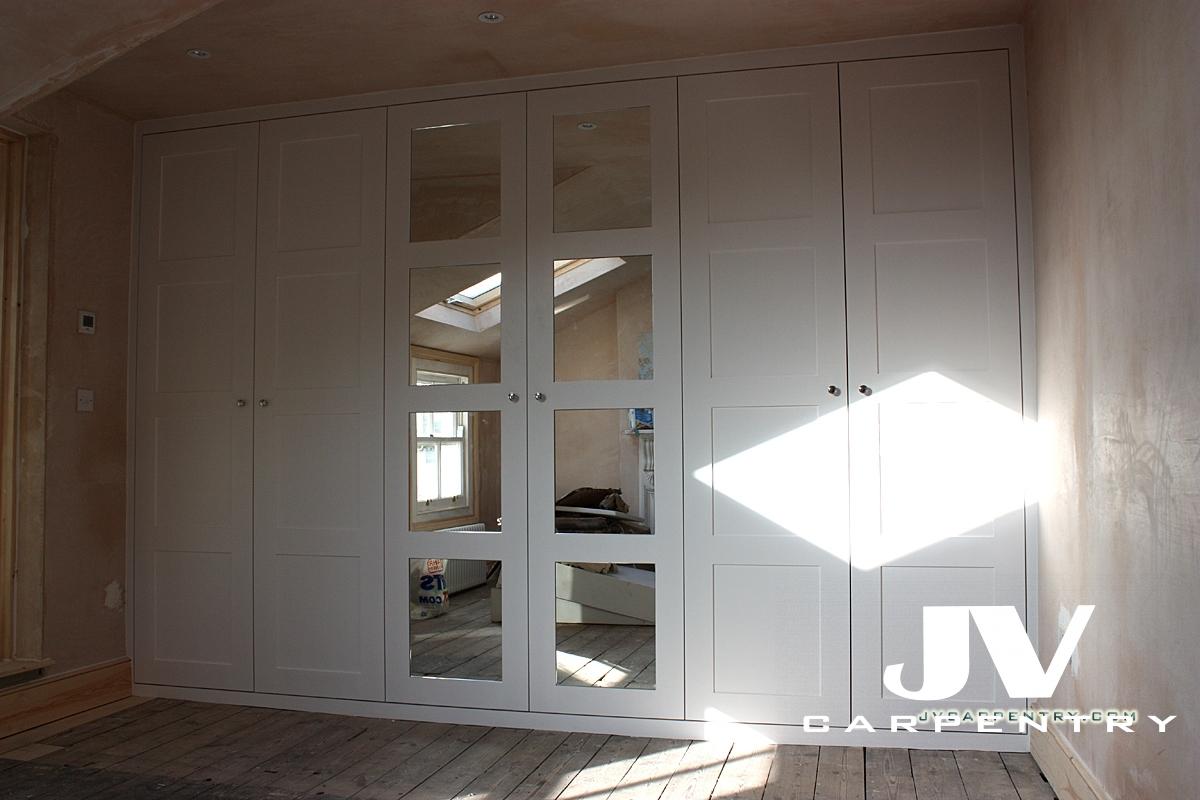 We designed and installed this fitted wardrobe with two mirrored doors in the middle section. The mirrors fitted inside small panels in the doors.
For more fitted wardrobes ideas please follow the link below:
Fitted Wardrobes Gallery
If you'd like to get a free quote for your fitted wardrobes, please contact us today! We have 17 years of experience in fitted furniture and we cover all London areas within M25 and a little bit further for an extra fee.