Alcove wardrobes either side of the chimney, North London
Here we are happy to share the pictures of the alcove fitted wardrobes we made for our customer in Finchley, North London. Design of the wardrobes matching the bedroom decorations. To maximise all available storage space, we designed the wardrobes to be right to the ceiling with additional cupboard units above the main wardrobe sections. These pairs of fitted wardrobes on either side of the chimney breast fit perfectly into both alcoves without any gaps. Even panels around the doors give these wardrobes a chunky look and the top panel of the wardrobes is nicely cut around the coving creating a clean finish. The wardrobe doors are made with shaker panels with beading inside the panels to give these wardrobes a traditional look to match the look of an old London property.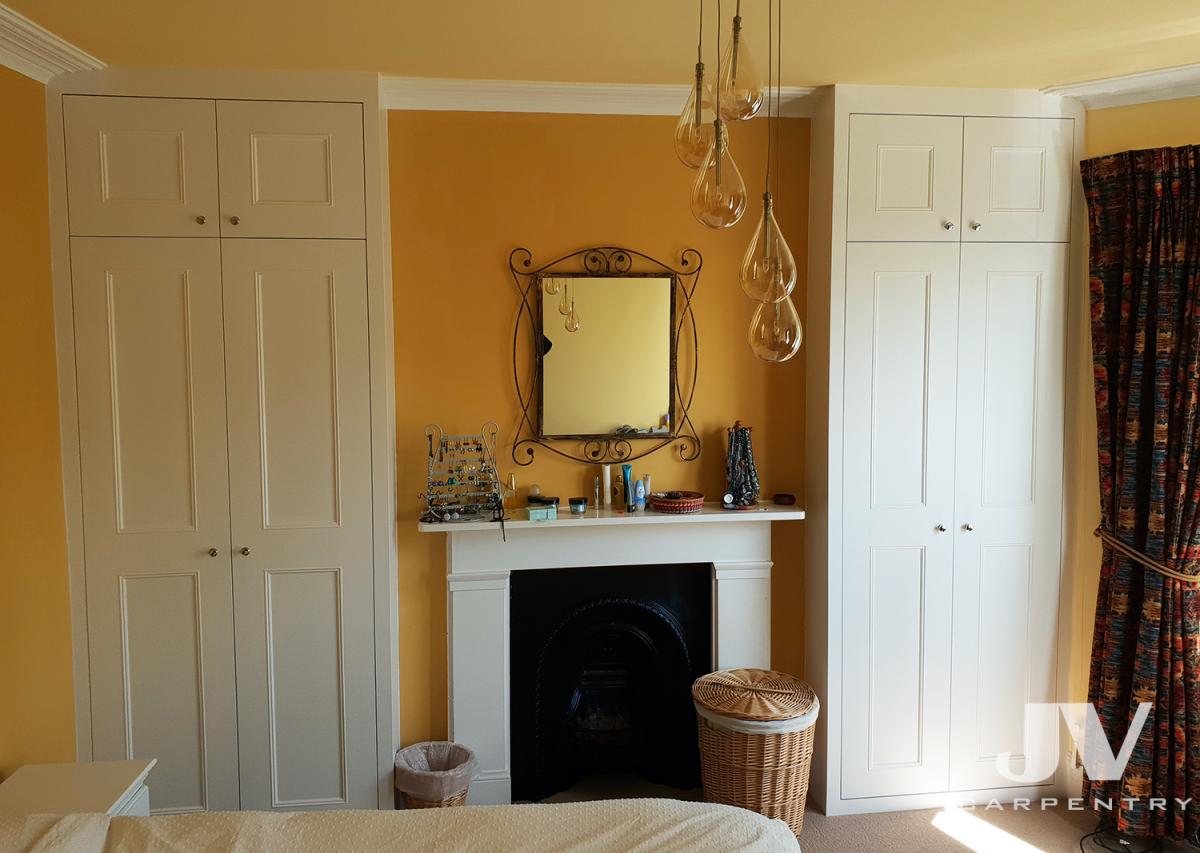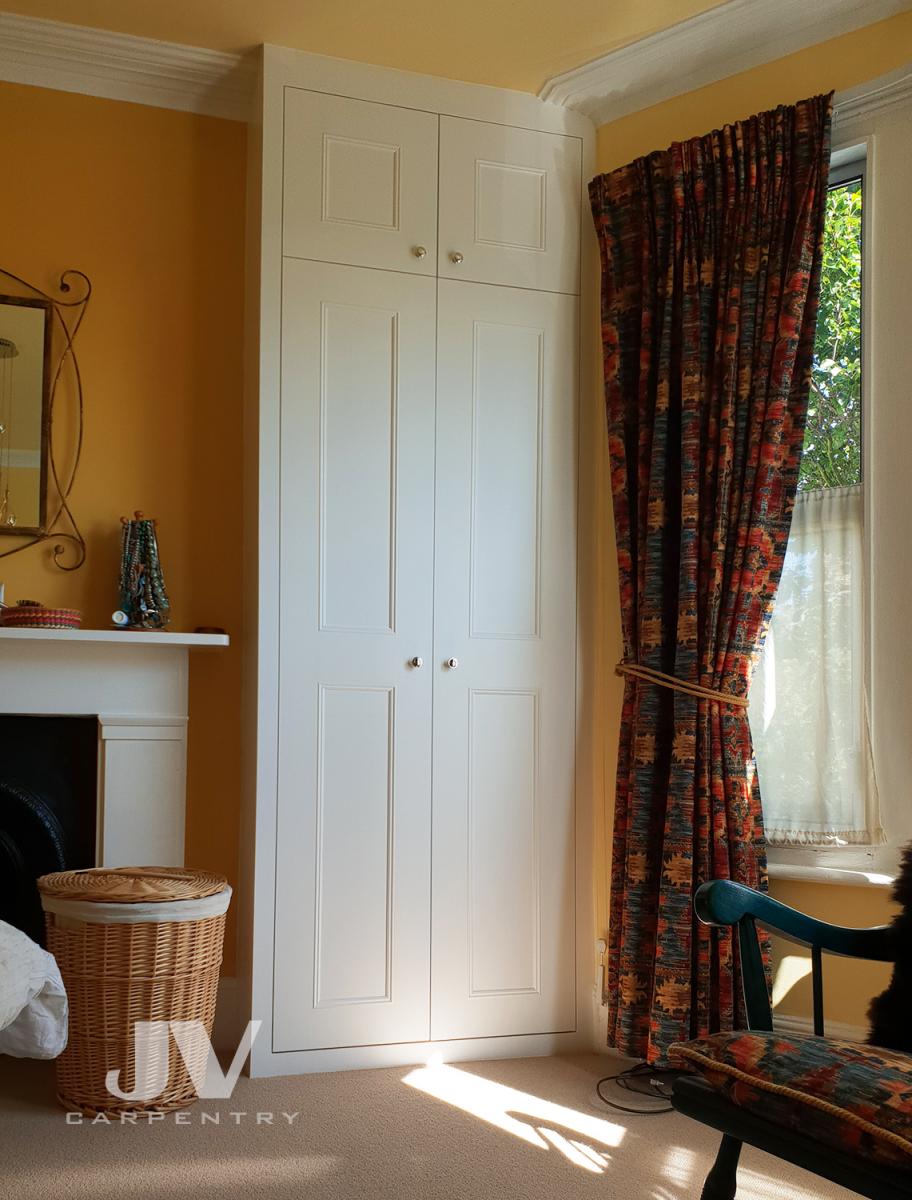 Both alcove wardrobes interiors designed completely the same, this was an idea of our wardrobe designer to maximise all available space inside by adding shoe racks at the bottom and two small drawers on the side making space for hanging the clothes longer on another side giving an opportunity to hang clothes of different lengths inside of one the wardrobe.
Top of the wardrobes made with large storage compartments behind the doors to sore away lager items such beddings, suitcases and large boxes.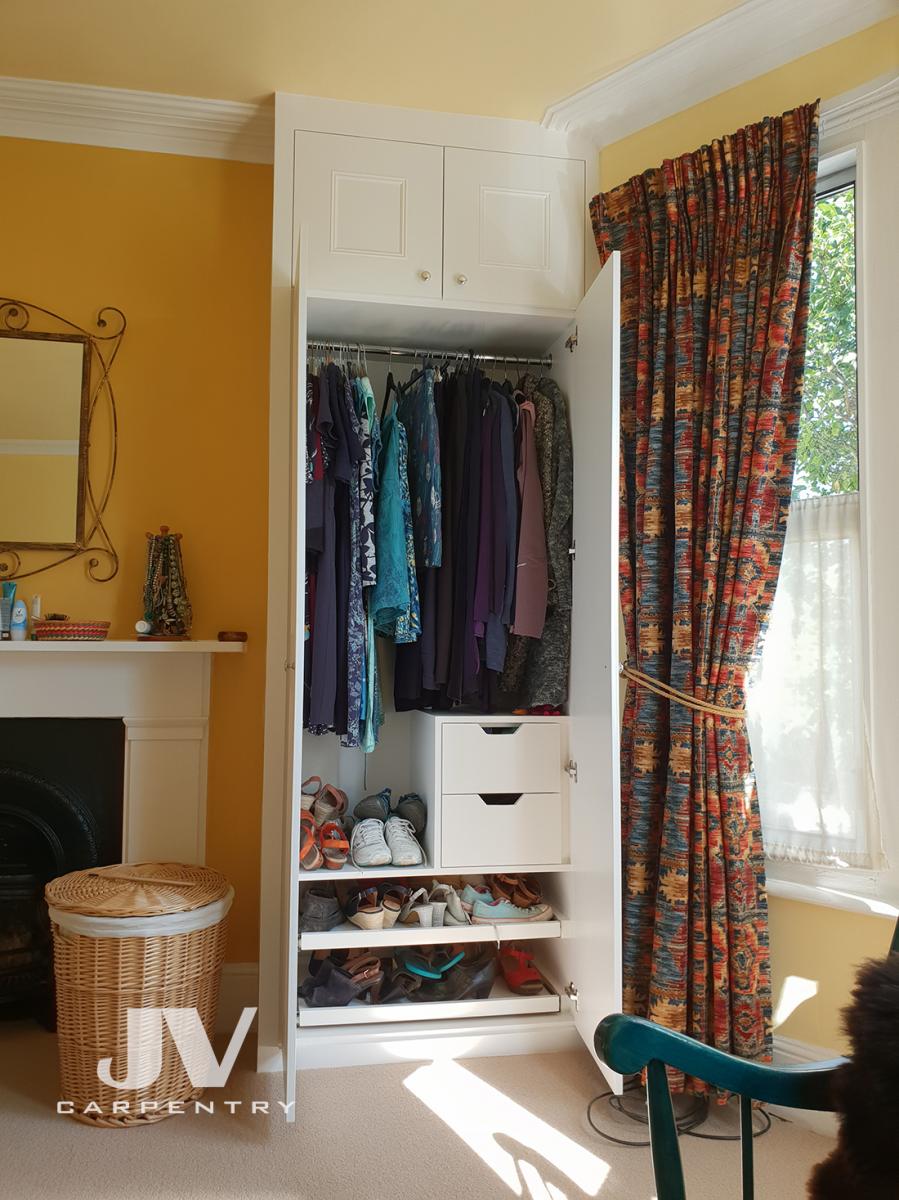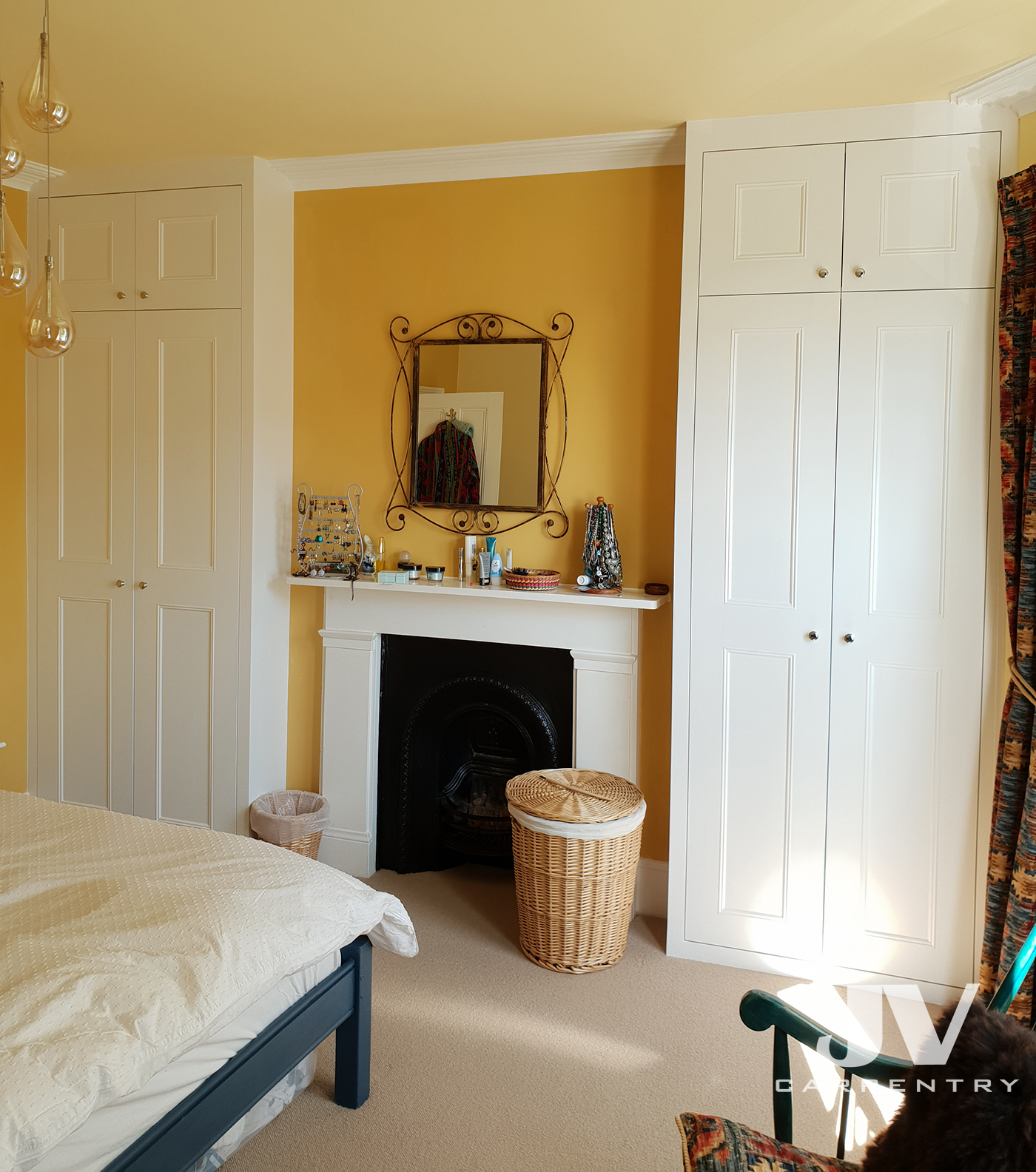 We have made these fitted wardrobes out of MDF.
Our team of two highly skilled carpenters installed both wardrobes in one day (8 hours)
After the installation, the wardrobes have been painted by our professional decorator using Dulux Trade white eggshell oil-based paint.
It took him 2 days to complete the painting.
All the work was carried out at the customers' house and took 3 days in total.
The price of these wardrobes was about £3800+VAT including few drawers and shoe racks.
Explore some more alcove wardrobes examples that we designed and installed in London over the past few years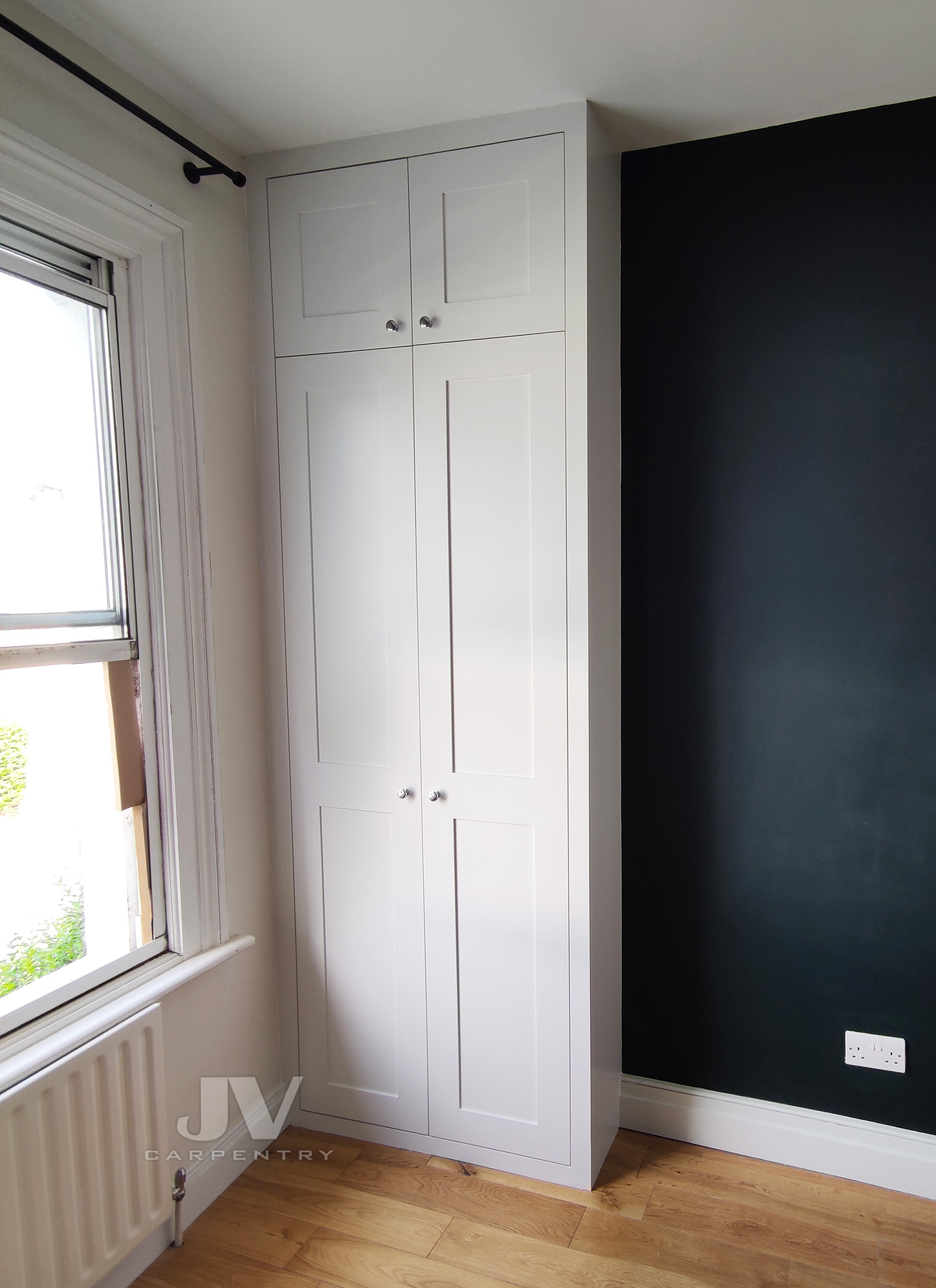 Another example of an alcove wardrobe with the shaker doors we built in Hammersmith, West London in spring 2021. This bespoke wardrobe is in the middle between traditional and contemporary style with only recessed panels on the doors and without beading and coving at the top.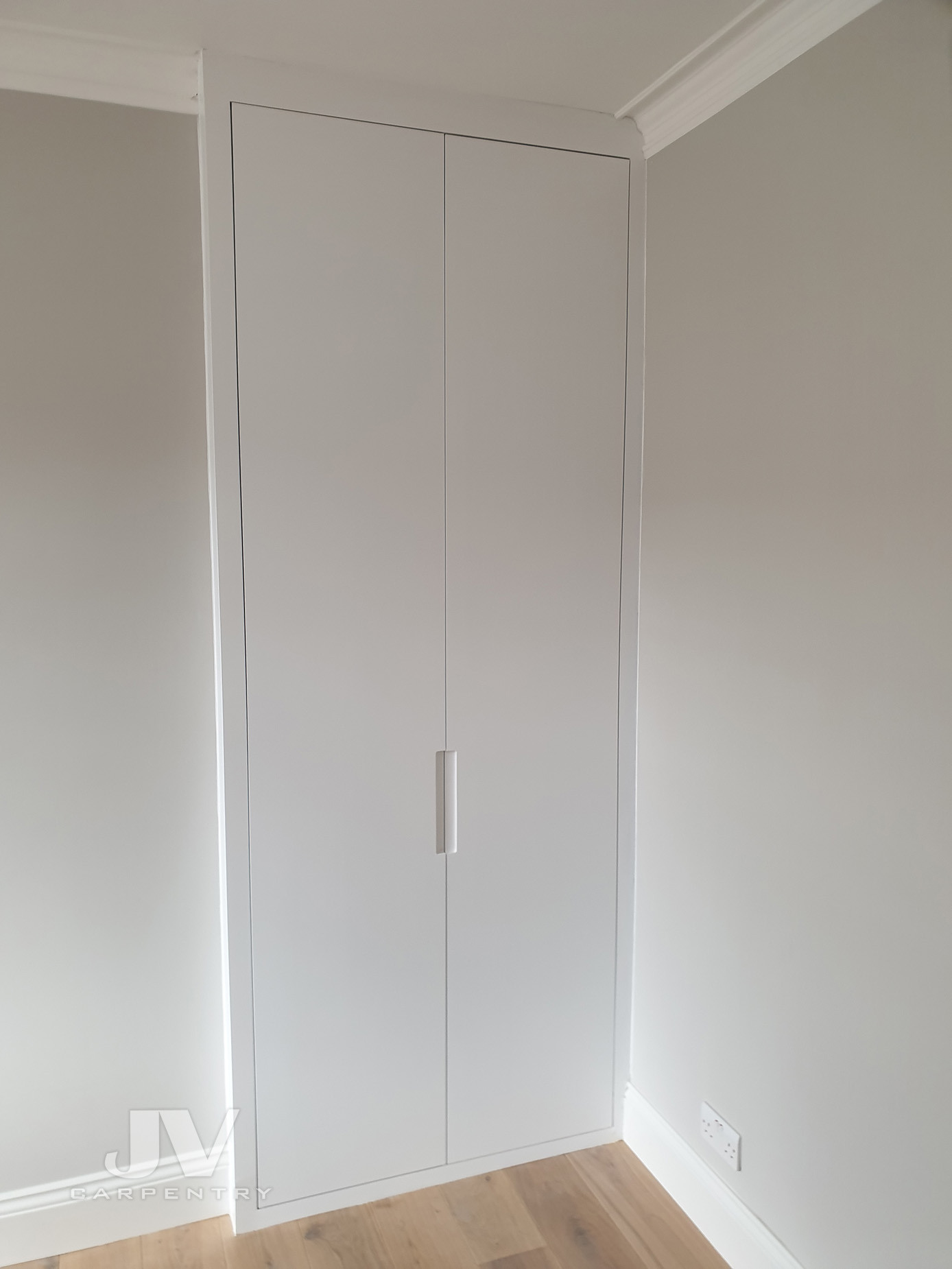 Plain alcove wardrobe that we built in Hackney, East London in November 2019. Very contemporary style with minimalistic details. We designed this alcove wardrobe with plain doors from floor to ceiling and cut out handles.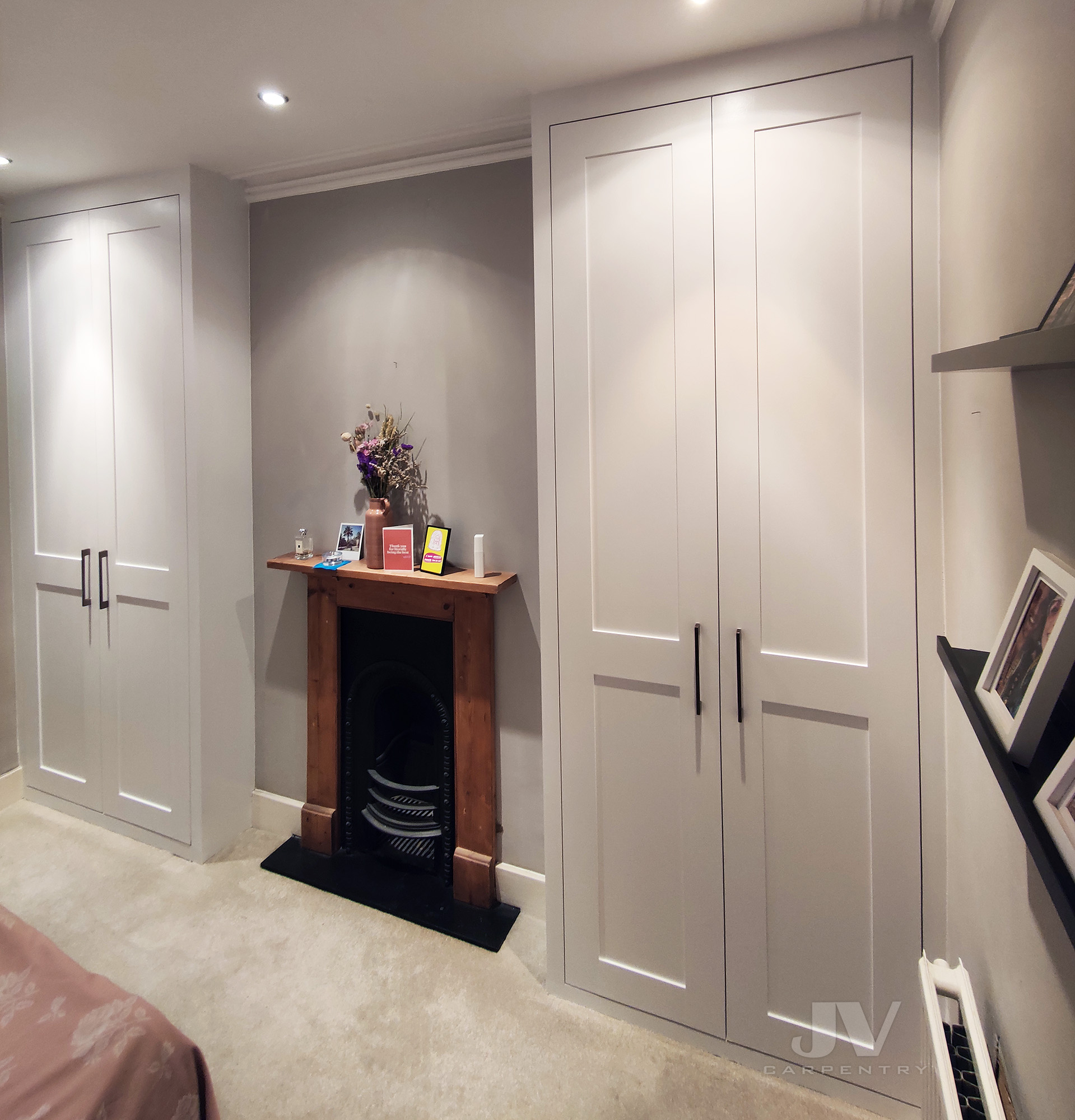 Two alcove wardrobes with paneled doors that we designed and installed in Romford, East London in July 2018. These wardrobes are not very tall, and they don't feature separate doors at the top. You can see how we cut them nicely around coving on the ceiling.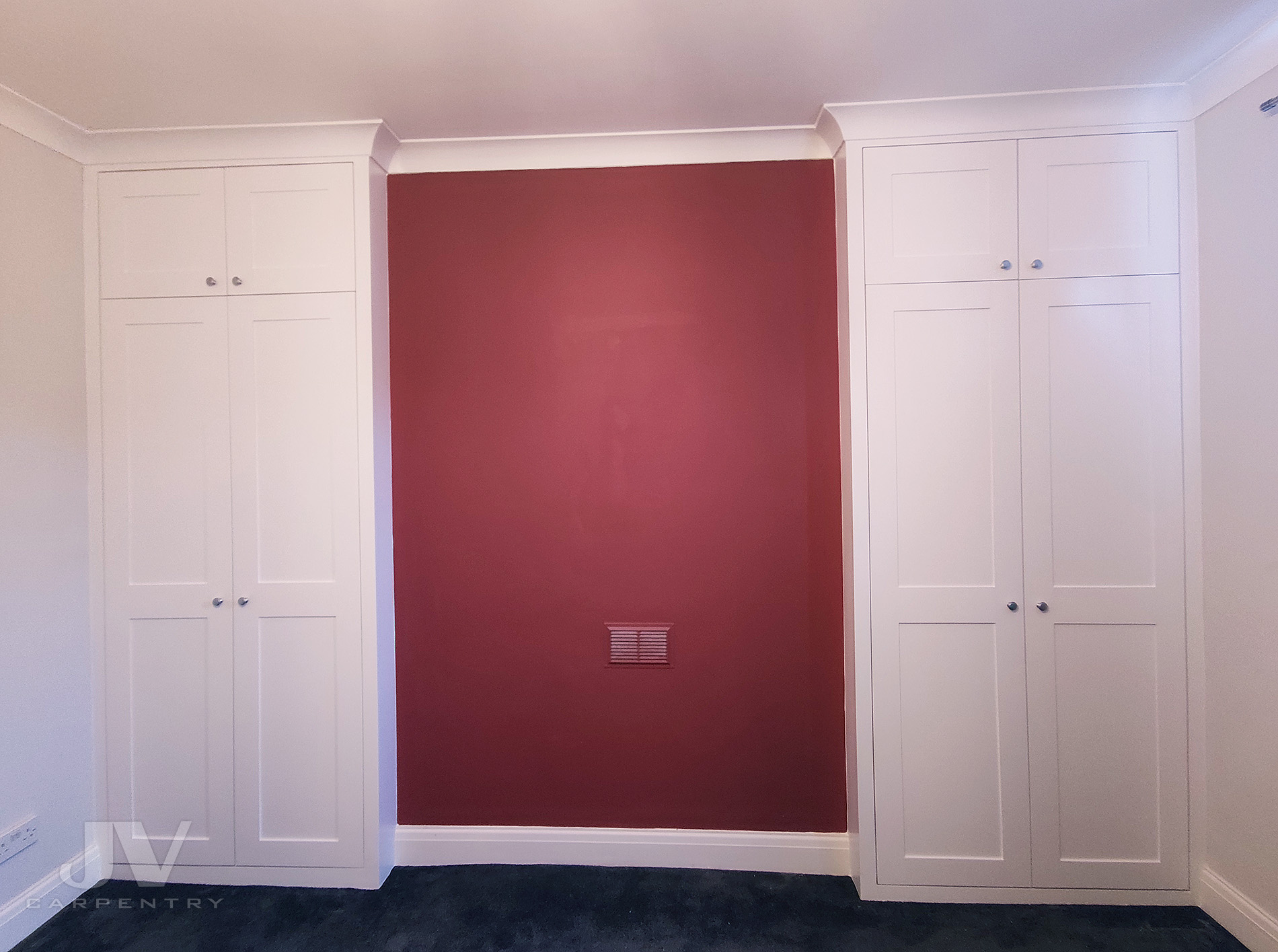 These two stunning bespoke alcove wardrobes were built in Croydon, South London in October 2017. They are made with shaker doors and because the ceiling is quite tall in this property, we had enough space to build these wardrobes with overhead cupboards at the top. As you can see from the pictures, we also managed to source and install original coving along the top and this is a very important detail to give your wardrobes this finish look.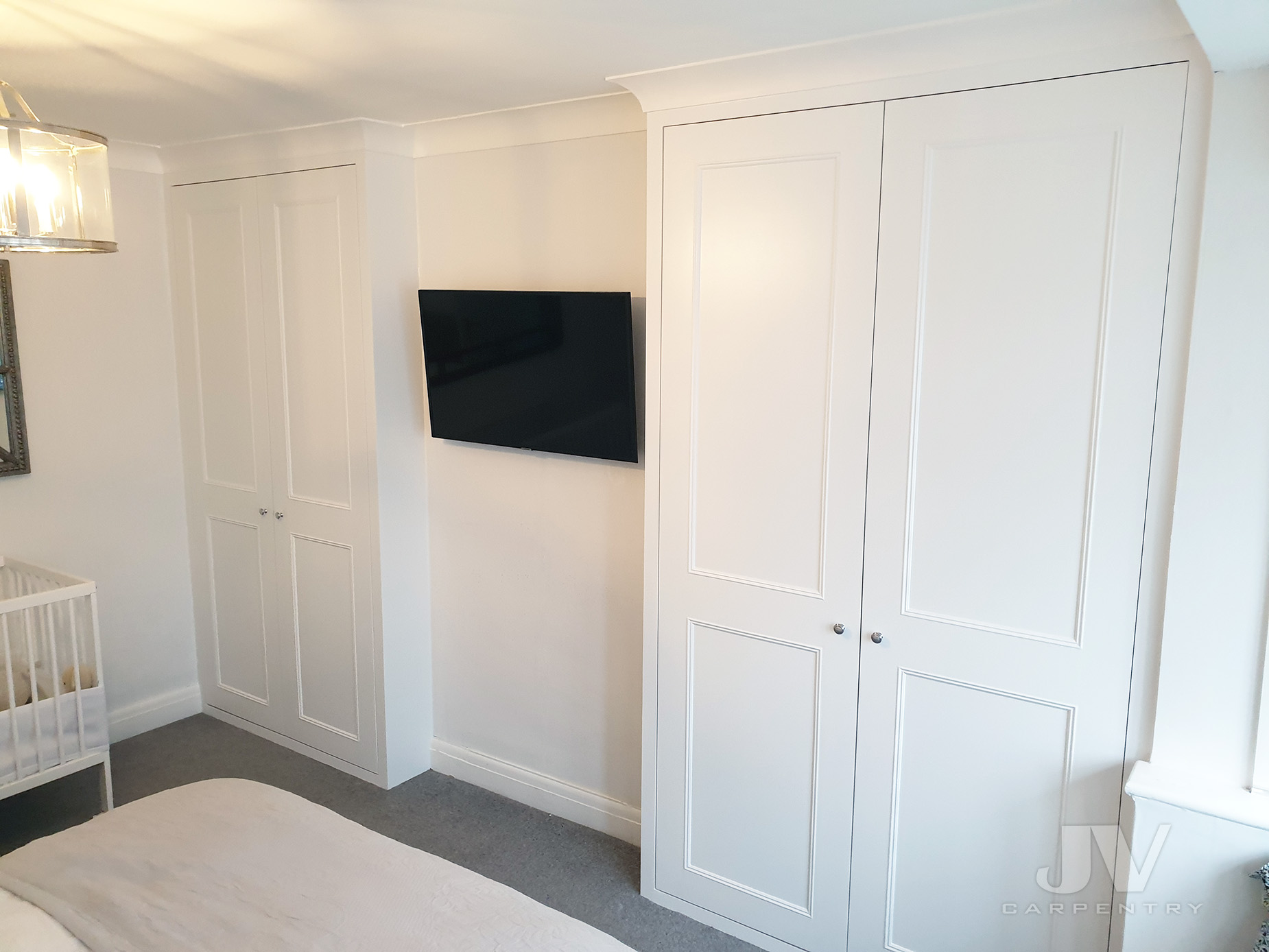 A pair of traditional white alcove wardrobes that we designed and installed for our customer located in Acton, West London. We didn't have much of the headroom in this bedroom and this is why we made these wardrobes without separate cupboard doors at the top. The wardrobes made traditional way with recessed beaded doors, and we finish them with the coving to match existing one.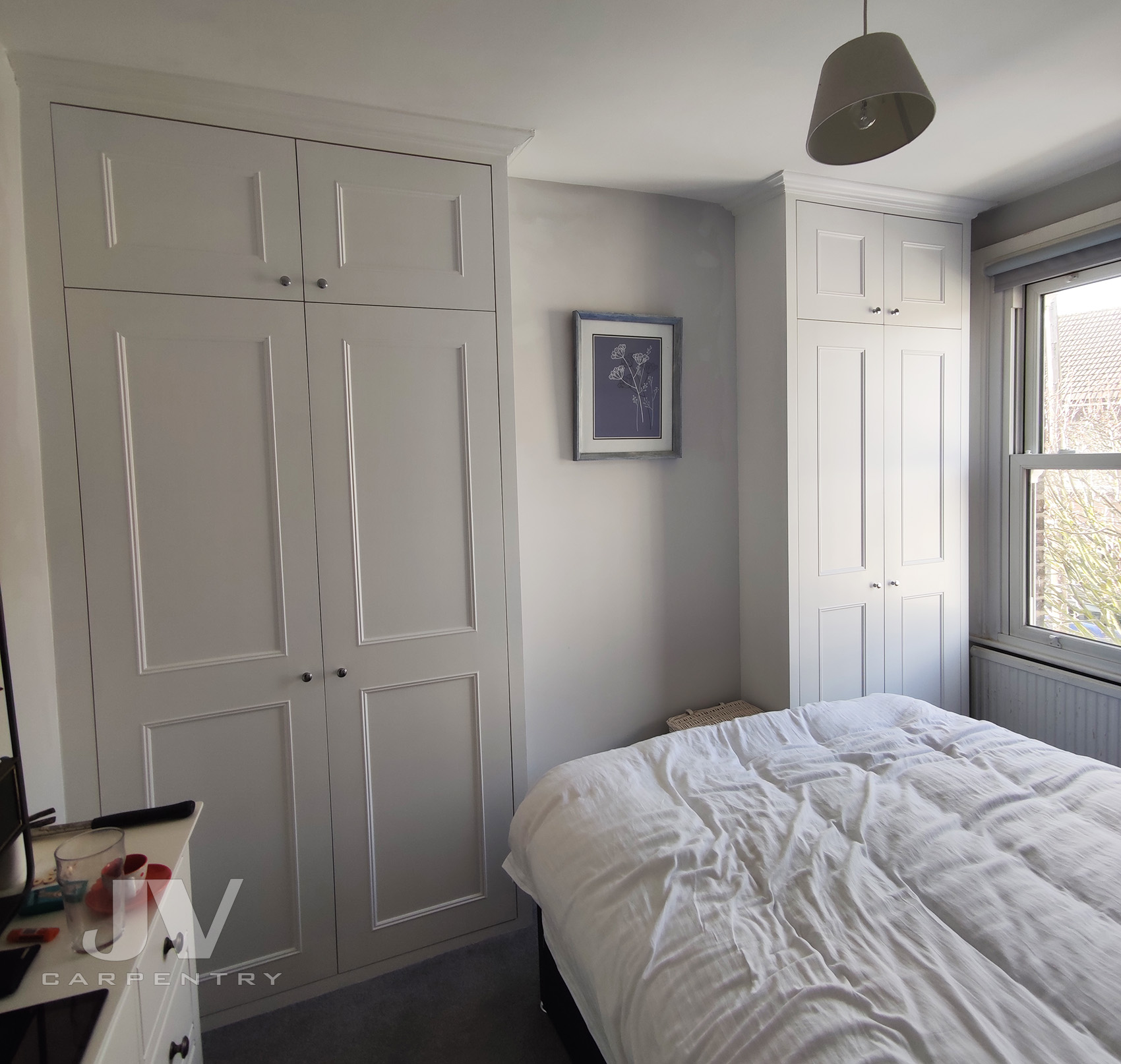 Another two classic alcove wardrobes that we designed and install for our customer's bedroom in Islington, North London. These wardrobes made with shaker beaded door and we run additional decorative cornice at the top. You can notice that wardrobe in the right alcove made slightly away from the wall because of the window and radiator are too close to the alcove.
Don't hesitate to 

contact us

 today if you'd like to receive a free quote for your bespoke alcove wardrobes!  We have more than 17 years of experience in fitted bedroom furniture and we cover all London areas within M25!
Please see our other fitted furniture projects: